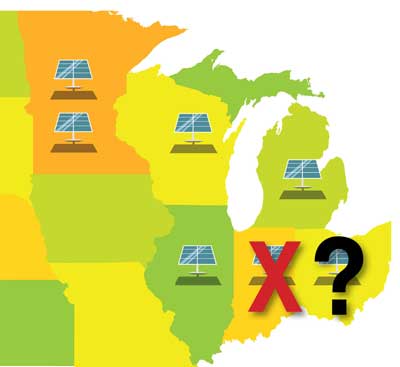 You've probably heard, but more solar is being installed than ever before. As the cost of solar dropped the last decade, the economic case in areas of the country with high electricity prices was simple. This isn't the case in the Midwest, where energy costs are lower, which keeps everyone mellower about the fossil fuels being mined and fracked in their backyards (we say this lovingly as Ohioans).
So, sure, most of the action is on the coasts, but even the Midwest is now starting to emerge from its cave, rub the soot from its eyes and see (and harness) the light.
Here's what solar industry onlookers are buzzing about in the Heartland.
This article appears in the May/June issue of Solar Builder magazine. Subscribe here for FREE.
M
idwest Means MW-scale
Cheaper electricity and a less demanding public means the case for solar in the Midwest mostly starts with policy incentives, and with little public demand for action, the balance of political influence over the shape of those incentives is tipped a bit more to utilities and any other interested stake holders (legacy fossil fuel companies?).
Utility-scale projects represent a little over half of the installations to date in those Midwestern states and about three quarters of the 2016 installations, according to data sent our way by GTM Research. The distributed generation markets in each state are all quite small still — sub 10 MW per state in each of the residential and non-residential markets for all of 2016.
The latest legislative triumphs in the region all seem to support this trend too with renewable energy portfolio standards (RPS) being raised in Illinois and Michigan and unfrozen in Ohio (for now). The Illinois bill in particular was two years in the making and has solar developers excited.
"It creates an adjustable block schedule similar to the successful California Solar Initiative model," says Owen Goldstrom from Alta Energy, an analytics and procurement company that identifies and executes opportunities for renewable energy. "It's an opportunity that we are closely tracking, and communicating to our customers with property in Illinois."
E
merging Opportunities

RPS standards don't necessarily directly translate to DG solar projects unless there is a way for a smaller scale distributed system to benefit from the renewable energy credits (RECs), Goldstrom says. So, it is worth noting that these RPS bills did come with DG benefits too. The legislation in Michigan helped preserve net metering rules going forward, and GTM Research's Allison Mond says they are classifying Illinois as an "emerging residential market."
"The Future Energy Jobs Bill passed in the state mandates that a quarter of the 675 MW of DG required for the new RPS standard consists of sub-10-kW systems," she says. "Though the market is still quite small, we expect residential installations in the state to double in 2017 over 2016 capacity and then continue to grow by between 100 and 200 percent each year through 2021."
Illinois also allows for third-party ownership (leases or PPAs) of systems.
Implementation of Illinois' RPS bill is the top issue of SEIA's Midwest Committee, which has been working with the Illinois Power Authority to "get the regulatory language that allows the intent of the bill to move forward," says Sean Gallagher, VP of state affairs for SEIA.
Perhaps the biggest exception to all of our Midwest generalizing so far is in Minnesota, where community solar has grown to become the third largest community solar market in the country after California and Massachusetts.
"It went from a cute idea to big business in two years, and now community solar is really picking up," says Jake Rozmaryn, CEO of Eco Branding, the agency that represents the Midwest Solar Expo, now in its fifth year. "Large-scale development in Minnesota was over 300 MW in 2016 and is expected to be over a 1 GW in five years. Traction is there."
L
ingering Problems
We start in Indiana, which is ground zero for problematic energy legislation right now. The much-discussed SB 309 would phase out net metering in tiers: Early adopters would be able to keep net metering for 30 years; those who install between July 1 and 2022 can keep it for 15 years. Anyone installing after that date would be under the new rules.
What are the proposed new rules? Essentially it would be a "buy all, sell all" arrangement where solar customers sell their power back to grid for the wholesale rate (~3 cents per kWh), and then buy it back at the retail rate (11 cents per kWh).
The carrot in the bill for the solar industry is that power purchase agreements (PPAs) would be made legal.
UPDATE: That bill is no longer proposed — the Governor signed it into law.
Gallagher also pointed to Iowa, which doesn't have a huge rooftop market yet, but has an important DG proceeding happening that will set rate terms and compensation structure going forward "and perhaps set some precedent in the Midwest."
"We're also paying attention to a bill in Missouri that would be harmful to rooftop solar," he says. "We're just trying to keep those markets open. It's not a giant market, but we don't want to see bills that just squash it."
Arguably worse than the specific inhibitory policies is the general uncertainty lingering over much of the region. For example, we chatted with a developer based in New York who has been eyeing Ohio as a next great opportunity. Well, with the state passing a bill to freeze its RPS, which the governor vetoed, only to have a new, even more limiting bill be passed — how can anyone get a feel for how to proceed over the long term?
P
olitical Will of the Midwest
Getting to this point was definitely not easy, and maturing the market from here will require even more work. Relaxed Trump-era carbon regulations might defibrillate the fossil fuel industries. Longer-term environmental and social arguments in general seem to carry far less weight than short-term costs, politically. Plus, Midwestern utilities have had the benefit of seeing net metered residential systems deployed on a large scale on the coasts, and some are trying to nip it on the bud. For example, ComEd tried to get a demand charge put into that aforementioned bill in Illinois, even though the net meter market in the state at the time was around 800 total customers. The Public Utilities Commission in Ohio is also considering proposals by several utilities in the state to double fixed rates for all customers.
But despite it all, the momentum is real. SEIA and the Environmental Law and Policy Center (ELPC) formed a Midwest coalition about two years ago thinking there were opportunities on the horizon for new markets to develop. It was a baby step. SEIA took a larger step this year and formed a Midwest Solar Committee.
"We recognized that there's been some activity toward the end of last year that's starting to bring those potential new markets forward, which provides justification for SEIA and its members to devote more attention to those states," Gallagher says.
"Utilities in the Midwest have a lot of political clout," Goldstrom says. "However, solar companies and industry organization have demonstrated a significant capacity to drive change and work with legislators on policy relating to both utility scale and distributed scale generation. I have been pleasantly surprised by the success of a lot of these lobbying efforts."
By the way, ComEd's demand charge request didn't make it into the final version of the bill.
"I think the biggest success solar has had in the Midwest is becoming a competitive form of generation, and as solar prices continue to come down, the cost for electricity in general continues to go up, even in the Midwest," says TJ Kanczuzewski, president of Inovateus Solar, based in South Bend, Ind. "Even in places that have some cheaper electricity from coal or hydro or even nuclear, electricity prices continue to rise by an average of 5 percent annually while solar continues to become more cost competitive."
ROOM FOR
Residential
As we wrote about the lagging prospects of residential rooftop solar in the Midwest, Sunrun became the first large national residential rooftop solar company to expand into the Midwest, setting up shop in Wisconsin.
Customers in Wisconsin can either own their system outright with Sunrun BrightBuy or own and finance it with Sunrun BrightAdvantage, using a loan arranged by Sunrun.
"We see a demand for solar that has been underserved in the state and look forward to giving residents a choice to reduce their electric bills with solar, while providing value to the grid," said Lynn Jurich, CEO of Sunrun.
This highlights Sunrun's ability to enter new markets in a low fixed-cost way through collaborating with local partners in the state. Sunrun's economic investment is adding job opportunities in Wisconsin, and it is currently hiring for several positions for its solar team in Southeast Wisconsin.
Chris Crowell is managing editor of Solar Builder.
Listen to more in-depth conversations on Solar Builder's YouTube channel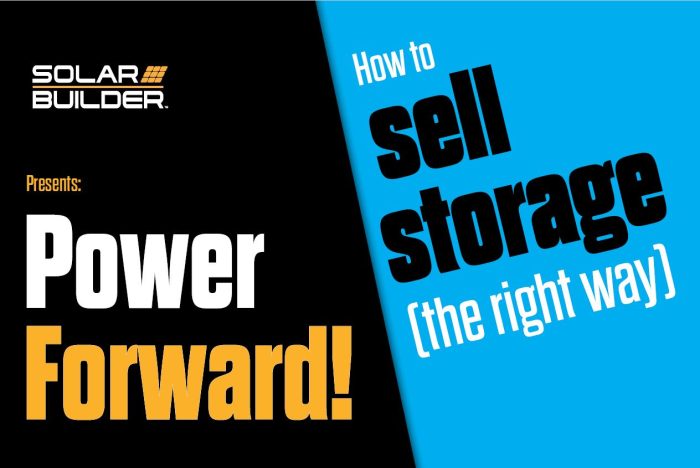 Our most popular series include:

Power Forward! | A collaboration with BayWa r.e. to discuss higher level industry topics.
The Buzz | Where we give our 2 cents per kWh on the residential solar market.
The Pitch | Discussions with solar manufacturers about their new technology and ideas.
Tags:
Alta Energy
,
GTM Research
,
Illinois
,
Inovateus Solar
,
May June 2017 Print Issue
,
Minnesota
,
Ohio
,
SEIA
,
Wisconsin