Thank you for your interest in reading Solar Builder magazine. Please enter your name and email address below to read the latest digital edition and begin your free digital subscription. If you would prefer a free print subscription please click here.
You may also follow us on Twitter, Facebook and LinkedIn.
---
What's in the latest issue?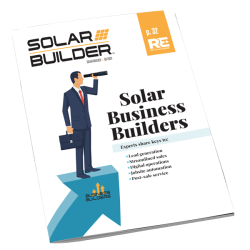 The Q3 2023 issue is the "Business Builders" edition of Solar Builder. We sought advice for solar installers from industry consultants, engineers and tech providers on topics ranging from lead generation, in-house vs. third-party sales, improving profitability and much more. Also: get a sneak peek at RE+ in the RE+ 2023 Preview Section!  
Features
Business Builders: Tips for solar business owners to level up their game.
Let's get digital: Long-term success in solar is tied to digital transformation | By Scott Nguyen
Communication is the key to seamless solar sales: It can mean the difference between happy, referring customers or bad reviews. | By John Bumgarner
Selling in a high interest environment: Selling in a high interest environment | By Adam Gilbert
Taking the pain out of solar O&M: Solar systems are not a 'set it and forget it' asset| By Dej Knuckey
Robots on the rise: More than meets the eye when it comes to solar jobsite automation | By Bradley Kramer
Special section: RE+ 2023 Showcase
Departments
Buzz
Roofs of hazard: Two bombshell reports show major safety issues on a majority of C&I solar rooftop systems | By Chris Crowell
Battery know-how: Three battery system trends to know post-NEM 3.0. | By Chris Crowell
New pollution: The importance of producing PV with minimal VOCs | By Chris Crowell
Design
Survey says… How advances in disparate survey technology impacts solar energy deployment | By Chris Mielke
Discuss
Targeting apartments using submetering: Submetering offers a viable alternative to traditional solutions | By Chris Sparkes
Analyze
What solar PV system choices matter most? Understanding the key factors in the performance and cost-effectiveness of renewable energy systems | By Ryan Luther
Plus |
The long haul: Charting the rise of long duration energy storage | By Charles W. Thurston
Power Forward!