Solar Builder readers submitted their coolest, most innovative and noteworthy solar projects of the last 12 months, and after combing through another record amount of submissions, we've narrowed the field to these 2020 Project of the Year nominees! This year the field is divided into FIVE categories:
Notes: Because so many projects are submitted to C&I, we expanded the number of nominees. We tried "community solar" as its own category this year, but it didn't get much response. But those that were submitted that we liked, we nominated under the Utility category.
There is a ballot located at the end each category. Cast your votes as you go — the page will reload, and then you can pick up where you left off. You get one vote per day in each category (so yes, you can vote again tomorrow). Voting will take place over the next two weeks (Mon. Sept. 14. to Sunday, Sept. 27). Good luck to all of this year's nominees!
---
Residential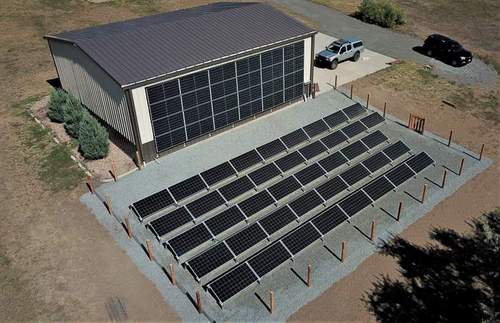 Villa Residence and Home Brewery
Arvada, Colo. | 25.41 kW
Constructing a 2-barrel pilot brewery on its residential property in Colorado was a natural thing to do for Jodi and Keith Villa, the latter a brewmaster of 30 years. The outbuilding already existed, but the glycol chiller to cool fermentation tanks demands a lot of electricity as does the walk-in cooler for finished keg storage. Both the home and brewery were too small for the panels needed, and the barn roof wouldn't support them, so Ecology Solar had the innovative idea to place some of the panels vertically on the south wall of the barn, with a few more ground-mounted. This meant lower PV production from the wall array and higher production from the ground array in summer, and vice-versa in winter. The resulting total PV production profile is a steady, year-round monthly offset between 2.006 MWh and 3.253 MWh.
• Developer: Ecology Solar
• Contractor: Ecology Solar
• Modules: Jinko
• Inverter: SolarEdge
• Mounting: Unirac, Aerocompact
Windy Hill Project
West Chester, Pa. | 49.5 kW
The owners of this system presented Paradise Energy Solutions with a unique set of requirements. They desired a grid-tied solar + storage system (with ability to go off-grid), sized to supply energy for a home/office building, with additional loads to be backed up including a geothermal pump system and an electric vehicle charging station. Finally, the system needed to integrate with a propane generator for backup of the solar batteries. This project took a great deal of design work, in addition to the challenge of communicating the necessary information to the permitting agencies, utility engineers, GEC constructing the facility, hardware vendors, and various inspectors. All parties were able to reach a satisfactory design, which has since been tested through several small utility disruptions, including one ice storm.
• Developer: Paradise Energy Solutions
• Contractor: Paradise Energy Solutions
• Modules: Axitec
• Inverter: SMA
• Storage: Axitec
• Mounting: OMCO Solar
Sunview Development Corp.
Durant, Okla. | 257.28 kW
This project was Phase II of solar being deployed by a homebuilder, Oklahoma-based Sunview Development Corp. In total, 48 individual existing carports each were topped with 16-panel solar systems. While solar-topped carports aren't new, these homes are rentals, and the solar actually serves as a competitive advantage in the marketplace. Sunview is able to offer homes with overall lower electric bills vs. other rentals, helping each family save about $850 annually on electricity.
• Developer: Sunfinity Renewable Energy
• Contractor: Systematic Solar Solutions
• Modules: TaleSun 335
• Inverters: Delta M5
• Mounting: Aerocompact
Voting has ended! Look for your Fall issue of Solar Builder for the winners!
---
C&I (rooftop)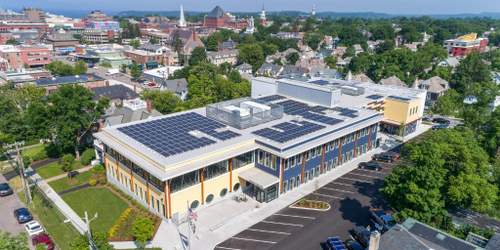 Greater Burlington YMCA Solar Project
Burlington, VT | 200 kWp
Encore worked extensively with the YMCA's management team and construction contractors to integrate solar into a new facility that was constructed on a redeveloped property in downtown Burlington, Vermont. The new rooftop solar array will provide the YMCA cost savings on the facility's electric bills and the opportunity to acquire the asset at a future date, while also complementing their sustainability goals to be energy efficient. The project will provide approximately 25% of the building's energy requirements with clean solar power.
• Developer: Encore Renewable Energy
• Contractor: The Peck Company
• Modules: ET Solar
• Inverters: SolarEdge
• Mounting: Panel Claw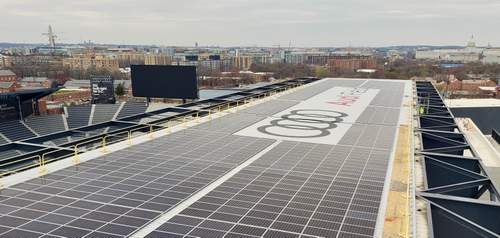 Audi Field – Stadium of D.C. United
Washington, DC | 628 kW
With a capacity of 628 kW, this system atop of D.C. United's Audi Field is the 2nd largest on-site solar system for an MLS-dedicated venue nationwide and the 5th largest solar installation in DC. The arrays span across two crowd-covering canopies and the rooftop of the administrative building. All three areas are subject to high winds generated by the Anacostia and Potomac, so each array features three times the average amount of attachments to protect the system from wind gusts of up to 150 mph. Needing to stay below 3 pounds per square foot, the system's lightweight equipment and a fully attached design were required to receive a full review from the stadium's structural engineer. The Audi Field logo atop the canopies could not be covered in panels in order to preserve an aesthetically pleasing aerial view. The system is expected to reduce the stadium's utility dependency by 30% annually.
• Developer: New Columbia Solar
• Contractor: Commonwealth Power LLC
• Modules: SunPower
• Inverters: SolarEdge
• Mounting: Aerocompact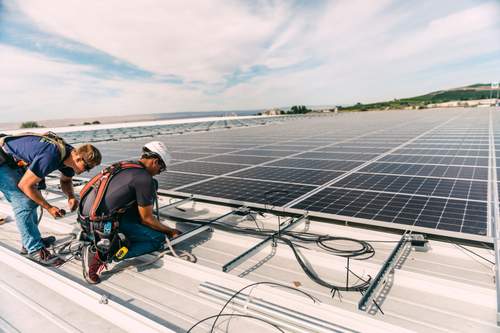 YCH Solar System
Sunnyside, Wash. | 1.085 MW
Yakima Chief Hops is an organization with close ties to family farms scattered across the Pacific Northwest, and it understands that healthy hops and communities require a healthy planet. With this latest installment of solar panels, YCH increased its solar array to nearly 70,000 square feet, spanning across six buildings, and totaling more than 1.4 million kWh of energy, making it the largest non-contiguous rooftop solar array in Washington State. Additionally, all of the construction-related work required with this project stayed local to the valley. YCH plans to increase its solar array in the future, having purchased a new building with a square footage of 250,000.
• Developer/Contractor: Ellensburg Solar
• Modules: Canadian Solar & Itek Energy
• Inverters: Solectria & Solar Edge
• Mounting: SunModo & Power-Strut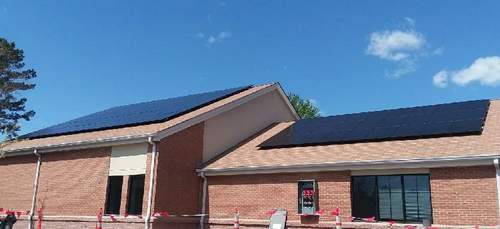 Catholic Diocese of Richmond
State of Virginia | 1.25 MW in total (6 rooftops)
This project provides a blueprint for nonprofit, religious organizations nationwide to go solar by collaborating and leveraging their real estate holdings in scale to benefit smaller projects often overlooked for funding. Mission Energy teamed with the Catholic Diocese of Richmond (Va.) to create a pathway to install solar across any of its 143 parishes and schools via a Power Purchase Agreement (PPA). Ranging in size from 61 kW to 316 kW, these six chosen sites were developed simultaneously and funded by a single investor as a portfolio. The Diocese demonstrates its commitment to solar benefits and is now targeting as much as 70% of their state-wide portfolio for roof top solar within the next three years.
• Developer: Mission Energy LLC
• Contractors: Convert Solar, Sigora Solar, ION Solar
• Modules: Trina Solar, Seraphim, Hanwha Q Cells, Canadian Solar
• Inverters: SolarEdge, SMA, Chint Power Systems (CPS)
• Mounting: IronRidge, Everest
MoZaic East
Minneapolis | 43 kW
The Ackerberg Group wanted solar panels to meet the energy goals of their LEED Gold certified MoZaic East building in uptown Minneapolis, but they were clear that they wanted the installation to be "anything but traditional." The All Energy team of in-house artists and designers collaborated with Ackerberg's architecture partners, Alliiance, from concept through final selection of the designs. Alliiance's lead project designer laid out the vision of having designs that achieved an organic fit with the architectural features of the MoZaic East building. The final installation involved 24 distinct and different checkerboard patterns, each with varying mixes and distributions of purple and grayish blue to pay homage to the color shifting characteristics of the facade."
• Developer: All Energy Solar (installer), The Ackerberg Group (building developer) Alliance (architecture partner)
• Contractor: Sistine Solar
• Modules: JA Solar
• Inverters: Enphase
• Custom racking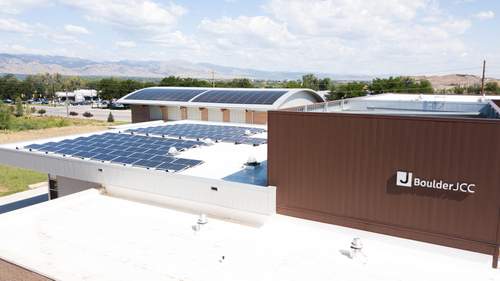 Boulder Jewish Community Center
Boulder, Colorado | 74.4 kW DC
The new 52,000-square-foot Boulder Jewish Community Center's (BJCC) state-of-the-art facility was designed to be 30% more efficient than standard construction, and a 74.4-kW PV array further helped the BJCC to achieve these goals. Generous grant programs from the City of Boulder and Boulder County, aimed at helping non-profits go solar, made this project a reality. The center features a monitoring and informational kiosk located in the lobby, displaying specific project data, including CO2 savings, equivalent trees planted, etc. The arrays, installed by The Solar Revolution, are located on multiple rooftops. The main rooftop is a highly visible and gently curved standing seam metal roof. In addition, a 7.2 kW array was installed on the adjacent barn at the "Milk and Honey Farm." The farm is 100% powered by solar and serves as a valuable educational tool for the BJCC's educational and preschool programs.
• Developer: The Solar Revolution, Boulder, CO
• Contractor: The Solar Revolution, Boulder, CO, Calcon Constructors, Colorado
• Modules: LG Solar
• Inverters: Solar Edge
• Mounting: S-5! Metal Roof Innovations, Ecolibrium
Voting has ended! Look for your Fall issue of Solar Builder for the winners!
---
C&I (ground-mount, carports)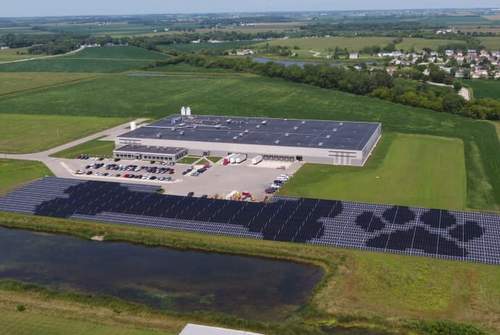 Pawesome Solar Array for Pedigree Ovens
Harvard, Illinois | 1.7 MW
Pedigree Ovens, Petdine and the Pound Bakery have served the pet industry's most 'pedigreed' large and small batch, handcrafted treats for its community of furry friends. Their 212,000 sq. ft. headquarters was built in 2017 to reflect Founder Kurt Stricker's ethos of community partnership and corporate stewardship. In honor of the bakery's leadership in the community, their solar array was built into the shape of a large dog bone and paw print. This creative array did not come without some challenges, however. Originally, proposals put the array on the roof, but due to the bakery's desired expansion plans and challenges of future oven vents needed on the rooftop, the array was moved to the ground. HT-SAAE created a customized order of black on black on black modules for the dog bone and paw print, and OMCO Solar successfully navigated uneven ground challenges, making sure the blue, silver and black on black modules were installed to ensure visual consistency.
• Developer: Simpleray
• Contractor: Althoff Industries: electrical
• Modules: HT-SAAE
• Inverters: SMA-America
• Mounting: OMCO Solar
WS Badger Company
Gilsum, NH | 486.7 kW DC
Badger Balm has a goal of becoming carbon neutral by 2030, so it chose to oversize their system to allow room for future manufacturing growth (now offsetting 140 percent of their electric usage). The ground mount was the more challenging of the two arrays with difficult topography pushing the limits on everything from screw foundation placement, to equipment staging and ladder placement. The 475' trenching required up to a 6% grade in certain places to connect the ground mounted and roof mounted arrays, in order to provide a single point of interconnection and a new utility service transformer. Construction also took place in April 2020, during the early phases of COVID-19 in New Hampshire. ReVision Energy was deemed an essential service, but paused all of its residential and interior work. As a result, the Badger project provided a safe and consistent working environment for many ReVision Energy employees at an otherwise uncertain time.
• Developer: ReVision Energy
• Contractor: ReVision Energy
• Modules: REC
• Inverters: SolarEdge, Chint Power Systems
• Mounting / Racking: IronRidge, APA Solar Racking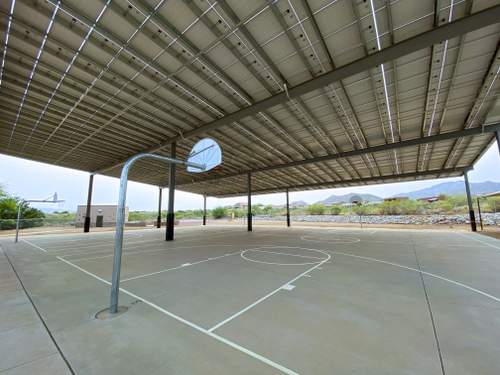 Sycamore Elementary & Corona Foothills Middle School
Vail, Ariz. | 432.63 kW
Vail School District partnered with SOLON Corporation to construct a total of 4 MWs of solar at 11 school campuses, including the Sycamore Elementary & Corona Foothills Middle School campus. The combined systems will generate over 132,000 kWh of electricity in the next 20 years and the District is expected to save at least $11 million. The Sycamore Elementary & Corona Foothills Middle School project includes two large solar superstructures totaling over 28,000 sq. ft. Each superstructure covers two basketball courts, turning these into multipurpose usage areas with tremendous value under the Arizona sun. The covered areas can now be used for basketball, sports, assemblies, outside classes and meetings, fundraisers, concerts, plays, and many other uses where shade is desirable.
• Developer: SOLON Corporation
• Contractor: SOLON Corporation
• Modules: Flextronics
• Inverters: Chint Power Systems
• Mounting: Park-N-Shade
Old New Windsor Solar Project
New Windsor, Md. | 2.7 MW
The Old New Windsor Solar Project on Fritz Family Farm turned 12 low-yield acres of their grain, hay and cattle farm into productive acreage once again. For the Fritz family, the solar development will produce 4,000 MWh annually from single axis trackers. This creates a steady source of income for their farm — a critical consideration in these days of wildly fluctuating commodity prices — by selling the power to an off-site offtaker. In this case, WSSC Water, one of the largest water and wastewater utilities in the nation, will be purchasing the power produced by the Fritz Family Farm project. The expectation is that the power will help WSSC meet its own internal sustainability goals as well as providing additional value to their Maryland customers.
• Owner/Operator: Standard Solar
• Developer/Contractor: Standard Solar, Earth and Air Technologies LLC and Ogos Energy LLC
• Modules: Vikram
• Inverters: Chint Power Systems
• Mounting: ATI
Vista Community Clinic
Vista, Calif. | 412 kW
The 412-kW solar carport installation at Vista Community Clinic (VCC) will provide long term renewable energy for the sustainability-driven healthcare facility. Vista Community Clinic partnered with the SunForAll program in funding its nonprofit solar system. Through this partnership, VCC received a generous donation from the BQuest Foundation, allowing the organization to proceed with its solar energy goals. From start to finish, M Bar C provided design, installation, and project management support for the project. The VCC solar solution consists of 5 solar carports installed throughout ground-level parking, as well as a full-cantilevered solar carport installed atop an existing parking garage.
• Developer: M Bar C Construction
• Contractor: M Bar C Construction
• Modules: Hanwa Q.Peak Duo L-G5.2 400W
• Inverters: CPS America
• Mounting: M Bar C HSS Tube Steel Carports
Voting has ended! Look for your Fall issue of Solar Builder for the winners!
---
Solar + Storage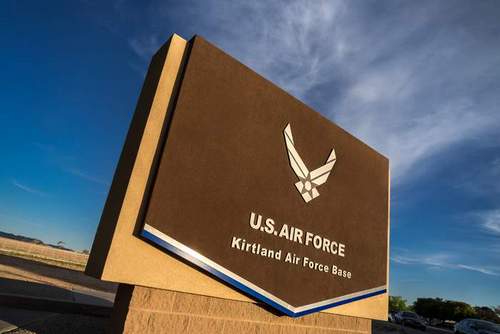 The Kirtland Resiliency Project
Albuquerque, N.M. | 250 kW microgrid: 100 kW solar; 220 kWh storage
In 2019, the BlockEnergy Smart Platform was quietly installed on Kirtland Air Force Base in New Mexico for testing in a project designated The Kirtland Resiliency Project. Purpose-built for utilities, BlockEnergy is the world's first plug-and-play energy platform meant to interoperate with the local grid and requires no customized engineering or design to deploy. The program benefitted from a partnership with Sandia National Laboratories, under a Cooperative Research and Development Agreement, (CRADA) with Emera Technologies. The result of this partnership with ETL is an advanced, resilient, secure power platform incorporating rooftop solar, battery storage and distributed controls — in a new way. After turning on the Kirtland Resiliency Project eight months ago, the system has performed effortlessly. Upcoming residential deployments of BlockEnergy will use modular parts similar to those employed for the Kirtland Resiliency Project.
• Developer: Emera Technologies
• Mechanical Engineer: Bridgers & Paxton
• Electrical Engineer: Bridgers & Paxton
• Structural Engineer: QPEC Plumbing Engineer: Bridgers & Paxton
• Modules: Itek
• Inverter: Emera Technologies for BlockEnergy
• Storage: Emera Technologies for BlockEnergy
• Mounting: S-5! and Unirac
Amesbury Landfill Solar-Plus-Storage
Amesbury, Mass. | 4.5 MW solar; 3.8 MWh storage
At the time of its completion, the Amesbury Landfill Project was the largest solar + energy storage system in Massachusetts, one of the region's first commercial-scale AC coupled battery storage systems, and a success story of the state's SREC program. During construction, CS Energy evaluated the design and repositioned equipment to minimize inner-row shading without affecting voltage drop. The weight of the battery system and its concrete equipment pads presented an obstacle in meeting the landfill's 7-psi maximum surface pressure requirement. CS Energy worked with engineers to develop a clever solution: Several concrete pads were constructed with stone subbase footprints that allowed the weight of the equipment to be distributed below the 7-psi requirement. Each pad also provided access to above ground conduit and cable tray at various locations.
• Developer: Kearsarge Energy, LP
• Contractor: CS Energy
• Moudles: Hanwha Group
• Inverters: Sungrow Power Supply Co., Ltd.
• Storage: NEC
• Mounting: RBI Solar
Sandbar Solar & Electric Warehouse
Santa Cruz, Calif. | 57 kW solar; 154 kWh storage
When Scott Laskey, owner of Sandbar Solar & Electric, decided to build a 11,500-square-foot warehouse and office space on undeveloped land, he knew he had to equip the site with a reliable power source. One option was to connect to the local utility, PG&E, which was estimated to cost nearly $75,000 to establish a new electrical service, take 18 months to connect, and cost around $1,000 monthly for electricity bills. Instead, combining a 59 kW rooftop solar array, 64 kWh Blue Planet Energy Blue Ion LXHV batteries, 30 kWh Avalon batteries, a 60 kW natural gas generator, and microgrid control software developed by Ageto Energy, was enough energy to satisfy the building's energy needs for over 96% of the year. All together, Scott was also able to cut his monthly energy bill to zero, except for a $9 natural gas charge, and expects the system to pay for itself in the coming years.
• Developer: Sandbar Solar & Electric
• Contractor: Sandbar Solar & Electric
• Modules: LG
• Inverters: Ideal Power
• Storage: Blue Planet Energy, Avalon
• Mounting: Iron Ridge
Voting has ended! Look for your Fall issue of Solar Builder for the winners!
---
Utility
Beverly Community Solar Project
Beverly, Mass. | 4.9 MW
Four years in the making, BlueWave Solar worked with the city council of Beverly to identify the site and the incentive program (Massachusetts SMART) that would make the project economically feasible. Signal Energy and Solar FlexRack worked to solve challenges from site access, design modifications, sloping terrain, soil resistivity and exposed rock. But then there was a global pandemic. Signal quickly mobilized their teams, modifying schedules and plans, establishing sanitizing stations, distributing protective gear, and re-sizing crews with new protocols to ensure the health and safety of their employees. There were additional challenges with supply chain disruption and delivery issues. Signal Energy could have declared force majeure, but they persisted. As a result, a landfill has been converted to a clean power plant that generates enough energy to power 500 homes.
• Developer: BlueWave Solar
• EPC: Signal Energy
• Modules: Hanwha Q Cells 400 W
• Inverters: SMA
• Structural: Solar FlexRack B3P-X Fixed Tilt
Ben Moreell Solar Farm
Tinton Falls, NJ | 28.5 MW
A part of the Navy's energy resiliency initiative to improve national energy security, operational capability, strategic flexibility and resource availability, is the landmark Ben Moreell Solar Farm. The project was constructed on a 180-acre site adjacent to the NWS Earle military base, a highly restricted site. The solar project itself was complex and challenging. The project team worked closely with the Navy to develop access, security, and scheduling strategies that would not impact the mission of the Naval Station or the construction of the solar facility. Not an easy task. One example was the 1.3-mile interconnection that would traverse through the Naval Station's most restricted area. At peak, crews were installing over 4,000 panels a day to hit the target completion date. A project that was years in the making was built in approximately 23 weeks when construction started.
• Developer: Vitol Solar I LLC
• Contractor: CS Energy, LLC
• Modules: Hanwha
• Inverters: SMA
• Mounting: Solar FlexRack
Turquoise Solar
Sparks, Nevada | 61.17 MW
The project site is located in the Reno Technology Park, a 2,200-acre master planned industrial park shared between Apple (1,600 acres), and Turquoise Solar (600 acres). Apple's major Nevada data center campus is located in the Park with over 300 MW of load, and upon completion Turquoise will provide power via Nevada Energy, allocated for Apple's data center through their Green Energy Rider Agreement with NV Energy. The Turquoise array sits on approximately 180 acres of igneous rock and ledge at a mountainous base — a site that saw numerous failed installation attempts. Known for a proven ability to forge into arduous soils with its proprietary ground screw foundation, TerraSmart was hired to install the solar-racking foundation and expedite the project's construction schedule (and save costs) by eliminating unnecessary clearing and civil work.
• Developer: Greenbacker Capital
• Contractor: McCarthy Building Companies, TerraSmart
• Modules: ET Solar
• Inverters: TMEIC
• Mounting: TerraSmart
Pender County Solar Power Plant
Willard, N.C. | 105 MW
Novo Nordisk is an international pharmaceutical giant with facilities around the world. The company is a member of RE 100 and had committed to using 100% renewable power by 2020. Using energy from offshore wind farms to power their sites in Denmark, hydropower in Brazil, green power certificates in Japan, and the Taibus Banner Wind Project in China, enabled the company to grow very close to completing their goal. The finishing piece was this Pender County Solar Power Plant. Owned by Cubico Sustainable Investments, the Pender County Solar Power Project is installed with state-of-the-art technology and is one of the largest solar plants in North Carolina. It will generate enough solar energy to offset electricity usage at all existing Novo Nordisk US offices, laboratories, and manufacturing facilities – and is the capstone achievement in Novo Nordisk's 100% clean energy goals.
• Developer/EPC: Cypress Creek Renewables
• Mechanical and Civil Engineers: Horne Bros Construction
• Electrical: Pure Power
• Fencing: Fortress Fencing
• Modules: First Solar Series 4
• Inverters: SMA
• Structural: Solar FlexRack G3L-X Fixed Tilt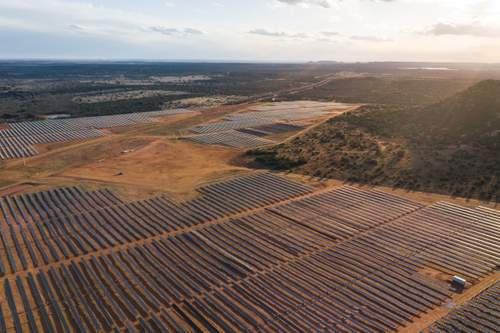 Holstein Solar Project
Wingate, Texas | 280 MWdc
Texas is one of the fastest-growing solar energy markets in the country, and the Holstein project is proof that solar will power the future. The 280 MWdc Holstein Solar project contains over 709,000 solar panels across approximately 1,300 acres and will power the equivalent of 40,000 homes. This is the first project of 8minute Solar Energy, a nationwide leader in solar-plus-storage, to begin commercial operation in the state, and they employed up to 400 workers during peak construction. After one of the nation's top renewable energy providers Duke Energy Renewables acquired the project from 8minute last summer, 8minute continued to oversee all development aspects through to commercial operation and brought the EPC, operation and maintenance (O&M), hedge, tax equity and debt counterparties to the Holstein project.
• Developer: 8minute Solar Energy; Duke Energy Renewables
• Contractor: Blattner Energy

Fulton County Community Solar
Farmington, Ill. | 2.7 MW
This 2.7 MW solar project in Fulton County is a milestone community solar project for the state of Illinois. Developed by Summit Ridge and built by Borrego Solar, it's the largest community solar project built in Illinois to date, and the first community solar project to come online in Ameren's Illinois service territory under the Illinois Power Agency's Adjustable Block Program. Built on 15 acres with nearly 7,000 panels on a single-axis tracker system, the project is estimated to generate roughly 4,317,300 kWh of clean energy per year and serve approximately 400 households annually. Over the next 25 years, the system is estimated to offset more than 75,000 metric tons of greenhouse gas emissions, equivalent to removing more than 16,000 cars from the road.
• Developer: Summit Ridge Energy
• Contractor: Borrego Solar
• Modules: Hanwha
• Inverters: Chint
• Mounting: Array Technologies
Voting has ended! Look for your Fall issue of Solar Builder for the winners!
Listen to more in-depth conversations on Solar Builder's YouTube channel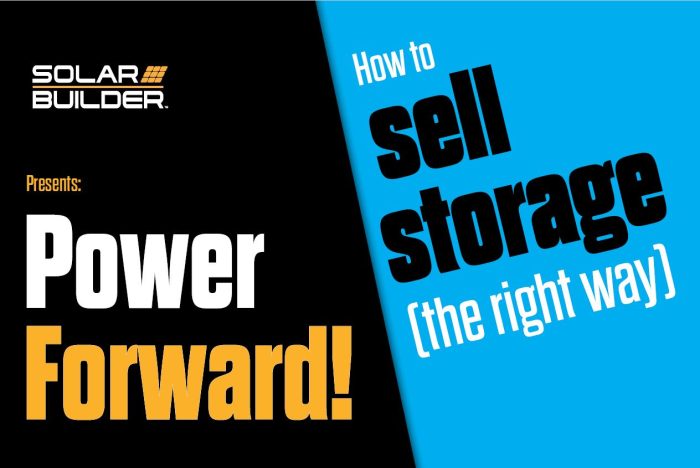 Our most popular series include:

Power Forward! | A collaboration with BayWa r.e. to discuss higher level industry topics.
The Buzz | Where we give our 2 cents per kWh on the residential solar market.
The Pitch | Discussions with solar manufacturers about their new technology and ideas.
Tags:
8minute Solar Energy
,
Aerocompact
,
All Energy Solar
,
APA Solar Racking
,
Array Technologies Inc. (ATI)
,
ATI
,
axitec
,
Blattner Energy
,
Blue Planet Energy
,
BlueWave Solar
,
Borrego Solar
,
Canadian Solar
,
Chint Power Systems
,
commercial
,
Commonwealth Power
,
CS Energy
,
Cypress Creek Renewables
,
Delta
,
Ecolibrium
,
Ecology Solar
,
Ellensburg Solar
,
Emera Technologies
,
Encore Renewable Energy
,
Enphase Energy
,
ET Solar
,
Everest
,
First Solar
,
Flextronics
,
Greenbacker Capital
,
Hanwha Q Cells
,
Horne Bros Construction
,
ION Solar
,
IronRidge
,
Itek Energy
,
JA Solar
,
JinkoSolar
,
Kearsarge Energy
,
LG Solar
,
M Bar C Construction
,
McCarthy Building Companies
,
Mission Energy
,
NEC
,
New Columbia Solar
,
OGOS Energy
,
OMCO
,
Panel Claw
,
Paradise Energy Solutions
,
Projects of the Year
,
REC Solar
,
Revision Energy
,
S-5!
,
Seraphim
,
Signal Energy Construction
,
Sigora Solar
,
SimpleRay
,
Sistine Solar
,
SMA
,
Solar FlexRack
,
SolarEdge
,
Solectria
,
SOLON Corporation
,
Sonvert Solar
,
Summit Ridge Energy
,
Sunfinity Renewable Energy
,
Sungrow
,
SunModo
,
SunPower
,
Systematic Solar Solutions
,
TaleSun
,
Terrasmart
,
The Peck Company
,
The Solar Revolution
,
Trina Solar
,
Unirac
,
utility-scale
,
Vikram
,
Vitol Solar