Seemed like just the other day that lithium-ion batteries started to attach to solar PV systems, mostly the nickel-manganese-cobalt (NMC) variety. Cut to 2022, and, according to the manufacturers we reached out to for this year's Buyer's Guide, lithium iron (ferrous) phosphate (LFP) has emerged as the trendiest battery chemistry on the market for residential and commercial and industrial (C&I) solar + storage systems. Another trend you'll note is more/new battery options provided by larger brand names in effort to be a one source solutions provider. Peruse the list below for yourself, featuring options from 18 providers. Note: Our accompanying Energy Storage System Buyer's Guide will be out in August.
Rolls Battery | R-Series LFP Drop-in Replacement Models
Chemistry: Lithium Iron Phosphate (LiFePO4)
Segments: Residential and C&I
Warranty: 3 years full replacement
Website
Designed for true drop-in replacement in standard BCI sizing, Rolls new R-Series 12V & 24V LFP lithium models offer a maintenance-free, lightweight flooded and SLA alternative with fast charge/discharge capability, built-in BMS with operating protections, up to 4x series and 4x parallel connectivity for 48V system configuration and exceptional cycle life (>6000 cycles @ 80% DOD), backed by a 3-year full replacement manufacturer warranty.
Key specs
12V models: 100-300AH
24V models: 50-150AH
Up to 4x Series, 4x Parallel (48V configuration)
>6000 cycles @ 80% DOD
Standard BCI case sizes
---
Blue Planet Energy | Blue Ion HI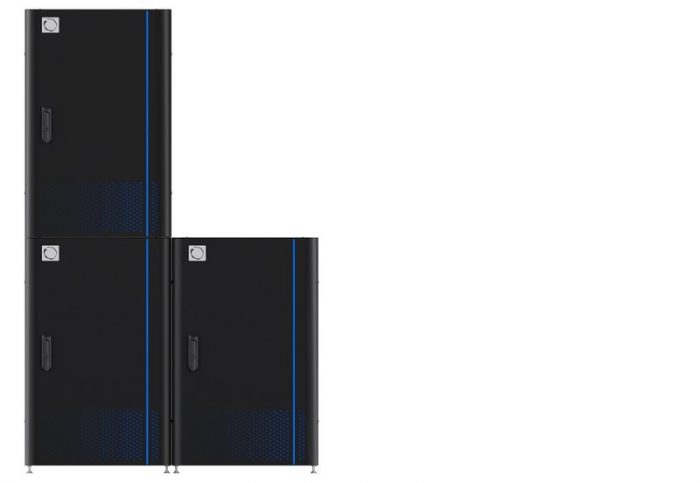 Chemistry: Lithium ferrous phosphate (LFP)
Segments: Residential and C&I
Warranty: 15-year performance warranty
Commonly paired with: All leading inverters, such as Sol-Ark, SMA, Outback, Schneider, etc.
Website
Blue Ion HI is Blue Planet Energy's premium battery system. As a universal pairing for any 48-volt battery-based inverter configured in single, split or 3-phase 208, the Blue Ion HI effortlessly accommodates energy storage from a variety of sources, including solar PV, the utility grid, generators, and more. Blue Ion HI boasts intuitive features that simplify installation, including removable panels for easy internal access, a specially designed racking system for precise battery module installation and proprietary conduit knockouts for a no-drill process. Like all Blue Planet Energy solutions, Blue Ion Technology delivers safety through a benign battery chemistry with an unmatched 15-year performance warranty. Blue Ion HI is built in the USA.
Key specs
15-year performance warranty (8,000 cycles/100% DoD)
UL9540a listed
Capacities of 8kWh, 12 kWh, and 16 kWh
High-power 8kW continuous performance
---
BSLBATT | B-LFP48-200PW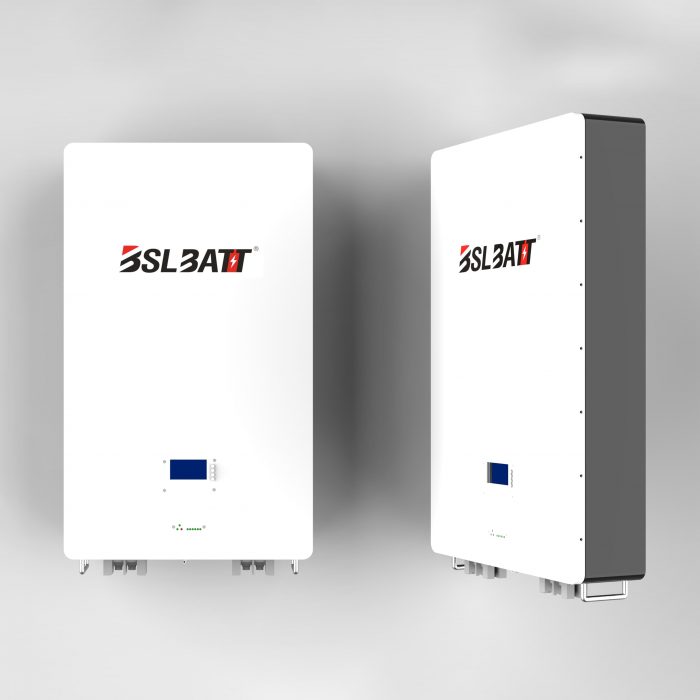 Chemistry: LiFePo4
Segments: Residential
Closed loop communication with: Victron, Studer, Deye, Growatt, Goodwe, LuxPower, so far
Warranty: 10 Years
Website

BSLBATT B-LFP48-200PW uses Lithium Iron Phosphate (LFP), and these cells are sourced from BYD and CATL, and the BMS supports the following communications Canbus / RS232 / RS485. The B-LFP48-200PW home lithium battery is lighter, more compact and more powerful, and is equipped with a state-of-the-art built-in battery management system (BMS) that allows you to easily connect to your existing solar system. The B-LFP48-200PW 10.12kWh Powerwall battery is a solution for home solar energy storage with a round-trip efficiency of up to 98%.
Key specs
Built with 16 LiFePo4 cells in series with a true voltage of 51.2V
Supports 1C charge and discharge
9.8 kW charge and discharge rate
---
BYD | Battery-Box Premium HVS
Chemistry: LFP / Prismatic Cell
Segments: Residential and small commercial
Compatible Inverters include: Fronius / Kostal / SMA / Kaco / Ingeteam
Warranty: 10 years
Website
The Battery-Box Premium HVS is the only battery to achieve efficiency rating "A" in all categories in Storage Inspection from HTW Berlin. 5 of the 6 most efficient systems include the Battery-Box. Achieved by the true High Voltage Design (205 – 512 V – dependent on module quantity) and the cobalt free LFP Battery Cells are completely produced by BYD. The battery uses a modular cable free design, which was first introduced by BYD in 2017 to reduce installation times. Flexible capacities and compatibilities with leading 1- and 3-phase inverters allow to tailor the system to the individual application. With more than 250.000 installed Battery-Box systems in over 90 countries, BYD has an outstanding experience for a hassle-free product. Further products of the Battery-Box in high- and low-voltage: HVS / HVM / HVC / LVS / LVL (4 – 983 kWh)
Key specs
5.1 / 7.7 / 10.2 / 12.8 kWh per Tower
Up to 38.4 kWh in 3 towers in parallel connection
1 C Power from Battery possible (25 A)
205 – 512 V
≥96% Round-trip Efficiency
---
BYD Battery-Max Lite
Type of battery: LFP / BYD Blade Battery
Segments: C&I
Compatible Inverters: to be released with open interface for integration
Warranty: 10 years
Battery-Max Lite is the storage system that provides Commercial and Industrial (C&I) customers with all performance benefits they are looking for while also being extremely safe and easy to use. By pairing with top-tier external inverters and offering an open interface for easy system integration, the Battery-Max Lite activates a vast number of business models: combining with renewable resources to maximize self-consumption, manage consumption-peaks (peak-shaving), backup or provide energy in other special use cases. One Battery-Max Lite provides capacities of 30 to 90 kWh. Connecting up to 64 Battery-Max Lite in parallel allows for system capacities up to 5.76 MWh. The standardized outdoor design, allows for an easy and flexible positioning with optional hangers on the side for the inverter.
Key specs
7.5 kWh per Module.
30 – 90 kWh per Battery-Max Lite (4-12 Modules)
Up to 5.76 MWh in 64 Battery-Max Lite in parallel connection
1 C Power from Battery possible (100 A)
307 – 921 V (dependent on module quantity)
---
Crown Battery | CROWN1
Chemistry: AGM (absorbent glass mat)
Warranty: Varies
Website
CROWN1 batteries use 100% renewable energy for manufacturing and are 99.3% recyclable. CROWN1 batteries also use ~80% previously recycled materials. Engineered and manufactured in the USA, its batteries are proven in 20,000+ installations on six continents, ranging from a Department of Energy single-family pilot project to North America's largest off-grid school and Central Asia's biggest microgrid. Robotic welding offers 3,960 more adjustments than conventional methods. The industry's thickest plates hold more energy-storing material, for more chemical reactions. Crown's U.S.-based sales and tech support help you avoid costly on-site drives and inspection delays. Protect your supply chain with 100% domestic critical materials and shipping available from 14 sales and distribution offices in North America.
Key specs
99% recycled
Manufactured to ISO 9001:2015 standards
250+ quality checks per battery
6-, 8-, and 12-volt models feature 33-390 Ah (20-hour rating) capacities
---
Discover | AES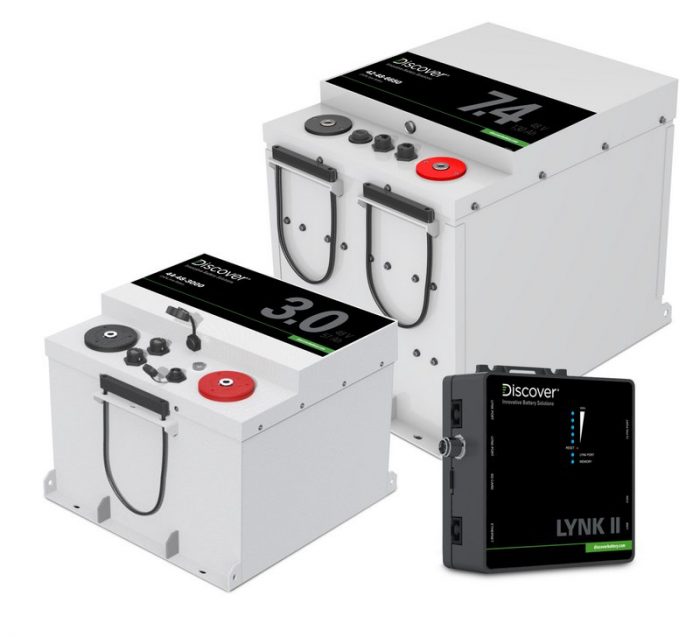 Chemistry: LiFePO4 (LFP)
Segments: Residential Off-grid, Residential Whole-home Backup, Microgrid
Closed loop communication with: Schneider Electric, Sol-Ark, Victron, Outback, SMA, Studer, Morningstar, RV-C, CANopen, Serial CAN, others
Warranty: 10 Year, or 38 MWh
Website
Discover Advanced Energy System (AES) LiFePO4 51.2V Solar Batteries (42-48-6650) offer bankable performance and a low cost of energy storage per kWh. AES LiFePO4 Lithium batteries are manufactured with the highest-grade LiFePO4 cells and feature a proprietary high current BMS that delivers superior peak power, lightning fast charge and discharge rates. AES LiFePO4 batteries paired with an LYNK II Gateway enables closed-loop integration with the world's best-known off-grid inverters and solar chargers. Parallels to 148 kWh.
Key specs
Nominal 7.4 kWh 51.2 V (48V)
Useful 6.65 kWh / 130 Ah (90 % DoD)
Peak (3s) 300 A (2.3C) Continuous 130 A (1C)
UN38.8, UL 1973, UL 2271, UL 9540 (Listed)
Rated IP 55 (Outdoor)
Efficiency 98% (Round Trip)

---
EnerSys | OutBack Power Mojave
Chemistry: Lithium-ion (NMC)
Segments: Residential
Closed loop communication: With OutBack Mojave ESS and other systems
Warranty: 10 years or 46 MWh
Capacity Nameplate/Usable: 14.8 / 11.8kWh
AC Coupling: Up to 8kW 200A
Max Discharge Current Peak/Continuous: 200A
Integrated DC Disconnect Rating: 250A
Operating Temperature Range: 32 to 113°F (0 to 45°C)
---
Enphase | IQ Battery 10T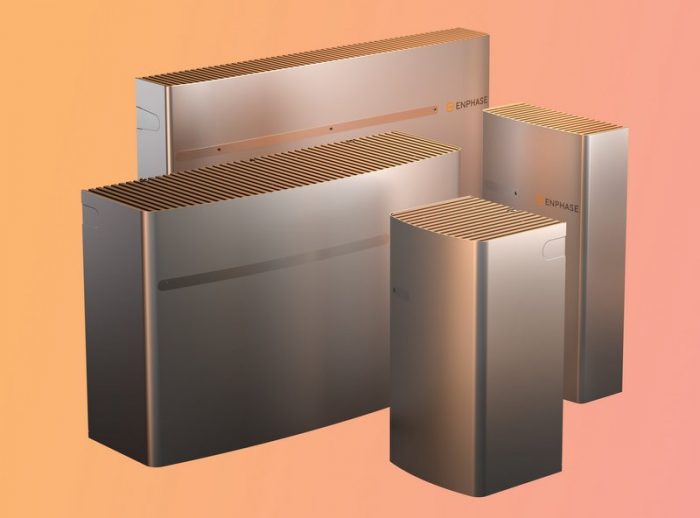 Chemistry: Lithium iron phosphate (LFP)
Segments: Residential
Closed loop communication: The Enphase Energy System
Warranty: >80% capacity, up to 10 years or 4,000 cycles
The Enphase IQ Battery 10T all-in-one AC-coupled storage system consists of three base IQ Battery 3T units, has a total usable energy capacity of 10.08 kWh, and utilizes 12 embedded grid-forming IQ8 Microinverters with 3.84 kW power rating. The IQ Battery provides backup capability with its intelligent Power Start technology that instantly detects when a power-hungry appliance is trying to start and automatically throttles the power consumed by the appliance so it can start safely and reliably, every time.
Key specs
10.08 kWh Capacity
3.84 kVA Rated (continuous) output power
5.76kVA (10 seconds) Peak output power
16 A Rated output current
96% Round trip efficiency (DC)
67.2 V Nominal DC voltage
---
Generac | PWRcell Outdoor Rated Battery
Chemistry specifics: Lithium Nickel Manganese Cobalt (NMC)
Segments: Residential
Closed loop communication: Generac PWRcell Inverters
Warranty: 10 Years
Website
The PWRcell Outdoor Rated (OR) Battery is a Type 3R smart battery that allows for a range of storage configurations to suit any need. The PWRcell Battery allows system owners the flexibility to scale from an economical 9 kWh to a massive 18 kWh just by installing additional battery modules. Able to DC-couple to Generac PWRzone solar devices and the 9kW PWRgenerator, PWRcell offers complete system integration.
Key specs
Up to 18kWh storage per PWRcell Battery
Up to 9kW continuous AC power
Up to 50A peak motor starting current
96.5% DC round-trip efficiency
3R cabinet for outdoor and indoor installations

---
Harris Battery | 48V Series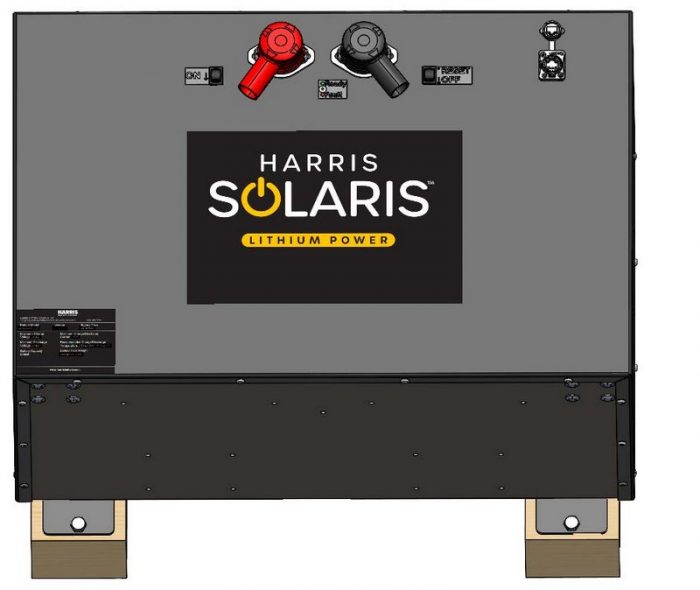 Chemistry specifics: Prismatic – LiFePO4
Segments: Both Residential and C&I
Warranty: 10 Year — 5 Year Full/5 Year Prorated
Website
Harris Battery has made significant engineering and technology investments to ensure your business is positioned for the growth opportunity that exists in the renewable energy sector. Its in house engineering resources are ready to partner with your business to deliver renewable energy storage and fail safe Grid Tied and Off Grid operations. Harris supports renewable energy installers with multiple battery chemistries and balance of system for turn key solutions — and will soon be rebranding the product line as Solaris to match this focus. Safe LiFePO4 and Intelligent Battery Management System (BMS) that is compatible with most industry standard inverters and chargers.
Key specs
31.0KWh stackable up to 1MW
Max Continuous Charge / Discharge Amps – 300A
Throughput Energy – 86MWh
48V (DC Nominal 51.2v)
---
JinkoSolar | EAGLE RS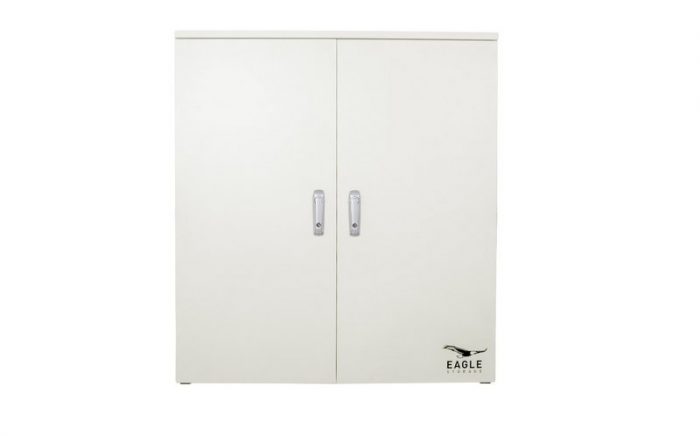 Chemistry specifics: LFP
Segment: Residential
Closed loop communication: With Jinko EagleRS system
Website
The EAGLE RS utilizes industry leading Li-Ion LFP battery technology with a robust battery management system for safe operation with a standard 10-year warranty.
Key specs
Rated Capacity: 26.2 kWh
Nominal Voltage: 410V
Max. Charge/Discharge Power: 7kW/7kW
Operating Temperature: -10°C – 50°C
Depth of Discharge (DOD): 95%
EAGLE CS
Segment: C&I
Closed loop communication: With Jinko EagleCS system
Warranty: Wrapped Warranty with multiple term options available
The EAGLE CS utilizes Li-Ion LFP battery technology with integrated fire suppression and gas detection systems. This technology has been certified to UL9540A fire tested to ensure maximum system safety. EAGLE CS is available in both Modular and Containerized solutions configured to your specific project needs. Multiple capacity and power options are available and feature Jinko's industry leading fully wrapped warranty.
Key specs
Modular Solution, Capacity: 372kWh (ea)
Module Solution, Nominal Voltage: 1331 VDC
Containerized Solution, Capacity: 2700kWh (ea)
Containerized Solution, Nominal Voltage: 1152 VDC
Duration: 1 to 4 Hours
Thermal Management: HVAC and Liquid Cooling Options
---
Lion Energy | UT 13.5 kWh
Chemistry: Lithium Iron Phosphate
Segments: Resi and C&I
Closed loop communication: Lion Sanctuary ESS
Warranty: 10 years with option for 25 years
Website
Installations with Lion's UT 13.5 kWh batteries take less time and look cleaner than other ESS systems. They provide an industry-best pass through of 90 amps to more easily power more loads. Every installer is assigned a Customer Service Representative, A Sales Manager and an Engineer from the Sanctuary Support Team. Because of the quick installation and the minimal additional equipment required for the install, the overall cost of installation is lower. Lion includes all of the wiring, hardware and runways required for a standard installation.

Key specs
Voltage Range: 40 – 55.6 VDC
Max Capacity: 13,875Wh
Max Parallel Capacity: 41,625Wh
Wt/Dims: 277 lbs / 39.75" x 18.5" x 9.75"
---
POMCube | NetZero+ Flex
Chemistry: LFP
Segment: Residential
Closed loop communication: CANbus (multiple protocol supported)
Warranty: 10 year
Website
Adding battery capacity for your customers without sending a truck roll. POMCube NetZero+ Flex enables your customers to start with as little as 7.5 kWh lithium iron phosphate battery (LFP) and expand to as much as 20 kWh when needed. The prewired backplane inside the waterproof battery cabinet enables your customers to add battery capacity very easily by simply plugging additional battery module(s). No removal of the battery controller or rewiring the battery cabinet is ever needed. Certainly, no new EMT pipe bending is needed. Each battery module is 2.5 kWh and only weighs 47lb. It can be easily operated by an adult with very little effort. The newly added battery module will balance itself with existing battery automatically so that maximum usable capacity is guaranteed.
Key specs
Flexible battery capacity from 5kWh ~ 20kWh
No wiring is required.
Each LFP battery module weighs 47 lb
4=Bay, 6-bay and 8-bay waterproof battery cabinets (IP65)
---
Panasonic | EverVolt Battery
Chemistries: Both NMC and LFP
Segments: Residential
Closed loop communication: Panasonic EverVolt Energy Storage
Warranty: 60% at the end of 10 years (45.36 MWh)
Website
The EverVolt energy storage system comprises of modular batteries to meet varying customer needs. Each battery module weighs about 55lbs each enclosed in a battery cabinet to ensure easy installation. The battery cabinet can house up to a maximum of 6 batteries with a usable storage capacity of 17.1 kWh. Panasonic can also have the 4-battery configuration for a storage capacity of 11.4 kWh. A single EverVolt gen 1.5 system can have up to 2 battery cabinets for a maximum energy capacity of 34.2 kWh per system and stack up to 3 systems to obtain a maximum battery capacity of 102 kWh.
Key specs
Usable Energy Capacity: 11.4 – 17.1 kWh
Battery Voltage: 48V
Battery Module Weight: 55lbs
Operating Temperature Charging: 41°F to 131°F [5°C to 55°C]
Operating Temperature Discharging: 32°F to 122°F [0°C to 50°C]
---
Pylon | Pelio
Chemistry: LFP lithium ion battery
Segments: Residential
Closed loop communication: Victron, SMA, Schneider Electric, Solis, Inteteam and more
Warranty: 10 years performance warranty
Website
Pelio is specifically developed energy storage system for modern residential properties. The slim design brings impressively compact footprint, with about 0.1 sqm. At maximum, it can include 20 kWh of capacity. A benefit of the modular design concept, the system is expandable up to 20 pcs (5.12 kWh per module, scalable up to 104 kWh) of installation capacity. Thanks to the IP65 rating and all-new mechanical design, Pelio can be installed by wall-mount or floor-mount in either an indoor or outdoor environment. Combine with the 24/7 online monitoring platform, and all of these features provide tremendous potential for users to liberating their energy during electricity shortage, black-out, and off-grid application scenarios.
Key specs
About 0.1sqm footprint for 20kWh of BESS installation
4kw continuous/6.1KW@15min/10.2KW@15sec
Modular design, expandable from 5.12~102.4 kWh

---
SimpliPhi Power | PHI 3.8-M
Chemistry: Lithium Iron Phosphate
Segments: Residential, C&I
Warranty: 10 Year
Website
Recently acquired by Briggs and Stratton, SimpliPhi Power's PHI 3.8-M Battery is certified to UL 1973, 9540 and is UL 9540A fire-safety tested. By eliminating cobalt, customers are not at risk of thermal runaway, fire propagation, or explosive hazards, and do not have the complication of operating temperature constraints or toxic coolants. When combined with SimpliPhi's integrated high-performance Battery Management System (BMS), accessible 80A DC breaker On/Off switch and overcurrent protection (OCPD), the PHI 3.8-M Battery delivers safe, highly efficient and cost-effective service over the life of both residential and commercial installations, on or off-grid.
Key specs
Operating Efficiency = 98%
Max discharge rate = 80 Amps DC
10,000 cycles at 80% DOD

---
SolarEdge Home Battery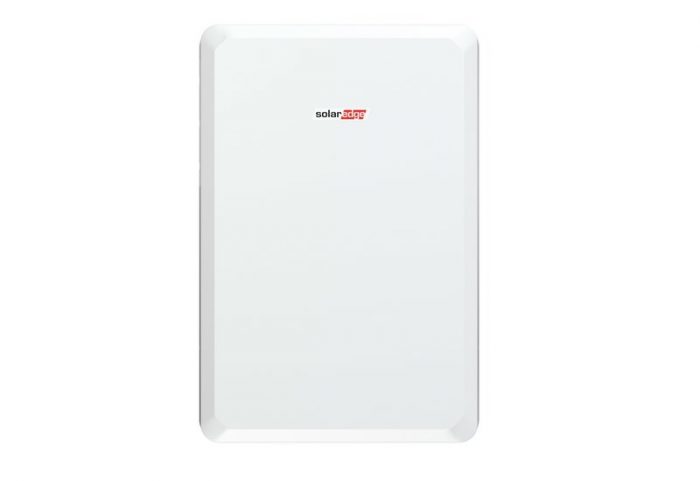 Chemistry: NMC
Segments: Residential
Closed loop communication: SolarEdge Energy Hub inverters
Warranty: 10 years with no power cycle or kWh discharged limitations
Website
The Solar Edge Home battery is a DC coupled battery designed to work with the SolarEdge Energy Hub inverter, providing a complete SolarEdge residential offering, with a single point of contact for warranty, support, training, and simplified logistics & operations. The DC coupled battery maximizes system performance, generating more energy to store and use for on-grid and backup power applications. Direct connection from PV to the battery allows reduced clipping as well as superior efficiency, from PV to battery to grid. The overall solution allows scaling to increased power and capacity with multiple SolarEdge inverters and batteries. The battery uses wireless communication to the inverter, reducing wiring, labor and installation faults. The result is simple plug and play installation, with automatic mobile-based configuration.
Key specs
9.7 kWh capacity
5 kW continuous power per battery, 7 kW peak (up to 10 seconds)
94.5% Roundtrip Efficiency
Indoor / Outdoor rated, floor or wall mountable
UL9540A Certified for reduced spacing
---
Yotta Energy | SolarLEAF
Chemistry: LFP
Segments: C&I
Closed loop communication: Yotta DPI
Warranty: 10 Years
Website
The Yotta SolarLEAF is a fully integrated energy storage solution that seamlessly fits into solar photovoltaic (PV) racking behind each solar PV panel. Engineered with patented, smart thermal regulation technology, the SolarLEAF safely enables a distributed and scalable format while maximizing the life and performance of the battery under extreme temperature conditions. The SolarLEAF is an easily deployed energy storage solution for time-of-use-based control and demand charge management. The SolarLEAF allows for a lower total installed cost for adding energy storage to commercial and industrial rooftop solar PV systems.
Key specs
Up to 750W Solar PV Input
26.4 Amp hours
24.0V to 43.8V
6,000+ Cycles
95% DC Conversion Efficiency

Listen to more in-depth conversations on Solar Builder's YouTube channel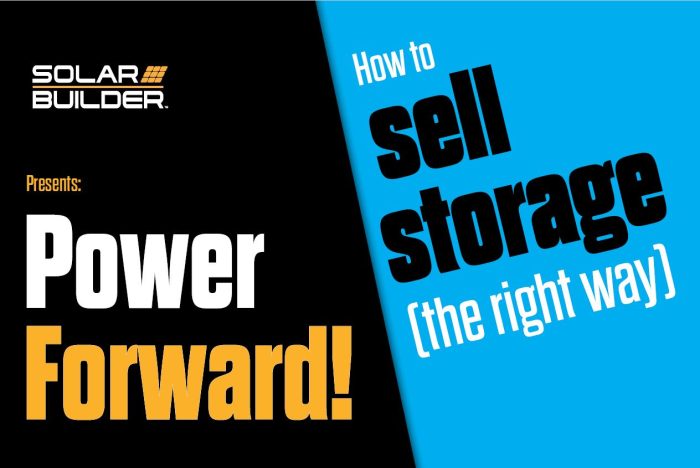 Our most popular series include:

Power Forward! | A collaboration with BayWa r.e. to discuss higher level industry topics.
The Buzz | Where we give our 2 cents per kWh on the residential solar market.
The Pitch | Discussions with solar manufacturers about their new technology and ideas.
Tags:
Blue Planet Energy
,
BYD
,
commercial and industrial
,
Crown Battery
,
Enersys
,
Enphase Energy
,
Generac
,
JinkoSolar
,
Lion Energy
,
Panasonic
,
POMCube
,
Pylontech
,
Rolls Battery
,
SimpliPhi Power
,
Solar Builder Buyer's Guide
,
SolarEdge
,
Yotta Energy