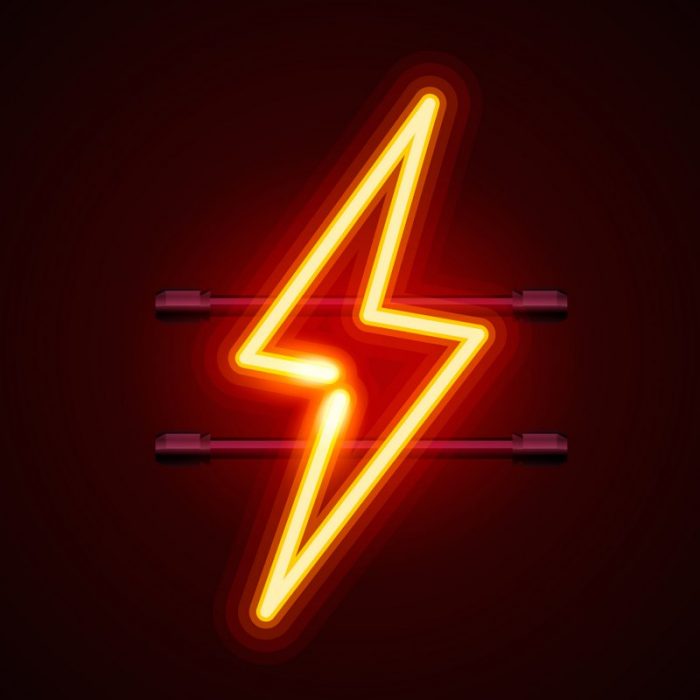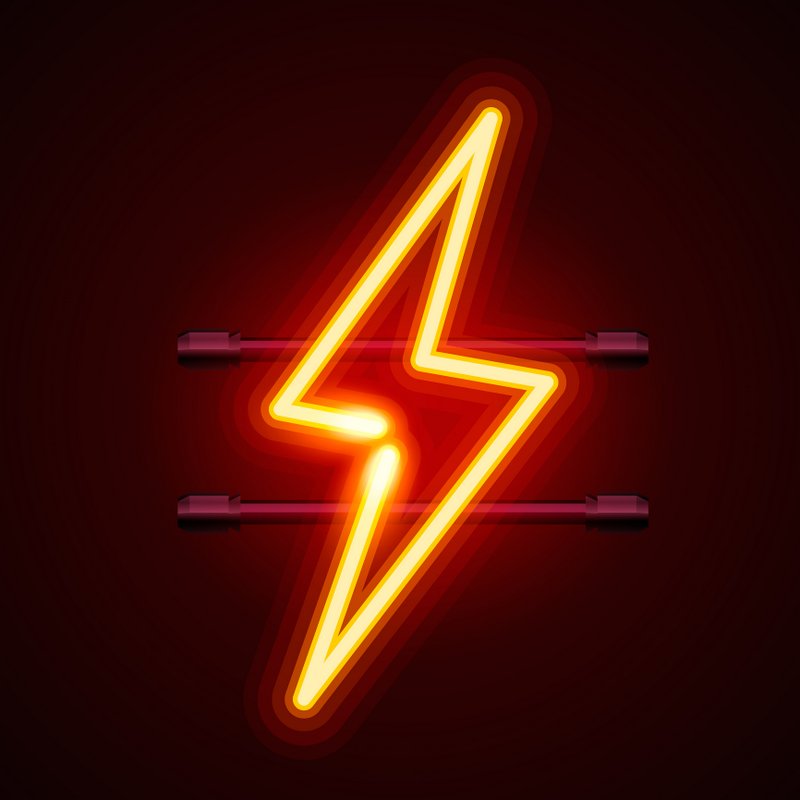 Energy storage systems (ESS) are increasingly being paired with solar PV arrays to optimize use of the generated energy. ESS, in turn, is getting savvier and feature-rich. Batteries can be smartly deployed to maximize ROI. They can charge and discharge batteries more quickly and efficiently. And they can allow for oversized PV arrays to better meet the needs of customers from small, off-grid homes to larger, grid-tied microgrids. We asked ESS and charge controller suppliers to tell us about their latest system, what applications it is for and why you should consider it for your next project. You'll also find links back to our Battery Buyer's Guide to learn more about batteries that pair best with each system.
---
Panasonic | EverVolt Energy Storage System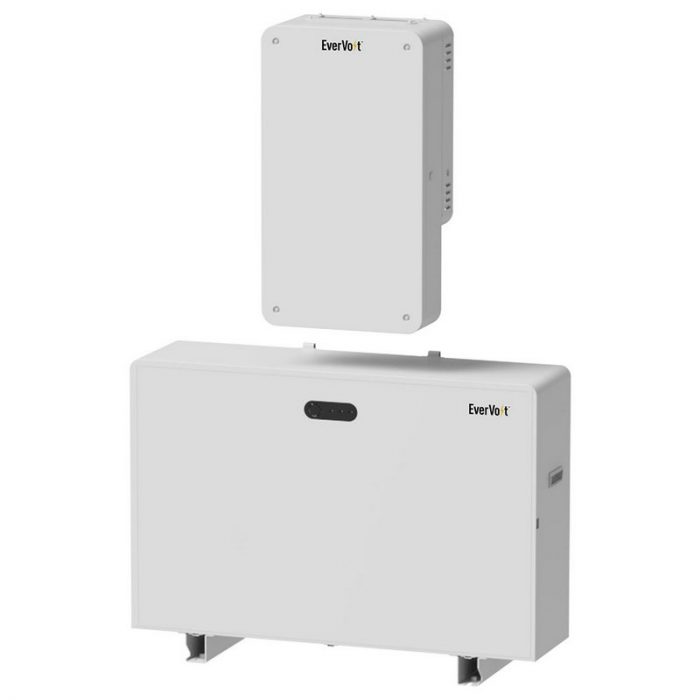 This is a Full Energy Storage System for grid-tied homes
The EverVolt storage system comes with a hybrid inverter and modular batteries. The inverter can connect to a PV input of up to 6.5 kW DC over two MPPT channels and is available in both AC and DC coupled options. The upcoming new generation inverter can connect to the PV input of 12 kW DC and can be both AC and DC coupled at the same time. The EverVolt can be paired with any existing solar array and can also be installed without solar. The gen 2.0 inverters are battery-ready and can be paired with any solar installation and batteries can be added later.
Inverter Continuous Output Power: 5.5 kW AC and 7.6 kW AC
Continuous Output Current: 23 A and 32 A
CEC Roundtrip Efficiency: 86-90%
Number of MPPTs: 2 and 4
Stackability: Up to 3 systems
Warranty: 10 years
Battery pairing: EverVolt Battery
Website: na.panasonic.com/us/
Email: PanasonicBatteryStorage@us.panasonic.com
---
Morningstar Corporation | GenStar MPPT DC system controller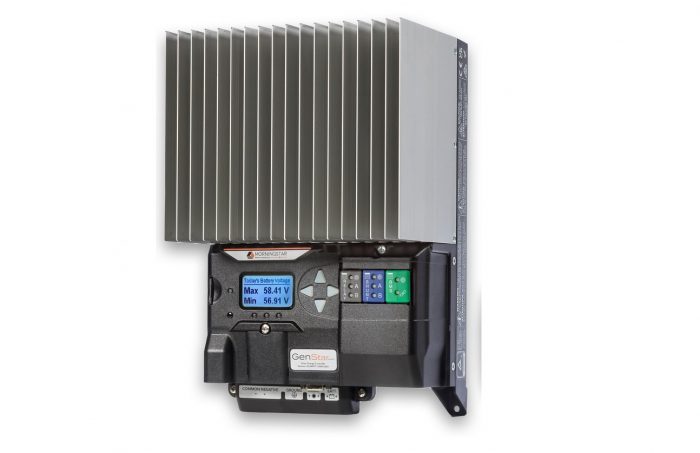 This is a DC System Controller for off-grid residential, industrial, C&I
GenStar MPPT is a future-proofed and fully-integrated DC charging system, one that can grow with a solar electric system. Combining the muscle of Morningstar's TriStar controller with the latest in advanced communications, control and networking technology, GenStar is an all-new design with "lithium DNA," but supports all battery chemistries. It can grow with system needs, through an innovative ReadyBlock expansion system which allows adding key technology and features when needed — including Lithium BMS communication, advanced load control, and metering/monitoring of key metrics. GenStar provides full network integration without requiring add-on adapters or extra equipment, plus WiFi and Bluetooth connectivity. Fanless design improves efficiency and lowers self-consumption, along with removing a common point of failure. Powerful load control with built-in 30A load capability is unique for controllers in this power class, as well as oversized PV array input rating at 150%.
12 / 24 / 48 Volt nominal batteries
200 Volt solar input
100 Amp battery charging
Integrated 30 Amp load control
Warranty: 5 years
Battery pairing: Morningstar has an Energy Storage Partner program (ESP), which includes the leading lithium and other advanced-battery brands such as Trojan, Simpliphi, Discover, MK/Deka, Fortress Power, RELiON, KiloVault, PylonTech,Lithionics, PowerPlus Energy (Australia), Enerdrive (Australia), genZ (Australia) and others. This simplifies installation and set-up, and reduces the need for system designers to go back-and-forth between battery and component companies to accurately set up a system.
Website: morningstarcorp.com
Email: sales@morningstarcorp.com
---
Blue Planet Energy | Blue Ion LX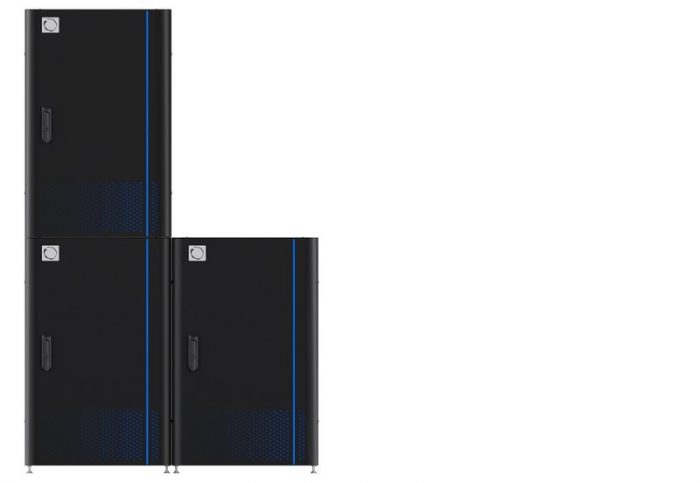 This is an Integrated Energy Storage System for C&I / Microgrids
The Blue Ion LX from Blue Planet Energy is a premium, grid-optional energy storage solution that integrates a wide range of renewable and traditional energy sources to power businesses, critical infrastructure and global resilience projects. When paired with solar PV, a Blue Ion LX microgrid can operate independent of, or in conjunction with, the utility grid. Built in the U.S., the Blue Ion LX solution integrates energy storage, system intelligence and site controls in a ruggedized enclosure. The solution includes a pre-tested and pre-configured battery inverter. Blue Planet Energy supports the Blue Ion LX with a suite of services, including project design and sales support; installation and commissioning support; and O&M and financing services. Blue Planet Energy offers zero-money-down financing for new solar-plus-storage microgrids integrating the Blue Ion LX. With a first-of-its-kind financing model, business owners pay only for electricity usage generated by a new solar array and a fixed rate for the added benefits and services delivered by the Blue Ion LX system.
Non-toxic lithium ferrous phosphate battery chemistry
15-year performance warranty (8,000 cycles/100% DoD)
UL9540a listed
125kW/128kWh system size, expandable in 32kWh increments
Cloud, Local Area Network and/or Blue Ion LX touchscreen data access
Warranty: 15-year performance warranty
Battery pairing: Proprietary Blue Planet battery
Email: sales@blueplanetenergy.com
---
BoxPower | SolarContainer
This is a Full Energy Storage System for off-grid residential, C&I / Microgrids, utility, telecom, agricultural, EV charging, critical facilities
The BoxPower SolarContainer is a modular, pre-engineered microgrid solution that integrates solar PV, battery storage, bi-directional inverters, and an optional backup generator. BoxPower systems are pre-wired in standard 20-foot shipping containers to withstand harsh weather conditions, simplify shipping, reduce costs, and increase security. Solar arrays are easily mounted directly onto the container using BoxPower's proprietary racking system. Multiple SolarContainers can be linked together to serve higher loads. All systems are pre-tested and pre-commissioned before shipping. They are also warrantied, fire safe, permit ready, and optimized with remote monitoring and control capabilities. The SolarContainer is highly configurable, with the ability to seamlessly adjust the solar, battery, inverter, and generator capacities to optimally serve energy loads.
4 to 25 kW solar PV per 20-foot shipping container
7.4 to 148 kWh LFP battery storage per container
6.8 to 27.2 kW (single phase) or 20 kW (three phase)
120/240 V (single phase) to 120/208 V (three phase)
8.5 kW to 50 kW optional integrated backup generator (propane or diesel)
Warranty: 10-year warranty on all BoxPower workmanship, battery warranty varies by manufacturer.
Battery pairing: Discover, SimpliPhi and others (technology agnostic)
---
BSLBATT Lithium | B-LFP48-200PW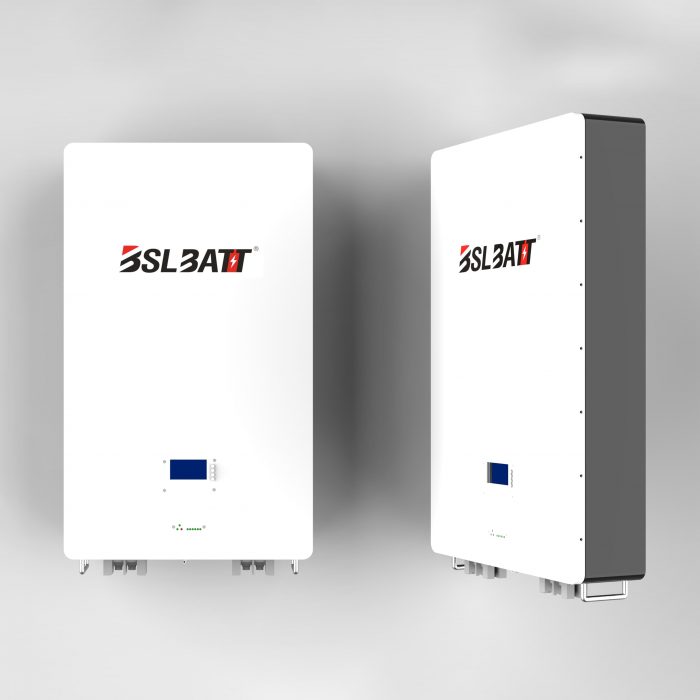 This is a Full Energy Storage System for off-grid Resi and grid-tied resi
BSLBATT B-LFP48-200PW uses the safest lithium-ion chemical, Lithium Iron Phosphate (LFP), and these cells are sourced from BYD and CATL, and the BMS supports the following communications Canbus / RS232 / RS485. The B-LFP48-200PW home lithium battery is lighter, more compact and more powerful, and is equipped with a state-of-the-art built-in battery management system (BMS) that allows you to easily connect to your existing solar system.
10.12 kWh
Round-trip efficiency of up to 98%.
Built with 16 LiFePo4 cells in series with a true voltage of 51.2V
Supports 1C charge and discharge
9.8kW charge and discharge rate
Warranty: 10 Years
Battery pairing: BSLBATT Lithium
Website: www.bsl-battery.com/
Email: inquiry@bsl-battery.com
---
Electriq Power | PowerPod 2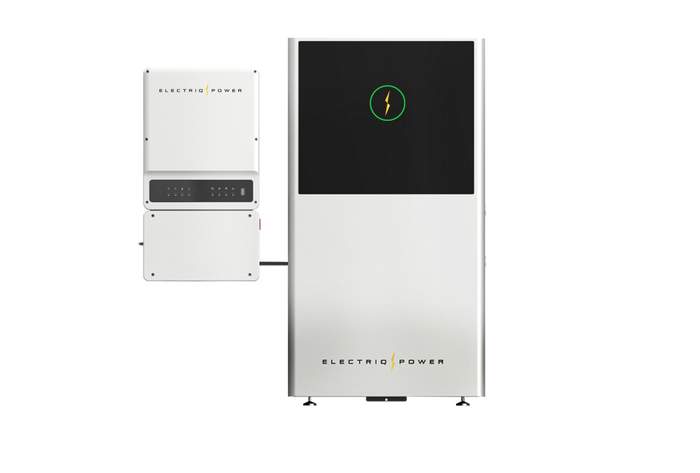 This is a Full Energy Storage System For grid-tied resi
The PowerPod 2 is a rechargeable home battery and home energy management solution that stores energy from solar or the grid. With a built-in inverter, the PP2 can be retrofitted into an existing solar system, be part of a brand new installation, or can operate as a stand-alone system. Thanks to its modular design, the PP2 is easy to install and maintain. The system's PowerHub energy management software enables customers to manage their home energy system from an intuitive app, and users can maximize their solar installation by pulling energy from their PV system when generation is highest. The PP2 is rated for indoor and outdoor installation. The PP2 also supports existing and future grid services markets, demand response, and resource adequacy.
10, 15, 20 kWh capacities
7.6 kW continuous output to home and grid
UL 9540 certified
UL9540A approved
OpenADR 2.0b-certified
Warranty: 10 years
Operates within temperatures from -4°F to 131°F.
Battery pairing: Included. Brand agnostic, but LFP chemistries.
Website: electriqpower.com/
Email: info@electriqpower.com
---
EnerSys | OutBack Power | Mojave
This is a Full Energy Storage System for off-grid and grid-tied homes
OutBack's Mojave platform combines the latest power electronics and control technology with the robust features having defined OutBack Power for over 20 years. The Mojave ESS includes the battery and integrated controls and communications for more simple and intuitive installation. Mojave comes ready to ac-couple with most grid-tied solar inverters and micro-inverters, which is the easiest way to add the economic and resilience benefits of energy storage to existing residential PV systems.
Max Peak/Continuous AC Output Power: 10kVA / 8kVA (derate above 40°C)
Listings/Certifications: UL 1741 SA, CSA 22.2 No. 107.1, IEEE 1547-2003, IEEE 1547.1-2005, UL1973: 20182, UN38.3, UL 9540: 2020 pending
Grid Interactivity Supported Operating Modes: Immediate battery backup power, grid support (UL 1741 SA), net metering, non-export, off-grid and grid-tied
Supported Interconnection Standards: IEEE 1547-2003, IEEE 1547.1-2005
AC Coupling: Up to 8 kW
Warranty: 10 years or 46 MWh
Battery pairing: OutBack Power Mojave Battery
Website: www.outbackpower.com
Sales contact email: sales@outbackpower.com
---
Enphase Energy | Enphase Energy System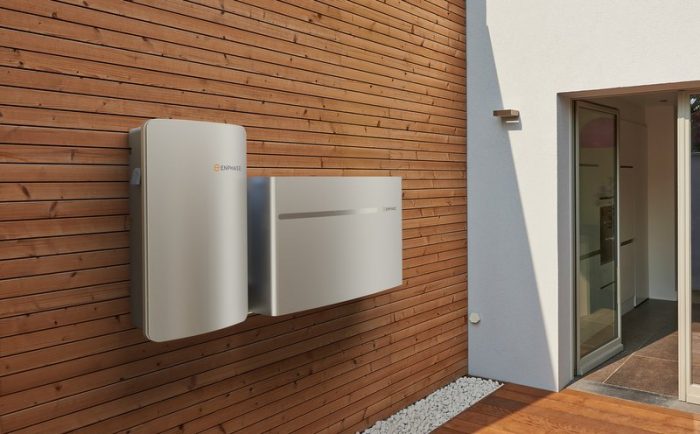 This is a Full Energy Storage System for off-grid and grid-tied homes
The Enphase Energy System combines solar, battery, and software together in an all-in-one home energy system. The Enphase Energy System IQ Controller, IQ Gateway, and IQ Load Controller components enable intelligent and seamless operation. The Enphase App allows homeowners to see all of their energy data in a single app, both in real-time and as it fluctuates over time. The Enphase Energy System is certified to UL 1741 SB, meeting the new North American safety and grid interconnection standards. The Enphase Energy System combines the company's grid-forming IQ8 microinverters that can provide backup during outages without a battery with the IQ Battery 10T. The combo offers super-fast response times that eliminate battery sizing limitations.
10.08 kWh Capacity (also available in more modular 3.36kWh size)
3.84 kVA Rated (continuous) output power
5.76kVA (10 seconds) Peak output power
16 A Rated output current
96% Round trip efficiency (DC)
67.2 V Nominal dc voltage
Warranty: IQ8 Microinverter 25-year limited warranty; IQ Batteries: 10-year limited warranty, with the option to purchase a 5-year extension in most states; certain additional components: 5-year limited warranty
Battery pairing: Enphase IQ Battery
Website: https://enphase.com/
Email: anewbold@enphaseenergy.com
---
FranklinWH | Home Power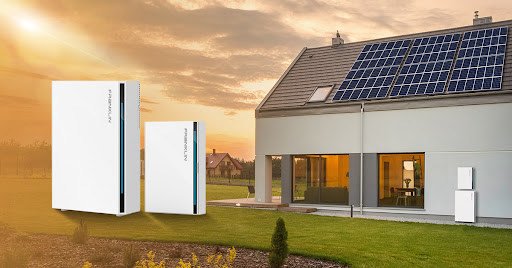 This is a Full Energy Storage System for grid-tied or off-grid homes
FranklinWH was recently added to the approved vendor list (AVL) for both Mosaic and Goodleap, two of the country's most recognized financing companies. The Franklin Home Power solution combines the aPower battery (LFP, 13.6 kWh) with the aGate smart control system. The aGate control system uses built-in adaptive learning algorithms to manage the most complex load scenarios effectively. It is able to not only safeguard the main panel but also integrate three additional large loads of the homeowner's choice, such as an HVAC, pool heating, or electric vehicle charging. Its app prompts homeowners to modify consumption when needed or sell power back to the grid at peak rates. Allows for generator integration.
10 kW of peak power
Solar back start: Max 4-ton AC startup
Scale up to 15 units for a total of 204 kWh
Warranty: 12-year, 43 MWh
Bankability report from DNV
Website: www.franklinwh.com/
---
Generac Power Systems | PWRcell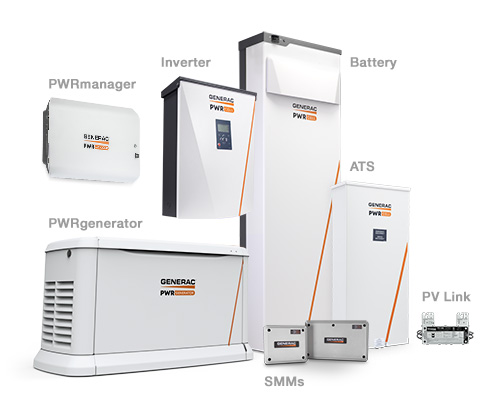 This is a Full Energy Storage System for grid-tied residential
The PWRcell Solar + Battery Storage System isn't just a powerful battery and inverter, it's one of the most flexible and scalable home energy system on the market. With up to 18 kWh of storage from one PWRcell Outdoor Rated (OR) Battery, or as little as 9 kWh, PWRcell is compatible with almost any budget or lifestyle. Each component of the system has been uniquely designed for complete integration and ease of install. Generac has also introduced new products like the PWRmanager advanced load management device and the 9 kW PWRgenerator, offering even more ways to bring your customers whole home backup power and true energy independence.
7.6kW Hybrid Inverter
97% CEC efficiency
Up to 9kW continuous AC power
Up to 18kWh storage per PWRcell Battery
32A max continuous output current
Warranty: 10 years or 7.56 MWh Throughput (per module)
Battery pairing: PWRcell
Website: Generac.com
Email: pwrcell.sales@generac.com
---
JinkoSolar (U.S.) | EAGLE RS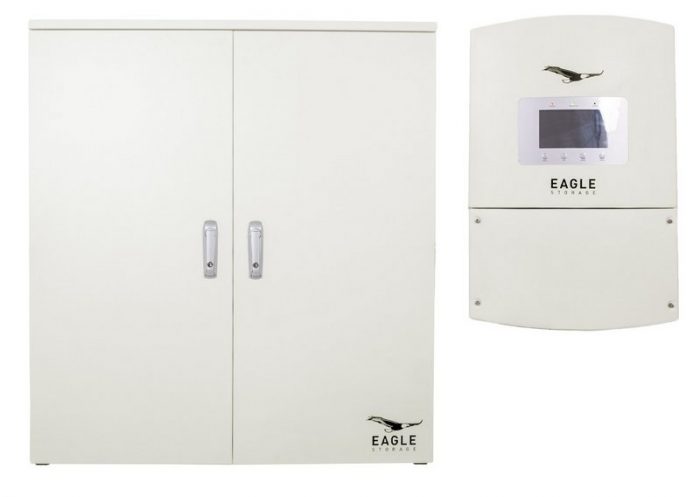 This is a Full Energy Storage System for off-grid and grid-tied residential
JinkoSolar's EAGLE RS is a 7.6 kW/ 26.2 kWh dc-coupled residential energy storage system that is UL9540 certified as an all-in-one solution. The EAGLE RS utilizes LFP battery technology, a robust battery management system for safe operation, and a standard 10-year warranty. An integrated automatic transfer switch and autotransformer enables seamless operation during power outage events when paired with solar. The U.S. based monitoring app is included for both installers and end-users to track system production.
Nominal Power Rating: 7.6kW
Nominal Capacity: 26.2kWh
UL9540 Certified
Outdoor Rated: IP55/65 and NEMA4X
CEC Round Trip Efficiency: 89.5%
Warranty: 10-year system warranty
Battery pairing: Jinko's Eagle RS
EAGLE CS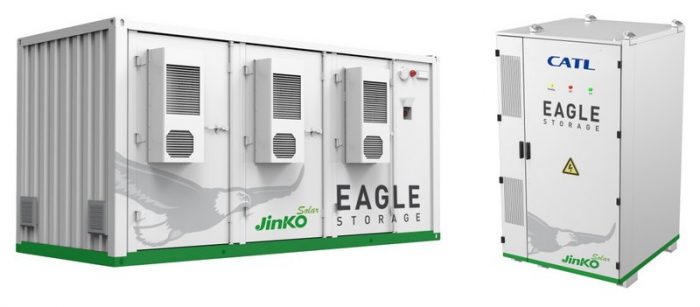 This is a Full Energy Storage System for C&I / Microgrids
JinkoSolar's EAGLE CS is a fully integrated, scalable, turnkey ac-coupled energy storage system for C&I and utility applications. The EAGLE CS utilizes LFP battery technology that comes with a BMS, liquid or air cooling, fire suppression and off-gas detection. With sizes ranging from 373 kWh modular racks to 2,700 kWh in a 20' container, the BESS is paired with PCS's all backed by JinkoSolar as a single point of contact for contracting, delivery, warranty and service.
Modular Solution Capacity: 372kWh (ea)
Containerized Solution Capacity: 2700kWh (ea)
PCS Nameplate Power: 1500kW & 3100kW
Duration: 1 – 4 Hours
Thermal Management: HVAC and Liquid Cooling Options
Warranty: Wrapped Warranty with multiple term options
Website: www.jinkosolar.us
Email: Todd.Nguyen@jinkosolar.com
---
Lion Energy | Lion Sanctuary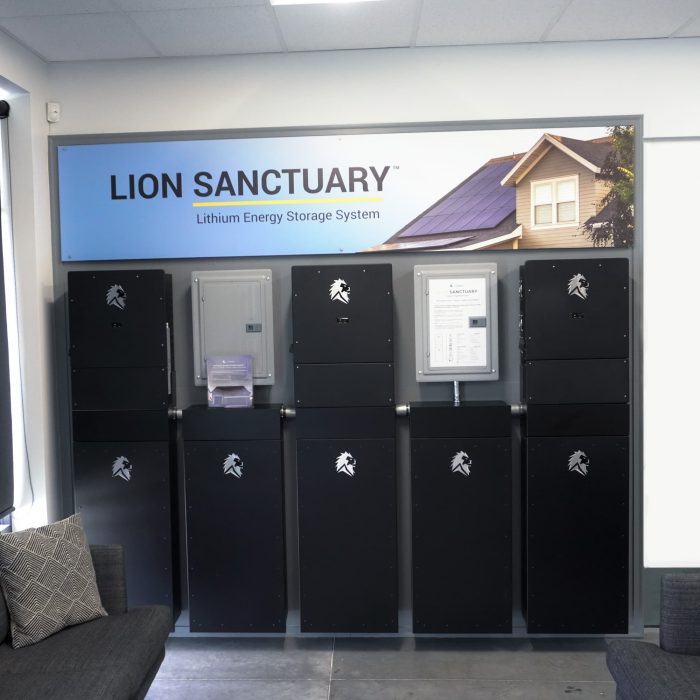 This is a hybrid inverter and LFP BSS for on- or off-grid residential and small C&I
The Lion Sanctuary System is a powerful solar inverter and energy storage system that combines Lion's efficient 8 kW hybrid inverter/charger with a powerful Lithium Iron Phosphate 13.5 kWh battery. The combination provides for true energy independence whether you are on-grid (metered or non-metered) or off-grid. It can also be expanded to fit larger energy storage needs.
8K Hybrid Inverter / Charge with 13.5kWh to 40.5kWh LiFePO4 Batteries
UL9540 and UL 1741 compliant and UL1973 for the Battery
Max range of inverter up to 16kW
Combined weight 347 lbs (70 for Inverter, 277 for Battery)
Can put in series and parallel
Battery pairing: Lion's UT 13.5 kWh batteries
Website: lionenergy.com/pages/sanctuary
---
POMCube Inc. | NetZero+ Parallel
This is a Full Energy Storage System for off-grid and grid-tied residential
Complete whole home backup solution for standard 200A utility service. Support surging up to 175A and continuous load up to 25 kVA with or without the grid. The true 400V battery, along with the patented single-stage inverter, achieves 96.4% conversion efficiency from solar to ac. Modular design makes each LFP battery module weighs only 47 lbs. 38 kWh out of 40 kWh usable battery capacity, with a sufficient number of PV panels installed, can easily take a 3,000 sq ft home off the grid while participating in demand response or VPP program for fast ROI.
175A Surging Current @ 240V for 10 seconds
Continuous 25KVA with or without grid
True 400Vdc 20 kWh Battery System x2 (total 40kWh)
200A Bypass built-in – No ATS needed
8.5Wdc PV input x 4 – total of 34kWdc PV supported
Warranty: 10-year standard with 20-year warranty as an option
Battery pairing: NetZero+ Flex
Website: www.netzero.plus/
Email: na-sales@pomcube.odoo.com
---
PXiSE | MGC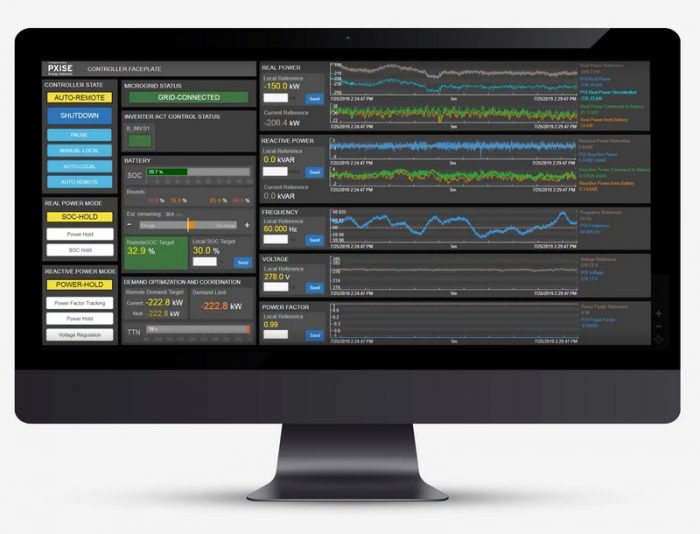 This is a Microgrid controller
The PXiSE Microgrid Controller (MGC) helps utilities, campuses, and communities manage and coordinate localized DERs and loads by independently balancing real and reactive power, and efficiently dispatching resources for resiliency, power quality, and economic benefit. The hardware agnostic software works with any number of assets to improve equipment efficiency and enables participation in real-time and day-ahead energy market programs. Built-in AI uses a proprietary predictive analytics engine to forecast and dispatch assets. High-speed phasor measurement units (PMUs) operating at 60Hz supply the controller with data to ensure power quality of intermittent assets and match load and weather forecasts to real-time. Operating autonomously, the MGC maintains optimal conditions for sensitive equipment by mitigating deviations in facility current, voltage, and frequency. Precise control maximizes allowable power output and stabilizes voltage at the POI. PXiSE's MGC shines in complex, multi-asset environments and has been proven in behind-the meter and in front-of-the–meter applications.
Autonomous islanding and reconnection
Black start capability
Fast load shedding and intermittent resource curtailment
Ramp rate control and frequency support @POI
Data measurement and control at up to 60Hz for inverter-based resources
Warranty: 60-day software warranty with ongoing support available under our Software Confidence Program
Battery pairing: Any battery brand with BMS firmware and inverter integration
Website: pxise.com/mgc
Email: pxiseteam@pxise.com
---
Pylon Technologies Co. | Pylontech All in one ESS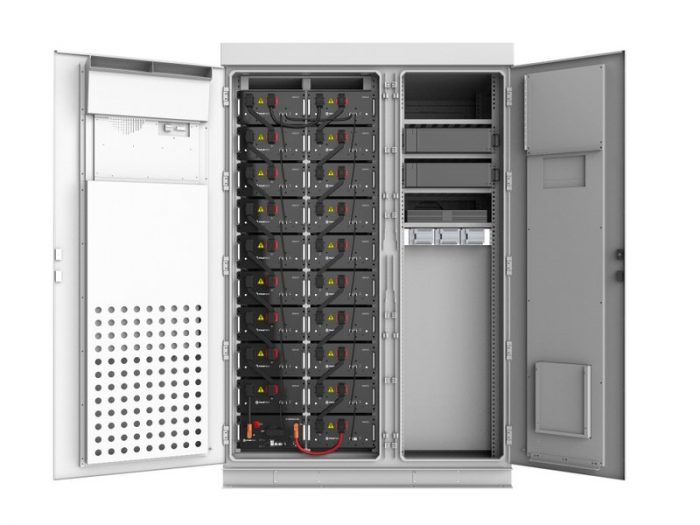 This is a Full Energy Storage System for C&I / Microgrids
Pylontech All in one ESS integrates battery, BMS, PCS, EMS, HVAC and fire equipment. The system can be applied in substations, small industrial and commercial buildings, hospitals, charging stations and other various scenarios with flexible configurations according to widely range of PCS power rating and battery capacity. It can be used in variety of installation environments thanks to the permissible ambient temperature range of -20 to +60 degrees Celsius. It has passed critical tests in line with UL1973 and UL9540A, with top safety for self-protection. All components include battery modules will be pre-installed inside Optimus before delivery, which significantly save transportation and installation cost.
Battery optional capacity range:100~400KWh
PCS Power optional power range: 30~200KW
Suitable for 2~4 hours back up
Warranty: 10 years performance warranty for battery system. 3 years quality warranty for PCS, EMS, HVAC, cabinet, and accessories.
Battery pairing: Pylon batteries
Website: en.pylontech.com.cn
Email: qq.wang@pylontech.com.cn
---
Schneider Electric | XW Pro Hybrid Inverter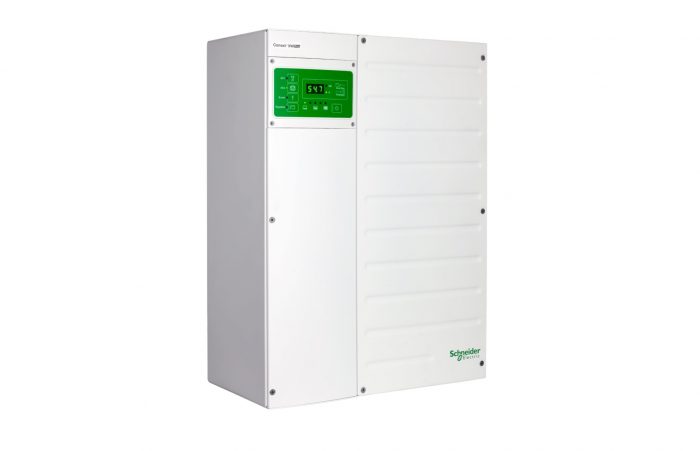 This is a Hybrid solar PV inverter for off-grid and grid-tied homes / C&I / microgrids
One of the significant advantages of the XW Pro's design is a robust transformer. The toroidal transformer provides industry-best surge capability with a high overload rating (2x power). As a result, the XW Pro can start heavy-duty tools such as air compressors, water pumps, air conditioners, and motor loads. With high power performance and surge capability, the XW Pro handles dynamic backup power loads better than any other inverter on the market. It can also sustain significant line imbalance in backup mode (12kW on a single line for 60s). For those who want to extend backup duration by adding a generator, the XW Pro also fully integrates with generators. The flexibility to stack up to 4 units or configure for 3-phase systems with up to 6 units gives installers ultimate control over how to design the system around the needs of their customers.
6,800 W continuous output power at 25 °C
12,000 W overload 60 sec
140 A maximum output charge current
48 VDC nominal battery voltage
95.1% peak efficiency
Warranty: Up to 10 years
Battery pairing: The XW Pro works with most leading battery brands. Li-ion battery brands that have BMS integration with XW Pro include Blue Planet Energy, Discover Battery, Fortress Power, Pylon Tech, and SimpliPhi Power. Read more on all of those here.
Website: solar.se.com
Email: maren.saddler@se.com
---
SimpliPHI Power | SimpliPHI ESS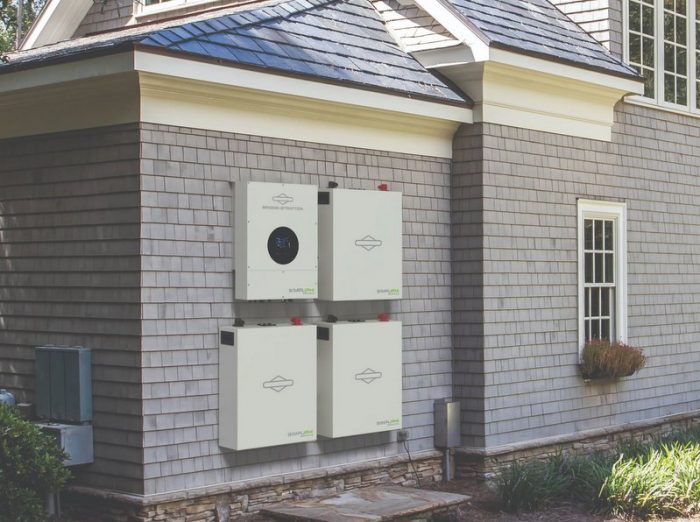 This is a Full Energy Storage System for off-grid and grid-tied homes
Briggs & Stratton is now able to offer a full line of intelligent energy storage products after officially debuting the ac or dc-coupled SimpliPHI Energy Storage System (ESS). This is one vertically integrated Energy Storage System (ESS) with modular components that scale power and energy capacity independently. Increase power to satisfy higher electrical loads with paralleled SimpliPHI 6 kW Inverters. The Hybrid Inverter works seamlessly with the SimpliPHI ESS 4.9 kWh Battery and EnergyTrak Mobile App that monitors and controls any customized solution. Integrated RSD relays are certified with APSmart RSD receivers. UL 1741 & UL 1973 Certified, (UL9540 pending).
Hybrid 6 kW Inverter with MPPT, scales to 54 kW
< 8 milliseconds switchover time
4.9 kWh Battery with Closed Loop Communication, scales to 358 kWh
Simple 5 step commissioning mobile app
IP 65 Rated indoor/outdoor components
Warranty: 10 years
Battery pairing: SimpliPHI
Website: simpliphipower.com/
Email: sales@simpliphipower.com
---
SolarEdge | Energy Hub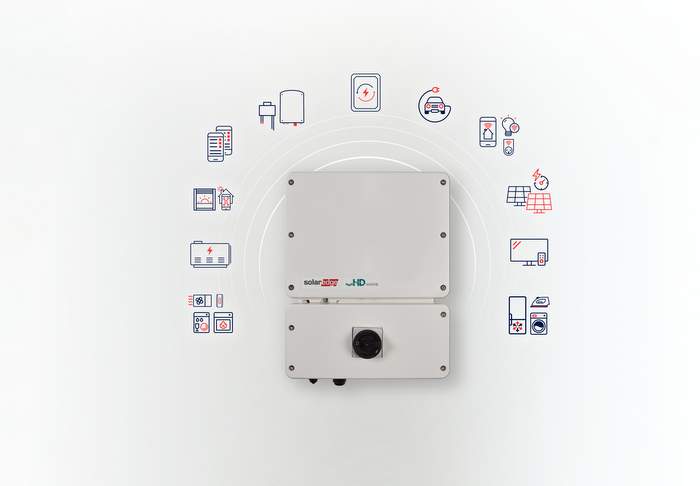 This is a Hybrid solar PV inverter and Battery inverter/charger for off-grid and grid-tied homes
The SolarEdge Energy Hub Inverter is a PV + Battery inverter based on SolarEdge's HDWave technology, providing record-breaking 99% weighted efficiency with 200% DC oversizing. The Energy Hub is designed to operate with SolarEdge's power optimizers, providing module-level shutdown to NEC requirements and mitigation against production loss due to shade and other sources of module mismatch. When used with multiple batteries, the Energy Hub provides enhanced battery power up to 10kW per inverter. Each Energy Hub includes built-in revenue grade production monitoring, as well as cellular connectivity to Solar Edge's monitoring platform. The Energy Hub has a modular design and has optional upgrades to dc-coupled storage (for full or partial home backup), built-in consumption monitoring, and connection to the SolarEdge Smart EV charger.
3.8 to 11.4kW models for both PV + Battery power
99.0% CEC efficiency
Stackable up to 3 batteries per inverter and 3 inverters per backup system
Up to 200% PV DC/AC oversizing
Warranty: 12 years, extendable to 20 or 25 years
Battery pairings: SolarEdge Home Battery or LGES RESU16H Prime or LGES RESU10H Prime
Website: https://www.solaredge.com/
---
Sunrun | Home Battery System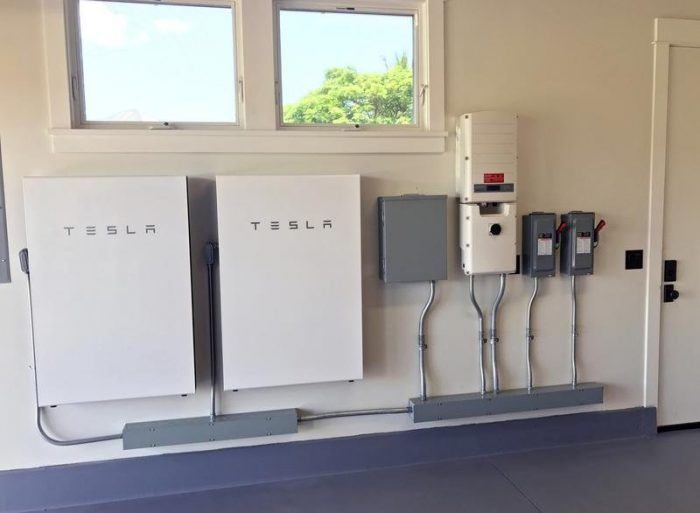 This is a Full Energy Storage System for grid-tied resi / C&I / Microgrids
Sunrun's home batteries allow customers to generate, store, and manage clean, affordable solar energy. Sunrun offers two lithium-ion solar battery storage options: Tesla Powerwall and LG Energy Solution (LGES). Compared to lead acid batteries, solar batteries using lithium-ion technology are more efficient and have longer lifespans. This makes them one of the best energy storage options when going solar. Tesla Powerwall can provide whole home backup while LGES backs up to four circuits. There are also differences in the software and app functionality. Sunrun has installed over 37,000 home battery systems and expects battery installations to increase by more than 50% in 2022, which is twice the growth rate of overall solar installations. Key specs (w/ LG Chem battery):
Total energy capacity (kWh): 9.6 kWh
Round trip efficiency: >90%
Warranty: 70% capacity after 10 years
Usable energy (kWh): 9.6 kWh
Power rating (continuous): 5.0 kW
Battery pairings: Tesla Powerwall and LG Chem.
Website: www.sunrun.com/solar-battery-storage
---
SunPower | SunVault Storage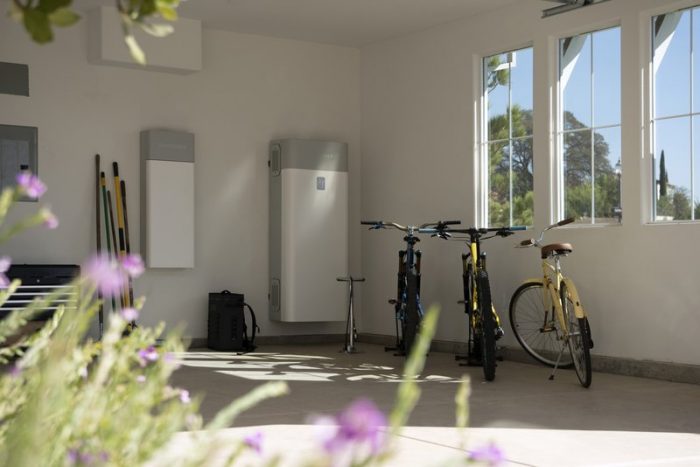 This is a Full Energy Storage System for grid-tied residential
SunPower's battery storage solution, SunVault, enables users to store the energy they generate from their roof to use when they need it most, providing homeowners additional energy savings and peace of mind as climate events cause more grid outages and blackouts. SunVault is offered in various sizes and configurations up to 52 kWh. Based on system size and design, SunVault customers can use stored energy to keep indispensable appliances running or power their entire home to keep the things that make life easier and more comfortable. A single SunVault with a larger battery capacity can provide up to three days of backup so customers can power essential devices for longer. SunVault is also eligible for various grid services programs including ConnectedSolutions VPP and OhmConnect – enabling customers to get paid for allowing the utility to use stored energy during peak demand and contribute to a more stable power grid in their community.
Stackable inverters with up to 24 kW of backup power surge (10 sec rating)
Up to 13.6 kW of rated continuous discharge power in backup mode
Up to 104 A of Load Start Capability (LRA) in backup mode
Wall or floor mounted
UL 9540 and UL 9540A certified
Warranty: 10-year warranty, including 70% usable energy retention — no restriction on total energy throughput or the number of times customers can charge their battery
Battery pairing: SunVault
Website: https://us.sunpower.com/
Email: https://us.sunpower.com/resources/support
---
Yotta Energy | Yotta SolarLEAF and Dual-Power Inverter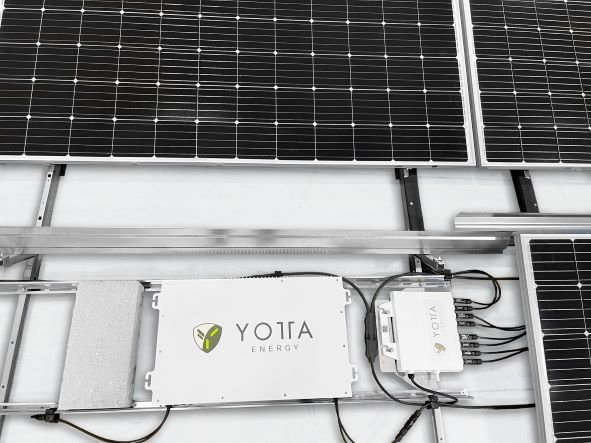 This is a Full Energy Storage System for C&I / Microgrids
Yotta's Dual-Power Inverter (DPI) is a unique power conversion system designed to be interchangeable between solar and energy storage. This feature delivers maximum flexibility and offers all the benefits of a microinverter at costs comparable to string inverters. Rated at 1.2kW, this four-port micro inverter can accommodate up to four high-capacity PV modules (up to 500 W) and is dually compatible with Yotta's SolarLEAF, SL1000, module-level energy storage technology. This UL1741 (SA) compliant inverter is a utility-interactive microinverter with Reactive Power Control (RPC) technology and meets NEC 2014/2017/2020 Rapid Shutdown compliance requirements. The modular DPI platform is also ideal for the phased expansion of existing PV systems without complex electrical reconfiguration.
Maximum Continuous Power Output – 1,200W at 240V and 1,100W at 208V
Peak Efficiency of 96.5%
MPPT Voltage Range 22V-48V
Nominal MPPT Efficiency of 99.5%
Operating temperature range -40°F to 149°F (-40°C to 65°C)
Warranty: up to 25 years
Battery pairing: Yotta SolarLEAF
Website: www.yottaenergy.com
Sales contact email: sales@yottaenergy.com
Listen to more in-depth conversations on Solar Builder's YouTube channel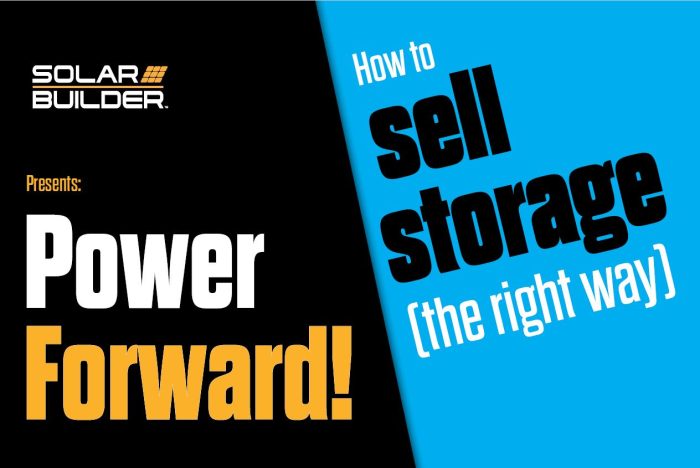 Our most popular series include:

Power Forward! | A collaboration with BayWa r.e. to discuss higher level industry topics.
The Buzz | Where we give our 2 cents per kWh on the residential solar market.
The Pitch | Discussions with solar manufacturers about their new technology and ideas.
Tags:
commercial and industrial
,
microgrids
,
Solar Builder Buyer's Guide