A rooftop solar PV array is only as good as the mounts and rails it sits upon. Below we have the latest updates from 16 manufacturers across residential and commercial & industrial solar mounting systems, and approaches vary greatly. In residential, some are improve upon the tried-and-true rail-mounted configurations with metal flashing, while others venture into rail-less and deck-attached approaches. In C&I, there's the ever-popular metal roof attachments, plus the emergence of molded-plastic cradles and even an attempt at rooftop trackers.
---
It includes mounting, racking and wire management
---
EcoFasten, an Esdec company, offers installer-friendly, cost-effective solar PV roof mounts and racking systems for the U.S. solar industry. The company has been in business since 2007 and its broad portfolio of patented watertight solutions are available in configurations for every roof type.
Number of pieces: 4
Tools needed: One tool (1/2" deep well socket)
Certifications: Conforms to UL 2703
Installation: Installing the rail-less RockIt System on composition shingle roofing is not only one of the most economical solutions on the market, it's also one of the fastest and easiest to install, thanks to the use of the watertight EcoFasten flashing that utilizes a single fastener. Once the flashing with RockIt Slides is installed and leveled on the eave edge, move on to installing the first row of RockIt Mounts, Array Skirts, and Couplings. All that's left is to install the PV modules and continue the installation of upslope mounts and couplings. Level the remainder of the system as you go, or after installation of the PV array is complete.
Advantages: The RockIt System is the industry's premier rail-less PV racking system available in configurations for composition shingle, tile, and metal roof types. Designed in conjunction with the needs of installers, RockIt quickly and easily installs with a single tool and features EcoFasten's patented, watertight technology. With a convenient, easy-to-position alignment slide and a top-down leveling system, RockIt is logistically intelligent, with no need to ship or transport long rails. RockIt System provides a streamlined installation, fully integrated bonding, and North-South adjustability. Components are available in a black finish that complements both commercial and residential applications. RockIt conforms to UL 2703.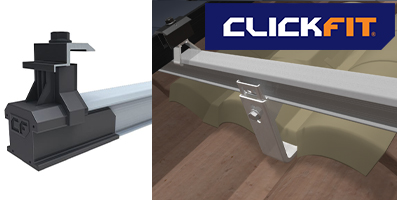 Number of pieces: 8 with Mid Clamps & End Clamps
Tools needed: One tool (1/2" deep well socket)
Certifications: Conforms to UL 2703
How does it install:
ClickFit on Tile: ClickFit is one of the fastest installing rail-based racking systems in the industry, thanks to the Click-in Rail assembly. ClickFit gives installers the versatility in attachment options they want and is the most cost-effective when installed on tile roofing.
To begin, install the ClickFit Tile Hook and replace the tile that was moved and/or removed, or install the Tile Hook Flashing. Install ClickFit Tile Hook Sub-Flashing next, providing an additional layer of watertight protection.
Place the rail in the Clickers and roll the rail into each Clicker – an audible "click" should be heard. Level if necessary, then install the ClickFit End Clamp on each rail (on whichever end you started with), place the PV module, align, and tighten.
Advantages: ClickFit conforms to UL 2703, features fully integrated bonding, and is one of the fastest installing rail-based systems in the industry. Thanks to its Click-In Rail assembly, the rails can be connected to any of EcoFasten's composition shingle, tile, and metal roof mounts in seconds, without the need for fasteners or tools. The Mid Clamps and End Clamps are compatible with PV module thickness between 30-55mm.
The ClickFit system is fabricated from robust materials, such as aluminum and coated steel, to ensure corrosion-resistance and overall product longevity. ClickFit has been tested in extreme weather conditions including wind, fire, and snow.

Number of pieces: 3
Tools needed: Two tools (3/8" Allen head bit and ½" drive for the Mid Clamps and Coupling)
Certifications: Conforms to UL 2703
How does it install: SimpleBlock-PV employs pre-installed two-oval point set screws for a super-fast installation on metal standing seam roofing. To attach SimpleBlock-PV, place the block (clamp) over the standing seam and lift up on the block until the lip engages the underside of the folded metal roof seam, then torque the set screws to 150 in-lbs.
Install the first row of blocks with End Spacers and Mid Clamps. The blocks with Mid Clamps join the adjacent North-South PV modules, while the Couplings join and bond the adjacent PV modules East-West. Install remaining Blocks, Mid Clamps, Couplings, and PV modules on upslope tiers as needed.
Advantages: SimpleBlock-PV is the innovative rail-less racking system for use on metal standing seam roofs. The system uses EcoFasten End Spacers and Mid Clamps with integrated bonding, while the block (clamp) employs two oval point set screws that are pre-installed to ensure a fast, easy installation without the worry of these tiny components rolling or falling from the roof. Maintaining the integrity of the roof is EcoFasten's top priority, and the three-component system utilizes clamp-to-seam technology, eliminating the need to penetrate the roofing material. SimpleBlock-PV fits most double-lock standing seam metal roof profiles, features North-South adjustability, and conforms to UL 2703.

Number of pieces: 4
Tools needed: Two Tools (Phillips Head and ½" socket)
How does it install: Once the mounting location has been determined and the roofing and insulation have been cut to accommodate the base plate, install the flashing over the two threaded studs on the base plate, followed by installing the EPDM Sealing Washers over both threaded studs. Place the F-202 Compression Bracket over the threaded studs and place a single bonded washer over each stud with the rubber side facing the roof. Thread it down the stud to the compression bracket before adding the hex nut. Install and tighten down the hex nuts to each threaded stud. Next, attach the mounting bracket or post of your choice to the F-202 using the included all-thread, and finally, waterproof the EFL-BLK-1014 following the techniques specific to the roof membrane.
Advantages: The ECO-65 is a specialty direct-to-deck attachment for low-slope roofing. The roof attachment is engineered specifically for use on new or existing (retrofit) low-slope roofs constructed of rolled asphalt or membrane (TPO, EPDM, PVC). ECO-65 is used by countless manufacturers of ballasted solar racking systems to augment their products for weight reduction and seismic attachment. The ECO-65 base plate is designed to be attached specifically to wood blocking or wood decking, and the mount itself features two studs for attachment, which allows the use of larger compression brackets when needed. ECO-65 is a watertight solution compatible with any racking system.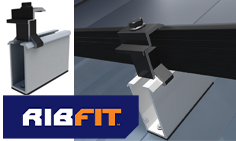 Number of pieces: 4
Tools needed: Two Tools (¼" hex socket, ½" socket)
Certifications: Conforms to UL 2703
How does it install: Determine array layout, mark center of corrugation, and draw a straight line indicating where Mounting Profile will be installed. Double-check the ridge width (minimum of 3/4") and metal thickness (minimum of 26ga). The screw quantity tables will determine the number of screws needed. Attach the Mounting Profiles using the self-piercing screws and a cordless drill with a ¼" hex socket. The self-piercing screws are applied perpendicular to the roof surface, forming a watertight seal. Next, install End Clamps on the first two Mounting Profiles closest to the eave. Lower End Clamp to the Mounting Profile and "Click" the clamp over the side flanges. Place the first module, align and slide the End Clamp flush with the module frame. Tighten End Clamps and begin installing Mid Clamps. Complete by repeating the steps for each column of modules using the Mid Clamp Clicker as a spacer for consistent E-W gap between modules.

Advantages: The RibFit system is an easy to install, four-component, rail-less solar racking system designed for use on metal roofs. The RibFit system conforms to UL 2703 and consists of an aluminum slide that attaches directly to the top of the metal panel rib. Minimal components and integrated bonding pins reduce installation times when compared to rail-based systems. RibFit mounts modules in landscape orientation and is compatible with most metal R-panel and trapezoidal roof panels with a ridge width of ¾ inch or greater and 26-gauge or thicker. The RibFit system utilizes three levels of watertight protection for longevity and peace of mind.

Number of pieces: 4
Tools needed: One Tool (½" socket)
How does it install: QB-1 on Tile: QB-1's strong, versatile post & base make it an ideal solution then mounting solar on tile roofing. To begin, locate each row of mounts and mark them off. Align the vertical fastener holes of the QB-1 Base over the center rafter mark then align the horizontal fastener holes over the snapped row line. Remove the QB-1 Base and place it over predrilled & backfilled pilot holes and secure fasteners. Secure the post to the QB-1 Base.
Once the underlayment is on, install the tile-level flashing, cutting where needed to allow the post to pass through it. Place the cut tile back into position and apply sealant where the post and the flashing meet. Attaching the desired bracket or L-Foot completes the installation.
Advantages: The super-strong and versatile QB-1 rail-based racking system includes a base that attaches to a variety of roof types including composition shingle, tile, shake, slate, and metal shingle. QB-1 is an ideal solution to use for new residential construction projects, as it allows for the roof to be shingled or tiled around the already installed mount. Aluminum cone flashings sized to fit the post are also available. Just combine the base with the post height of your choice (4.5" or 6.5" post heights are available), choose your flashing (12" x 12" or 18" x 18"), then choose your desired bracket.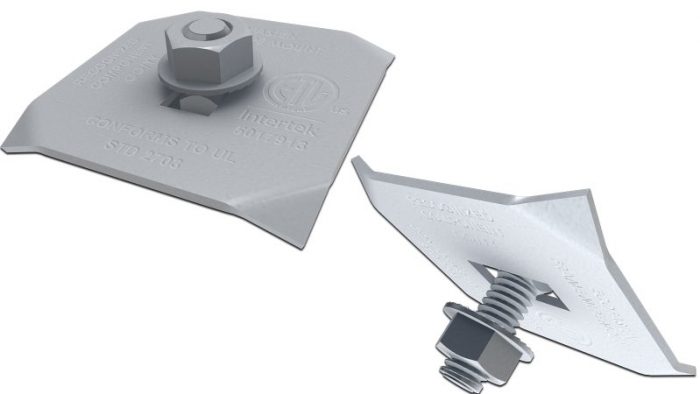 Material: Stainless Steel
Install: The Frame MLPE Mount attaches, mounts and fully bonds module level power electronics (MLPE) to the module frame using a single-bolt clip.
Key feature: This accessory can be used with any racking system to attach the MLPE to the module frame.
Contact: info@ecofastensolar.com
Website | info@ecofastensolar.com | Distributors | Recent news and insight
---
QuickBOLT is a family-owned and operated business that works hard to solve your problems. They believe solar mounting can be easier and more affordable for everyone. QuickBOLT supplies one of the widest ranges of innovative solar mounts for residential and commercial roofs in the US market. They are most known for their patented Microflashing and BoltSeal powered mounting solutions, and have been working with installers for nearly a decade to make solar installation easier than ever before.
What's new? This year QuickBOLT is highlighting its tailor-made solutions for Stone Coated Steel roofs (see below). This new product takes advantage of QuickBOLT's existing designs that works with or without battens while maximizing the stability on the roof. Stone coated steel roofs were once a niche roofing material and are now becoming widely popular for their longevity and ease of installation. Solar installers and roofers alike should take advantage of the rise in popularity and adopt a solar mounting solution perfect for the job.
Certifications: UL Recognized Components, PE Tested, Miami-Dade Approved, SolarInsure Preferred Mounting Supplier
Distributors list: Wesco, CED Greentech, CES, Codale Electric Supply, Cooper Electric, Beacon Solar Products, Griprac, Independent Electric Supply, Onesource, Ontility, Tamarack Solar Products, The Solar Raq, Boral Roofing, Chiko Solar, Platt Electric Supply, Krannich Solar, Soligent and more…
Website | rgentry@quickscrews.com | Recent news and insight
---
Roof Tech Inc has been engineering solar mounting solutions since 1994 with over one million rooftop installations all over Japan and North America. They offer a 25-year warranty on every product from the installation date with its AlphaSeal Technology.
What's new? Roof Tech is providing more RT-APEX roadshows this year with more live training options. They are scheduling lunch and learns with all their distributors in specific regions and happy hours right after for those who could not attend during the workday. If you are a distributor or contractor that would like to be one of their hosted locations for free, reach out to their marketing department today at marketing@roof-tech.us. Roof Tech Inc is also working on a tile solution to expand its Mexico and southern regions market. They are predicted to be available to the market in the late fall or early winter of 2022.
Distributor's list | Website | sales@roof-tech.us | Webinar | Recent news and insight
---
AceClamp is a manufacturer of precision-engineered snow retention and solar mounting systems. It also manufacturers its own High-Velocity Hurricane Zone Racking System for the solar industry. Its most recent unique innovation is called Solar Snap and is an adaptive racking system built to withstand harsh weather conditions and is designed to work with any of AceClamp's metal roof clamps. The unique cross-platform design adapts to all roof types – meaning you'll have less inventory to maintain.
---
SunModo, meaning "the way of the sun," is a private U.S. company headquartered in Vancouver, Wash., that is focused on innovative racking and mounting solutions for professional installers in the fast-growing solar industry. SunModo's solar racking solutions are at work in 15 countries, and from Hawaii to Connecticut, and their commitment to innovation can be seen across their product line, which includes 20-plus patents, from residential rooftops to large-scale ground-mounts.
---
What's new? The biggest news from Sollega is its recent UL 3741 certification with SMA America. The system meets UL 3741 without MLPE or mid-circuit interrupters of any kind, which means potentially removing thousands of dollars from a large flat-roof job (about 7 and 9 cents per watt cost savings by removing module-level switches). There is also a reliability and safety benefit that comes with reducing the number of connectors within the array by a factor of three.
---
AEROCOMPACT, founded in 2014, designs, engineers, and manufactures flat roof, ground mount, and metal roof solar mounting solutions. Its racking systems are compact, aerodynamic, and easy to install, and the company prides itself solving the most challenging site conditions, such as with high wind/snow loads, or if required, a highly distributed ballasted ground mount solution for landfill or brownfield projects. Close to 2 GW of power installed with mounting systems from AEROCOMPACT.
What's new? AEROCOMPACT's proprietary design tool, AeroTOOL, was updated to reflect the latest wind tunnel tests and meets the latest code requirements for all available modules. The turnaround time for projects is within 48 hours. In July, the new CompactFLAT systems will be available with many improvements enhancing our successful flat roof systems. A free CompactMETAL sample box with all parts can be requested.
---
Since 2004, K2 Systems has developed mounting system solutions for PV assemblies around the world. The company was founded in Germany but has since expanded to 10 locations worldwide and has about 20 GW installed worldwide. It began in the U.S. in 2012 as Everest Solar Systems but was recently able to rebrand to the K2 Systems name. With sophisticated product innovations and a deep customer focus, K2 Systems is the engineering leader for all your mounting system needs.
What's new? K2 Systems is coming out with a wide range of innovative product designs based on installer feedback. The company is placing a big focus on roof attachments and is striving to provide a complete menu of options for installers to choose from that offer simple installation and strong German engineered designs. K2 also has a free online design tool, Base, where customers can design their K2 racking system projects and, once the design stage is complete, can be connected with GreenLancer for permitting and engineering services.
---
PanelClaw is the No. 1 flat roof racking provider in North America, having been deployed on over 11,000 projects totaling more than 2 GW in more than 35 countries around the world. They focus exclusively on flat roof systems. PanelClaw was acquirred by ESDEC in 2020.
Since 1992, S-5! has been an authority on metal roof attachment solutions. S-5!'s zero-penetration clamps attach ancillary items to standing seam and exposed-fastened metal roofs, while maintaining roof integrity and warranties. All S-5! products are warranted for the life of the roof (and solar). Manufactured in their ISO 9001-15 certified U.S. factory, S-5! products are now installed on more than 2.5 million metal roofs worldwide, including 4.6 GW of PV on some of the world's largest buildings, such as the corporate headquarters for Apple, Google, IBM, NATO and NREL.
What's new? Not only is a metal/solar roof system less expensive upfront than other roof+solar system combinations, but it's also likely to result in a significantly higher lifetime return-on-investment. Metal roofing is also the most sustainable roofing type and is conducive to lower solar installation costs. To that end, S-5! has seen an increase in demand for its solar solutions. The company created the PVKONCEAL module skirt to pair with its signature solar solution, the PVKIT direct-attach, rail-less metal roof attachment. Additionally, with wire management best practices always an important consideration, S-5! created a new wire management solution―the CanDuit conduit clamp.
---
Since 2007, SnapNrack's solar mounting products have been designed to reduce installation costs, improve installation quality and safety. SnapNrack roof and ground mount systems feature a single tool installation, pre-assembled snap-in hardware, integrated wire management, integrated grounding/bonding and Class A Fire Rating in accordance with UL2703/UL1703 standards.
What's new? SnapNrack recently expanded to roof attachments that mount directly to the deck with the SpeedSeal DeckFoot & DeckTrack. These rafter independent attachments allow for layout adjustability without needing to locate and attach to rafters. In addition to SpeedSeal Deck Mounts, the OmniBase, a new standoff base was released for flush and tilt mounted systems.
---
DynoRaxx has been selling professional solar racking equipment since 2009. It is the only solar racking manufacturer that uses fiberglass as the racking material for its flat-roof ballasted solution, and the main advantage is it's a tool-less system that reduces labor installation times.
IronRidge, an Esdec company, designs and manufactures structural hardware for residential and commercial solar systems. For nearly a quarter of a century, IronRidge has worked closely with solar professionals to build strong, streamlined, and cost-effective products. IronRidge conducts thorough testing on every component in an Esdec (US) Intertek-certified Satellite lab.
What's new? In 2022, IronRidge continues to develop solar racking offerings, including the QuickMount product line, to fully support installers from end-to-end. Recently released products include: IronRidge FlashVue comp-shingle flashings, QuickMount Lynx attachments for standing seam metal roofs, and QuickMount JayBox junction boxes. Permit Packs are also now available for purchase through its Design Assistant software, to better streamline the project design and installation process.
Magerack designs, manufactures and sells innovative solar mounting systems for roof-top solar installation. Magerack Solar Mounting System and MageMount Rail-less Mounting System are turn-key solar mounting solutions that are reliable, easy to install and cost-effective. In addition, Magerack also provides a variety of innovative roof attachments for solar installation on residential and commercial and industrial metal roofs.
What's new? Magerack has released a few mounting brackets and mounting kits for metal roof in 2022 and now provides a complete mounting brackets and rail-less solar mounting solutions for all metal roofs.
---
For 40 years, OMG Roofing Products has been a leading supplier of fasteners and other products used exclusively in commercial roofing applications, and to secure commercial roofs to the deck. OMG works with all the major roof system manufacturers, and its field sales representatives are on commercial roofs every day.
---
Point Load Power is a cleantech company leading the advancement of rooftop solar tracking for commercial and industrial (C&I) buildings while making it highly profitable for every partner and stakeholder involved.
---
AceClamp
,
Aerocompact
,
Buyer's Guide
,
DynoRaxx
,
EcoFasten
,
IronRidge
,
K2 Systems
,
Magerack
,
OMG Roofing
,
Point Load Power
,
QuickBolt
,
Roof Tech
,
S-5!
,
SnapNrack
,
Solar Builder Buyer's Guide
,
Sollega
,
SunModo