A solar PV rooftop system is only as good as the mounts, rails, clips, conduit and connection points — the balance of systems (BOS) beyond the modules and inverters — that keep everything structurally in place and electrically humming. Each year we reach out to every manufacturing in this space to update their product portfolio and to get a peek at what's new in the coming year.
For 2023, we divided the Rooftop Solar BOS Buyer's Guide into three sections:
1) A little bit of everything. These companies are largely residential providers but do offer many C&I structural and electrical BOS products as well. Trends in this area include direct to deck mounts and specialized systems for different roof types (like stone coated steel hooks).
2) eBOS. These companies are strictly focused on wire management clips, clamps and junction boxes for any rooftop. Junction boxes for composite shingle roofs is one category in particular that is seeing subtle innovation.
3) C&I specialists. Large C&I roofs often require a special ballast and/or anchor (flat roofs) or specialized clamp attachment (metal roofs) to get the job done right. The big emerging trend here is systems that are certified to UL 3741, the Hazard Control standard that is another path to comply with NEC 690,.12, the rapid shutdown rule.
"The UL 3741 PV Hazard Control System standard is a good reminder of how important wire and cable safety is in electrical systems," says Sarah Parsons, senior product manager – mechanical grounding, with Wiley. "Solar PV Codes and Standards were created to ensure the safe operation and proper installation of PV systems as well as their BOS components. To reduce hazards and system malfunctions, utilizing UL-listed and tested wire management products within the manufacturer's recommended installation guidelines is important."
NOTE: Click on on any product listed under each manufacturer in order to expand the section, see what it looks like, and learn what it's made of, its certifications, how it installs and some other key features of the design.
---
A little bit of everything
---
QuickBOLT is a family-owned and operated business that works hard to solve your problems. They believe solar mounting can be easier and more affordable for everyone. QuickBOLT supplies one of the widest ranges of innovative solar mounts for residential and commercial roofs in the US market. They are most known for their patented Microflashing and BoltSeal powered mounting solutions, and have been working with installers for nearly a decade to make solar installation easier than ever before.
What's new? We have a lot of exciting things ahead for 2023: Miami-Dade NOA for our QB2, a brand-new website, new Butyl Bottom Deck Mounts, new Stone Coated Steel Hooks, and the latest update to our QuickBOLT line with a new metal-tapping bolt for commercial roofs.
Product development is at the forefront with solutions mentioned above. Each year we strategize on how to continue moving our mounting expertise forward, and each year we come up with something new. We owe our success to the customers who use our products faithfully and the prospects that won't use our products without an update. We listen to both types of installers and that leads us to design mounting solutions that benefit the industry.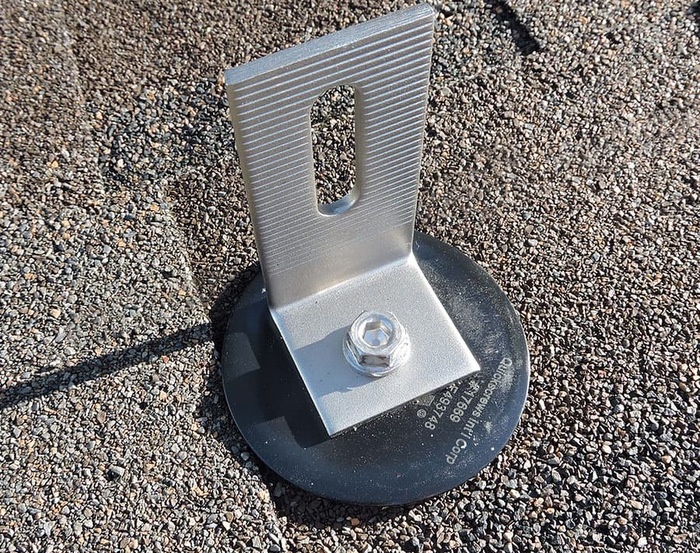 Components Included: 1 3" Microflashing®, 1 QB2 Bolt, 1 L-Foot. PN #17662, 17862
Tools Needed: 1/2" Nut Setter or 6MM Hex Driver. Recommended PN# 17655. Sealant (optional)
Certifications: UL Recognized Components, Miami-Dade and Florida Approved, PE Tested
How does it install: Place the Microflashing over the shingle. Drive the patented Dual Drive Shoulder Screw through the rafter until the L-Foot is fully secured. You will know it is secure when you see the Microflashing mechanically compression-sealed to the roof. We call this technology: BoltSeal. Intertek Lab ASTM testing confirms that QB2 can be installed without sealant. QB2 works on Asphalt Shingle, TPO, and EPDM roofs.
Advantages: QB2 only has 3 components and can be installed in less than 30 seconds. Unlike bulky sheets of flashing, Microflashing is installed without lifting shingles or removing nails. QuickBOLT is the only Top Mount in the industry that uses BoltSeal technology, which allows QB2 to be mounted on a variety of asphalt shingle, EPDM, and TPO roofs that other flashing cannot. During seasonal weather changes that may cause expansion and contraction on the rooftop, the Stainless-Steel L-Feet have the flection capacity to move with the solar array.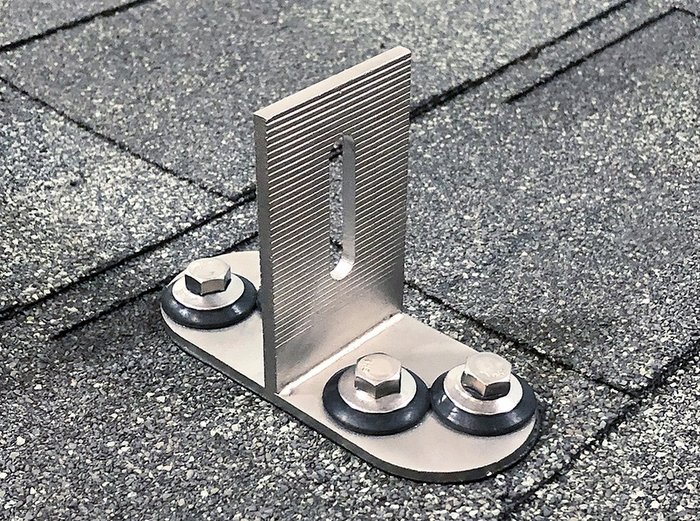 Components included: 1 T-Foot, 4 Screws with Umbrella Washers. PN #16317, 16318
Tools Needed: Mfg approved sealant. ½" Nut Setter. Recommended PN# 17655.
Certifications: UL Recognized Components, PE Tested
How does it install: Install anywhere on the roof. No need to locate rafters. Start by placing sealant around the bottom of the T-Foot, then place on the roof. Insert all 4 hex lags and drive the screws until the umbrella washers are compressed. (To Drive Screws and Set Umbrella Washers Properly Torque PSI should not Exceed 57 Lbs/Inch). The Deck Mount works on Asphalt Shingle, TPO and EPDM roofs.
Advantages: Save time with the Deck Mount by skipping the step for finding rafters. Install in 20 seconds with 4 Stainless Steel screws. The base of the mount has Silicon embedded into it and is secured to the roof with Stainless Steel Screws assembled with Umbrella Washers for superior holding and water protection. The Deck Mount comes with our 25 year manufacturer's warranty. The L-Foot is built into the mount and comes with all hardware needed at an extremely low cost.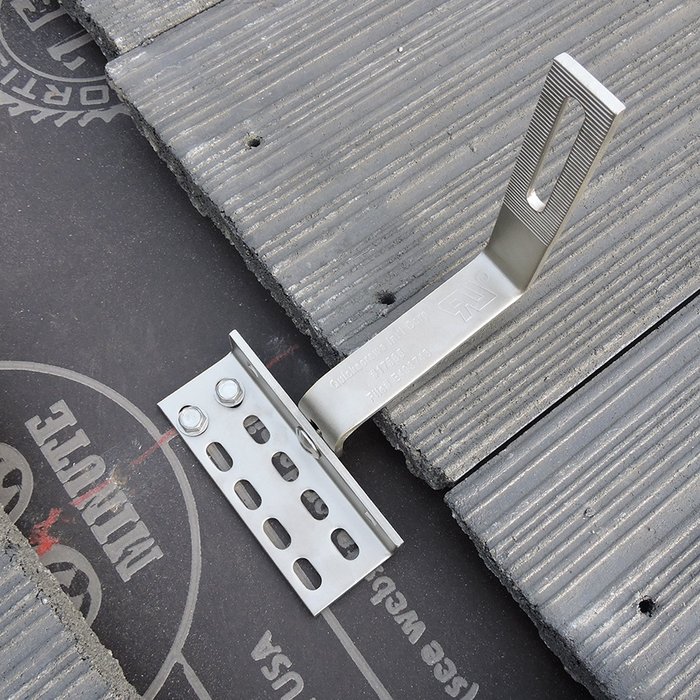 Components included: 1 hook, 2 screws. PN #17587, 17589, 17593
Tools needed: Recommended: Drill bit, #15433 or 15437 Hex Driver, Sealant compatible with roofing materials
How does it install: Remove the tiles from the install area. Locate and mark the rafters. Place the mount and predrill the holes. Fill the predrilled holes with sealant. Drive the mounting screws to secure the mount and place the tiles back over the mount.
Advantages: QuickBOLT's versatile All Tile Roof Mounts work on Flat or Curved tile roofs. The wide range of adjustability and leverage points ensure that you can use these mounts with any tile roofing style and work around inconveniently located rafters.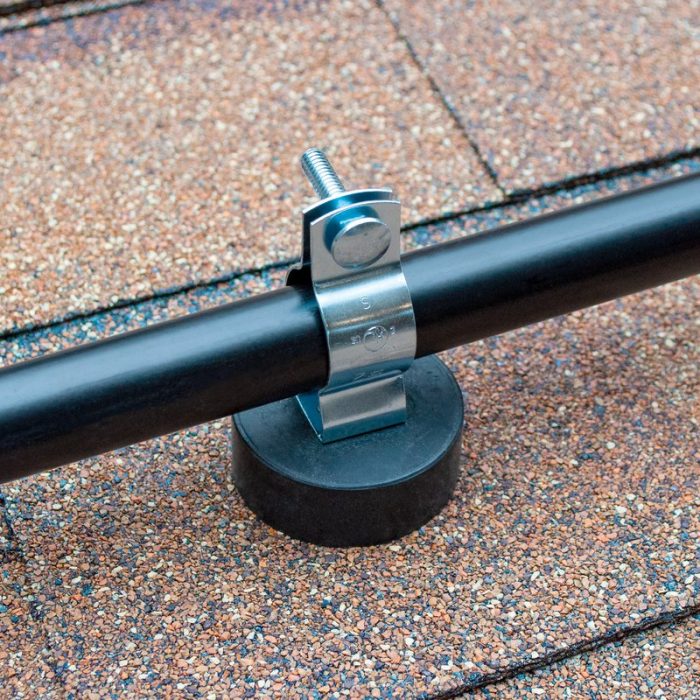 Components included: 1 EPDM Cylinder, 1 Mounting Screw (Conduit clip and machine screw not included). PN# 16321
Tools needed: 3/8" Hex Driver. Recommended PN # 15437
Certifications: PE Tested
Installation: Insert the mounting screw into your shoulder clip and the EPDM block, then drive until the block is compressed.
Advantages: Speedy install in 5 seconds or less, no predrilling or sealant required. Skip locating the rafter and attach anywhere on the roof deck. Works on a variety of roof types: Asphalt Shingle, TPO, or EPDM. Uses torque-driven compression to create a watertight seal. Protects the integrity of the roof – no lifting shingles or removing nails and staples.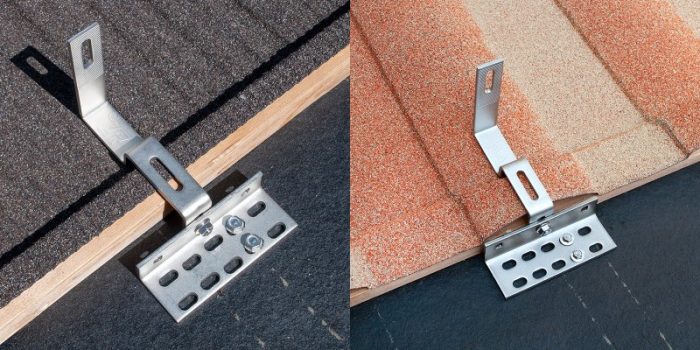 Components included: 1 hook, 2 screws. PN# 17640
Tools needed: Recommended: Drill bit, #15433 or 15437 Hex Driver, Sealant compatible with roofing materials
Certifications: UL Recognized Components, PE Tested
Installation: Remove the metal roof tile. Locate and mark the rafters. Place the mount and predrill the holes. Fill the predrilled holes with sealant. Place mount over lower roof tile, drive mounting screws to secure the mount and place roofing panels back over the mount.
Advantages: The wide base allows for more range when bolting to the roof rafter and the 3 points of attachment for the arm allows you to move the arm according to the location of the barrel on curved profile models. Works on direct to deck and batten systems.

For: Residential
Components included: 1 Galva Tile. F-Tile PN# 17740, W-Tile PN# 17741, S-Tile PN# 17742
Tools needed: Tin snips
Installation: Remove tile. Install QuickBOLT mount. Snip tile replacement at hook edges. Place tile replacement back in place.
Advantages: Save time on the roof with our fast tile replacement installation. No grinding tile to fit with hooks. The flexible material is easy to work with and provides Long lasting solution for water protection. For use over solar mounts and for replacement of broken tiles.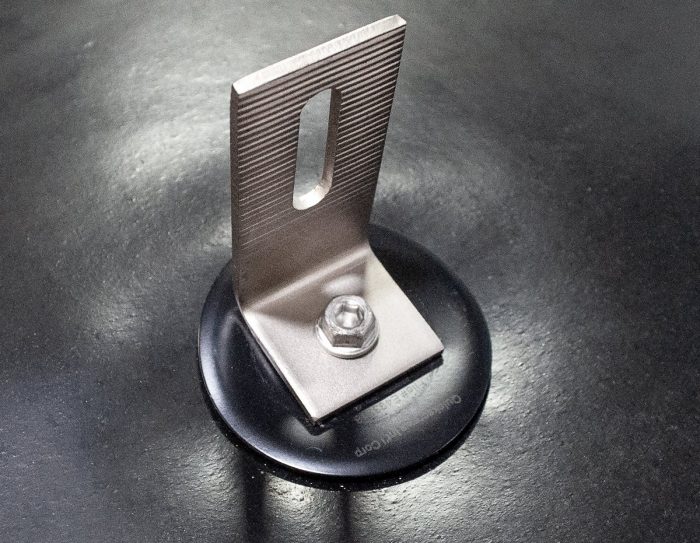 Components Included: 1 3" Microflashing®, 1 QB2 Bolt, 1 L-Foot. PN #17662, 17862
Tools Needed: 1/2" Nut Setter or 6MM Hex Driver. Recommended PN# 17655. Sealant (optional)
Certifications: UL Recognized Components, Miami-Dade and Florida Approved, PE Tested
How does it install: Place the Microflashing. Drive the patented Dual Drive Shoulder Screw through the rafter until the L-Foot is fully secured. You will know it is secure when you see the Microflashing mechanically compression-sealed to the roof. Intertek Lab ASTM testing confirms that QB2 can be installed without sealant.
Advantages: QB2 works on more than just Asphalt Shingle. Install QB2 directly to TPO and EPDM roofs using the same simple steps that save you time and money on your installations. QuickBOLT's patented BoltSeal technology is so powerful that you don't need to rely on chemical sealant to keep water out, saving you an extra step on the roof.
Distributors list: Wesco, CED Greentech, CES, Codale Electric Supply, Cooper Electric, Beacon Solar Products, Griprac, Independent Electric Supply, Onesource, Ontility, Tamarack Solar Products, The Solar Raq, Boral Roofing, Chiko Solar, Platt Electric Supply, Krannich Solar, Soligent and more…
---
SunModo, meaning "the way of the sun," is a private U.S. company headquartered in Vancouver, Wash., that is focused on innovative racking and mounting solutions for professional installers in the fast-growing solar industry. SunModo's solar racking solutions are at work in 15 countries, and from Hawaii to Connecticut, and their commitment to innovation can be seen across their product line, which includes 20-plus patents, from residential rooftops to large-scale ground-mounts.
---
K2 Systems is an engineering leader for all your solar mounting system needs. Since 2004, K2 Systems has developed pioneering and highly functional mounting system solutions for photovoltaic assemblies around the world. The company was founded in Germany but has since expanded to 10 locations worldwide and has over 24 GW installed worldwide. As a roof-mounting specialists, we focus on developing and optimizing innovative mounting systems, while always keeping our feet on the ground. Through constant exchange with our customers, we can offer practical, long-lasting, and secure solutions.
What's new? K2 Systems is coming out with a wide range of innovative product designs based on installer feedback. The company is placing a big focus on roof attachments and is striving to provide a complete menu of options for installers to choose from that offer simple installation and strong German engineered designs. The team is also working on education and coming out with their K2 Pro training program so installers can become certified K2 Professionals.
---
Roof Tech Inc. has been engineering solar mounting solutions since 1994 with over one million rooftop installations all over Japan and North America. They offer a 25-year warranty on every product from the installation date with its AlphaSeal Technology.
What's new? Roof Tech is providing more RT-APEX roadshows this year with more live training options. They are scheduling lunch and learns with all their distributors in specific regions and happy hours right after for those who could not attend during the workday. If you are a distributor or contractor that would like to be one of their hosted locations for free, reach out to their marketing department today at the email below. Roof Tech Inc is also working on a tile solution to expand its Mexico and southern regions market.
Distributor's list | Website | sales@roof-tech.us |
---
EcoFasten, an Enstall Company, has established a reputation for being one of the industry's leading innovators by providing expert solutions for mounting solar PV on any roof. EcoFasten's broad portfolio of solar rooftop mounting systems and attachments stems from the direct needs of solar PV installers. EcoFasten takes pride in providing the right solution for every application.
Website | info@ecofastensolar.com | Distributors |
---
Since 2007, SnapNrack's solar mounting products have been designed to reduce installation costs, improve installation quality and safety. SnapNrack roof and ground mount systems feature a single tool installation, pre-assembled snap-in hardware, integrated wire management, integrated grounding/bonding and Class A Fire Rating in accordance with UL2703/UL1703 standards.
What's new? SnapNrack has launched an all new mounting system, TopSpeed. With this top down mounting system, installers can get on and off the roof in record time and install more safely. Forget about exhaustive layouts, guesswork locating rafters, pilot hole mistakes and wasted time assembling materials on the roof. This purpose made system is making PV as easy as screwing modules onto the roof.
---
eBOS
---
---
As former solar installers, EZ Solar understands how hard installers work day in and day out. Its mission is to make solar simpler with products that are high quality, installer friendly and cost effective. Made from advanced durable polycarbonate, EZ Solar rooftop junction boxes are designed with three patented layers of water protection, and two weep holes for breathability. Choose from three different models to get just the right box for your install.
What's new? EZ Solar has an exciting 2023 which will bring new team members and new innovative products to the market.
---
---
The SolaDeck company has been in the solar industry for 20 years. Started by people in the construction and cable management industries, the SolaDeck was designed with both the installer and homeowner in mind. We take pride in the quality of our boxes, so you can take pride in the quality of your installations. Using a SolaDeck junction box gives you a quick, streamlined procedure for connecting your PV junction equipment. It's faster, easier, and more secure.
What's New? No assembly necessary. The SolaDeck comes pre-assembled out of the box. At your request, SolaDeck adds a slotted cover to eliminate loose cover screws, a din rail that that can be rotated for horizontal or vertical use, two factory pre-punched, ¾" holes to allow the easiest install of your conduit and fittings and two additional internal knockouts.
Distributors List | Website | sales@soladeck.com
---
---
C&I specialists
---
What's new? Sollega, leading hybrid ballasted flat roof/ground mount racking provider has joined forces to certify the Sollega FastRack 510-6 with SMA Sunny Tripower CORE1 inverters, CPS, Solectria, Solis, Ginlong and GoodWe inverters as the first system to market that complies with Underwriters Laboratory (UL) 3741 Photovoltaic Hazard Control Systems (PVHCS) and National Electric Code (NEC) 690.12 rapid shutdown of PV Systems on buildings without module-level power electronics (MLPE) or switches.
---
AceClamp is a manufacturer of precision-engineered snow retention and solar mounting systems. It also manufacturers its own High-Velocity Hurricane Zone Racking System for the solar industry. Its most recent unique innovation is called Solar Snap and is an adaptive racking system built to withstand harsh weather conditions and is designed to work with any of AceClamp's metal roof clamps. The unique cross-platform design adapts to all roof types – meaning you'll have less inventory to maintain.
---
AEROCOMPACT, founded in 2014, designs, engineers, and manufactures flat roof, ground mount, and metal roof solar mounting solutions. Its racking systems are compact, aerodynamic, and easy to install, and the company prides itself solving the most challenging site conditions, such as with high wind/snow loads, or if required, a highly distributed ballasted ground mount solution for landfill or brownfield projects. Close to 2 GW of power installed with mounting systems from AEROCOMPACT.
What's new? Aerocompact has a new and improved website with all the information you need under one roof. The main features include a drop-down menu for a more accessible overview of all their system solutions, a new filter function makes finding the right system solution for your project quicker and easier, an embedded Project Intake Form and a newsletter to receive important information about upcoming product releases, upcoming events, and news.
---
DynoRaxx has been selling professional solar racking equipment since 2009. It is the only solar racking manufacturer that uses fiberglass as the racking material for its flat-roof ballasted solution, and the main advantage is it's a tool-less system that reduces labor installation times.
---
IronRidge, an Esdec company, designs and manufactures structural hardware for residential and commercial solar systems. For nearly a quarter of a century, IronRidge has worked closely with solar professionals to build strong, streamlined, and cost-effective products. IronRidge conducts thorough testing on every component in an Esdec (US) Intertek-certified Satellite lab.
What's new? In 2023, IronRidge continues to develop innovative solar racking and mounting offerings, including the QuickMount product line, to fully support installers from end-to-end. The most recent released is the IronRidge Contour Trim. Contour Trim elevates the look of any solar array by providing a sleek trim (or skirt) across the south edge or around the perimeter to hide components that are visible beneath the solar panels. Components include Trim, Splice, Clamps, and Inner, Outer, and End Caps to complete the aesthetic. Additionally, IronRidge will be making more new exciting product announcements soon for 2023.
---
Magerack designs, manufactures and sells innovative solar mounting systems for roof-top solar installation. Magerack Solar Mounting System and MageMount Rail-less Mounting System are turn-key solar mounting solutions that are reliable, easy to install and cost-effective. In addition, Magerack also provides a variety of innovative roof attachments for solar installation on residential and commercial and industrial metal roofs.
What's new? Magerack has released a few mounting brackets and mounting kits for metal roof in 2022 and now provides a complete mounting brackets and rail-less solar mounting solutions for all metal roofs.
---
For 40 years, OMG Roofing Products has been a leading supplier of fasteners and other products used exclusively in commercial roofing applications, and to secure commercial roofs to the deck. OMG works with all the major roof system manufacturers, and its field sales representatives are on commercial roofs every day.
---
PanelClaw is the No. 1 flat roof racking provider in North America, having been deployed on over 11,000 projects totaling more than 2 GW in more than 35 countries around the world. They focus exclusively on flat roof systems. PanelClaw was acquirred by ESDEC in 2020.
---
S-5! is the original inventor of engineered, manufactured, metal roof attachments and obtained its first patent in 1991. S-5!'s zero-penetration clamps and lifetime brackets attach ancillary items to standing seam and exposed-fastened metal roofs respectively, while maintaining roof integrity and warranties. All S-5! products are warranted for the life of the roof (and solar). Manufactured in its ISO 9001-15 certified U.S. factory, S-5! products are now installed on more than 2.5 million metal roofs worldwide, including 6 GW of PV on some of the world's largest buildings, such as the corporate headquarters for Apple, Google, IBM, NATO and NREL.
What's new? Metal Roofing is a natural choice for mounting solar PV as it provides an ideal platform and features a service life that actually exceeds the service life of a solar PV system. Not only is a metal/solar roof system less expensive upfront than other roof + solar system combinations, but it's also likely to result in a significantly higher lifetime return-on-investment. Metal roofing is also the most sustainable roofing type and is conducive to lower solar installation costs. To that end, S-5! has seen an increase in demand for its solar solutions. Experts from the company together with the Metal Construction Association recently published a three-part white paper series on solar PV and metal roofing.
---
AceClamp
,
Aerocompact
,
Buyer's Guide
,
commercial and industrial
,
DynoRaxx
,
EcoFasten
,
EZ Solar
,
HellermannTyton
,
Heyco
,
IronRidge
,
K2 Systems
,
Magerack
,
OMG Roofing
,
PanelClaw
,
QuickBolt
,
Roof Tech
,
S-5!
,
SnapNrack
,
SolaDeck
,
Solar Builder Buyer's Guide
,
Sollega
,
SunModo
,
Wiley