The 2022 Solar Inverter Buyer's Guide shows an incredible number of options to meet any project needs. Microinverters that can handle 880 Watts or enter a grid-forming mode to power a home in an outage with just PV. String inverters with more energy storage versatility and better roundtrip efficiencies. There's a lot to digest below, so before we get to what's new from 15 manufacturers, here is some advice on what to look for in an inverter spec sheet.
"A key part of an inverter spec sheet is which MLPE the inverter is compatible and certified with for Rapid Shutdown (PVRSS). It is important to identify the certified components prior to installation in the field to ensure NEC compliance. Not all inverters and rapid shutdown system pairings meet the 30V in 30 seconds requirement." – Sarah Ozga, Product Manager, Tigo Energy
"Pay close attention to the number of units per branch. Fewer units means improved reliability by reducing potential points of failure, but also means fewer units for installers to purchase, stock and install. Also, compare the MPPT voltage range. A wide peak power tracking voltage means a microinverter can turn on earlier and stay on later." – Jason Higginson, APsystems
"For microinverters, the actual expected AC power output and elimination of power 'clipping'. With modern microinverters, it is unnecessary to tolerate any clipping with new higher Wattage PV modules. The industry norm has been lazy on this topic – it's possible to eliminate clipping and stop wasting energy harvest and kWh." – Ed Heacox, CEO, NEP
"While not explicitly mentioned on a datasheet, the number of hardware components an inverter requires is a spec that installers should pay close attention to. Modern string inverters, for example, have many integrated features such as software-based shade mitigation, multiple Maximum Power Point trackers (MPPT), and monitoring. This integration reduces the number of components in a system compared to technologies that require microinverters or DC optimizers on each solar module. The reduction in the number of components decreases the costs for hardware and labor and makes a system safer and more reliable because this system has much fewer potential points of failure, e.g., DC connectors." – Richard Baldinger, Fronius
"Inverter spec sheets are reflective of an increasingly homogenous data set that doesn't always reveal the short and long-term impacts system owners and installers can expect. In fact, we feel that the most important considerations are those not found within the confines of a traditional data sheet. Installers should pay attention to the longevity of a company, how their products are manufactured and what quality assurance measures are taken to ensure long-term, trouble-free performance. Risk reduction is critical in maximizing system performance, and a data sheet is just one piece of information that installers should evaluate when selecting an inverter." – Brad Dore, SMA
"For off-grid inverters, two key specs and one key feature are often overlooked: 1) DC operating voltage is a common shortcoming, since off-grid voltage and battery swings are wide; 2) Self-consumption is important, since it affects system efficiency; 3) Fanless design is something to look for, since many inverters require cooling fans and they are sometimes the weakest link. Fans consumer power and represent a parasitic load (degrading efficiency). They have moving parts and can (and often do) fail. And they can shorten the inverter's live because they pull in dust, dirt and debris" – Bill Mellema, Product Director, Morningstar Corporation
---
What's new? GoodWe A-ES Hybrid inverters are in stock and ready for delivery. The GoodWe A-ES hybrid inverters are also available via GE as the GE Solar Inverter.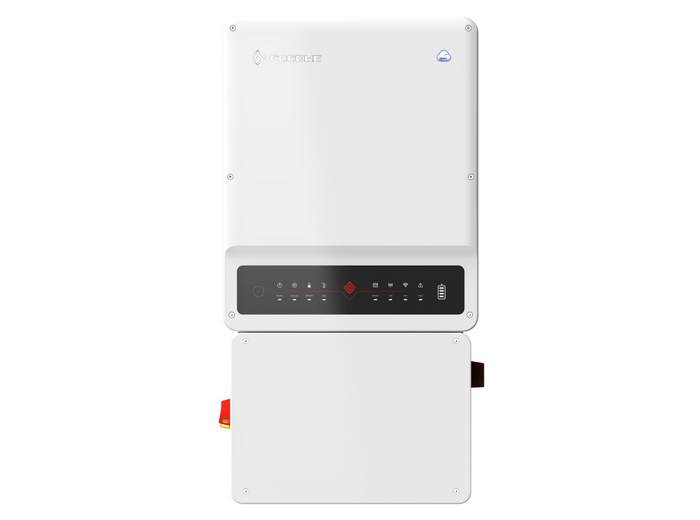 The 5-9.6-kW, single-phase A-ES is one of the only hybrid inverter on the market with 4 MPPTs. With UPS-level switching, the inverter can switch to backup in less than 10 milliseconds in case of power outage. This ensures household appliances are not compromised.
4 MPPTs, 50% DC oversizing
AFCI & Rapid Shutdown
UPS-level switching
Smart Meter integrated
Optional AC bypass switch
What's new? APsystems has launched the new DS3 microinverter series, designed to accommodate today's high-capacity PV modules and create a strong competitive advantage for installers. The DS3 series covers a wide variety of PV module types and sizes, installs faster and is the most powerful dual microinverter in the world. Fewer units on the roof, and fewer PV modules required for the same output as competing systems, puts more money in installers pockets. The DS3 means the maximum solar power output for homeowners and higher profits for solar installers.

What's new? Chint Power Systems America is introducing its 250/275kW, 1500Vdc three-phase string inverters for North America. These high-power inverters are designed for ground mount and utility-scale applications. Available with either 36 fused or 24 unfused PV string inputs and 12 MPPTs. At Intersolar, CPS showcases these as part of a new Inverter Cluster, which combines three 275-kW inverters with one 800Vac Fused Disconnect, simplifying installation, and providing a cost-effective mounting solution.
What's new? Darfon Solar will be launching its new out-door rated energy storage solution. The H7 is a hybrid inverter and the B17 LFP battery. The H7 can support loads of up to 7.6kW. The H7 can also be both AC-coupled and DC-coupled at the same time, so more solar panels can easily be added to an existing system. The B17 is a 17.5kWh high-voltage LFP battery. The high voltage design increases the conversion efficiency, lowers the current, and reduces the cable thickness.

What's new? Enphase recently started shipping the IQ8 Microinverter, its smartest microinverter yet. This is the industry's first grid-forming microinverter, offering homeowners the first-ever sunlight backup configuration that functions even during grid disruptions, with or without batteries. For homeowners who want a battery, there are no sizing restrictions on pairing an Enphase IQ Battery with an IQ8 solar system. Looking ahead, Enphase is planning to launch an all-in-one product that will deliver specialized solutions for the small commercial and industrial space, offering many of the same benefits as residential and further supporting installers looking to expand their business.
What's new? In 2022, Fronius will launch various software tools that support solar installation companies, from planning a system to installing and monitoring it afterward. A new system design tool will help engineers configure new systems quickly and streamline their project management. In addition, Fronius will enrich its online monitoring platform Solar.web with new features for solar businesses.
What's new? Generac's PWRcell Inverter works seamlessly with the full PWRcell product ecosystem, including the recently launched PWRmanager and PWRgenerator. Upcoming firmware updates allowing AC Coupled PV and Generator Integration will also be compatible with the same great PWRcell Inverter you're used to. Strategic firmware updates throughout the past years like these have continued to polish the PWRcell System as a comprehensive clean energy management solution. To further round out the Generac menu, the company will be debuting its PWRmicro later this year.
What's new? Morningstar is introducing a line of small inverters for industrial and other off-grid applications. The SureSine pure sine wave inverter line debuts at InterSolar Europe this May, initially with 6 models, from 150-2500 Watts in both North American 120V and International 230V versions. Models support combinations of 12/24/48V batteries.
What's new? NEP expanded its microinveter line up to include the EQ-800, a 2x400Wac dual microinverter with Rule 21 certifications. The company also refined its Rapid Shutdown solutions focusing on single and dual module devices with two-way data communications for enhanced safety and service efficiency.
What's new? PV with integrated storage continues to dominate discussions in large-scale applications. Utilities are investing in storage in a meaningful way and preparing for an increasingly large demand from electric vehicles. They are also increasingly looking at owning and operating distributed assets for improved control. SMA's investment in its storage technology has been apparent with new offerings in the utility, commercial, and residential spaces in the works. Beyond storage, a disruptive new method for addressing compliance with rooftop shutdown requirements is here. We will see the first certifications to UL3741 as a method to shutdown within an array boundary. This certification will provide commercial and residential integrators with maximum safety, while reducing fire risk, improving system reliability, while doing so at a significant cost savings.
For more info:
What's new? Schneider Electric's upcoming offerings make managing whole home and partial home backup easy. Schneider Electric recently launched a new InsightCloud user interface and made updates to the InsightMobile app that will make managing solar and storage systems easier. InsightCloud features a clean UI with improved navigation, a new multi-site overview, and site comparison that allows for a more insightful experience. As part of the InsightMobile update, solar professionals now have even further control over how the site is configured. With the app, you can now edit the site, scan the MAC address and serial number as you configure a site.
What's new? Sol-Ark is launching several new product families and extending its proven inverter line this year. With a strong reputation for best-in-class technology, the Sol-Ark team has steadily advanced by adding real value to home and business owners' pursuit of energy independence and resilience.
What's new? SolarEdge recently launched the SolarEdge Home battery, a 10kWh battery that has 94.5% round trip efficiency and allows up to 3 batteries to be installed on its Home Hub inverter. Additionally, SolarEdge has announced several new features in its mySolarEdge app, including Weather Guard, a feature designed to fully charge the battery when a potential severe weather event is detected nearby. Looking forward, SolarEdge will release its new S-Series residential Power Optimizer, which features SolarEdge Sense Connect, a step change in arc-fault detection and prevention. In the C&I space, SolarEdge is looking to bring to market solutions that serve large-scale and community solar applications. S-series Power Optimizers implement condition monitoring features, or the ability to identify changes in a PV array that could indicate a developing arc fault.
What's new? Solis US introduces a new PV String Hybrid Energy Storage inverter in Q4 2022. The new Solis S6 Hybrid models range from 3.8K to 11.4K, are UL 9540 listed with a wide variety of dc-coupled HV batteries, and now include a Bluetooth interface and a 120/240 autotransformer for native split phase backup power. This new family of inverters — S6-EH-1P-(3.8-11.4)K-H-US — is being certified to the new UL 1741 SB test standard and will be Rule 21 and HECO compliant.
What's new? Tigo Energy, renowned for its module level power electronics (MLPE) that enhance PV systems with other solar inverters, is listed for the first time in the Inverter Buyer's Guide because it now has its own inverter. This Energy Intelligence (EI) Battery and Inverter product line will benefit from native integrations of other Tigo technology and is an extension of the Tigo Enhanced commercial and industrial solar partnership program into the residential market.
APsystems
,
Buyer's Guide
,
CPS America
,
Darfon
,
Enphase Energy
,
Fronius
,
Generac
,
Goodwe
,
Morningstar
,
NEP
,
Schneider Electric
,
SMA America
,
Sol-Ark
,
Solar Builder Buyer's Guide
,
SolarEdge
,
Solis
,
Tigo Energy