Our annual Solar PV Inverter Buyer's Guide is a chance to check in with all of the inverter manufacturers – from the market leaders to the up-and-comers – to get a sense of how their technology has evolved and what new products are now available for installation. This year we have a snapshot of one product from each segment these companies serve, from residential to utility-scale. We start with this year's featured brand, SMA, and then continue alphabetically.
SMA
What's new? In 2021 we see our role in the utility storage market primed for significant growth. SMA America has sold a cumulative 1 gigawatt of Sunny Central Storage inverters in North America. As a result of this tremendous growth, SMA is doubling sales and applications engineering support for the large-scale storage category. Going forward, this will increase the capacity for business, improve customer support, and pave the way for future storage milestones, as the company participates in dozens of projects globally. Within our portfolio are a wide variety of AC and DC coupled solutions with 1,000 and 1,500 Vdc options for storage. This includes solutions for grid services and renewable integration. In utility-scale SMA offers both a centralized Medium Voltage Power Station and the modular Sunny Highpower PEAK3. The options offered with these two solutions give developers and integrators flexibility. Both utility-scale solutions are storage-ready.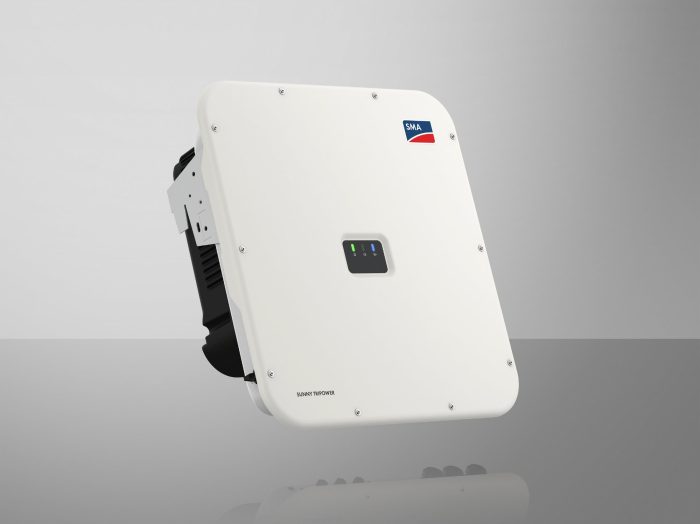 The Sunny Tripower X is the latest in commercial solar energy generation and the new centerpiece of the proven SMA Energy System Business. As a comprehensive solution, the integrated System Manager enables complete energy management from one platform while combining state-of-the-art technology into one device. This single-source design ensures small to medium-sized businesses can accommodate future energy management and needs. UL listing announcements coming soon.
High flexibility in system design with 3 MPP trackers
Easier installation with an overall lighter weight and wall-or-rack mount
Flexible and scalable system sizing: 30 kW, 25 kW & 20 kW
Integrated System Manager allows monitoring and control of up to 5 inverters (with up to 150 kVA) and 1 energy meter
SMA ShadeFix offers next level performance optimization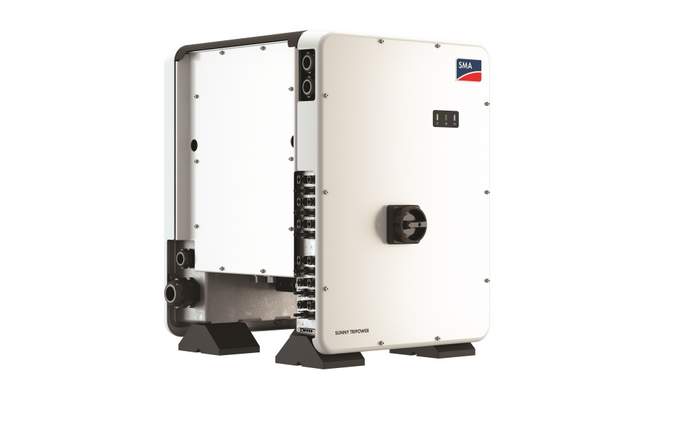 The Sunny Tripower CORE1 is the only inverter that offers an intelligent IV curve diagnostic, advanced string monitoring, and SMA Smart Connected. The world's first free-standing PV inverter for commercial rooftops, carports, ground mount and repowering legacy solar projects, the Sunny Tripower CORE1 enables logistical, material, labor, and service cost reductions, and is the most versatile, cost-effective commercial solution available.
First commercial system listed to standard UL 3741 PV Hazard Control for NEC 690.12 compliance
System visibility with intelligent IV curve diagnostic and advanced string monitoring
Integrated SunSpec PLC signal for module-level rapid shutdown compliance to 2017 NEC
ShadeFix optimization generates more power
SMA Smart Connected, Sunny Portal, and SMA's Online Service Center provide automatic, proactive, and unmatched service support
Coming to market in mid-2023, the new, ground-breaking Sunny Boy Smart Energy hybrid inverter system will enable both immediate energy use and storage in one single device, with three modular backup options that deliver greater electricity reliability. With its high-speed battery charging capabilities to its easy installation and handling, this newest offering will provide a capable, flexible solution that empowers homeowners to take control of their energy.
2-in-1 solution with a range in powerclass options from 3.8 to 11.4
Modern, modular design that is also more functional because it is smaller and lighter
Integrated System Manager allows management of up to 3 inverters and batteries
3 modular back-up options offer homeowners energy security choices, with or without a battery
Save installation time and money with intuitive, quick commissioning from the SMA 360° app
Sales contacts
---
APsystems
What's new? APsystems has some exciting new products on the horizon, including a higher wattage dual module microinverter, the DS3, and a higher wattage 3-Phase microinverter, the QT2. Both are due to hit the market before the end of the year. Our APsmart brand has just released a dual-module rapid shutdown device, the RSD-D, which should be hitting the U.S. market within the next several weeks.
Sales contacts
---
CPS
What's new? CPS America has shipped over 4-GW of UL-listed string inverters in North America. This year, CPS has expanded its rapid shutdown offerings including factory-integrated RSD wire-boxes and certified PVRSS solutions with TIGO, APS, and NEP devices. One of our exciting new products coming this year is the 100kW-480Vac string inverter optimized for 1500Vdc ground mount applications with 480Vac service voltages. The 100kW-480V model includes all the great features of our 100/125kW 3-phase inverter platform and allows low-cost 480Vac interconnections by eliminating the need for a step-down transformer. CPS will also be releasing our new high power 275-kW string inverter designed for large utility-scale applications (more below).
Sales contacts
---
Darfon
What's new? Darfon will be launching a new monitoring app for its hybrid inverters in Q2 of this year. While designing the app, our main focus was to make it easy-to-use, expand functionality, and be aesthetically pleasing. I believed we achieved that and am looking forward to the launch and reaction from homeowners and installers. The cool thing about our monitoring service is our hardware's connectivity options. Our latest data logger used in conjunction with our hybrid inverters, can connect to the internet via a LAN, WiFi or 4G cellular connection.
Sales contacts
---
Enphase
What's new? Enphase offers a comprehensive solar-plus-storage system that brings plug-and-play simplicity to installers and powerful energy management for homeowners. Backed by the high reliability of Enphase microinverters, Enphase Storage automatically detects and transitions from grid power to off-grid mode during a grid failure. With storm-detection features and full Internet of Things connectivity, Enphase Storage and Enphase Solar make up the most comprehensive, always-on, and intelligent renewable energy power plant for homeowners. Enphase Storage features Lithium Iron Phosphate (LFP) battery chemistry, which provides a long cycle life, safe operation through excellent thermal stability, and a UL9540A fire safety certification.
Sales contacts
---
FIMER
What's new? Since 1983, FIMER continues to expand on its global inverter portfolio in 2021, with integrated solutions in all market segments from residential to large utility. Inverter sizes ranging from 3.3 kVA to 5.0 MVA. Most notable for 2021 is the upcoming release of a new commercial inverter with 10 – 33 kVA capacity for 1000 Vdc rooftop and carport applications, in addition to expanding the range of energy storage options with residential, C&I and utility scale systems.
Sales contacts
---
Fronius
What's new? Fronius just released three new apps that help to better commission, monitor, and service solar systems. These steps can be tedious without the proper tools and potentially slow down installer business operation. With the new Fronius App portfolio, however, business can improve their experience, from first setup to operations and maintenance. Solar.Start: Commission your internet connection easily. Solar.Web: Monitor your system. Solar.SOS: Create cases 24/7 without any wait time, contact technical support, and stay up to date on open issues.
Sales contacts
---
Generac
What's new? The PWRcell line of products was expanded with new capabilities, giving PWRcell the capability of providing intelligently managed whole-home backup power. The PWRcell Automatic Transfer Switch is able to island the system from the grid in the event of an outage and Smart Management Modules (SMMs) are able to manage loads so homeowner's essentials never miss a beat. Generac's SMMs and load management technology increases system performance and reliability. They do this by sequencing (or managing) the loads, preventing them from all turning on or running at once which might overwhelm the battery. By controlling some non-essential loads, the system ensures that the essentials never lose power, which can happen if loads are permitted to demand more than the system can serve. Generac Load Management ensures that the system owner maintains access to all their loads during an outage, even if they can't all run at once.
Sales contacts
---
GoodWe
What's new? As the market leader in storage inverters, we will continue offering consumers high-quality hybrid inverters throughout 2021, as well as high-voltage batteries and Smart Energy Management Applications. 2021 is the year we move from inverter manufacturer to solution provider in the solar storage segment.
Sales contacts
---
NEP
What's new? 1. High power microinverters to reduce lost energy due to power clipping; microinverter power levels must keep up with higher PV panel power. For example the NEP BDM800 dual 2x400Wac micro will begin shipping in March 2021. Our BDM500, a 500Wac 'Macro-inverter' is shipping now to support the new 500Wdc PV panels launching in 2021. 2. NEP Rapid Shutdown products will enhance safety, ease commissioning, time-saving IV curve trace test and lower service costs while also meeting NEC 2017 RSD requirements.
Sales contacts
---
Schneider Electric
What's new? Schneider Electric recently launched the MPPT 100 600 Vdc solar charge controller. With a constant focus on delivering high-quality products, the MPPT 100 is an ideal solution for residential grid-tied self-supply and off-grid systems. The new MPPT 100 offers much faster installations and is compatible with our XW and SW storage inverter solutions. Another exciting development to look forward to is the integration of the XW Pro inverter with Square D Energy Center, which is an industry-first, future-ready residential system that enables easy and safe connections for different types of power sources (solar, battery, generator). Schneider Electric's Insight Energy Management platform is adding integrations with Google and Amazon voice assistants. With this update, homeowners will be able to take complete control of their home energy information by pairing their Insight devices with the Google Nest and Amazon Alexa.
Sales contacts
---
Sol-Ark
What's new? To make installers job easier, Sol-Ark released its outdoor/indoor 12K hybrid all in one. Multiple partners introduced matching outdoor battery enclosures to complete the package. In Q2 2021, we are releasing our dynamic wind brake so DC rectified 3phase wind turbines can be directly connected to one MPPT with solar on a 2nd MPPT. In Q3, the 100A x 14 circuit Sol-Ark Smart Load will allow installers to backup an entire home with one $20K ESS instead of 2-3 at $40-60K. Unlike other load management solutions that cover 30A or 50A and switch in 20-1000ms, Smart Load shaves 100A loads in 4ms. This immediate response time makes sure the inverter is performing to its max power without overload. What makes this load mgmt so Smart? Built in AI automatically learns your loads and can program itself, so the installer doesn't have to. And because Sol-Ark's mission is reducing ESS cost, you can use the Smart Load with any inverter (not just ours).
Sales contacts
---
Sungrow
What's new? At the beginning of 2021, we introduced a new series of rooftop string inverters with NEC rapid shutdown requirement compliance as well as a 3.6 MW turnkey central inverter MV station. We will be expanding the product lines including storage and will announce the new generation at SPI.
Sales contacts
APsystems
,
CPS
,
Darfon
,
Enphase
,
FIMER
,
Fronius
,
Generac
,
Goodwe
,
NEP
,
Schneider Electric
,
SMA America
,
Sol-Ark
,
Solar Builder Buyer's Guide
,
Sungrow