Growing 43 percent year over year, the U.S. saw 2,051 megawatts (MW) of solar photovoltaic (PV) installed in the second quarter of 2016. According to GTM Research and the Solar Energy Industries Association's (SEIA) latest U.S. Solar Market Insight report, this marks the eleventh consecutive quarter in which more than a gigawatt (GW) of PV was installed.
FIGURE: Annual U.S. Solar PV Installations, Q1 2010-Q2 2016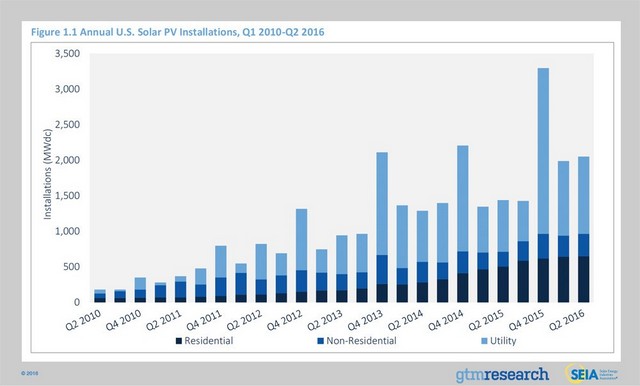 We're seeing the beginning of an unprecedented wave of growth that will occur throughout the remainder of 2016, specifically within the utility PV segment," said Cory Honeyman, GTM Research associate director of U.S. solar research. "With more than 10 gigawatts of utility PV currently under construction, the second half of this year and the first half of 2017 are on track to continue breaking records for solar capacity additions."
According to the report, utility-scale solar installations accounted for 53 percent of all installed PV in the first half of this year. With an additional 7.8 GW scheduled to come online in 2016, more solar capacity is expected to come online in the second half of this year than has ever come online in a single year.
The residential market segment hit a major milestone earlier this year – one million residential rooftop installations. The report notes that California's solar market has experienced a bit of a slowdown, but other state markets, including Utah and Texas, have helped pick up the slack. Residential PV installations grew 1 percent over the first quarter of the year and 29 percent annually.
RELATED: Open letter (and petition) urges for change in SEIA's board of director governance 
"Solar works in all 50 states and this report proves that what many would consider non-traditional markets are now firmly a part of the clean energy movement," said Tom Kimbis, SEIA's interim president. "While it took us 40 years to hit 1 million U.S. solar installations, we're expected to hit 2 million within the next two years. That record-breaking growth is made possible by solar's cost-competitiveness and the vast benefits it provides consumers, our nation's economy and environment."
California exceeded expectations in the non-residential market segment where it represented an unprecedented 50 percent of the segment's installations for the quarter. The non-residential market experienced some constraints in the second quarter of the year due to expiring incentives in the Northeast and growing net-metering debates nationwide. According to the report, the U.S. non-residential market segment grew 5 percent over the first quarter and 50 percent year-over-year.
The second half of 2016 will benefit from emerging project types and growing support of solar by states and utilities.
GTM research notes that by 2021, more than 30 states in the U.S. will add more than 100 MW of annual capacity, with 20 of those states becoming home to more than 1 GW of total operating solar PV.
Key findings:
• The U.S. installed 2,051 MWdc of solar PV in Q2 2016, a 43 percent increase over Q2 2015.
• In the first half of 2016, solar accounted for 26 percent of all new electric generating capacity brought on-line in the U.S.
• Installing 650 MWdc, residential PV grew only slightly over Q1 2016, but had its largest quarter ever while growing 29 percent year over year
• California accounted for 42 percent of rooftop PV installations in Q2 – its lowest share since Q4 2012 – as markets in states such as Utah and Texas begin to account for larger shares of the residential segment
• While only seven states added more than 25 MW of rooftop PV in 1H2015, 11 states added more than 25 MW in 1H2016, continuing a trend of geographic demand diffusion
• Despite adding less than 10 MW in Q2, community solar is expected to add 100 MW in 2016
• More than a gigawatt of utility-scale solar was installed for the third consecutive quarter as that segment continues to build out more than 7.8 GWdc of additional projects expected to come online in 2016
• Solar prices continue to drop across all market segments. Collectively, solar prices are 18 percent lower than they were in 2015 and 63 percent lower than they were 5 years ago
• GTM Research forecasts that 13.9 GWdc of new PV installations will come on-line in 2016, up 85 percent over 2015. Utility PV is expected to drive the majority of demand, accounting for over 70 percent of new capacity