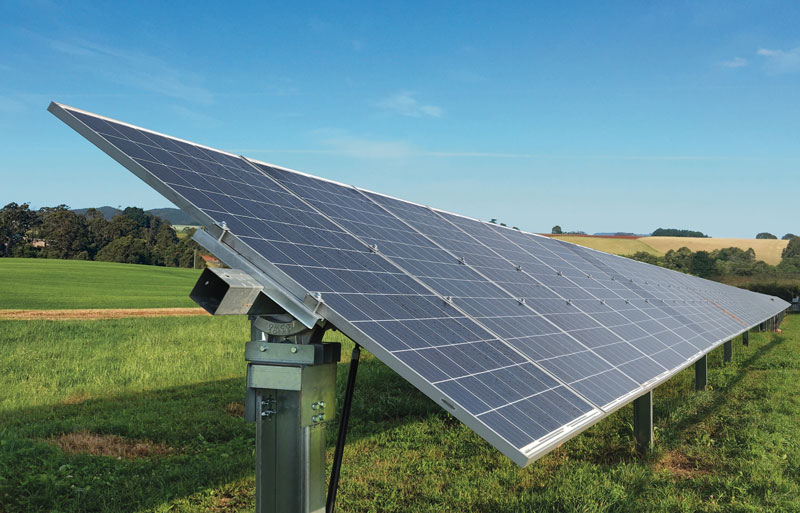 Ground-mount systems are the literal foundation of solar projects, so choosing not just the right product, but the best manufacturer for each site or portfolio is crucial. In our Ground-Mount Buyer's Guide this year, EPCs and developers building C&I and utility-scale sites can get a snapshot of the fixed tilt products, tracker systems and turnkey services offered by 14 of the top providers. Click on products listed under each company to read more about their design, installation methods and advantages.
---
OMCO Solar
OMCO Solar is a premier manufacturer of solar racking and tracker solutions for community, commercial & industrial, and utility scale projects. Their expertise in fixed tilt and single-axis tracker systems stems from decades of steel manufacturing, beginning in 1955 when OMCO Holdings was founded. OMCO developed the first American steel fabrication and assembly facility specific to the utility-scale solar market. As a major manufacturer, OMCO has been driving innovation for solar structures and construction for over 20 years.
Turnkey services:
On-Site Pile Testing. OMCO can provide customers with pile testing for their solar projects across the United States. This includes a 3rd party stamped report that can be used for foundation design and is a cost-effective alternative to geotechnical reports.
Engineering Design & Site Optimization. OMCO has an experienced engineering team that can provide customers with stamped construction drawings and calculation packages. We also have the ability to optimize a project design to maximize the benefits of OMCO products.
Single Point of Contact Contracting Model. OMCO provides fast and efficient delivery of a completed racking solution while minimizing transaction costs and construction delays that are typically associated with the conventional multiple-contract method. Our single point of contact contracting model streamlines the process significantly for customers.
Buy Direct from the Manufacturer. OMCO has four manufacturing facilities that provide superior customer support from a knowledgeable and experienced team. This also means that OMCO can offer highly competitive pricing and reduced lead-times, which can be challenging for other suppliers.
www.omcosolar.com | Sales: [email protected]
---
AP Alternatives
Specialty: 300 kW-30 MW
APA has been in the fixed-tilt solar space since 2008. For the past 13 years, APA has built its reputation on providing the right foundation and racking system for project sites with extreme topography and unfavorable soil conditions. To prove it, APA has completed almost 2GW worth of projects throughout every region in the United States, including islands such as Hawaii and Puerto Rico.
Turnkey specialties:
APA provides a full turnkey service from installing the foundation to the module installation. Anchor testing is also provided.
Hardware-only orders, giving customers the exact amount of hardware and foundation pieces they need to complete a project at a competitive price.
On-site supervisor to assist in the initial stages of construction if the onsite crew is unfamiliar with the installation process or racking system.
apalternatives.com | Sales: [email protected]
---
Cantsink
Specialty: 1 to 100 MW
Cantsink offers a variety of products and services for your ground-mounted solar project. In the early stages of your solar project, Cantsink performs pull testing services and w-beam procurement. Their machines drive piles for the site or install helical piles to prevent any foundation failures onsite from heavy solar equipment. Once your project is complete, they can help improve your project's efficiency with panel cleaning services. Contact us today to help with your next project.
---
Turnkey services:
Pull Testing
Providing W Beam Material and Driving Piles
Helical Pile Installation for Pad Support and other Heavy Equipment Onsite to Prevent Foundation Failures
Centric Inverter Rack
Panel Cleaning
www.brilliantrack.com | www.cantsink.com | Sales: [email protected]
---
Full Tilt by BCI
Specialty: C&I, DG, utility scale, and community solar in any size range
With over 20GW of solar racking delivered as a contract manufacturer and backed by decades of engineering and global supply chain experience, Full Tilt represents an optimal fixed tilt racking solution. The system boasts an innovative yet straightforward design with fewer parts and rapid installation features along with manufacturer direct pricing.
Turnkey specialties:
Design & Engineering – From layouts and site design specifications to member size optimization, Full Tilt's team is ready to adapt its racking solution to meet the unique challenges of any site.
Manufacturing and Supply Chain – BCI provides customers with a complete and comprehensive support network that they can rely on when it comes to ensuring material is delivered to site on time.
Installation support – Field support as well as an extensive network of trusted installers and industry partners to ensure a successful installation.
www.full-tilt.com | Sales: [email protected]
IronRidge
IronRidge, an Esdec company, designs and manufactures structural hardware for residential and commercial solar systems. For nearly a quarter of a century, we have worked closely with solar professionals to build strong, streamlined, and cost-effective products. IronRidge is NSF Certified to ISO 9001, maintaining the highest of quality management standards.
XR Ground Mount System
Number of pieces: Variable
Tools needed: Post Hole Digger or Powered Auger; Socket Drive (7/16", 9/16", and 1/2" Sockets); Torque Wrenches (0-240 in-lbs and 10-40 ft-lbs); Transit, String Line, or Laser Level; 3/16" Allen Head
Certifications: UL 2703 Listed, Designed and Certified for Compliance with the International Building Code & ASCE/SEI-7
Installation: 1. Build the base 2. Connect the substructure 3. Place rails 4. Secure lugs 5. Secure modules
Advantages: The IronRidge Ground Mount System combines our XR100 or XR1000 rails with locally-sourced steel pipes or mechanical tubing, to create a cost-effective structure capable of handling any site or terrain challenge. Installation is simple with only a few structural components and no drilling, welding, or heavy machinery required. In addition, the system works with a variety of foundation options, including concrete piers and driven piles. Compatible with soil classes 2-4.
www.ironridge.com | Sales contact | Distribution list
---
RBI Solar
RBI Solar Inc, a Gibraltar Industries Company, is a market leading provider of solar mounting systems. RBI designs, engineers, manufactures and installs solar mounting systems for commercial and utility scale projects, specializing in fixed-tilt ground mount, carport, ballasted landfill, roof mount and garage canopy solar systems. As part of Gibraltar's Renewable Energy group, RBI is joined to empower results. In merging strengths from market leaders like TerraSmart, RBI Solar, and SolarBOS; combined with smart new project design software from Sunfig, we are able to serve all sectors in the growing utility, community, and C&I solar market, helping make solar energy readily available anywhere.
---
RP Construction Services, Inc. (RPCS)
Specialty: Projects of all sizes, 20-50 MW sweet spot
RP Construction Services, Inc. (RPCS) provides turnkey design, structural engineering, procurement/supply, mechanical installation, and specialty services to EPCs, developers, and municipal utilities. As the nation's leading contractor and Array Technologies single-axis tracker expert, RPCS has completed more than 700 projects, totaling over 2GW, and helps customers meet their renewable energy goals with simple, seamless project execution. RPCS has approximately 300 employees and is headquartered in Monterey, California, and maintains facilities in California, Mississippi, and Kansas.
Turnkey services:
Design/Engineering – RPCS optimizes the full potential of your project with foundation design and layout, geotechnical site assessment support, tracker and foundation post supply and logistics, and solar tracker technical expertise.
Supply/Procurement – RPCS offers in-house stocking services with facilities in California, Mississippi, and Kansas with more than 1GW in annual supply. This allows RPCS to control the delivery schedule and material accuracy, quote engineer, and deliver orders quickly.
Mechanical Installation – RPCS is a fully-licensed mechanical and electrical contractor, self-performing work across the country.
Kitting – RPCS is the first contractor in the utility space to pre-kit the Array tracker, allowing work that would otherwise be done onsite to be done in a controlled environment at an RPCS facility.
Additional Construction Services –RPCS offers on-site project management, commissioning, QA/QC, and O&M services.
www.rpcs.com | [email protected]
---
Solar FlexRack
Specialty: Commercial and utility-scale / 1-100+ MW
Solar FlexRack, a division of Northern States Metals, is an integrated solar company that offers custom-designed, fixed tilt ground mount and single-axis solar tracking systems in the commercial and utility-scale solar mounting industries. Solar FlexRack also offers project support services, including engineering, geotechnical, load testing, field, layout, and installation services to address the actual site conditions of an installation and provide integrated services from design to delivery and installation. Solar FlexRack has completed over 2.5 GW of solar racking installations in 40 states across America and five countries globally.
solarflexrack.com | Sales: [email protected]
---
Soltec Power Holdings
Soltec Power Holdings specialized in integrated solar photovoltaic solutions, whose business is focused on solar tracking systems with a strong commitment to innovation. Soltec is positioned as the world's third leading company in the market among solar tracker suppliers, and the first worldwide excluding the American market, as well as in Mexico and Argentina. With headquarters in Spain, Soltec Power Holdings has been operating since 2004 and has a diversified geographic presence focused on Spain, North America and Latin America. It has presence in 16 countries with more than 1,300 employees.
soltec.com | Sales: [email protected]
---
Sollega
Unique compared to the rest in this section, Sollega provides one racking system that can go from the commercial rooftop to the ground. The universal design, manufactured from UV rated glass reinforced Nylon 6, enables the installation of all framed modules and stands up especially well in highly corrosive conditions near the ocean. Injection molded in California, 100 percent made in the USA.
www.sollega.com | Sales: [email protected]
---
Sunfolding
Specialty: Projects above 5 MW, especially those that can benefit from earthwork savings
Sunfolding maximizes profitability with innovative solar tracking technology. Powered by air, the Sunfolding T29 Single-Axis Tracker deploys on land previously off limits to utility-scale solar. The Sunfolding T29 also makes solar plants faster to install and easier to operate. Sunfolding has won recognition as a 2020 Global Cleantech 100 Company and a 2019 Bloomberg New Energy Pioneer. Headquartered in Alameda, CA, Sunfolding ships US-manufactured trackers throughout North America.
Turnkey services: Sunfolding provides turnkey installations for projects using the Sunfolding T29 Single-Axis Tracker through the Sunfolding Construction Network (SCN). From engineered site layouts to mechanical installations, SCN delivers optimal quality, scheduling, and cost. SCN's network of mechanical subcontractors use extensive product knowledge for improved labor productivity and on-site logistics.
sunfolding.com | Sales: [email protected]
---
SunModo
Specialty: residential and C&I <500 kW
SunModo, meaning "the way of the sun," is a private U.S. company headquartered in Vancouver, Wash., that is focused on innovative racking and mounting solutions for professional installers in the fast-growing solar industry. Our commitment to innovation can be seen across our entire product line, which includes 20 plus industry-shaping patents. From residential rooftops to large-scale ground-mounts and everything in between, SunModo has the most comprehensive solar mounting and racking solutions.
www.sunmodo.com | Sales: [email protected]
---
TerraSmart
Specialties:
Utility-Scale ground mount: 20 – 300 MW
Single-Axis Tracker: 20 – 100 MW
TerraSmart, a Gibraltar Industries company, has been a front-runner in the solar industry for 11 years by continuously evolving its turnkey business model to build over 3.5 GW's of ground mounted, utility-scale solar projects across the U.S. As part of Gibraltar's Renewable Energy group, we are joined to empower results. In merging strengths from market leaders like TerraSmart, RBI Solar, and SolarBOS; combined with smart new project design software from Sunfig, we are able to serve all sectors in the growing utility, community, and C&I solar market, helping make solar energy readily available anywhere.
Turnkey services
Design & Engineering. A seasoned team of geotechnical, structural, mechanical, electrical and civil engineers provides project-specific, value-engineered solutions that will streamline your next ground mount project experience.
Turnkey Construction. TerraSmart's full-service construction team can bring all critical aspects of solar construction in-house. Our full-time employees specialize in professional surveying, civil construction, drilling, screw, racking and panel installation.
Surveying. Site Topology & 3D Mapping is available via High Precision Aerial Site Mapping. Also, the first of its kind – TerraSmart's Autonomous Precision Survey Rover (APSR) triples the survey speed and accuracy on your next site.
Manufacturing. TerraSmart has a 70,000 square-foot manufacturing facility that shortens cycle times and improves production velocity to shorten lead time and service greater product demand.
Civil. TerraCivil is TerraSmart's civil construction division that was added recently to incorporate services such as fencing, building access roads, clearing destumping, grading, earthwork, storm drainage, site fencing and more.
www.terrasmart.com | Sales: [email protected]
---
Trina Solar
Specialty: Tracking systems 10+MW.
Trina is a world-leader in global solar module manufacturing with decades of technological expertise and bankable experience. As an all-in-one smart solar solution, TrinaPro designs an optimal system and then combines industry-leading components with intelligent O&M services to ensure utility-scale solar project value. The TrinaPro portfolio has two tracker products: Agile 1P and Vanguard 2P.
Turnkey services:
TrinaPro features single-point-of-contact and vendor for major component supplies (foundation, fixed racking or tracker, inverters, modules)
Support during the entire lifecycle of the project (design engineering, delivery, construction, commissioning, and O&M). Highest bankability rating in the global PV industry for long-term commitment to partnerships
Component compatibility and design optimization focused on increasing power production and reducing LCOE
Global supply chain to improve component delivery schedule and meet project deadlines
Specific custom design engineering meeting each project's exacting requirements
www.trinasolar.com/us/contact-us | Sales: [email protected]
Tags:
AP Alternatives
,
Cantsink
,
Full Tilt
,
OMCO solar
,
RP Construction Services
,
Solar Builder Buyer's Guide
,
Solar FlexRack
,
Sollega
,
Soltec
,
Sunfolding
,
SunModo
,
Trina Solar