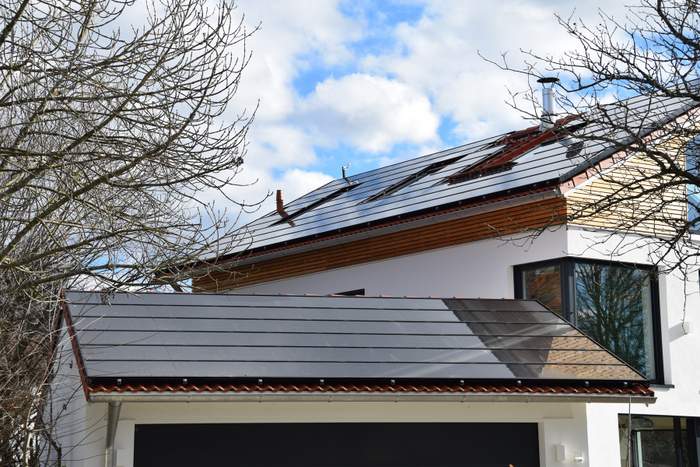 German solar company Calyxo TS Solar GmbH reports that new testing shows its thin-film solar module has reached the same degree of efficiency as crystalline modules. The European market leader from Bitterfeld-Wolfen now produces thin film modules with an efficiency level of 16.5 percent, which exceeds the average of 13 percent. The manufacturer thus managed to increase the output per module by around 25 percent from an average of 90 watts to over 118 watts since the takeover of Calyxo by TS Group GmbH just under a year ago.
Together with its parent company TS Group, Calyxo worked intensively on the further optimization of the highly efficient cadmium telluride (CdTe) thin film solar modules and, after only five months, achieved a new peak: Due to their spectral response, low angle dependence and enormous temperature resistance, the thin film modules' new record efficiency of 16.5 percent is comparable with the 19.8 percent efficiency of crystalline solar modules. The efficiency of the new modules was confirmed by an independent study carried out by the University of Coburg. Calyxo had already reported an efficiency of 15.5 percent in January.
All efficiency rates stated here are stabilized efficiency rates after an accelerated ageing test on production modules.
More to come?
"The further increase in efficiency shows that thin film solar modules have long ceased to be a niche technology in the photovoltaic industry," Dr. Stephan Köhne, CEO of the TS Group, emphasized. "We are not only already in a position to compete with standard crystalline modules available on the market. We are also convinced that the potential of CdTe modules is far from exhausted."
The company believes they have another leap in efficiency coming by the end of the year. Its research indicates that the relatively new thin film technology can achieve efficiencies of up to 30 percent.
Calyxo TS Solar GmbH is currently looking for investors to build new factories for the production of large-format photovoltaic modules.
"Our technology has reached a level of maturity that not only makes thin film modules more efficient," adds Köhne. "We can also produce our modules at significantly lower costs compared to the crystalline photovoltaic modules commonly available on the market."
In addition to building-integrated photovoltaics (BIPV) and conventional roof-top systems, Calyxo TS Solar GmbH also perceives floating PV systems as an emerging market. Glass/glass modules are particularly suitable for this form of energy generation as they are better able to withstand the high level of humidity in the air – which is a problem for glass/backsheet modules.
More on CdTe technology
CdTe thin film modules are more resilient and resistant than crystalline modules. The glass/glass modules have a significantly longer service life than conventional glass/backsheet modules. In addition, the thin film solar cells can easily cope with shading and achieve higher yields in poor light conditions than crystalline modules. In electricity generation, this can lead to an overall advantage of up to 20 percent per year compared to standard crystalline solar modules.
Because of Calyxo's patented technologies and production processes, the company is on its way to becoming the global technology leader in the manufacture of cadmium telluride (CdTe) thin film solar modules.