Last week we hit up Intersolar North America / Energy Storage North America in Long Beach. The trade show exhibit space was sold out, and it felt like it. Yes, Intersolar is officially back. We have plenty of notes to dig through still, but here are the highlights.
Key updates making install, O&M easier
Fluke has been a leader in electrical testing equipment for decades and has had plenty to offer solar installers and O&M techs the last few years. But none compare to the new SMFT-1000, which includes everything a PV tech would need in the field, including IV Curve tracing.
What stood out most to me was its ease of use. Considering the need for more workers in solar – and more training for said workers – someone deployed in the field with the SMFT-1000 is equipped with the IEEE check lists to ensure each check/test is completed as well as diagrams that remind/educate on what to look for. The SMFT-1000 also comes with a deep module database preloaded to improve IV Curve testing. All of that data can be easily connected to the cloud and/or exported in a file for the asset owner.
Also: FranklinWH is already on the third version of the Franklin Home Power system. Most of the updates are tweaks on the original design, none big enough to promote with a whole press campaign, but they are crucial for installers. Like the addition of a protection circuit that removes any potential for human error found in version 1.
In his Intersolar wrap-up, Philip Shen with Roth Capital Advisors says "FranklinWH sees 5-15 minute commissioning times for its resi battery. Over the past year, we have heard positive reviews for the FranklinWH battery. The very short commissioning times are likely a key reason why."
We discussed all of this with new FranklinWH CCO Vincent Ambrose. That interview will be out in the coming weeks.
More microinverter options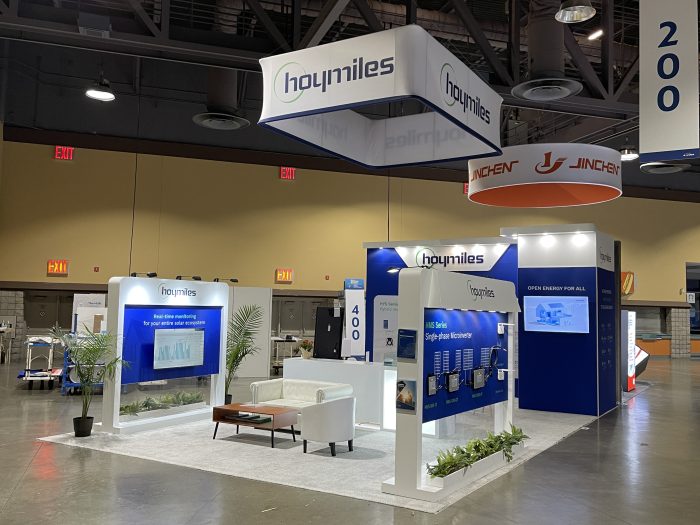 Hoymiles is a global MLPE (Module Level Power Electronics) solution provider that's making a big push in North America this year. Its first products in the U.S. market are the HM-N and NT series of microinverters and the HMS series of microinverters. They cover a wide range of output power from 300 VA to 2000 VA, making them suitable for both small-capacity residential projects and high-powered commercial projects. They come in one, two, and four input channels with a maximum dc input voltage of 60V / 96.7% CEC Peak Efficiency / 99.8% MPPT Efficiency. They report a failure rate lower than 0.18%. Energy storage is also an emerging part of its product portfolio
Its HM-NT and HMS microinverters are most popular in the United States. The main difference between the two is the communication method: HM-NT is 2.4 GHz while HMS is Sub-1G. "The difference is that Sub-1G is more stable and can transmit signal across a longer distance, so HMS would be a better option if the solar installation spans across a wider land area," says Rocky Gao, president of Hoymiles in the U.S. "For this reason, HM-NT is paired with the gateway DTU-Pro and HMS is used with DTU-Pro-S. Another difference is that HM-NT offers a power range from 300 to 1500 while HMS covers 350 to 2000."
Also: Northern Electric Power's (NEP) BDM-800 dual-module microinverter has a lot going for it. It is Rule 21 Certified. It has a high continuous output power up to 768 Wac and a 96.5% CEC efficiency. But the most important feature to consider is its metal exterior.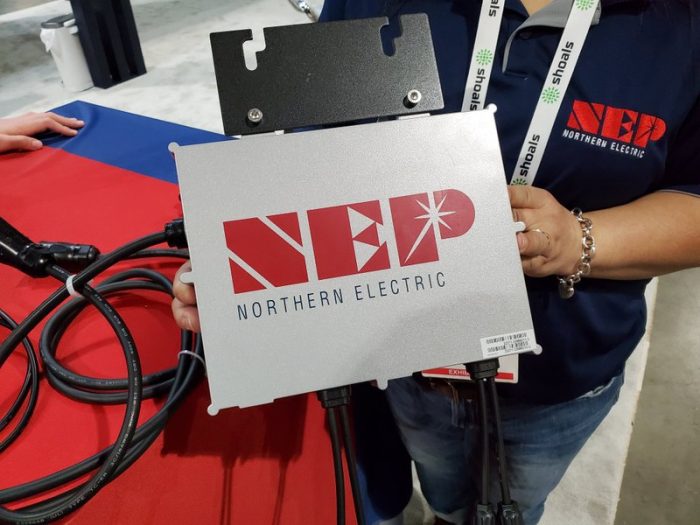 Microinverters are more commonly known to have plastic exteriors. Jacob Benzaquen, tech support and product manager at NEP, argues that plastic is an issue for microinverters on rooftops in high temperatures, which leads to the higher RMA rates commonly associated with microinverters. Benzaquen knows of what he speaks, having previously worked at O&M company Omnidian before joining NEP, calling heat "the No. 1 "killer of micros."
Heard on the floor: Roth's Shen continue to see risk in Enphase's Q2 guidance, writing about distributor slowing orders last week. "Others at the show confirmed with us that they expect to take less inverter volume in the US for the Q2 period."
Solar tracker space follows demand
The solar industry increasingly needs solar trackers with higher and higher "terrain-following" tolerances, and at Intersolar, Nevados showed off arguably the best solution yet.
Nevados might be new to you, but the company, led by the CEO Yezin Taha, has been around since 2014, hyper focused on the research and development of this new concept for solar tracking on changing topography. Nevados started scaling, and they brought aboard Jack Bennett as President and COO (formerly of NovaSource and SunPower) and this year added Jenya Meydbray as Chief Commercial Officer (formerly of PVEL).
The deliberate R&D period was time well spent. Nevados boasts an ability to handle 26 percent (15 degrees) grade changes at each post. They do it with short torque tubes (seen here), and around 30 feet between posts. An easy-enough concept to understand structurally, but a crazily complex system in terms of design and tracking algorithms. The short rows on widely varying slopes and subtle grades all require their own special angles to avoid inter row shading. Without Nevados' finely tuned tracking algorithm, 2 to 7 percent of a site's output could be compromised.
Nevados has about 400 MW in the ground or in progress, and can pump out about 200 MW a month from its U.S facility, using mostly East Texas steel. There is much more to the potential advantages from removing site grading to uncover in our upcoming Ground-Mount Buyer's Guide.
Also: OMCO is readying a push of its trackers into utility-scale projects, but also notes that market demand exists for utility-scale fixed tilt in certain regions, such as Kentucky.
Heard on the floor: According to Shen with Roth Capital Advisors, "Some believe the Mexican steel lobby is working hard to try to include Mexican steel as US steel under the old NAFTA rules. This could result in lower tracker prices."
Software that does the work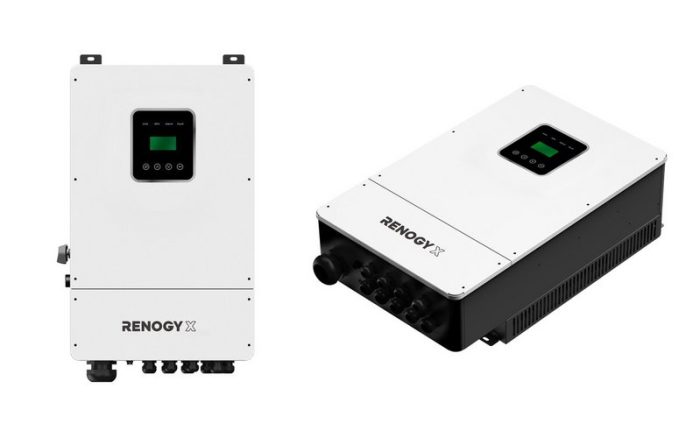 Known for its off-grid product line, Renogy debuted a grid-tied offshoot at Intersolar. Dubbed Renogy X, the goal is to be "the first manufacturer in the industry to sell direct-to-consumer using sophisticated e-commerce and digital project management." Installers will be able to sell and install a kitted offering for the entire solar + storage system, but the Renogy back-end software is where president Josh Schlipp thinks Renogy X will really stand out.
Renogy X prioritizes transparency with the customer. Orders placed in its e-commerce platform generate a cadence of customer updates to keep them in the loop as parts ship and install nears. For installers, Renogy's platform will offer project management, permitting capabilities and potentially cut out the need to hold product inventory as the kitted systems ship directly to the site. This also means equipment doesn't need to be purchased ahead of time. "Our installers can focus on what they do best, which is install."
Heard on the floor: Solar design software provider Eagleview continues to innovate and partner with other providers (like this integration with Enerflo). We saw some cool features that haven't been announced yet as well as a game-changing 3-D site modeling view. All of that aside, they are seeing a ton of activity coming from California installers looking to blast out proposals to potential customers in their territory to hopefully grandfather those customers under NEM 2.0. "As long as they get a deposit down before April 13, and plan to install within three years, that customer is grandfathered in under NEM 2.0."
Energy storage solutions build out underserved categories
Large-duration energy storage is set for exponential growth in the coming decade, and Oregon-based ESS is in great position to the lead way in the United States. One of the viable non-lithium based battery contenders, ESS deploys an iron flow battery that can discharge much longer than li-ion solutions (6 to 12 hours) and deliver 25 years of lifetime or more with no capacity fade or degradation. The ESS electrolyte health management system cleans and rebalances the electrolyte in real-time, eliminating the need for frequent downtime for recovery or rebalancing required with other flow battery systems.
ESS announced a very cool project during the show for Turlock Irrigation District, and the future is exceedingly bright. Keep an eye out for an ESS certification program in the future as they build out a nationwide installation and O&M network.
Also: A large commercial battery unit is the big news at Fortress Power – a nice midway point between its residential and larger-scale energy storage units. Soon, NABCEP accredited courses will be offered.
Bonus takeaway: Solar installer financial health is important!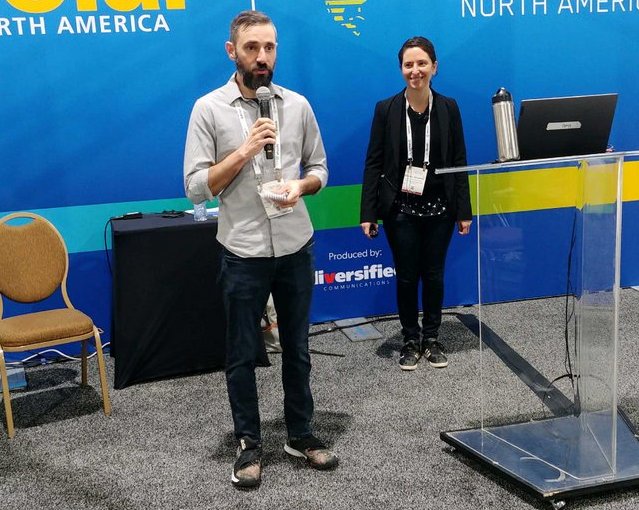 Solar Builder sponsored a presentation on solar installer financial health at the HUB on the Intersolar show floor. This topic is always relevant, but perhaps more than ever with NEM 3.0 on the way and our current higher-interest-rate environment. Rachel Schapira with TriBeam Financial was kind enough to lend her brain for the event. If you missed it, check out this Power Forward episode from last year:
Listen to more in-depth conversations on Solar Builder's YouTube channel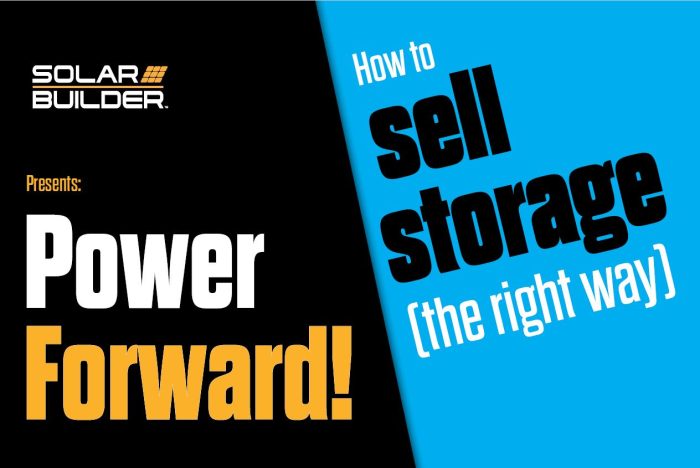 Our most popular series include:

Power Forward! | A collaboration with BayWa r.e. to discuss higher level industry topics.
The Buzz | Where we give our 2 cents per kWh on the residential solar market.
The Pitch | Discussions with solar manufacturers about their new technology and ideas.
Tags:
EagleView
,
ESS Inc.
,
Fluke
,
Fortress Power
,
Hoymiles
,
Microinverters
,
NEP
,
Nevados
,
OMCO solar
,
Renogy