Swiss Re to build solar power plant for Americas' headquarters
At the beginning of Climate Week NYC, Swiss Re announces concrete plans to further reduce the carbon footprint of its US-based operations by building and operating its own solar power plant at the company's U.S. headquarters in Armonk, New York. Construction of the 2 MW facility will begin in October 2016. It should be running by late spring 2017.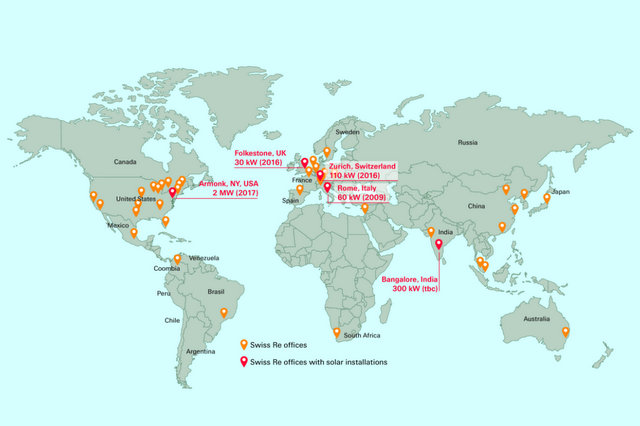 The power plant will occupy approximately 10 acres of land at Swiss Re's own premises. It is expected to generate 60% of the power required by the over 700 employees working in Armonk office.
Eric Smith, President and CEO Swiss Re Americas, said: "We're delighted to be taking this crucial step to make our operations in North America carbon-neutral in a way that also improves our bottom line. In the context of Swiss Re's extensive engagement in mitigating climate change, this is just another example of how we keep our commitments."
Swiss Re aims to lead by example and wants to contribute to a greater societal impact in addressing the issue of climate change. It encourages other corporations across the globe to minimise their environmental footprint. The company is a founding member of the RE100 initiative, which now unites the world's largest companies in a shared commitment to use 100% renewable power.
Already over 85% of the power Swiss Re consumes comes from renewable sources.
RELATED: Load Warriors: Experts discuss rooftop ballast installation best practices 
L'Oréal USA to exceed carbon reduction goals through PV projects in Kentucky and Arkansas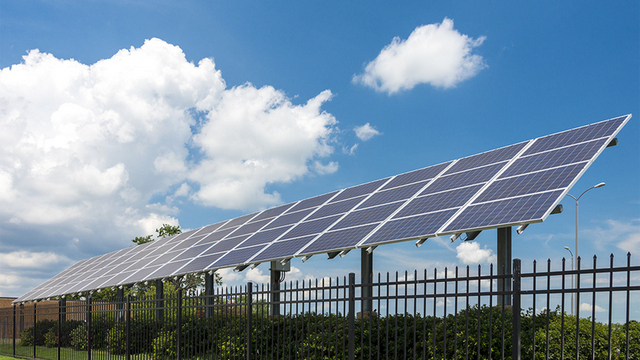 L'Oréal USA will exceed its carbon emission reduction goals and build two large-scale solar projects at the company's manufacturing facilities in North Little Rock, Ark., and Florence, Ken., as part of its global sustainability strategy Sharing Beauty with All.
The two projects – among the largest in each state – represent an acceleration of the company's original goals to reduce its CO2 emissions by 60 percent from its 2005 baseline. L'Oréal USA will achieve an 80 percent reduction, and plans to achieve 100 percent renewable electricity for its manufacturing in the United States through the projects and the purchase of additional, locally-sourced renewable energy certificates (RECs). The project in Florence will be the largest commercial solar array in Kentucky and the project in North Little Rock will be the third largest commercial array in Arkansas.
The Florence plant, in partnership with Scenic Hill Solar, will house the largest commercial solar array in Kentucky at 1.5 MW. Construction of the Florence project will start in late 2016 and will consist of approximately 5,000 solar panels. The array is projected to cut CO2 emissions in Kentucky by approximately 1,195 metric tons per year, equivalent to eliminating over 2.8 million miles traveled by passenger cars per year, according to EPA Greenhouse Gas Equivalencies.
The North Little Rock plant, also in partnership with Scenic Hill Solar, will house a 1.2 MW array that will be the third largest commercial solar array and the fourth largest solar project in Arkansas. The 4,000 solar panel installation in North Little Rock is scheduled to be operational by mid-2017 and will reduce carbon emissions in Arkansas by 1,326 metric tons per year.
RELATED: Beyond the rooftop: How offsite PPAs change the game for solar professionals 
Dickinson Solar Project in Minnesota finally comes online
The largest solar array in Minnesota owned by electric cooperatives is now generating electricity for members of Wright-Hennepin Cooperative Electric Association (WH). The Dickinson Solar Project is a collaborative effort between WH and Maple Grove-based Great River Energy, one of its wholesale electric power providers, and brings an additional 2.25-MW of renewable energy onto the grid. This is the second largest solar installation in Minnesota to date.
"The Dickinson solar project was built in response to members' desire to have safe, reliable, affordable and increasingly clean energy," said Tim Sullivan, president and CEO of WH. "We're pleased to have worked with Great River Energy to bring utility-scale renewables to our membership."
The project consists of 8,352 panels on a 13-acre site in Buffalo already owned by Great River Energy, so construction did not affect or harm any farmland or wooded areas. The project's principal contractor was Energy Concepts of Hudson, Wis. Construction began in March 2016, and the project became operational in August.
Both cooperatives have experience with constructing and generating solar energy. Great River Energy completed a 250-kilowatt solar project at its headquarters, as well as 19 smaller arrays across its membership. WH has built three community solar projects, two arrays for the City of Rockford, and a fourth community solar array is planned for later this year.
RELATED: Community Solar Legal Primer: From project structure to consumer protection