Historic funeral business leaps into 21st century with rooftop solar arrays on seven locations
Freedom Solar recently installed more than 530 kilowatts of solar power on seven locations of Mission Park Funeral Chapels and Cemeteries, the largest and oldest privately owned funeral company in San Antonio.
Powered by 1,634 high-efficiency solar panels, the new solar projects will offset more than 55 percent of Mission Park's electricity needs at the seven locations: two mortuaries (Oak Hill and Palm Heights), its corporate office, three funeral chapels and cemeteries (North, South, and Dominion), and its funeral home (Brookehill).
The entire system is expected to pay for itself in less than four and a half years. A generous local utility rebate covered roughly 46 percent of total system costs. Mission Park will also receive the Federal Investment Tax Credit (ITC) for 30 percent of the project's total cost, saving the company a total of 76 percent.
Annually, Mission Park's solar arrays will produce 778,735 kilowatt-hours of electricity, which will offset more than 547 metric tons of carbon dioxide equivalents. Because funeral homes operate 24 hours a day seven days a week, electric bills are a large portion of their operating costs. Mission Park's project features SunPower 327-watt solar panels, which are the most efficient available today, with unmatched reliability and an expected life of more than 40 years. Freedom Solar Power is a SunPower Master Dealer, the only company with that distinction in Texas.
Once the first phase (the initial seven locations) of Mission Park's solar project has paid for itself, Tips will begin phase two and have Freedom Solar design and install solar arrays on another set of its locations.
Austin Independent School District adds 600 kW rooftop system
PCI Solar is installing a 600 kilowatt portfolio of rooftop solar for Austin Independent School District (AISD), as well as providing classroom instruction to Austin High School engineering students interested in careers in solar. Austin High is one of the AISD schools receiving a solar energy system, and invited PCI to speak with interested students, some of whom have solar on their homes. PCI Solar staff provided an overview of how solar energy works, the economic case for solar, and the various types of careers in solar energy.
PV in schools: Education sector is one of solar's best opportunities
"We were really impressed at the knowledge level of these students regarding energy in general and solar specifically," said Mark Hilpert with PCI. "They asked good questions and had a knowledge far beyond what I had at their age. If these sorts of kids join our industry, we will be fortunate."
PCI staff and the students discussed a variety of issues including the differences between ground mount, rooftop and carport solar, and the different market opportunities between residential, commercial, and utility scale solar. An informal poll of the students indicated that at least 25 percent of them were actively considering a career in renewable energy.
PCI is nearing completion on the AISD portfolio, which was won through a public competitive bid process. AISD valued PCI's experience building solar for other school districts, including Alamo Heights Independent School District in San Antonio, TX and Petaluma City Schools in California.
ReVision Energy, Quest Renewables design solar canopy atop Portland, Maine garage
ReVision Energy, in partnership with Quest Renewables, recently completed the installation of a 193.63-kW QuadPod solar canopy system atop Portland, Maine's Fore Street Garage. The system has been producing power since late May. Fore Street Garage is owned by ReVision Energy's customer, East Brown Cow Management Company.
The installation marks the first commercial solar parking garage canopy in the state of Maine. The solar parking garage canopy on the top level of the Fore Street Garage provides shaded parking and cover from the elements for vehicles and provides clean, local, renewable energy to the Hyatt Place. The 193.63kW solar array consists of 578 individual panels wired to seven grid tied inverters and mounted to an advanced long span solar canopy structure.
Park-onomics: Best practices for constructing cost-effective carport projects
The system was designed by Quest Renewables and features seven of their QuadPod solar canopies. To accommodate the addition of the system atop the parking garage, engineers designed it to integrate into the garage with minimal disruption during construction. 90% of QuadPod's construction activity, including assembly, wiring and lighting, takes place on the ground. After assembly, wiring and lighting, the solar canopies are lifted by crane for final installation, minimizing overhead work and optimizing worksite safety. Worksites are safer and more efficient with construction crews working on the ground.
The power generated by the system will offset energy used by the garage and the Hyatt Place, also owned by East Brown Cow Management Company. The 578 solar panels atop the system will produce an estimated 232,235 kWh of clean, renewable energy each year for decades to come, offsetting over 23 percentof the hotel's historical electrical consumption. Over its lifetime, this system will eliminate 7 million pounds of CO2 pollution. The array is grid-tied, and feeds into the utility grid anytime it's making more energy than is being consumed on site. Solar energy is eligible for a federal tax credit, worth 30% of the total project cost.
How Temple Beth Elohim Wellesley financed solar energy for its synagogue
Temple Beth Elohim, a Wellesley-based Reform congregation, has joined with Solect Energy and PowerOptions of Boston, to install a 37-kW solar energy system on the roof of its synagogue. The solar array is a significant addition to the congregation's efforts toward
sustainability.
As a nonprofit that is unable to benefit from renewable energy federal and state tax incentives, the Temple faced a number of options for financing and installing the solar array. After comparing rooftop solar opportunities from different vendors, a team of congregants, staff and clergy at Temple Beth Elohim selected Solect's small systems solar program with PowerOptions.
Under the program, Solect installs, owns, and operates the solar arrays on the Temple's roof, and sells the power generated under a Power Purchase Agreement (PPA) at a fixed rate for a period of 20 years. However, completing the transaction was not as straightforward as in many other towns. Solar generation works differently under municipal utilities than it does in an investor-owned territory with utilities like Eversource and National Grid. Wellesley is one of 41 towns in Massachusetts that purchase power from the electric utility owned by the municipality, in this case, the Wellesley Municipal Light Plant ("WMLP").
Massachusetts laws require the utility to be the reseller of power to its customers within the town boundaries. Making the array a reality required a PPA with the WMLP. Under the agreement, the power generated from the array is purchased by the WMLP, who then sells it to the Temple.
"Creating the contractual arrangement with the municipal electric utility requires an understanding of Massachusetts laws and maintaining a focus on value for the customer," said Kevin Sullivan, Assistant Superintendent for the WMLP. "It required hard work and collaboration from a number of different parties to develop this innovative solution, and I'm thrilled we made it work for the congregation."
Nexamp Powers Up Community Solar  in Massachusetts
Nexamp sent word that it completed a 700-kW facility located in Fitchburg, Mass., that is the first community solar project to serve Unitil customers in Massachusetts and will provide local residents and small businesses with access to the benefits of solar energy for the first time.
Through Nexamp's innovative Solarize My Bill community solar program, participating Unitil customers, many of whom were previously unable to install solar panels on their own property, are now seeing reduced electricity charges through their subscription to the Fitchburg Solar project. In addition, the neighboring Town of Lunenburg will realize substantial energy cost savings through a long-term agreement to purchase discounted energy credits generated by the project. Together, the Town of Lunenburg and Nexamp's Solarize My Bill customers are expected to save hundreds of thousands of dollars through their participation in the project.
"Lunenburg has enjoyed a very beneficial relationship with Nexamp," said Phyllis Luck, Board of Selectman, Town of Lunenburg. "In addition to the Town's net metering agreement, which is expected to generate over $600,000 in utility cost savings over the next 20 years, Nexamp has extended the partnership to include our Town's residents, who remain keenly interested in community solar. In fact, Nexamp enrolled nearly 40 Lunenburg households in two weeks' time to theirSolarize My Bill community solar program and these residents should save over $275,000 in electricity costs over the term of their subscriptions with Nexamp."
The project is situated on land towards the rear of an active apple orchard in Fitchburg, providing the landowners with a reliable source of ground lease income that will help keep the orchard operational and enable it to offset nearly all of its energy needs from local renewable resources.
Fitchburg Solar is one of 17 community solar facilities that Nexamp has constructed and expects to achieve operations in the coming months.
Listen to more in-depth conversations on Solar Builder's YouTube channel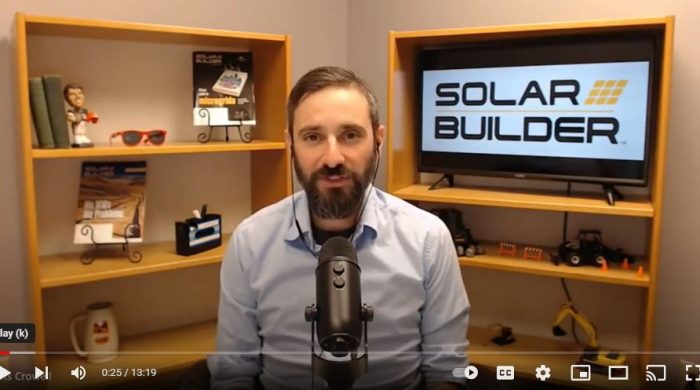 Our most popular series include:

Power Forward! | A collaboration with BayWa r.e. to discuss higher level industry topics.

The Pitch | Discussions with solar manufacturers about their new technology and ideas.
Tags:
canopy
,
carport
,
Freedom Solar Power
,
Nexamp
,
PCI Solar
,
Quest Renewables
,
Revision Energy
,
Solect Energy