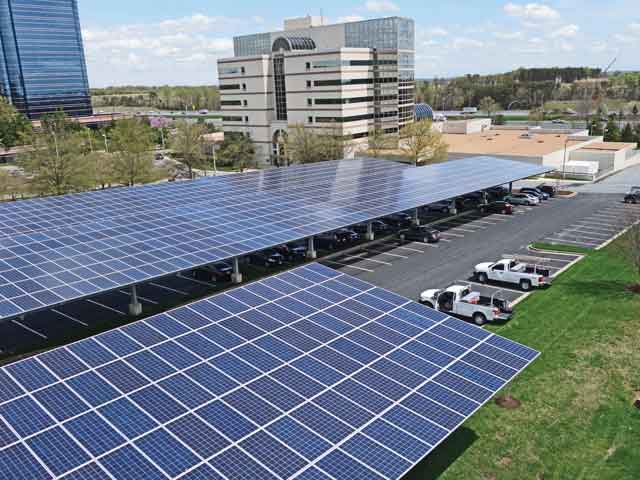 One thing is for sure about carports: they stand out, both aesthetically and in the budget. A carport, more so than a ground-mount or rooftop system, is about making a statement. How big of a statement will be reflected in some significant increases in cost — but this shouldn't affect the overall value proposition of a well executed carport project.
To start, a bare bones carport system will be about 80 cents per watt (compared to an ideal ground-mount system going in at 15 to 25 cents a watt). This low-cost system, according to C.J. Colavito, director of engineering at Standard Solar, will be an exposed galvanized steel structure with no raised collars, an 8-ft, 6-in. clearance and the lightest gauge material that's still structurally sound, with no snow guards, no lighting, no decking and no water management. Those costs would include delivery, excavation, erection and module mounting. Additional structural and aesthetic choices will drive up costs — the more pimped out, the more costs will go up, reaching $1.50 per watt or more.
"From the top end carport to the bottom end could be double or triple the cost in dollars per watt," he says.
These are all decisions dictated by the customer, many of whom love the curb appeal and functionality of a standout carport that really becomes an extension of the site's design, building architecture and company branding. But there are several installation best practices that will improve the delivery and value of a carport project for your customer by reducing the chances of surprise cost escalations.
Getting deals done
Carports make a ton of sense in two areas in particular: 1) out west, where temperatures are high and shading can be just as valuable as electricity, and 2) the densely populated northeast where swaths of open land are all but gone or will cost a ton to acquire. Plus, local incentives can be a big driver. The Maryland Energy Administration, for example, has had a grant program in place for three years offering a certain dollars per watt for supporting deployment of parking canopy systems versus using up valuable green space.
Standard Solar is a full-service, vertically integrated developer, EPC and OM provider with aspirations to develop its own fund for financing projects. At the moment, the Standard team connects projects to financing through a network of partners they have worked with in the past. Colavito says the financiers they work with are more interested in the reputation of vendors and material suppliers than ever before, especially when it comes to a carport job.
"In the past, they didn't even look at the stuff, but I think the financial industry in general has smartened up and changed and adjusted," he says. "They are now asking about specific materials, equipment and suppliers, focusing on modules and inverters, and have dug a little bit into the mounting systems too, especially for carports."
Understand the soil
Soil conditions dictate so much about a carport project and can start to really drive up costs, which, again, can just not be afforded with an already costly investment. So, doing all you can to understand and adjust for soil conditions ahead of time is a big win.
Soils with 2,000-lbs-per-ft bearing pressure will only need 10-ft foundations at 3-ft diameter with rebar and concrete. But poor or rocky soil can get expensive very quickly.
"We had one with organic peat soil that had to go down like 25 ft, and we had to look at spread footers," Colavito says. "Another we had to go down 17 ft because the first 5 ft was all fill and wasn't stiff, good bearing soil for supporting."
This is why Colavito strongly urged for spending more upfront for quality geotech reports — and a lot of them.
"We have determined that it makes more sense to spend more money on the geotech soil analysis up front to go deeper and have more borings and be more thorough with it than it does to bare bones it, get it cheap, get five to six borings for a parking lot and say that characterizes the geotech for the whole lot," Colavito says. Standard Solar now makes sure to get multiple borings for each array canopy, which could be dozens of borings depending on project size. Consider one on each end of every canopy structure. "We have even talked about having one for every other foundation just to make sure we fully characterize the system."
RELATED: Solar carports will spread across the country as costs decline 
Understand the lot
The layout of the parking lot is what it is and will dictate a lot of what does and doesn't work about the project. Making an effort to know all you can about the site before installation will save you time, headaches and money.
RBI Solar has a carport solution and is seeing a steady flow of projects these days. In their experience, permitting often causes delays in startup. Site access and project phasing/scheduling are key to creating and maintaining a good work flow. Proper equipment to handle larger structural components is key as well.
RBI Solar says staying with consistent geographies can make design, engineering and materials more consistent and cost-effective. Making use of aisle or "T" structures is more cost-effective than perimeter or "L" structures, for example.
"A lot of parking lots are challenging due to existing configurations, but if more aisle structures can be used along with common geometry, then pricing can be better," says Michael Slack, project manager and structural engineer with RBI Solar. "Also, consideration needs to be given for hitting parking stripes.  It can sometimes be more cost-effective if there is no restriction on hitting stripes. This allows for better optimization and use of materials as well as fewer foundations."
A successful plan starts with understanding how the parking lot is used — are delivery trucks coming through? Where? What about garbage trucks driving in to empty dumpsters? Do you leave a lane uncovered and shrink the energy footprint of the system or adjust clearance to 14 ft? Also understand the local Authority Having Jurisdiction (AHJ) codes, and how it treats fire access lanes and access to the buildings.
Big reminder: Have a detailed survey and a private utility locator. The ground underneath a parking lot is a mine field of every service running to and fro around the parking lot and to the nearby buildings.
"We just did a project where there was a 36-in. gas pipeline running underneath our customer's parking lot, and we were supposed to put a couple of array tables there — a couple hundred kW — and we had to eliminate it," Colavito says. He recommends coordinating your foundations and layout with some cushion, a foot or so from every obstruction, within reason, if you can.
The value of structures
This leads right into the structure chosen for the project. Designing the system to have some cushion and adjustability will require a structure that allows for that on-the-fly flexibility.
Slack says RBI Solar's carport solutions are flexible and cost efficient. Along with its in-house design and engineering, they help contractors evaluate site layouts and develop a solution that is most efficient for the project.
"We optimize our structural design to manage not only structure costs, but overall project costs, which is key to a successful installation," Slack says. "Our structures do not require field welding and are shipped ready to erect and bolt together in the field. Our installation crews and in-house project management are there to ensure successful construction of the carport structure.
Another solution that can help minimize costs for certain projects is a structure with longer spans. Most posts are 20 to 30 ft apart, so about every other parking space, but some longer span systems can go about 40 to 50 ft.
Be sure to work with a supplier you can trust and closely manage construction. Colavito notes that an underrated part of carport aesthetics is quality workmanship. How well are modules mounted? Are they aligned? Any novice can look up getting out of their car and notice weird alignment issues, or a bunch of sloppy-looking wire hanging everywhere and just assume someone messed up. Suddenly, this multimillion-dollar project looks like it was slapped together.
"Aesthetics do run the full range depending on options, but you can make the base model stuff look pretty good," Colavito says.
Listen to more in-depth conversations on Solar Builder's YouTube channel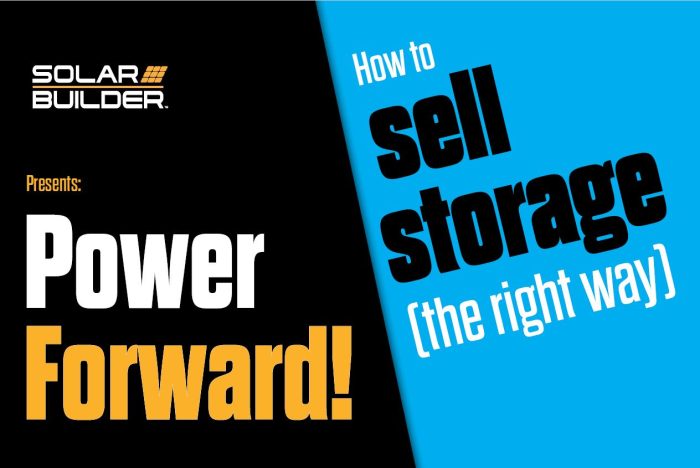 Our most popular series include:

Power Forward! | A collaboration with BayWa r.e. to discuss higher level industry topics.
The Buzz | Where we give our 2 cents per kWh on the residential solar market.
The Pitch | Discussions with solar manufacturers about their new technology and ideas.
Tags:
carports
,
RBI Solar
,
September October 2016 Print Issue
,
Standard Solar