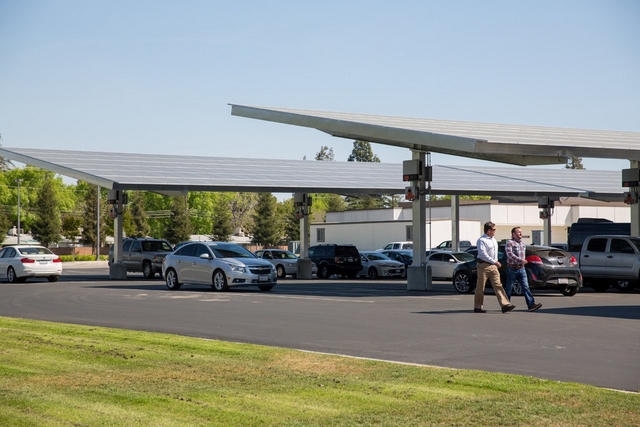 California State University, Long Beach (CSULB) and SunPower Corp. (Nasdaq: SPWR) are constructing a 4.8-megawatt SunPower Helix Carport solar power system at two university parking areas. CSULB will purchase the solar power generated by the system under a power purchase agreement that offers competitive rates, enabling the university to offset approximately 15 percent of campus electrical load with clean, renewable solar power.
The SunPower Helix platform is a fully-integrated solar solution for commercial customers. Available for installation as a carport, on the roof, or as a ground-mounted technology, Helix is a pre-engineered, modular solution designed to deliver more energy and greater reliability than conventional solar products. The elegant design of the Helix carport can also enhance the aesthetics on campus. Since launching the product late last year, SunPower has contracted a total of 40 megawatts of Helix Carport to deliver to customers in the commercial and public sectors.
In addition to generating power, the solar carports at CSULB will provide to the campus community needed shade and electric vehicle chargers with the capacity to charge 50 cars. All of the systems are expected to be operational by the end of next year. CSULB will own the renewable energy credits associated with the systems.
RELATED: Solar carports will spread across the country as costs decline 
SunPower estimates that one year of solar energy produced by the CSULB system, once it is operational, could power more than 2,200 electric vehicles for 30 years. According to estimates provided by the Solar Energy Industries Association, the annual power production of the system will be equivalent to the power required by 1,200 average California homes.
CSULB has three operating solar power systems on campus today, but this new SunPower project will be the largest solar power system on campus and within the 23 campus CSU system to date.
As part of its commitment to sustainability, the university's Sustainability Task Force oversees a range of activities to reduce campus environmental impact, including energy efficiency, water conservation, sustainable food service, and waste reduction and recycling.