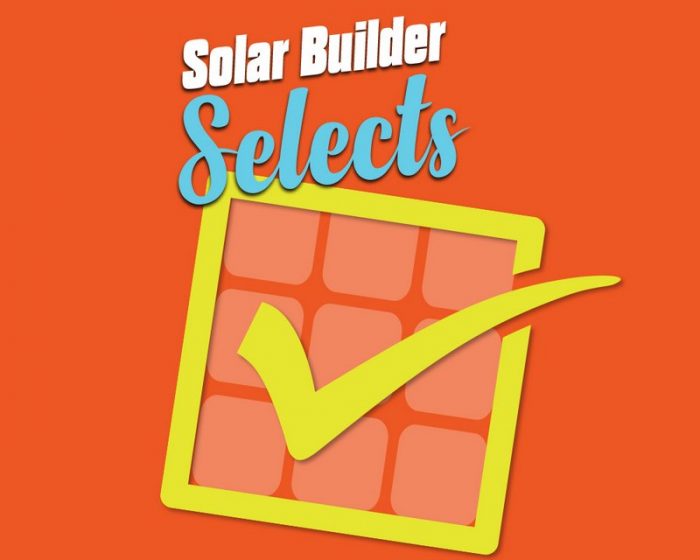 Here are some of our favorite solar PV and energy storage product updates and innovations from the past 12 months, spanning residential, C&I and utility-scale segments. Some are available right now, and some will be ramping up in 2022. For all of our product news and updates from this year, head here and scroll for the next several hours.
For the home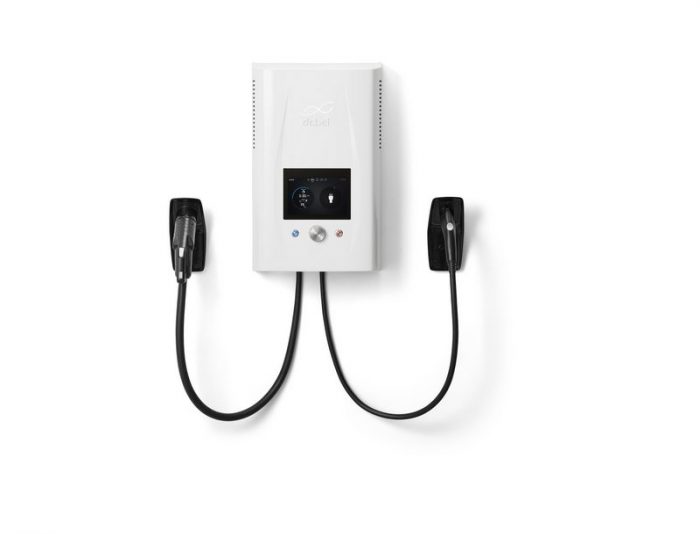 dcbel evolves EV charging | dcbel, a Montreal-based producer of smart home energy appliances, launched its flagship product, the r16, in the United States earlier this year and recently raised another $7.5 million in VC funding (in addition to $40 million in April) to keep on expanding. dcbel r16 connects a home's electrical panel, EV, solar and stationary batteries to create a cost-efficient and sustainable energy management system. Its hardware and AI software can charge an EV and power a home via solar or utility service, and in the event of a blackout, it can draw from solar and an EV's huge battery to keep things running. It features both a 9.2-kW L2 EV charger and a 15.2-kW Fast DC bidirectional EV charger, two 7.6-kW MMPT solar inverters, a 15.2-kW battery charger/inverter and a smart home energy management system all in one elegant package.
Wallbox also added some nifty home energy smarts to its EV charger.
Evergrid In our first issue of the year we wrote a lengthy feature on the Evergrid — a 30-in. by 32-in. by 20-in. unit that allows a standard, grid-tied solar inverter to power a home when the grid is down with no battery system needed. We followed up with founder Mike Zecchino to see if they were still on track with R&D and production plans. "We are still progressing nicely on the Evergrid. We are currently completing in-house testing now with our aim set on a Q1 2022 beta release. We are also continuing to establish agreements with investors and our initial installer base."
For you microinverter fans though, Enphase is also debuting this functionality in its IQ8 solar microinverters. They are capable of forming a microgrid during a power outage using only sunlight, providing backup power even without a battery. 
Generac rounds out PWRcell line
PWRgenerator | Generac debuted three potentially game-changing additions to its PWRcell solar + storage line of products that, together, comprise the most complete set of options offered by one company for providing energy independence and whole home backup — a DC generator, a microinverter and a load management device. The new dc generator is especially cool. It was built specifically to recharge the PWRcell Battery, allowing a home to be fully energy independent. During the night, the battery discharges, and if it reaches 30 percent state of charge, the PWRgenerator will turn on and fully charge in about one hour. In addition, the PWRgenerator is designed to be extremely quiet (under 60 db) and fuel efficient, running on either natural gas or LP. It's also smart-grid ready, capable of being part of a virtual power plant (VPP). Available in January 2022.
For the rooftop
Solaria's 430-W residential module | Solaria Corp. already produces a top of the line, highly energy dense solar module for residential and C&I solar, but the company is kicking it up a notch with the upcoming PowerXT 430R-PL (430-W). The PowerXT 430R-PL solar panel features high-power density and an optimized form factor along with its slick all-black look and a 25-year comprehensive warranty. Solaria PowerXT 430R-PL solar panels will be available in March 2022 in North America. Additionally, the PowerXT 430R-PL is optimized for next-generation module level power electronics (MLPE), including Enphase IQ7A and SolarEdge P505.
Check out all of the residential solar modules to watch in our 2022 Solar PV Module Buyer's Guide.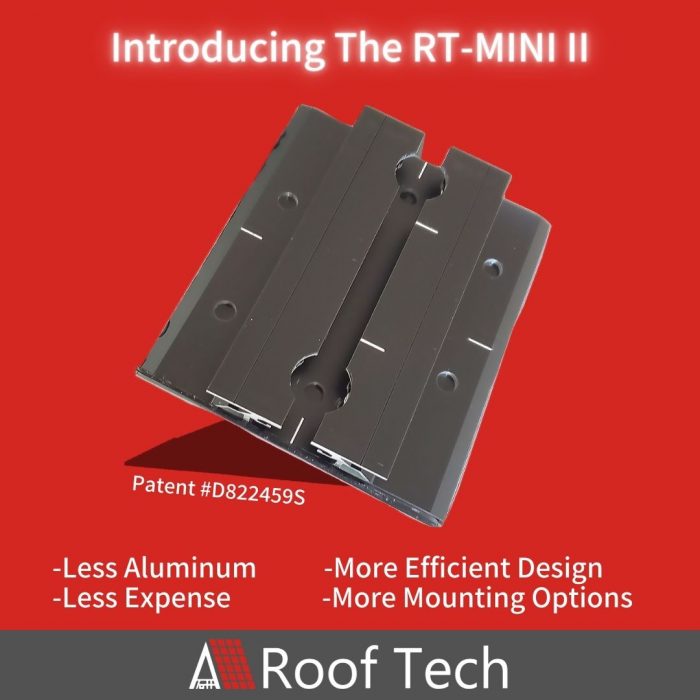 Roof Tech simplifies rafter/deck attachment | Roof Tech debuted the RT-MINI II this year. It is essentially the same rail-based mount except for the extrusion, which is being reduced in size. "2020 was a real stretch of our ability to keep up with demand because everyone had to shut down, and raw materials became hard to get," said Michael Dunlap, sales director. "We saw that with rail manufacturers, getting enough aluminum is a problem. So, reducing the amount we need will help when it comes to getting raw materials." In addition, Roof Tech debuted the Max Span Calculator and Estimator on its website. With the Calculator, you can input values to figure out your spans with P.E. tables — a quick look at the layout. The Estimator is a digital design tool. Place panels together, stagger them and generate a bill of materials. The Calculator is especially useful on site because of Roof Tech's ability to go to rafter or deck with a single SKU. If you meant to do a rafter but made a mistake, make it a deck attachment and run a recalculation.
SunModo's SMR system | After many years of gathering feedback from installers, SunModo introduced its SMR rail system. The SMR system's biggest advancement is an optimized design that makes the SMR Rails not only the lightest but also the strongest rails on the market. Plus, with Pop-On Clamps and L-Foot adaptors, professional installers can mount, adjust and secure PV panels with a single tool. Among the first to utilize the new SMR system was Jon Lange, president of Sunergy Systems, a solar installation company serving the entire Puget Sound, Seattle, area since 2005. "We love the new SMR rail system. It is unbelievable how light the rail is. Amazingly, it is more rigid than the HR rail on a steep roof with the guys standing on it."
FallTech gear designed for women | FallTech listened to women working at height talk about their challenges and discomfort wearing currently available full-body harnesses and debuted the new FT-One Fit fall protection full-body harness for women. Here's what's different about it: adjustable sub-pelvic strap; exclusive comfort legs; and slip-resistant ArrowGrip D-ring plate and abrasion resistant shoulder panels with gel inserts and padding to assure comfort. Other features include updated SRL Attachment Point, Neoprene Neck Guard, Multiple Tool Tether Anchors Points, Upgraded Lanyard Keepers and Suspension Trauma Relief Packs.
For C&I and microgrids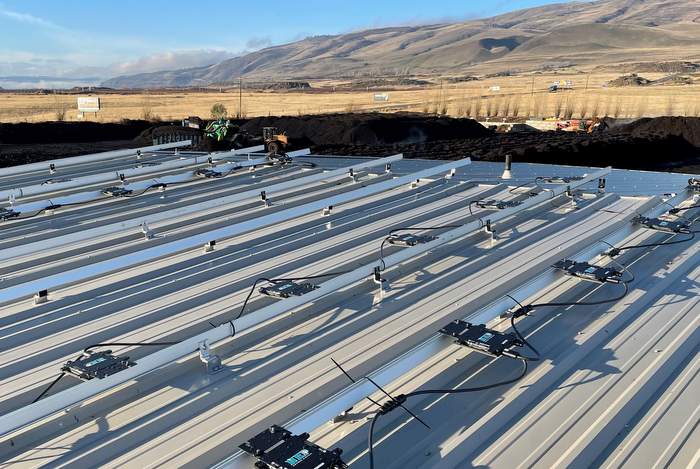 NEP + Solis smart rapid shutdown | We hosted a webinar from NEP / Solis explaining a new simplified PV system architecture that provides feedback during installation and commissioning, resulting in confident installers and strong PV system installations. The new combination of simple PV module-level devices paired with the reliable Solis PV string inverters provides NEC compliance, module-level monitoring and most importantly, installer confidence in a new PV system architecture that delivers. You can catch the On-Demand Recording right here.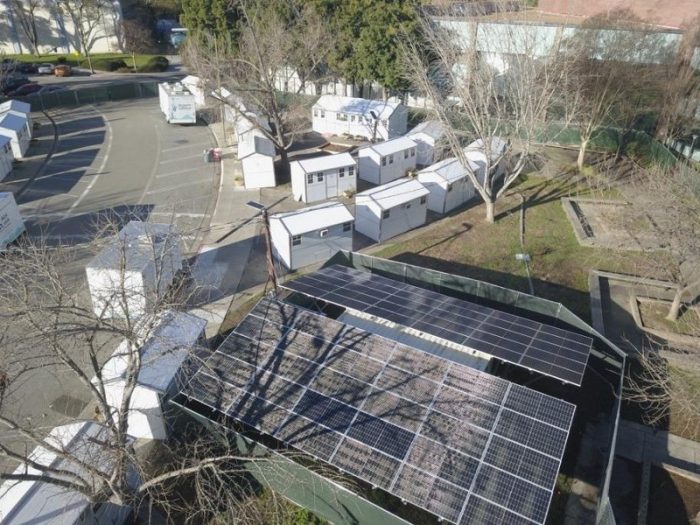 BoxPower's SolarContainers | Submitted as a Project of the Year nominee, the San Jose Emergency Shelter was a pilot project featuring BoxPower's unique microgrid solution to provide electricity for a 100-bed emergency shelter for unhoused families in San Jose, Calif. The rapidly deployable microgrid consists of two BoxPower SolarContainers with 22 kW of PV each, 266-kWh LiFePO4 battery storage (total) and two integrated 35-kW propane generators for backup in the winter months. These fully power each of the individual shelters, which include heating, air conditioning, charging outlets and lights. Traditional generators would have cost the county thousands of dollars each month in fuel and operating expenses. The speed of the deployment was also important. Electrifying the site by extending the grid would have taken a minimum of six to eight months. The modularity of BoxPower systems also means when the project reaches the end of its anticipated stay, two to five years at this location, it can be easily packed up and moved to the next location. Components used in the containers included Canadian Solar modules, Schneider Electric inverters, SimpliPhi batteries and IronRidge mounting.
SolarEdge's next-gen C&I inverters | SolarEdge unveiled a new range of commercial inverters this year for rooftop, ground mount and carport applications in North America. The line includes 120-kW, 100-kW and 80-kW three-phase inverters for a 480V grid, and a 50-kW for a 208V grid, all capable of up to 150 percent DC oversizing. By introducing a pre-commissioning feature, installers can validate system components from their smartphones before connecting to the grid. To avoid module performance degradation, the solution includes a built-in nighttime PID rectifier. There's also an extra layer of protection from built-in thermal sensors on the dc and ac terminal blocks, as well as field-replaceable surge protection devices.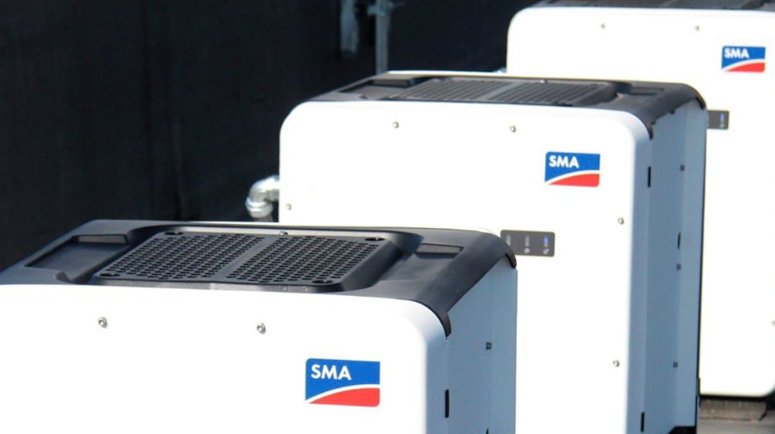 SMA bolsters CORE1 | SMA America updated the Sunny Tripower CORE1 with several innovative offerings this year — such as an intelligent IV curve diagnostic and advanced string monitoring — while also increasing its reliability and power production. The IV curve diagnostic, which tests the health of the inverter's strings during critical stages in the plant's lifecycle, easily submits reports to the EPC, the system owner and other stakeholders. The Sunny Tripower has an expediated diagnostic ability and cuts down on cost and complexity. New string-level monitoring ensures all strings are operating as expected with automated production monitoring. This function benchmarks granular power production data, ensuring optimal system performance.
Blue Planet Energy's Blue Ion HI | Blue Ion HI is built on Blue Planet Energy's core Blue Ion technology, which pairs inherently safe, conflict-free batteries with embedded intelligence and a sleek design to automatically capture energy from a wide range of renewable and traditional sources. Its innovative enclosure is constructed from high-quality materials for an attractive and durable addition to any home or business. The stackable, maintenance-free system is backed by an unmatched 15-year performance warranty to ensure reliable power delivery, day or night, on or off grid.
Mechatron Solar evolves dual-axis trackers | Mechatron Solar has been approved for a U.S. patent for its dual-axis tracker, which utilizes a gearless, zero-backlash technology with a double brake design. This unique mechanism rotates the massive 90-panel platform around the azimuth axis, is less susceptible to wear and failure and is proven to last in extreme weather locations, ranging from deserts to freezing locales. Mechatron's flagship tracker, the M18KD, is the largest dual-axis tracker in the global solar market, with a panel table that supports 90 solar panels of 144-cells each. The new M16KD agriculture model features extra spacing between vertical panel stacks to permit more light to reach crops beneath the tracker. The new M10KD residential model features a reduced size table of 49 panels to better fit into limited space requirements.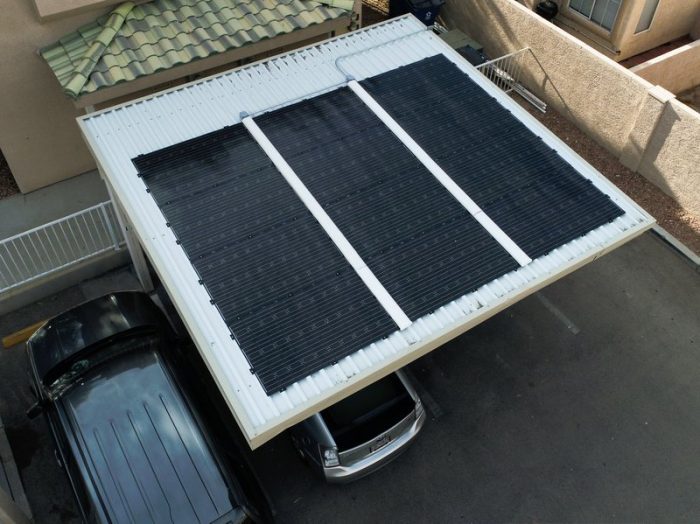 Sunflare PV for existing carports | Sunflare is light, thin, rugged solar and can be installed on existing parking structures. Sunflare modules are lighter than silicon, so they can go where other solar can't. That means there's no need for heavy steel replacement or dusty structure demolition and removal. The additional benefit of not having to construct a new parking structure is that there's no potential hassle with new code compliance — which sometimes requires changes to parking lots — an additional project that can be disruptive, time consuming and costly in and of itself. Sunflare's Sun2 cells are encapsulated between durable polymer sheets. In the event of an accident, like a truck clipping the carport roof, Sunflare modules will not be damaged and just flex as the roof is bent. In addition, Sunflare modules have bypass diodes at every cell to mitigate the impact of nearby shading.
Also, Roll-A-Rack, a Cleveland company that develops alternative racking systems for solar panels, has developed an innovative new product that allows solar panels to be installed on ballasted membrane roofs without compromising the structural design of the roof. The ingenious 12-inch metal channel rack evenly distributes existing roof ballast, while also securing solar panels. The roof ballast, along with the weight of the solar panels, properly secure the roof without adding weight and compromising its integrity.
For larger scale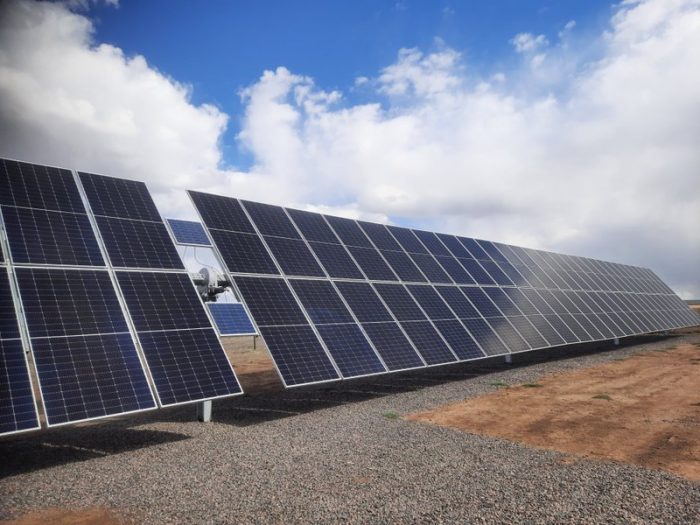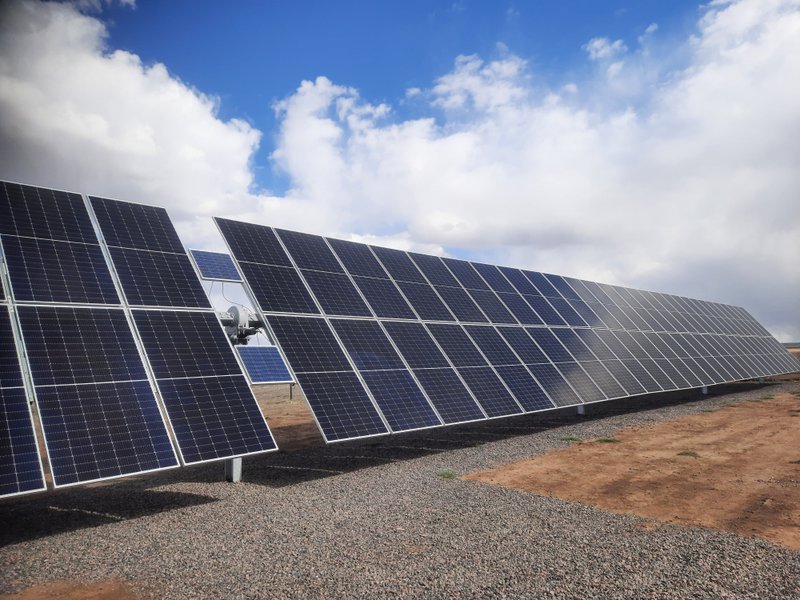 FTC Solar's tracker for large modules | FTC Solar's Voyager+ is a 2P solar tracker that was built for large-format solar modules. Aimed at utility-scale sites, the company says the tracker's design enhances energy production levels with 46 percent fewer foundation piles and achieves nearly two percent higher energy density than 1P configurations. Currently, FTC has more than 1GW of Voyager+ installed or under contract. "As the solar industry moves toward large-format modules of 550 watts or higher, traditional one module in portrait tracking systems have difficulty supporting these new large 'sails,' while two in portrait designs have already had this experience of scaling to larger surface areas. Because the static and dynamic wind loads are much greater on structures with these large formats, there is an ongoing need for improved tracking designs," said Nagendra Cherukupalli, chief technology officer of FTC Solar. "Voyager+ taps into the benefits of 2P designs with proper management of wind loads and the seamless integration of large, complex solar modules, resulting in a zero-stow design."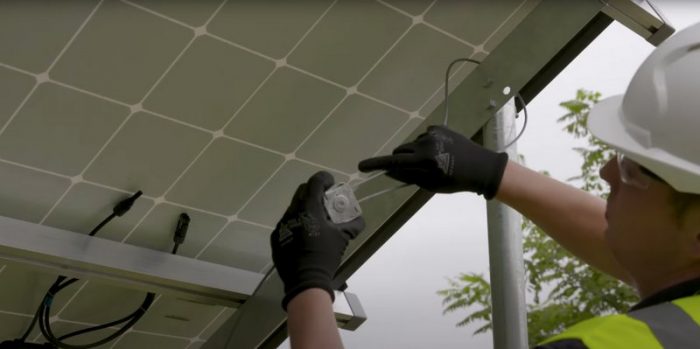 Gripple now supports solar | Gripple, a manufacturer of time-saving products for the civil and seismic markets, is now moving into the solar arena with a few solutions to secure new and existing ground-mounted solar arrays. Gripple's lightweight yet durable solutions will reduce your jobsite environmental impact by minimizing the need for heavy machinery, concrete and groundworks on site. Head of infrastructure at Gripple John Butterworth explains: "Gripple understands how bracing and anchoring works in these arduous environments and how the external forces are calculated specifying products whilst keeping incredibly high safety factors in mind. All this knowledge is being transferred with tried-and-tested products into the solar market."
CAB Solar reduces copper | CAB Solar's new CAB #3 grounding equivalent uses less copper to achieve its grounding equivalency, and therefore has a lower cost. CAB Solar is the only company in the industry to offer Integrated Grounding using a copper composite messenger wire which can serve as the EGC and GEC in the solar array. CAB's patented system is ETL safety listed and widely utilized in the solar industry.
FLUKE focuses on 1,500-volt safety | Large-scale solar PV systems are routinely designed at 1,500 volts these days, making safety an even bigger priority. Fluke Corp. introduced the Fluke 393 FC CAT III 1500 V True-rms Clamp Meter, the world's only 1500 V CAT III, IP54 rated, thin jaw clamp meter, designed to address the challenges solar technicians deal with every day. The 393 FC provides top-of-the-line safety for work in dc environments up to 1,500 volts. The thin jaw allows it to be used in combiner boxes, inverters and tight spaces making it ideal for solar energy applications. The meter measures up to 1,500 Vdc, 1000 Vac and up to 999.9 A dc or ac through the clamp jaw. The included iFlex flexible current probe extends ac current measurements up to 2,500 amps. When measuring ac current, the iFlex probe can be twisted through extremely small spaces giving technicians access to cables that would otherwise be difficult or impossible to clamp a probe around.
Vermeer adds automated positioning to PD10R pile driver | Vermeer PD10R pile drivers equipped with a new point-to-point system can reposition themselves automatically using onboard GPS. After driving a pile, the machine operator presses a button and the remote-control-operated PD10R travels and aligns itself to drive the next pile. This automation technology helps ease the pile-driving process by reducing the number of operational steps involved with moving these machines on solar farm construction projects.
Mitrex's tandem solar panels | After months of research and development, Mitrex Integrated Solar Technology, a building integrated photovoltaics (BIPV) manufacturer, released its largest tandem solar panel, boasting a power output of up to 800W. These panels are made in Canada using high quality monocrystalline silicon solar cells and are well-equipped with Mitrex's patented anti-reflecting technology which optimizes electricity generation. Additionally, Mitrex solar panels come with a 25-year warranty which assures durability and efficiency.
Coming soon….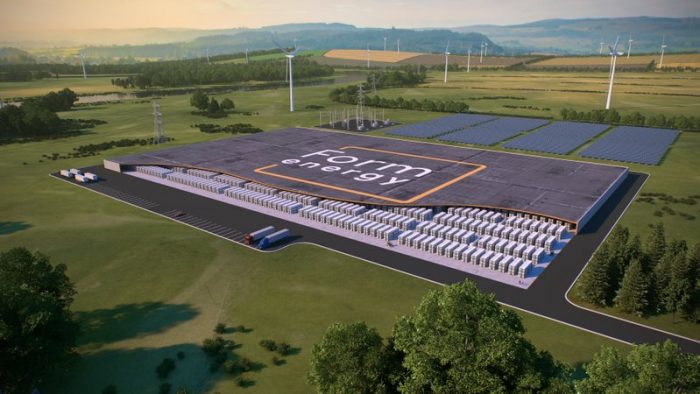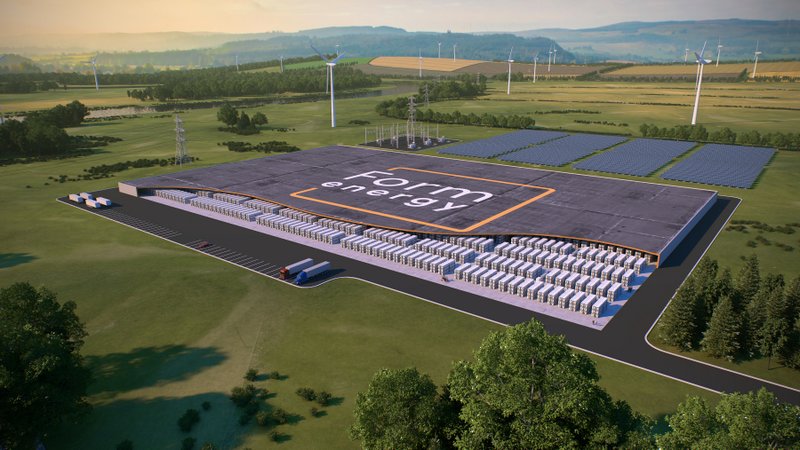 Form Energy's long duration battery | Form Energy is developing a new class of multi-day energy storage systems based on iron-air battery chemistry. The company says these are capable of delivering electricity for 100 hours at system costs competitive with conventional power plants and at less than 1/10th the cost of lithium-ion. Made from iron, a safe, cheap and abundant mineral, this front-of-the-meter battery can be used continuously over a multi-day period and will enable a reliable, secure and fully renewable electric grid year-round. Form Energy and ArcelorMittal are working jointly on the development of iron materials which ArcelorMittal would non-exclusively supply for Form's battery systems. Form Energy intends to source the iron domestically and manufacture the battery systems near where they will be sited.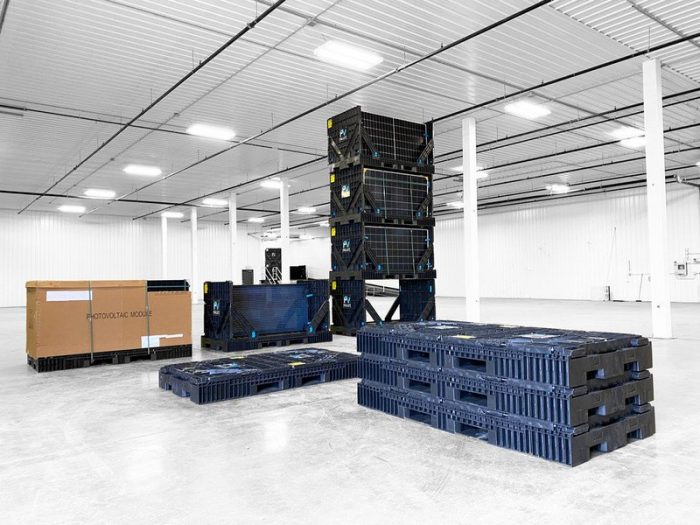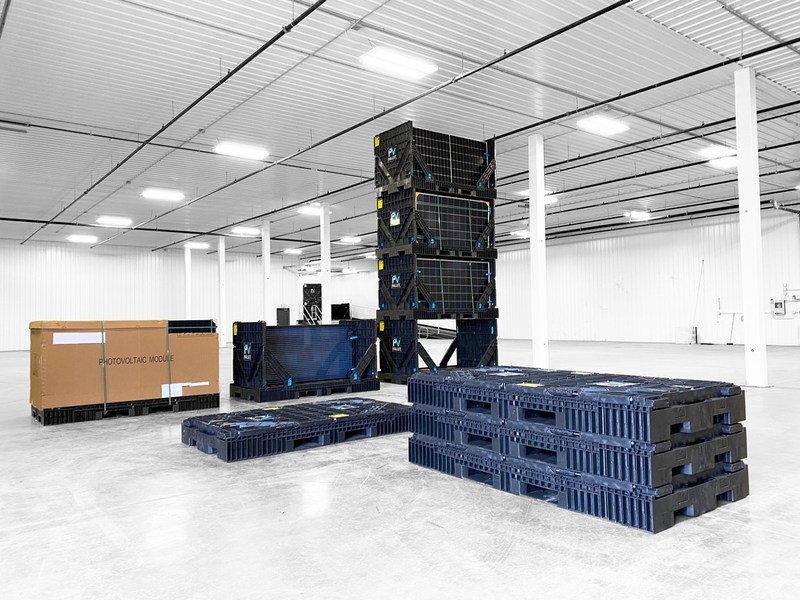 PVpallet | The solar industry benefits from other sustainable concepts in its supply chain. The team at PVpallet has zeroed in on a huge problem: the solar industry typically ships solar panels on single-use wood pallets. These pallets are usually discarded in U.S. landfills, creating an estimated 60 million pounds of wood waste in 2020 alone. As the solar industry continues to grow, the waste problem will grow along with it. The company launched a fundraising campaign this year to ramp up production of its reusable, recyclable, collapsible pallet for solar modules.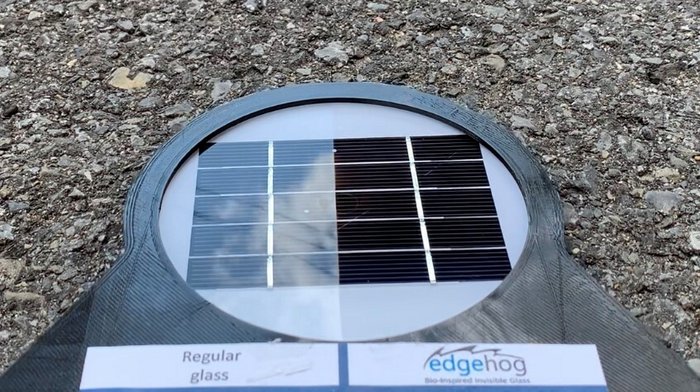 Edgehog self-cleaning glass | Edgehog Advanced Technologies is close to commercializing its super-transmissive, self-cleaning solar glass that could enhance solar panel energy generation by up to 12 percent. The company is in the process of scaling up the glass size from the current 6-in. diameter size (as seen in the photo) to full solar panel size by Q1 2022. Coming out of startup foundry, TandemLaunch, and building on research originally developed in the U.S. Energy Department's National Labs, Edgehog's eluminar glass uses a unique approach to generate nano-sized textures that result in super-transmissive invisible glass and a self-cleaning surface on which water rolls off. Edgehog is in discussions with several solar manufacturers now and is targeting a market launch by late Q3 or early Q4 2022.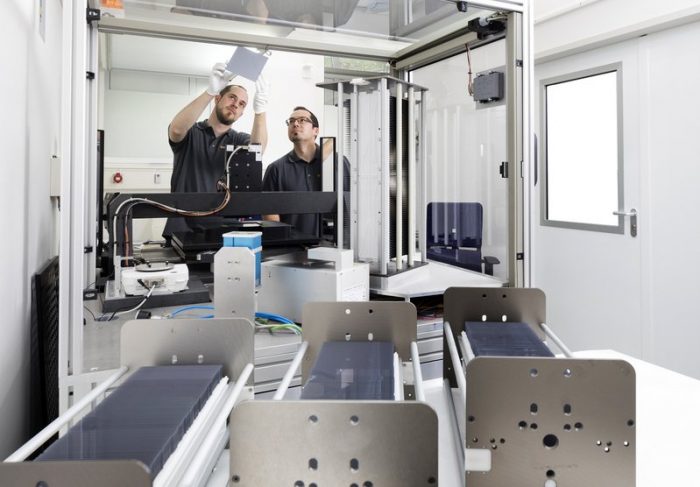 NexWafe's 'green wafers' | Pioneers of in-line epitaxy for production of high-efficiency monocrystalline silicon wafers, NexWafe GmbH completed of a $12 million USD capital raise this year to scale up its EpiWafers, which they say provide solar panel manufacturers with dramatically higher efficiency and uncompromised yield at 70 percent of the cost of traditional monocrystalline Cz-Si, all without having to retool their production lines. NexWafe's technology also allows for production of ultra-thin wafers, already demonstrated in the company's pilot line in Freiburg, providing a roadmap to next-generation ultra-thin and tandem architectures.
Read more about ultra-low carbon solar right here.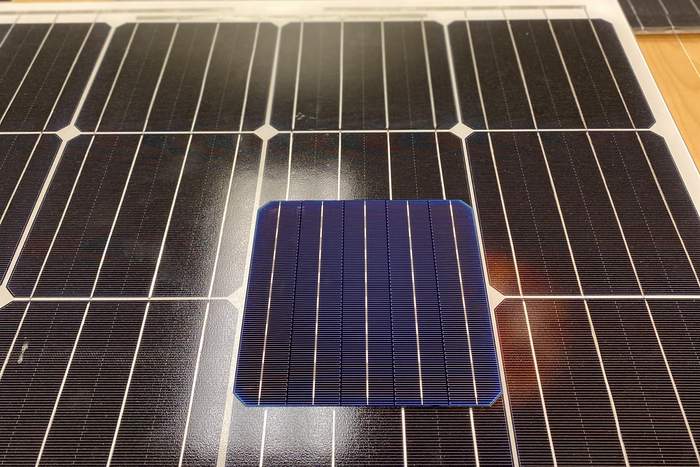 Solar Invention's C3 solar cells | As we posited in this provocatively titled "Patent awarded to C3 – is it the most impactful PV innovation since half-cut cells?" article, C3 has some serious potential to lower PV module costs and improve gains. It achieves these gains by creating multiple "lanes" or subcells on a single wafer by electrically dividing each cell during the metalization process. This mimics the benefits of half-cells – higher power – but without needing to break cells. The resulting gap allows more light in, hence the gains. For 9-busbar HJT cells, C3 provides a 12 percent reduction of silver (5-10 reduction for PERC). That's a cost savings of about 0.1 cents per Watt. Multiplying that by a 1 GW and you're talking $1 million in savings at current silver prices. In 2022, they expect solar panels to roll off production lines with C3 cells. They couldn't give us specifics just yet, but said they have "run pilots with companies that represent dozens of GWs of production."
Listen to more in-depth conversations on Solar Builder's YouTube channel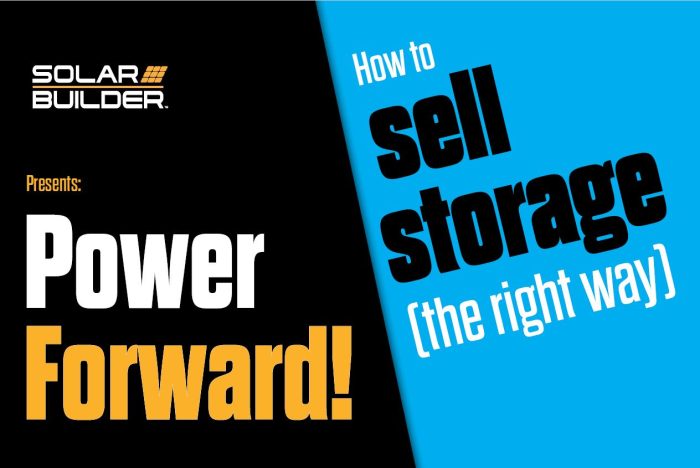 Our most popular series include:

Power Forward! | A collaboration with BayWa r.e. to discuss higher level industry topics.
The Buzz | Where we give our 2 cents per kWh on the residential solar market.
The Pitch | Discussions with solar manufacturers about their new technology and ideas.