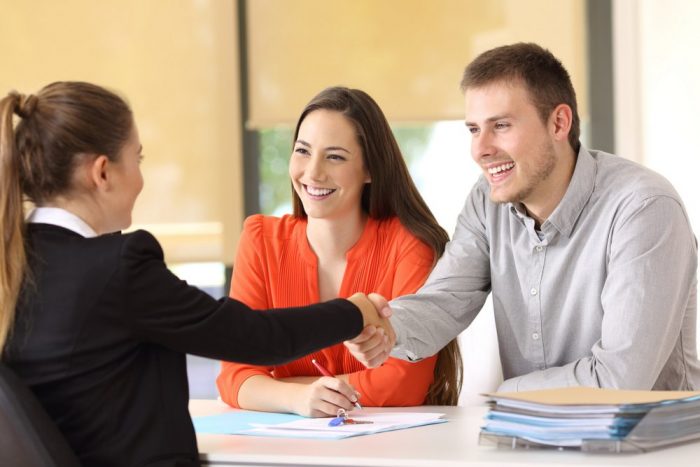 In 2021, solar became yet another victim of supply chain challenges, increasing 18 percent in price. Despite this, a recent study from Rocket Homes of 2,000 homeowners found 66.5% of households are interested in obtaining solar PV panels, with 57.7% believing solar increases the value of a home significantly. Specifically, homeowners with solar believe it adds a median $12,500 to the value of a home.
The interest in solar is evident even among those who have low electric bills. Of homeowners, 53.2 percent of those who spend $60 or less per month for power indicated they would consider installing rooftop solar. The interest only increases for non-solar homeowners who spend over $200 per month on energy, with 69.2% interested in getting solar. Furthermore, the research cites that 27.2% of single-family homeowners have or are in the process of getting solar.
This begs the question, what is keeping adoption from progressing at a faster pace when the majority see clear value and have a high level of interest?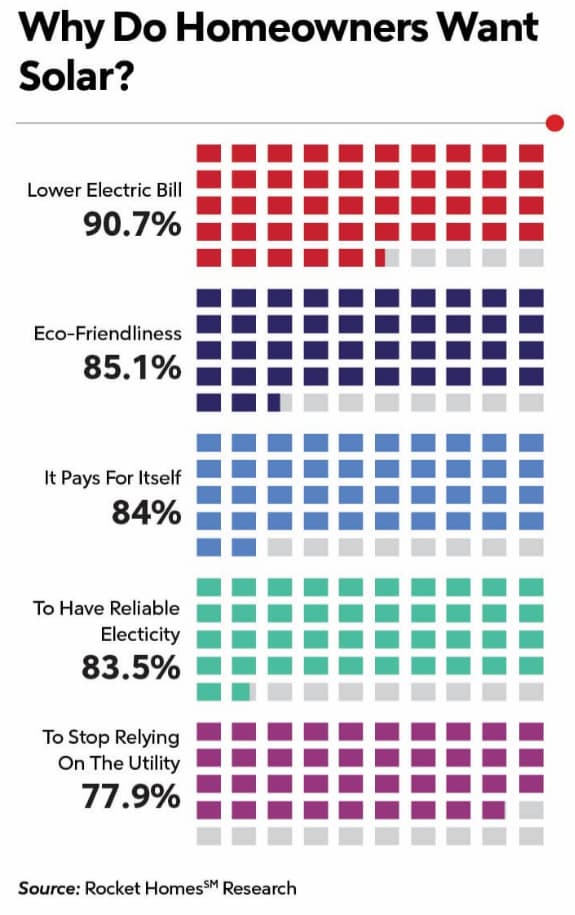 Upfront cost remains the main barrier to residential rooftop solar
Of homeowners who don't currently have a solar power system in their homes, 74.8% said that the upfront costs are keeping them from having it installed. Many aren't sure of the exact cost of solar. Despite increases in the price of materials in 2022, solar is still far below the estimated average $50,000 cost it was in 2008.
An additional concern non-solar homeowners cited was the need to replace their roof before investing in residential solar. Of non-solar households, 43.4% took this additional cost into consideration when exploring the possibility of adding solar PV technology.
Those who can afford to combat the cost of entry to solar power might lower their electricity expense in half: the median monthly electric expenditure for homeowners without solar is $130, compared to $70 for those who have solar.
Of homeowners who have or are in the process of getting solar:
90.7% cited they got solar to lower their electric bills,
84% say it pays for itself
85.1% cite eco-friendliness as a reason
Though, on that last one, it has been found that this is more of a benefit to solar as opposed to the main reason households decide to invest in the first place. The main instigators prove to be financial and lifestyle motivators.
On the lifestyle side, reliability of electricity is the main factor, with 83.5% citing it.
The majority of the electrical grid in use today is at least 60 years old, while it only has a 50-year life expectancy. Increased power outages have been reported in practically every part of the country as a result of extreme weather and an outdated electrical grid. It isn't surprising then that 77.9% said that a top reason they got or are getting solar is to stop relying on the utility.
Steps toward better accessibility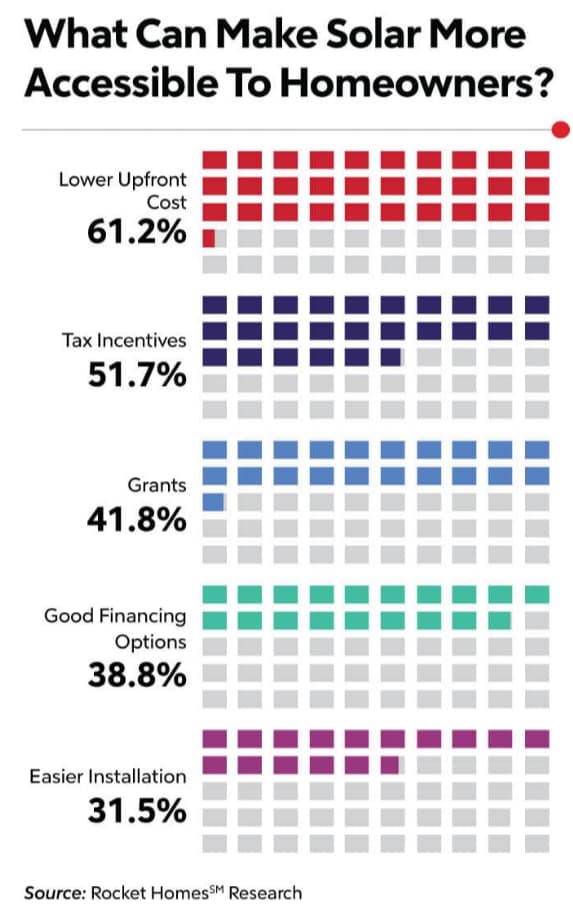 Logically, when consumers were asked what would make solar more accessible, 61.2% cited lower upfront cost, followed by 51.7% pointing to tax incentives.
In 2022, the solar investment tax credit (ITC) is 26%. In 2005 it was only slightly higher at 30%. With costs having decreased by over 50% since 2005, the tax credit today offers even greater value than 17 years ago. Educational initiatives to make consumers aware of ITC and how it specifically lowers upfront cost could be a fundamental part of moving these homeowners from interest to action.
This is also why the solar industry is pushing for a 10-year extension of the ITC.
Net-metering is another way consumers can alleviate some of the burden of upfront cost by selling their unused solar generated energy back to the grid. When serving consumers in areas where utilities offer net metering for customers that have a PV system, educational initiatives could prove worthwhile.
Consumers' awareness and understanding of net metering remains low. Yet by empowering the generation of energy closer to the point of consumption, it reduces pressure on the grid and helps with demand response (DR) when managing peak times of day. Additionally, renewable energy sources must now account for a specified percentage of total utility generation, according to state and federal regulations. If residential PV systems could be considered part of that distributed energy resource (DER) that would help meet those requirements. This means that an educational campaign that increases adoption of net metering would not only help the consumer's bottom line, but the utility.
Easier installation was the only non-financially motivated avenue to making solar systems more accessible to homeowners, with 31.5% citing it as their top avenue.
While solar installation isn't necessarily difficult for a homeowner, it is confusing. Not many homeowners outside of the industry understand the technological details of PV systems and how they turn sunlight into energy. The only proof that what they paid for is working is the dollar amount on their energy bill. It isn't that non-solar homeowners necessarily need the installation process itself to go more smoothly since they haven't experienced yet, but that they need to be able to visualize it and understand.
While again, educational initiatives might help, it is more than that. The adage, 'seeing is believing' is applied here. No one sees electricity, they see the results. Real time tracking and visualization of home solar production is already available. Solar companies who can partner with tech companies might have a leg up in overcoming this barrier.
The best is yet to come
Overall, it will be the effort put into the education and awareness of consumers that helps to overcome barriers to solar. As adoption increases, so will the desire for technology that allow visualization, tracking and alerts, just like any credit card or bank account today.
With DER and residential rooftop solar set to grow, so will associated technology and financing options to support it. The potential could be endless if regulations adapt – from peer-to-peer selling of prosumer generated electricity to real time blockchain enabled energy bidding systems. The best is yet to come for solar.
---
This piece was provided by Rocket Central.
Listen to more in-depth conversations on Solar Builder's YouTube channel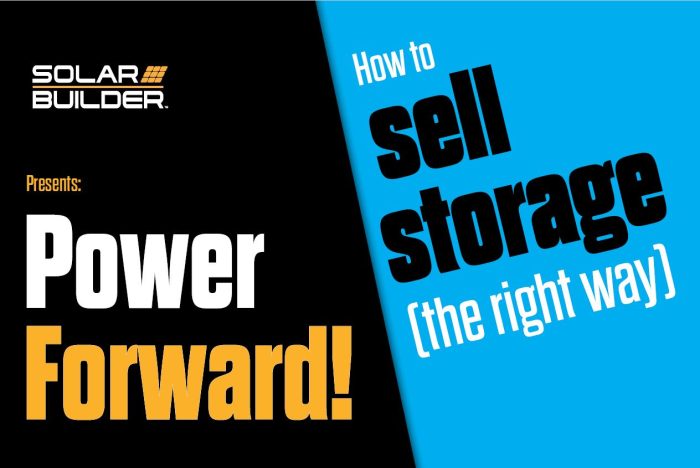 Our most popular series include:

Power Forward! | A collaboration with BayWa r.e. to discuss higher level industry topics.
The Buzz | Where we give our 2 cents per kWh on the residential solar market.
The Pitch | Discussions with solar manufacturers about their new technology and ideas.