MAGE SOLAR, part of the globally operating MAGE GROUP, announced the introduction of its MAGE SYSTEMTEC mounting system for ground mount applications.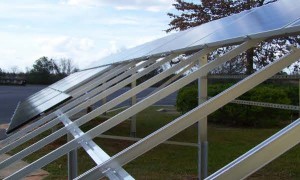 MAGE SYSTEMTEC's initial application for pitched roofs was introduced last fall and quickly established itself as a universally adaptable premium-grade solution for asphalt shingles, roof tile and metal roofs. Easy-to-use slide-and-snap connectors and clamps require only a few, simple tools and cut down installation time by a significant 30 percent on average over conventional systems.
Now MAGE SOLAR has developed a ground mount version based on the identical technology. MAGE SYSTEMTEC GROUND is a universally adaptable mounting solution that is highly adjustable to site conditions and uses only a minimum of parts and tools to reduce installation costs. Although competitively priced, MAGE SYSTEMTEC GROUND is made of high-quality extruded aluminum and stainless steel with a 10-year material warranty and IBC compliance.
The system's proprietary bearing in conjunction with adjustable vertical posts eliminates inconsistencies and problems with footing while also considerably reducing the need for costly site surveys. Possible module inclination angles from 15 to 35 degrees allow the mounts to harmoniously adjust to the landscape.