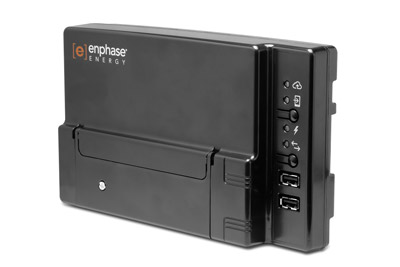 Enphase Energy selected AT&T to provide Internet of Things (IoT) connectivity to cellular modems that are part of the Envoy-S with Mobile Connect, a new gateway to energy management.
Enphase will use AT&T's fast and reliable network with its next generation Envoy-S with Mobile Connect to strengthen reliability and to enhance speed to communicate with each Enphase solar system. The Enphase system combines solar generation, energy storage and load control to create an integrated, efficient and scalable platform that saves system users money, helps installers grow their business and enables a more stable utility grid.
See what Enphase and a bunch of other companies will be exhibiting at SPI next week
Envoy-S provides innovative features that enable system owners to manage their energy use more efficiently including: energy usage insight, consumption monitoring, revenue grade metering, remote update capabilities and load management.
Enphase also offers Mobile Connect, a cellular modem with service provided by AT&T that offers independent Internet connectivity. In addition, Envoy-S offers integrated Wi-Fi and flexible networking options that includes AT&T connectivity. With this next generation solution, solar installers can ensure Internet connectivity is consistent and reliable independent of the Internet setup in the home. Installers can also use the Enphase Installer Tool Kit mobile app for use with smart phones and tablets to quickly and easily configure an Enphase system, commission Envoy-S and confirm a solar installation.
"We're developing IoT solutions that help address the needs of a rapidly growing renewable energy market," said Mike Zeto, general manager of Smart Cities, AT&T IoT Solutions. "Utility companies can offer their customers better choices and more control of their usage to save energy and money."
"AT&T's IoT technology helps us carry out our vision for a clean energy economy," said Stefan Zschiegner, vice president of product management, Enphase Energy. "More than 10 billion measurements from our microinverters are carried via tens of millions of messages—equivalent to about 2 terabytes of data—to our Enlighten cloud-based monitoring systems every day. The ability to send this amount of information over a fast and reliable cellular network enables us to offer more comprehensive solutions to our customers, such as the connected home for consumers, asset management for financiers, and grid services for utility companies."