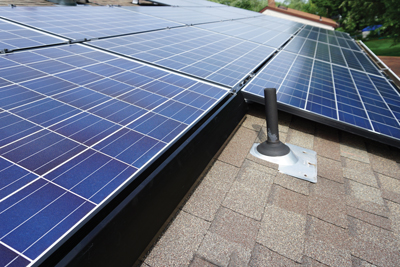 Ecolibrium Solar just signed an agreement with Amicus Solar Cooperative as a preferred solar racking vendor for its member companies. Ecolibrium Solar was selected based on its successful relationships with Amicus members who use and prefer EcoFoot modular racking and for its strength as a company. Other factors include Ecolibrium Solar's reputation for simple racking solutions for flat and pitched roofs, streamlined logistics that reduce cost, 25-year warranty, and expert, dedicated customer support from project start to finish.
Founded in 2011, Amicus Solar Cooperative is the first purchasing cooperative in the U.S. solar industry, and currently consists of 43 member-companies that are independent solar PV developers, EPC's, integrators, and installation companies. Each member company operates under its own brand name in over 60 office locations in 29 states. Amicus Solar Cooperative is 100 percent owned by member companies.
SB Buzz Podcast: SunLink VP on tech, data, diversity and the path forward for solar
"Amicus Solar Cooperative is pleased to add Ecolibrium Solar to our group of preferred vendor partners," says Stephen Irvin, Amicus president. "We're confident that Ecolibrium's quality products and dedication to customer service will serve our members and their customers well. We look forward to many years of a productive and mutually-beneficial partnership."
Under the agreement, Ecolibrium provides Amicus members with its EcoFoot modular technology with its simple, roof-friendly ballasted system. EcoFoot is available in 10- and 5-Degree systems. The new EcoFoot5D High Density 5-Degree Racking was introduced this summer to complement the well-known 10-Degree solution EcoFoot2+. EcoFoot2+ holds an installer-hour rating of 13.5 modules, according to GNV ranking.
For pitched roofs, Ecolibrium provides its EcoX Rail-less Racking, which is the No. 1 universal racking sold in the fast-growing rail-less market, according to market analysis by GTM Research. GTM predicts rail-less will see 64 percent growth from 2016-2022. A new Tile Hook and Metal Clamp solution were introduced in September.
EcoX Rail-less is known for its ability to speed and simplify installation by eliminating rails. It is noted for delivering the beautiful aesthetic that homeowners love.
"Product innovation is the reason Ecolibrium Solar is in business, so you can expect to see additional product improvements soon. Taking cost out by simplifying racking is our ongoing goal, as well as providing superior products and customer support," says Veague.