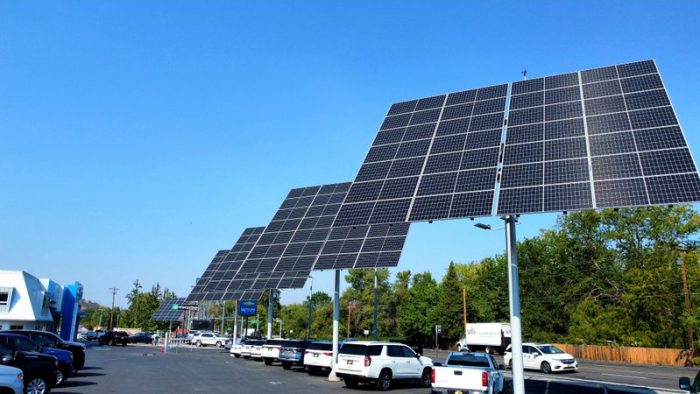 While single-axis utility-scale solar tracker installations have widely proliferated in the heady solar market, the more commercial and industrial-oriented dual-axis tracker has not enjoyed such rapid growth, despite the economic advantages the second axis offers by following the sun much more closely.
Part of the reason that the market for dual-axis trackers has not boomed is that most U.S. manufacturers are smaller companies, compared with the large corporate manufacturers of single-axis trackers. Another reason is that single-axis trackers are most economic in regions with large flat sites, like the U.S. Southeast and Southwest, where utility-scale projects are largely centered, although this is changing. Another key reason is that many developers focus primarily on up-front project cost rather than lifetime yield and low ROI.
Highest yield among structural solutions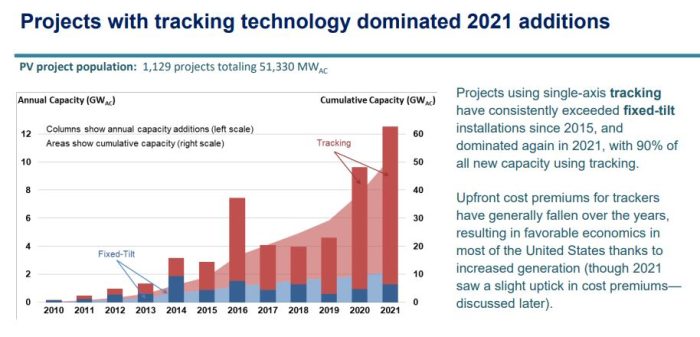 The core strength of dual-axis trackers is that they provide 20% higher yield than single-axis trackers, a technology that already provides 20% higher yield than fixed-tilt installations. Several dual-axis manufacturers thus claim a 50% to 70% higher yield than fixed tilt.
"Our robust elevated Stracker dual-axis solar trackers document an impressive 70% greater energy production than the same PV array in a flat rooftop system, and 50% more than optimally positioned fixed-tilt ground-mounted systems, with the same number and type of panels," reckons Jeff Sharpe, the founder and COO of Stracker Solar, based in Ashland, OR. Here is Sharpe explaining those numbers in more depth on The Pitch:
Technology that helps maximize the perpendicular orientation of the tracker table to the sun can also be key to yield.
DEGER energie, based in Ofterdingen, Germany, has over 100,000 tracker installations worldwide. Cafer Aldemir, international sales manager, points to their patented Maximum Light Detection (MLD) sensor as a big reason why: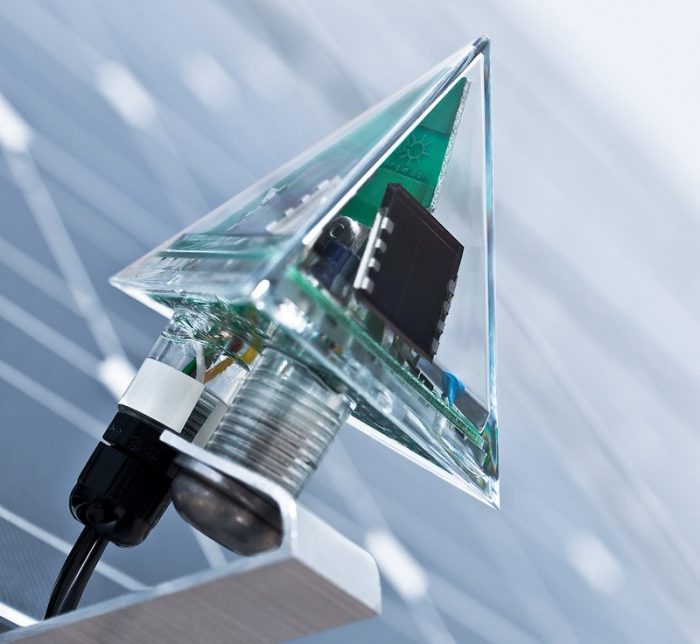 The MLD sensor continually measures the intensity and angle of the incoming light and moves the tracker into the most advantageous position. The sensor takes into account solar irradiation, as well as light that is reflected off of snow or water. Two sensor cells in the MLD sensor provide reference values that are evaluated by a logic module to track the module surface over the course of the day, while a third sensor cell resets the tracker each morning.
Flexible site adaptability
The current market niche for dual-axis trackers seems to be C&I installs where land cost and value is high, where a small footprint is crucial, and where high yield is key to the economic argument.
"The flexibility of the small footprint with dual-axis enables us to meet the needs of many more types of customers than we could without it. You don't have to give up land, or can use sections of land that are currently unusable. You don't have to grade, and you can use it in very narrow spaces," says Joe Goodman, the CEO of AgriPower Solar, in Salt Lake City.
His company, which operates in the Midwest and Northwest has already installed 700 dual-axis trackers and plans to install several hundred more this year.
Bifacial boost
Since the dual-axis tracker sits higher off the ground than single-axis, at 15 to 20 feet, more reflected light reaches the bottom of the tracker table, so the boost from bifacial panels is higher than what is achieved with single-axis trackers, notes Kevin Anderson, Director of Business Development at Mechatron Solar, based in Stockton, Calif. His company has a global installation total of 90 MW.
That boost rate can reach the 20% range, especially with a strong ground reflection surface, or albedo, like snow, several vendors and users agree:
"If there is snow present, the yield can exceed the name plate capacity of the panels and max out the inverter capability; it can amount to more than 20%," Goodman says.
"We have seen bifacial boost numbers in the 18% to 22% range, says Michael Fakukakis, CEO of Mechatron.
Dual use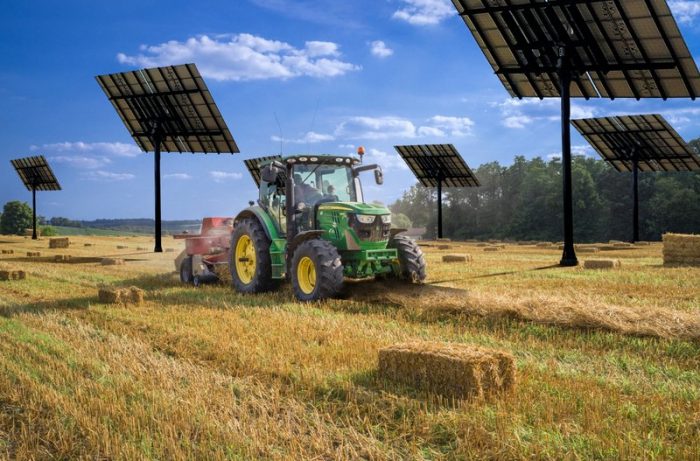 The height of the tracker table on a dual-axis array permits a dual use of the land. The land beneath a dual-axis tracker can be used for crops, grazing or other functions, or the space below it can be used as a carport. This broad adaptability makes the dual-axis a prime technology for agricultural, industrial, and other types of sites where land use is constrained.
Where limiting the number of masts in an installation is not as critical, smaller dual-axis tracker designs, like that of AllEarth Renewables — ranging from 20 to 24 panels — can help make smaller installations more modular for future growth. Based in Williston, VT, AllEarth has completed over 70,000 installations.
Where a minimal number of masts is preferred, the largest dual-axis tracker available, from Mechatron, boasts 90 panels. Mechatron also offers an agricultural model in which vertical spacing between columns of panels permits greater sun to penetrate an underlying crop.
Reliability and uptime
One aging criticism of dual-axis trackers is that reliability is low, presumably since there are more moving parts than on single-axis trackers. "Dual-axis trackers get a really bad rap about not being efficient, but that isn't the case, because their reliability is usually higher than single-axis trackers," says Goodman.
Indeed, a key strength of dual-axis trackers is that they are now highly reliable. Mechatron Solar claims an uptime of 99.9% and offers a performance guarantee for production: "As a guarantee to the customer, we offer a 1c/Watt performance warranty, unheard of in the industry," says Fakukakis.
Similarly, Stracker's uptime is over 99% says Sharpe. "Our downtime has been minimal for all of our Stracker installations performed since 2017 across a wide variety of climates and terrains. We have never seen any failure in any of our drive core actuator systems, and the less than 1% downtime across the field for the trackers is typically due to inverter problems and not located at the units."
Motion activation design can be a factor in the reliability of dual-axis trackers, especially where a rocking or galloping motion can be caused by the wind. Most dual-axis trackers rely on geared slew drives and hydraulic actuator arms to move across the axes. Mechatron, however, has a patented design incorporating single-line ball bearing rings for a zero-backlash technology with a double brake design.
ROI in less than four years
For a C&I customer with high demand charges, peak charges, TOU charges, outage threats and other utility-imposed variables in rates, the opportunity to achieve a high ROI is much greater than for a utility-scale system with a fixed debt and PPA-based income.
Several dual-axis manufacturers suggest that although there is a slight premium in the cost of their trackers over single-axis, the ROI turns out to be the fastest over the lifetime of the equipment. "We believe that the design of the dual-axis system yields the greatest return on the investment," Goodman observes.
Deger suggests that "in two to two-and-a-half years, the additional cost that is spent for tracking systems is returned." Mechatron suggests that total ROI cost recovery can take place in under four years.
Listen to more in-depth conversations on Solar Builder's YouTube channel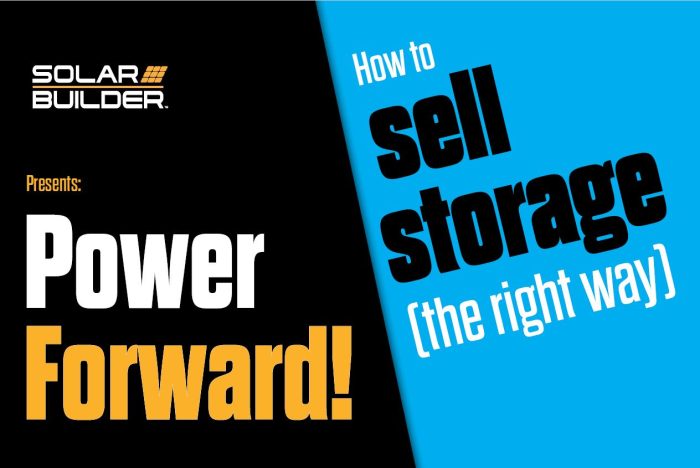 Our most popular series include:

Power Forward! | A collaboration with BayWa r.e. to discuss higher level industry topics.
The Buzz | Where we give our 2 cents per kWh on the residential solar market.
The Pitch | Discussions with solar manufacturers about their new technology and ideas.
Tags:
AgriPower Solar
,
AllEarth Renewables
,
commercial and industrial
,
Deger
,
Mechatron Solar
,
Stracker Solar