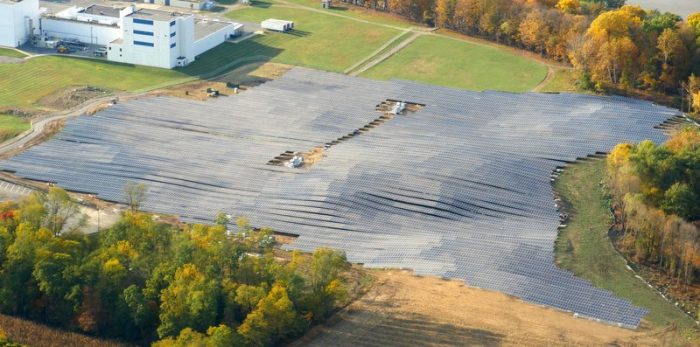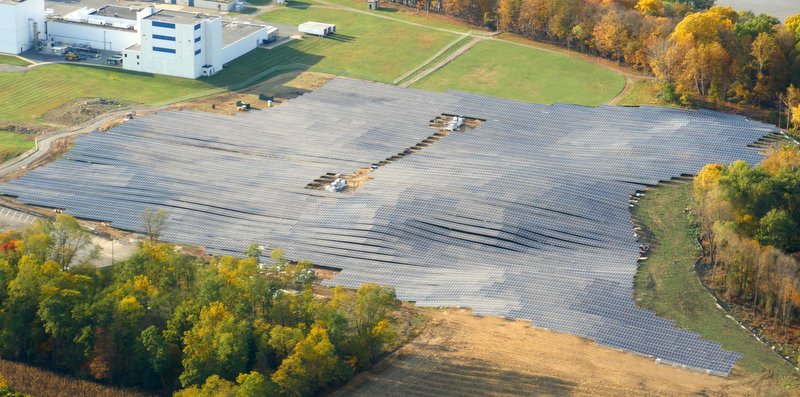 Tough terrain. Sloping sites. Supply chain challenges. Designing and constructing larger scale, ground-mounted solar projects gets more complex each year. Luckily, ground-mount systems are up to the task. In our annual Ground-Mount Buyer's Guide, we asked manufacturers to tell us what's new in their offering and for any updated specs in their portfolio. What you'll see is the market continues to push tolerances and accommodate PV trends, such as larger format and bifacial modules. Many of these companies are also much more than product manufacturers, offering an array of engineering and turnkey construction services. Check out what's new with the top providers of in the space. Click the product to expand for more info!
---
Terrasmart, the renewable energy portfolio of Gibraltar, is a leading provider of solar racking technologies, electrical balance-of-system products, installation services, and project optimization software. Harnessing the combined strengths, technical expertise, and heritage of its four brands, the new Terrasmart delivers a holistic project experience and best-in-class solutions across markets, providing leading solar technologies and smart solutions across the project lifecycle to mitigate risks and amplify returns for solar projects of any size, type, and location. Serving the commercial and utility sectors across North America, Terrasmart integrates products and solutions across the PV lifecycle to minimize risks and maximize returns. With over 19 GWs of solar deployed across 4600 PV systems, Terrasmart creates unique value for more profitable solar on any terrain, anywhere in the U.S.
What's new in 2022?
In 2022, Terrasmart furthered its integration, harnessing the combined strengths, technical expertise, and heritage of its four legacy brands. Terrasmart now offers its driven pile and ground screw foundations across all of its ground mount products.
Specialties
Utility-Scale ground mount: 20 – 300 MW
Single-Axis Tracker: 20 – 100 MW
Foundation agnostic solutions
Turnkey services
Design & Engineering: A seasoned team of geotechnical, structural, mechanical, electrical, and civil engineers provides project-specific, value-engineered solutions that will streamline your next ground mount project experience.
Turnkey Construction: Our full-service construction team can bring all critical aspects of solar construction in-house. One of the most experienced field teams in the industry, specializing in professional surveying, drilling, screw, racking and panel installation. With one of the most experienced field teams in the industry, we have priceless insights that allow us to overcome challenges and streamline processes to ensure projects are completed on time
Surveying: Site topology & 3D mapping is available via High Precision Aerial Site Mapping. Also, the first of its kind – our Autonomous Precision Survey Rover (APSR) triples the survey speed and accuracy on your next site.
Manufacturing: Our multiple manufacturing facilities result in shorter lead times and ensure quality, while also allowing for custom solutions.
Products
www.terrasmart.com | [email protected]
---
AEROCOMPACT – founded in 2014 – designs, engineers, and manufactures flat roof, ground mount, and metal roof solar mounting solutions. Its racking systems are compact, aerodynamic, and easy to install. The company prides itself on its ability to provide intelligent racking solutions for the most challenging site conditions, e.g., with high wind/snow loads, or if required, a highly distributed ballasted ground mount solution for landfill or brownfield projects. Close to 2 GW of power installed with mounting systems from AEROCOMPACT.
What's new in 2022?
AEROCOMPACT's proprietary design tool for all of its systems, AeroTOOL, was updated to reflect the latest wind tunnel tests and meets the latest code requirements for many modules. The turnaround time for projects is within 48 hours. AEROCOMPACT supports customers in their permitting efforts to minimize the soft project costs and continue to update our products to meet customer demand.
Products
---
Backed by decades of manufacturing and engineering experience, BCI Engineering's Full Tilt fixed-tilt system have fewer parts, versatile module loading and fastening methods, and manufacturer-direct pricing. All of Full Tilt's components are pre-galvanized, roll-formed shapes that bolt together.
Products
---
Gripple, a manufacturer of time-saving products for the civil and seismic markets, entered the solar market in 2021 with a few tried and tested solutions to secure new and existing ground-mounted solar arrays. All components are made specifically for outdoor use with a life expectancy of 30+ years in the harshest conditions. Gripple's Solar Bracing Solutions can be easily retrofitted to any existing system for any remedial work caused by external forces, such as realigning misshapen posts or to stop tables tilting and structures leaning.
What's new in 2022?
Gripple debuted The CR-System range that includes lightweight above ground cable routing devices that are able to hold 1170 6mm2 of cables and have the potential to be stacked to increase capacity. Manufactured from polycarbonate UV Stabilized corrosion-resistant material, their free-air position can assist at design stage to de-rate and reduce the CSA on cabling used, providing further savings on project costs opposed to traditional trenching.
Products
---
Stockton, Calif.-based Mechatron Solar is an international commercial and industrial solar project developer that manufactures unique, patented dual-axis photovoltaic trackers, each supporting 90 solar panels. The company's unusually high-yield trackers have the highest energy density and the lowest ground footprint in the industry. Mechatron solar trackers include gearless azimuth trackers and gearless dual-axis trackers, which are designed to maximize performance with a lower operations and maintenance cost than other commercially available tracking systems. They have been successfully tested under different climate conditions rate structures constitute the best available solution for photovoltaic plant installation.
What's new in 2022?
Mechatron was certified under UL 3703 this year and has a top-tier bankability analysis nearly complete. The flagship tracker also features a new digital guidance system, along with a new optional design with eight columns to accommodate large format modules. The new M16KD agriculture model features extra spacing between vertical panel stacks to permit more light to reach crops beneath the tracker, along with a new table-supported reflector option to enhance bifacial performance. The new M10KD residential model features a reduced table size to support 49 panels, to accommodate limited space requirements.
Products
---
---
What's new in 2022
OMCO Solar has launched its revolutionary Origin Bifacial Tracker. The open backside design delivers high energy yield with uniform irradiance, ensuring excellent long-term production. The foldable, pre-assembled module frame and bearing provide quick, easy installation. Combining design innovation with factory direct production capabilities, this versatile 2-in-landscape tracker delivers performance and economic value for customers.
Turnkey services
On-Site Pile Testing. OMCO can provide customers with pile testing for their solar projects across the United States. This includes a 3rd party stamped report that can be used for foundation design and is a cost-effective alternative to geotechnical reports.
Engineering Design & Site Optimization. OMCO has an experienced engineering team that can provide customers with stamped construction drawings and calculation packages. We also have the ability to optimize a project design to maximize the benefits of OMCO products.
Single Point of Contact Contracting Model. OMCO provides fast and efficient delivery of a completed racking solution while minimizing transaction costs and construction delays that are typically associated with the conventional multiple-contract method. Our single point of contact contracting model streamlines the process significantly for customers.
Buy Direct from the Manufacturer. OMCO has four manufacturing facilities that provide superior customer support from a knowledgeable and experienced team. This also means that OMCO can offer highly competitive pricing and reduced lead-times, which can be challenging for other suppliers.
Products
www.omcosolar.com | Sales: [email protected]
---
RP Construction Services, Inc. (RPCS) provides turnkey design, structural engineering, procurement/supply, mechanical installation, and specialty services to EPCs, developers, and municipal utilities. As the nation's leading contractor and Array Technologies single-axis tracker expert, RPCS has completed more than 900 projects, totaling over 3GW, and helps customers meet their renewable energy goals with simple, seamless project execution. RPCS has approximately 300 employees and is headquartered in Monterey, California, and maintains facilities in California, Mississippi, and Kansas.
Specialty
Projects of all sizes, 20-100 MW sweet spot
What's new in 2022?
RPCS has invested a lot of resources in material warehousing and expanded its tracker row kits. RPCS has the ability to stock all the key components and ensure that they are not only ready when needed, but also packaged and delivered to the site in a way that speeds up the installation of the trackers. They've also developed an in-house software program that is designed around the tracker they deploy and allows customers to see their portfolios of projects moving through each step of the way.
Turnkey services
Portfolio Management – RPCS has the ability to move many projects simultaneously through design, supply.
Design/Engineering – RPCS provides foundation design and layout, geotechnical site assessment support, tracker and foundation post supply and logistics, and solar tracker technical expertise.
Supply/Procurement – RPCS offers in-house stocking services with facilities in California, Mississippi, and Kansas with more than 1GW in annual supply.
Mechanical Installation – RPCS is a fully-licensed mechanical and electrical contractor, self-performing work across the country.
Kitting – RPCS is the first contractor in the utility space to pre-kit the Array tracker, allowing work that would otherwise be done onsite to be done in a controlled environment at an RPCS facility.
Additional Construction Services – RPCS offers on-site project management, commissioning, QA/QC, and O&M services.
Product
---
Solar FlexRack, a division of Northern States Metals, is an integrated solar company that offers reliable and time-tested custom-designed, fixed tilt ground mount and single-axis solar tracking systems in the commercial and utility-scale solar mounting industries. Solar FlexRack also offers full spectrum engineering support, including electrical, mechanical, structural, geotechnical & process, to enable your project to be completed efficiently and cost effectively. Solar FlexRack has completed over 1,000 solar racking installations in nearly all 50 U.S. states and five countries, representing a total of 3 GW of solar power projects.
What's new in 2022?
"Each of our product lines – fixed tilt, ballasted and trackers – are now fully adaptable to the wide range of large format modules on the market," says Mike Herman, Director of Operations. "Large format modules are increasingly being used due to their ability to increase energy yield through more watts per tracker and reduce Levelized Cost of Energy (LCOE), including through reduced hardware costs and project soft costs. However, they pose additional challenges when it comes to handling wind speeds and snow pressures. We are pleased that each of our product lines have been rigorously tested to integrate with, and have and continue to be successfully deployed with, large format modules. In fact, our products are now being integrated with large format modules in about 70 percent of our projects."
Products
---
Unique compared to the rest in this section, Sollega provides one racking system that can go from the commercial rooftop to the ground. The universal design, manufactured from UV rated glass reinforced Nylon 6, enables the installation of all framed modules and stands up especially well in highly corrosive conditions near the ocean. Injection molded in California, 100 percent made in the USA.
Product
www.sollega.com | Sales: [email protected]
---
Soltec specializes in integrated solar photovoltaic solutions, whose business is focused on solar tracking systems with a strong commitment to innovation. Soltec is positioned as the world's third leading company in the market among solar tracker suppliers, and leader supply in countries such as Brazil or Chile. With headquarters in Spain, Soltec has been operating since 2004 and has a diversified geographic presence focused on Spain, North America and Latin America. It has presence in 16 countries with more than 1,300 employees.
What's new in 2022?
Soltec launched the Solarfighter kit last year, which includes both the product and the plant assembly service. In addition, Soltec's Solmate after-sales service includes all maintenance and care services for solar plants.
Products
---
Sunfolding maximizes profitability with innovative solar tracking technology. Powered by air, the Sunfolding T29 Single-Axis Tracker deploys on land previously off limits to utility-scale solar. The Sunfolding T29 also makes solar plants faster to install and easier to operate. Sunfolding has won recognition as a 2020 Global Cleantech 100 Company and a 2019 Bloomberg New Energy Pioneer. Headquartered in Alameda, CA, Sunfolding ships US-manufactured trackers throughout North America.
Specialty
Projects above 5 MW, especially those that can benefit from earthwork savings.
What's new in 2022?
Working closely with our customers, Sunfolding has scaled down the T29 Single-Axis Tracker to two posts so we can navigate terrain and topographic features with even more flexibility and at no added cost. To begin with, actuation on every post brings unparalleled flexibility. The ability to reset tracker tables every 25 to 30 feet vastly improves tolerances on the east-west axis and in terms of tracker height. Dips and swells at ground level no longer have any impact on system design. A tracker can go from a steep rising slope to a steep falling slope or anything in between. Instead of designing one 300-foot span at a time, take advantage of the granular ability to follow terrain undulations from one plane to another and another and reduce earthwork by more than 90%.
Products
---
Specialty: residential and C&I <500 kW
SunModo, meaning "the way of the sun," is a private U.S. company headquartered in Vancouver, Wash., that is focused on innovative racking and mounting solutions for professional installers in the fast-growing solar industry. Our commitment to innovation can be seen across our entire product line, which includes 20 plus industry-shaping patents. From residential rooftops to large-scale ground-mounts and everything in between, SunModo has the most comprehensive solar mounting and racking solutions.
Tags:
Aerocompact
,
Array Technologies
,
commercial and industrial
,
Full Tilt
,
Gripple
,
Mechatron Solar
,
Nextracker.
,
OMCO solar
,
RP Construction Services
,
Solar FlexRack
,
Sollega
,
Soltec
,
Sunfolding
,
SunModo
,
Terrasmart
,
utility-scale