Boston-based BlueWave Solar has always aimed higher. The certified B Corp. (a business designation that sets higher standards for balancing profit with purpose) started out in 2010 with a focus on community solar and has since become a big proponent of agrivoltaics or "dual-use" solar. It has a few dual-use designs in the pipeline right now, one of which, the Rockport project in Rockport, Maine, was just sold to Navisun. It is a 4.2-MW, 10-acre project installed above an active blueberry farm.
"I view this as the extension of doing solar development well — if you're in the business of optimizing projects already, which I assume everyone is, and not just stuffing a bunch of panels on the property and leaving," says Chad Nichols, BlueWave's managing director for the Northeast.
BlueWave Solar is just one of a handful of developers seeking to grow this nascent solar segment that will set the standard for the future of ground-mount solar. What's different about this ag-focused, dual-use solar design, exactly? It starts by asking: "How do we preserve that farmland and put a solar array over it?" and answering with basic solar developer problem-solving. Intensively research the best use of the land, consider the racking system itself, how it impacts the earth below it and optimize spacing and tilt angle accordingly. During construction at Rockport, the team used special plywood and low density equipment to avoid disturbing the land. The fencing around the array has larger spaces for smaller animals to come and go.
These simple, thoughtful decisions get you 50 to 75 percent of the way, Nichols says.
"Next, we figure out what it takes to keep the soil underneath the array active and productive," he says. "We're talking row spacing in relation to the species of plants or crops that we want to survive. Do they need additional sunlight? The array would traditionally block that, so maybe we leave out every other panel. That's an extreme example, but it's not a huge lift to at least raise the array up a few feet."
New research taking root
Certain sustainable greenfield solar development techniques should be common sense best practices by now: sprinkling pollinator-friendly seed mix, adding sheep to graze on the land. The agrivoltaics movement goes further, planting that solar array along with and above a crop. The research is ongoing, but there's already a lot of evidence showing the PV as a value-add (hence the dual-use).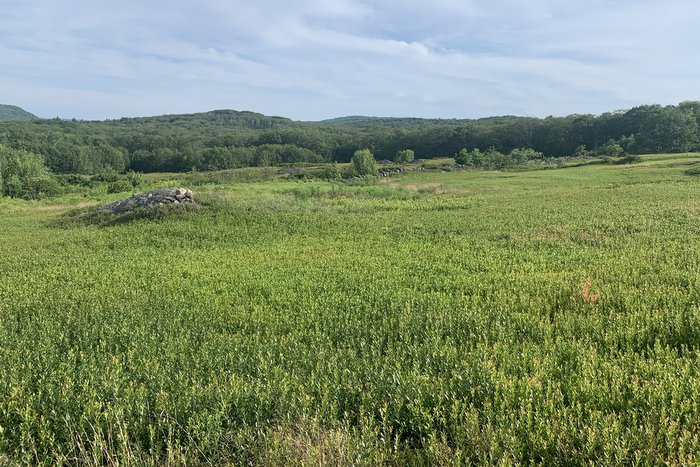 Enel Green Power partnered with the National Renewable Energy Laboratory (NREL) on the InSPIRE project, including a multi-year study of quantitative impacts from native vegetation and pollinator habitats at the Aurora solar farm in Minnesota. Early results point to substantial improvements in vegetation growth and pollinator presence.
"These practices have demonstrated environmental benefits by enhancing soil properties for stormwater retention and water quality, increasing food production for pollinator-dependent crops and creating new industries for local agricultural services, such as native seed and livestock grazing," says Peter Perrault, senior manager of circular economy and sustainable solutions for Enel North America. "There are also some food and vegetable crops that have been shown to produce higher yields when grown under the shade of PV panels."
Studies by German research organization Fraunhofer ISE show dual-use PV design offers protection against hail, frost and drought damage, eliminating the need for protective foils and other materials. A reduction in wind load and solar radiation underneath the PV modules can help to decrease water consumption. For some crop types, the elevated PV mounting structure can lead to an increase in yield. In 2018, the yields from three of the four crops grown (winter wheat, potatoes, clover and celery) at one family farm under study produced a greater yield under PV panels. The crop yields for celery profited the most with a gain of 12 percent compared to the reference. For potatoes, the land use efficiency rose to 186 percent per hectare with the agrivoltaic system. Another pilot project installed in 2016 with 720 bifacial PV panels showed an increase in land use efficiency between 60 and 84 percent two years later, as well as improved adaptability during dry periods.
Dual-use synergy
Reducing the need for irrigation by up to 20 percent
Possibilities of rainwater collection for irrigation purposes
Reduction in wind erosion
Use of the PV mounting structure for protective nets or foils
Optimizing light availability for arable crops, e.g. PV tracking systems
Higher module efficiency through better convective cooling
Higher efficiency of bifacial modules due to larger distances to the ground and adjacent module rows
Back in Rockport, an array positioned 4 to 5 ft above the blueberries helps control temperatures, preserve water and, hopefully, boost the farm's blueberry production. The project is being developed as part of BlueWave's ongoing focus on dual-use development, as the company was also recently selected for a three-year, $1.8 million grant from the Department of Energy in partnership with the Clean Energy Extension at the University of Massachusetts at Amherst and other project partners to further study the applicability of dual-use. The research can be split into two broad categories.
1) Proof of concept for the health and viability of various agricultural activities (e.g. holistic grazing, ground crops, etc.) under an operational solar array. This category covers farm productivity metrics like pre and post agricultural yields and per acre production costs, as well as solar design approaches that consider farm infrastructure, farm equipment logistics, shade/sunlight percentages, stormwater management and/or bifacial impacts to the crops below the arrays.
2) Best practices for solar project construction and soil management that ensure the project is as supportive of the site's agricultural goals as possible (within and around the array).
"Our expected outcome is that not only can we still support active agriculture but, in some cases, help to diversify farm production and improve farm viability," Nichols says. "Having credible agricultural partners at the table who can lend a data-driven, and in some cases experience-driven view will be critical for measuring our performance and for gauging potential improvements over time."
The analogy of solar-plant-as-a-crop is made even more real as farmers and developers identify new farming equipment and strategies for taking care of this farm of the future.
"We've had conversations with farming equipment manufacturers to figure out if we want to farm this land between these rows. Can you do it with traditional equipment or does the project require custom equipment?" Nichols explains. "You pair those considerations with the means and methods of protecting certain things during construction, which puts you in the mindset of everyone involved."
Enel is working with Arup to implement new tools to evaluate all of the options for dual-use opportunities in its future project development as well. The Dual Use Opportunities (DUO) Tool, for example, is being used to evaluate multivariate project parameters to inform decision making in the earliest stages of development.
"The DUO Tool was the result of a broader effort to increase the circularity of our plants and development processes, as well as programmatically implement changes throughout the life cycle of our assets," Perrault says.
In the coming years, this process will involve solar design adaptations to facilitate robotics and farming machinery access to the land under and around panels to support large-scale maintenance and commercial farming alongside utility-scale solar applications.
Going agro on voltaics
Not everyone sees solar panels on a farm as community progress. Some rural communities are fearful solar developers are no different than any other developer, swooping into town to turn family farms into corporate profits. Representatives in Kentucky even introduced a bill to ban large-scale solar projects on farmland that could be "a detriment to the preservation of productive farmland."
"What was once an income-producing property for the people of that county, is now possibly, you could say maybe an eyesore to the neighbor," Republican State Sen. Steve West stated when trumpeting his bill. "Our farmland is one of our greatest resources, and so in effect if you allow these solar panels to go into an area, cover land, after their lifespan of 20-25 years, they're filled with hazardous chemicals. It's gonna be pretty tough from a monetary standpoint to redevelop that land into anything else but a solar installation."
Sheesh. While that bill and that Senator may be misguided and ill-informed, the bill does reflect a genuine public fear. It's a reminder that the success of agrivoltaics in the U.S. will require more than installation innovations and academic studies from Germany. The next step is broader community outreach and partnership — an acknowledgement that a community and its land are connected.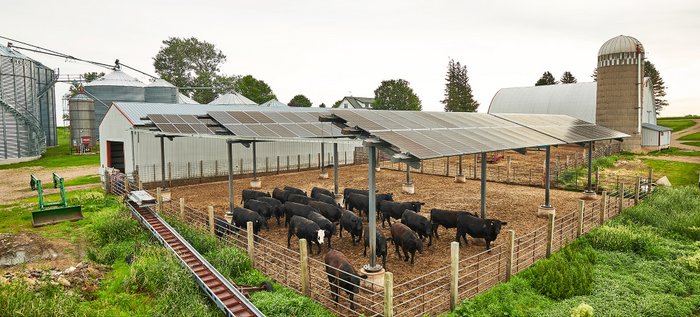 "Placing an array on that land is what we consider a minimal impact. We're not putting in foundations, we're not putting in homes and we're not building Wal-Marts," Nichols says. "When it is community solar, you quickly have eyes opened when you say the power stays local or the utility is using it to lower their rate. But let's go a step further to take that land and put it back to being productive acreage for the world. Look at this project with the sheep on it. We design it to stay with the project for the life of it. As more of these go in the ground, the more examples we'll have."
Key for the community (and landowners) to understand is dual-use solar development removes the either/or proposition struggling farmers are in — they can add a generating asset and become the long-term owner while also staying a viable farm.
Minneapolis-based Blue Horizon Energy has gone as far as becoming part of a smaller community, opening an office in Marcus, Iowa, to better serve and focus on solar farms.
"Our team is very intentional when working in these communities to build a local on-the-ground presence and proactively engage with the citizens who will be living alongside these projects for decades," says Griffin Dooling, CEO at Blue Horizon Energy. "Agriculture is always advancing as an industry, and these communities are often passionate about adopting new, more efficient technologies to improve their profitability once they understand them. Solar is a prime example of that advancement and as a new technology, the public education around these projects is one of the most important pieces to ensure that the benefits of solar deployment are understood and well-supported in the community."
Maximum harvest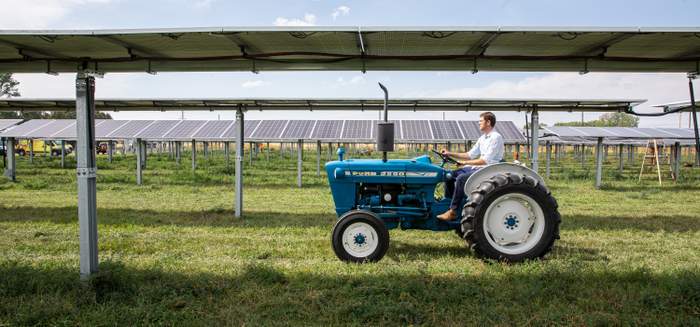 Jack's Solar Garden is a 1.2-MW community solar farm that's the largest agrivoltaic research project in the U.S., located in Boulder County, Colo. In partnership with NREL, Colorado State University and the University of Arizona, Jack's Solar Garden will study how best to grow wildflowers, pasture and prairie grasses, pollinator habitats, as well as crops, such as carrots, onions, tomatoes and squash that will all be planted underneath and around the solar array.
But there is so much more to it. Built by Namasté Solar, a certified B Corp., with help from solar tracker company Solar FlexRack, the Jack's project emphasizes the value of community while also cultivating the next generation of agrivoltaic farmers.
• Jack's partnered with Sprout City Farms, which will manage crop production under the solar array as well as train the first agrivoltaic farmers in Colorado.
• The farm donates 2 percent of its energy production to low-income households in Boulder County.
• Jack's has an Artist on the Farm program to support local creatives.
• Students and community members have an opportunity to tour Jack's to learn about agriculture, solar power and land use management through their new non-profit arm, the Colorado Agrivoltaic Learning Center.
Solar arrays on farms can be dual-use beyond crops too: "We have worked with several farms to develop solar solutions that serve a dual-purpose of energy production and livestock shade," Dooling tells us. "This helps maximize the efficiency of the farm real estate, where often the need for livestock yards and operational buildings competes with the priority placed on tillable cropland, leaving little room for solar without sacrificing space for other needs. Using solar to serve a dual-purpose over livestock makes overall space use more efficient."
All of these results are profound. Farming is a tough, fickle business as it is, and climate change has only made it tougher and more fickle. Water shortages, extreme weather and increasing global temperatures require new measures to protect plants and soil from negative environmental (human) influences. Solar arrays are proving to be one of those measures, while also being a source of additional income and community resilience. The more solar developers we have planting agrivoltaics into the core ethos of the industry, the more dual-use ideas are bound to blossom.
"We see it as the most responsible way to develop," Nichols says. "To reach any of the goals we have as an industry and country, we have to be great at ground-mount development, and responsible development becomes a competitive advantage. We see the benefits immediately."
Chris Crowell is managing editor of Solar Builder.
Listen to more in-depth conversations on Solar Builder's YouTube channel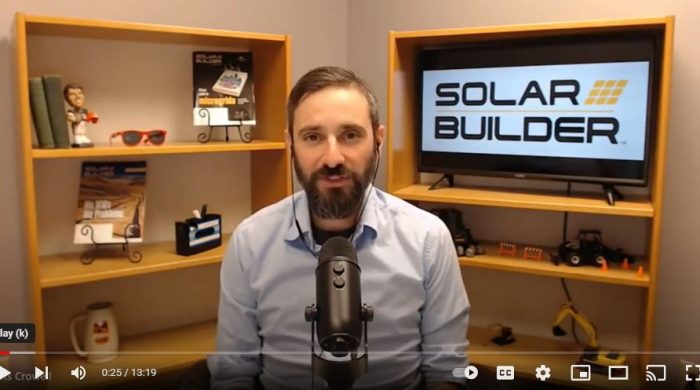 Our most popular series include:

Power Forward! | A collaboration with BayWa r.e. to discuss higher level industry topics.

The Pitch | Discussions with solar manufacturers about their new technology and ideas.
Tags:
agrivoltaics
,
Blue Horizon Energy
,
BlueWave Solar
,
development
,
Enel Green Power North America
,
Namaste Solar
,
Solar FlexRack