Intersolar North America and Energy Storage North America come together for the first time in person January 13-15, 2022 in Long Beach, Calif., connecting installers, developers, utilities, technology providers, policy makers, and key stakeholders from around the world to advance the clean energy future. We'll be there too. It's been so long since we've strolled a trade show floor, and we're pretty excited about it. We asked manufacturers to tell us what they'll be showing off at their booths. Here's everything you're going to want to check out, listed in order by booth number.
Peak Power | Booth 853
Building solutions for the clean energy future
Peak Power is a Canadian clean technology company building AI-powered solutions that make building owners and operators part of the clean energy transition. Working with real estate, energy, and transportation partners, Peak Power transforms buildings and industrial facilities from static energy consumers into dynamic, two-way grid resources that generate revenue. Climate contributors become part of the climate solution providers – and get paid to do so. Peak Power's solutions are deployed in over 15m sq ft of commercial real estate.
Visitors to the Peak Power booth will learn about the company's flagship products, including: the Synergy Energy Storage software platform which uses Machine Learning to analyze and interpret large volumes of building and energy data to help building owners reduce energy usage by deploying batteries; the Peak Insight platform which provides insights on the real-time GHG footprint of buildings and provides recommendations for reduction; and Vehicle-to-Grid charging technology that turns EVs into reliable backup batteries. Learn more here.
Sollega | Booth 1044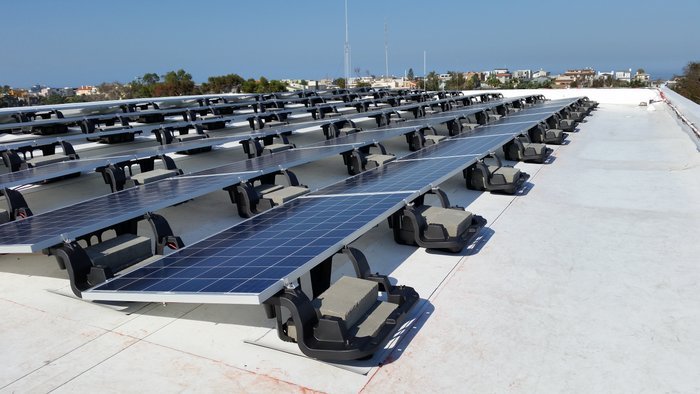 Fast and simple installs for flat roofs and ground mounts
Sollega provides racking systems that are compatible with most common solar panels on the market today. Its universal design enables the installation of all framed modules, ensuring clients can continue using their existing supply chains for modules. Sollega products are fully manufactured in the USA.
Visit Sollega at Intersolar to learn about the SOLLEGA FR510-6 for flat roof or ground mount PV installations. FR510-6 boasts a simple, innovative one-piece stackable design. No assembly required. It can be installed on any low pitch surface (roof and ground mount, compatible with all framed modules). Quick to ship, stage and install. All top-down connections utilizing one tool. Has 5-,6- and 10-degree tilt options (GCR 72-80%). One piece slide on bonding jumper for E-W module to module grounding. Flexible system adapts to obstacles and contours to uneven surfaces. Manufactured from UV rated glass reinforced Nylon 6. Class "A" Fire Rating Type 1, 2, & 3 modules. Ships 25 kW per pallet and 750 kW in 40 ft shipping container. Learn more here.
Franklin Whole Home | Booth 1059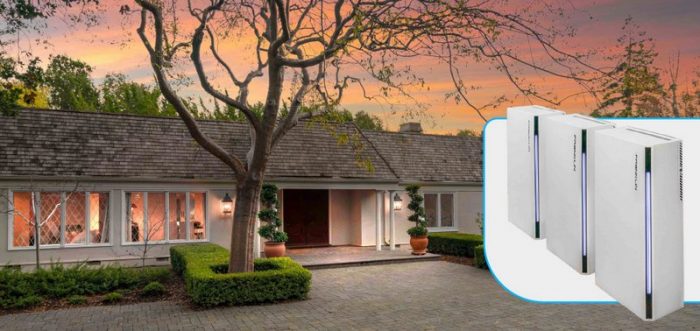 Privately funded cleantech company Franklin Whole Home is launching a new residential storage solution for the U.S. market at the Intersolar conference on Jan. 13 in Long Beach, Calif. The highlight of the FranklinWH system is its lithium iron phosphate aPower battery, which offers the highest AC battery capacity on the market. The Franklin Home Power solution is backed by a 12-year warranty — two years more than the industry standard — and a bankability report from DNV. Compatible with any PV inverter technology, aPower can connect easily with existing solar systems while scaling up to 15 units for a total of 204 kWh.
The Franklin Home Power solution combines the aPower battery with the aGate smart control system. The aGate control system uses AI technology to manage the most complex load scenarios. It is able to not only safeguard the main panel but also integrate three additional large loads of the homeowner's choice, such as an HVAC, pool heating, or electric vehicle charging. FranklinWH will host a public event at Intersolar on Jan. 13 at 10 a.m. to mark the company's new UL certifications and bankability milestones.

ESS, Inc. | Booth 1122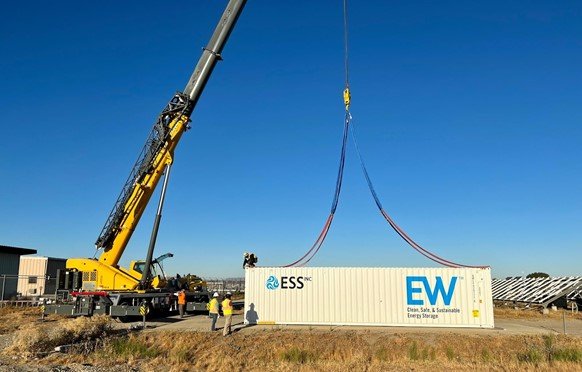 Manufacturer of Safe, Sustainable Long-Duration Batteries for Commercial and Utility-Scale Energy Storage Applications. ESS Inc. has been a pioneer and innovator in the cleantech industry since its inception in 2011. With a mission to bring to market the cleanest, lowest-cost long-duration energy storage systems, ESS has become a catalyst for a sustainable energy future. The company has developed an innovative, category-defining technology – an environmentally friendly iron-flow battery engineered to support renewables and stabilize the electrical grid.
Unlike lithium-ion batteries that are made from hazardous and costly materials, ESS battery solutions use earth-abundant materials such as iron, salt and water, making them environmentally safe with no risk of fire or explosion. The company's two solutions, the Energy Warehouse™ and Energy Center™, enable project developers, utilities, and commercial and industrial facility owners to make the transition to more flexible non-lithium-ion storage that's better suited for the environment and long-duration applications of 4-12 hours.
To learn more about our products and services. Learn more here.
AIONRISE | Booth 1131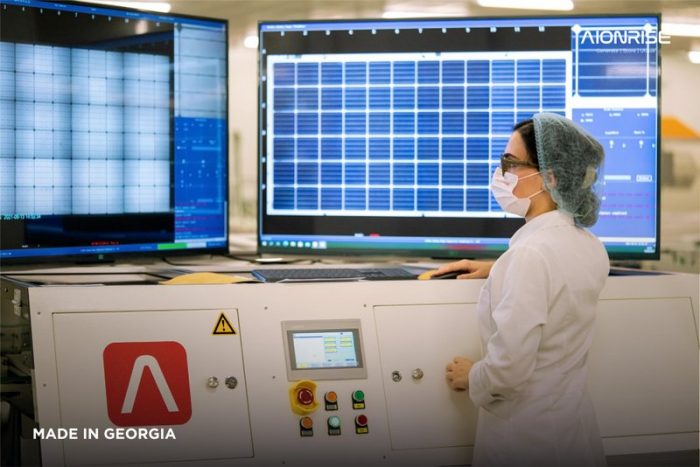 AIONRISE Holding Inc. (Delaware, USA) owns a fully automated solar panel manufacturing facility located in Georgia. The factory was built by Swiss and German PV technology companies with an annual capacity of 500MW. Its commitment to quality and performance is ensured with its TÜV Rhineland registered Bill of Materials that is always updated by various types of components tested to have fully complied with international quality check standards.
AIONRISE products deliver long-term higher output compared to other analogs and provide lower Levelized Cost of Energy. They provide a linear 30 years performance guarantee and 12 years product warranty. Learn more here.
GoodWe USA Inc. | Booth 1317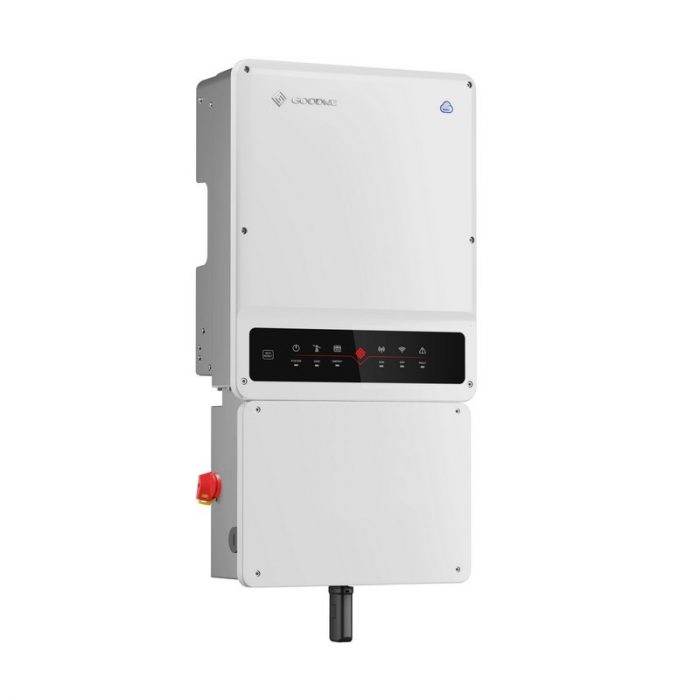 Inverter and Storage Solutions
Join GoodWe USA Inc to learn what's new in residential hybrid inverter and storage solutions. They're also excited to showcase C&I and residential battery and solar inverters.
The GoodWe A-ES is a single-phase hybrid inverter compatible with high voltage (80-495V) batteries with a power capacity ranging from 5 kW to 9.6 kW. With up to 4 MPPTs, the A-ES inverter seamlessly adapts to complex residential rooftops. Equipped with rapid battery charge functionality and perfectly capable of powering large loads in back-up mode (up to 9.6kW) and full house back up. The 50A Max continuous back up current is the largest in the industry, and it also features 10ms UPS level switch time from grid mode to backup mode. Learn more here.
GE Solar Inverters | Booth 1323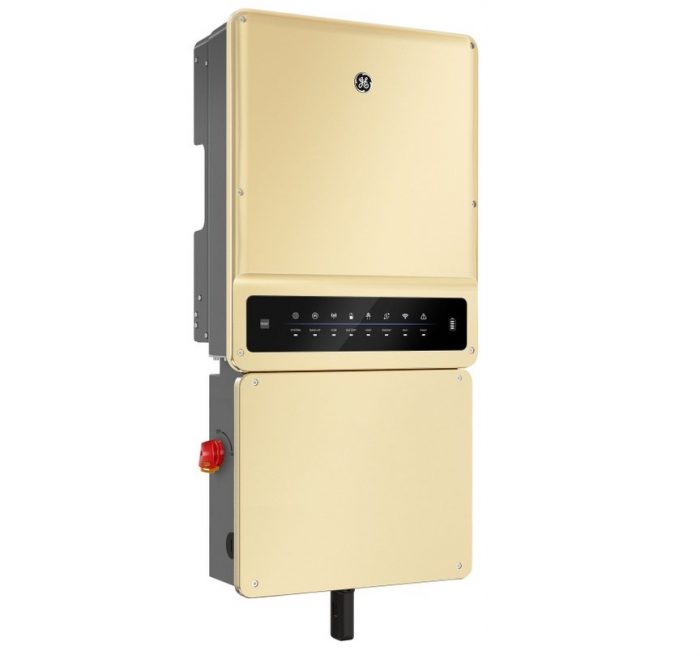 Intelligence Switched On
At the GE Solar Inverter booth, discover the intelligent features that shape the present to deliver the future world of smart energy (and if this inverter looks strikingly similar to the GoodWe inverter, there is a reason). Learn more here.
Electriq Power | Booth 1445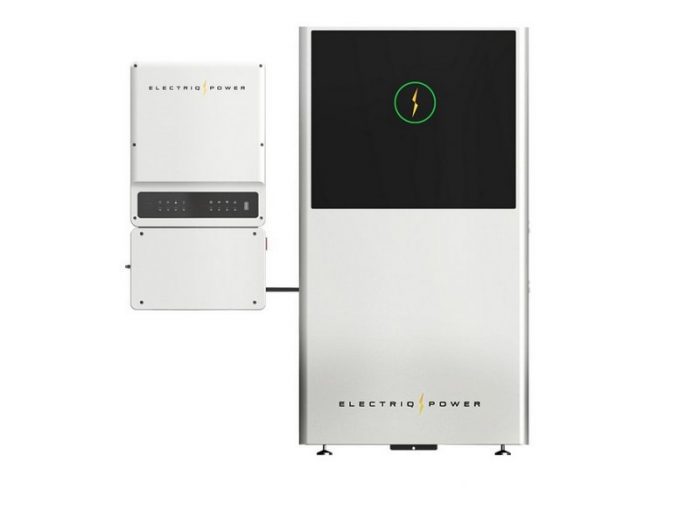 Experience the Latest in Intelligent Home Energy Storage from Electriq Power
Electriq Power is an energy storage company developing hardware and software solutions for the clean energy transition. Based in San Leandro, California, Electriq designs, engineers, and assembles fully integrated energy management and storage solutions for homes and small businesses, with systems deployed across North America.
Visit the Electriq Power booth to experience the company's flagship product, the PowerPod 2, a rechargeable residential battery and home energy management solution that lets you take control of your energy use. The system is available in AC- and DC-coupled configurations with LFP-based batteries in three capacities: 10, 15, and 20 kWh. Each PowerPod also includes the PowerHub, which provides energy management, metering, and monitoring functions for the PowerPod. You can also see a demonstration of Electriq's signature smart home energy software that analyzes weather, the utility rate, and historical solar production and consumption for peak efficiency. Learn more here.
QuickBOLT | Booth 1536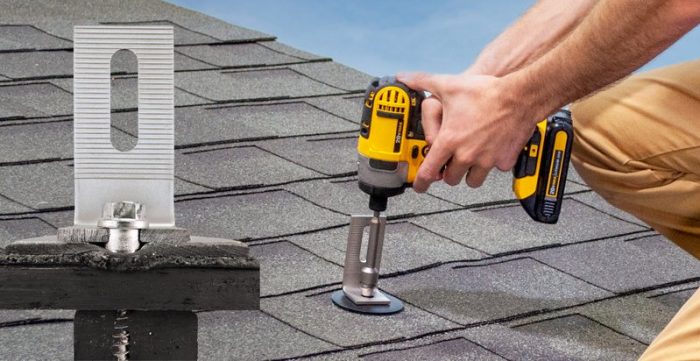 Innovative Solar Mounting Solutions
Come see QuickBOLT's innovative line of solar mounting solutions at this year's Intersolar. See the game-changing combination of QB2 + BoltSeal® technology together in person, which allow installers to install solar on asphalt shingle roofs more efficiently than ever before.
Also explore new lines of income for your solar install business with our Stone Coated Steel roof mounts designed in partnership with metal roof manufacturers themselves. Decra, Boral, Isaiah – our SCS roof mounts work on all metal tile profiles and will help you bring in money you're missing out on.
Finally, see their upcoming products and exciting developments for the next innovation in solar mounting. Learn more here.
Pegasus Solar | Booth 1638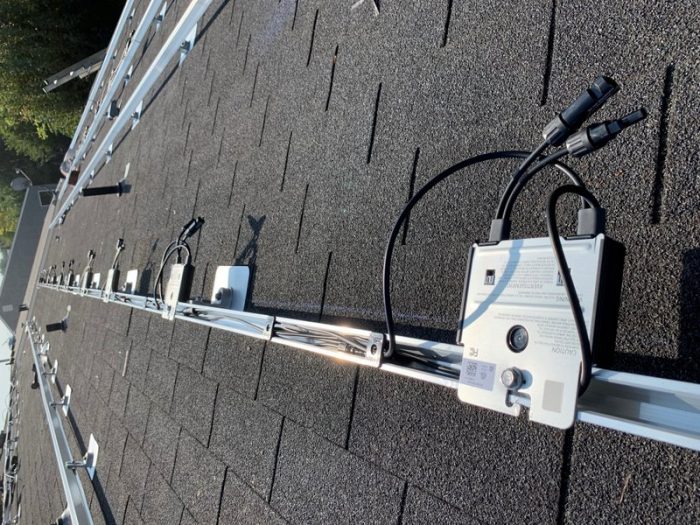 Pegasus Solar Rail System (Next Rev) and New Tile Mount
You really have to see Pegasus Rail to believe it. They'll have a six-module array onsite, so you can experience the Rail System up-close. Stop by their booth (next to the Solar Games), get your hands on the system and sign up for a free trial. The Pegasus Rail System was designed in collaboration with contractors to improve rooftop installation at every step. Splice instantly, without tools or interference. Use the Multi-Clamp both as a mid- and end-clamp, for frames 30 to 40mm thick. Easily manage wire for life — with no zip ties. Instantly bond rows without tools or wire. You have to try it to believe it. They'll also exhibit a new Tile Replace Mount. Learn more here.
Roof Tech | Booth 1638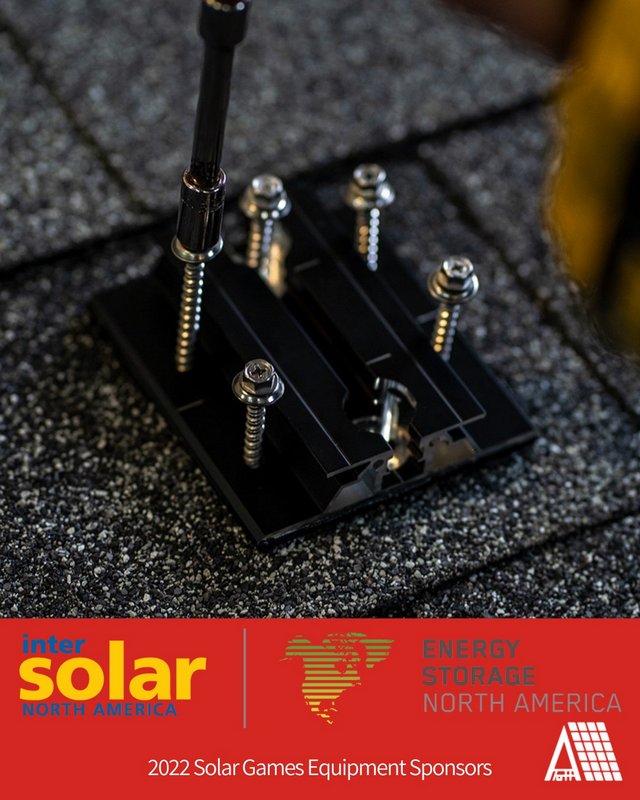 Roof Tech's Self-flashing RT-MINI II Equipment Sponsor for Intersolar NA 2022 Solar Games
Roof Tech is proud to be one of the equipment sponsors for the industry's first-ever installer competition, Intersolar NA Solar Games. The Solar Games teams build residential solar + storage systems on the #isnaesna22 expo hall floor. Competing teams will be judged on installation quality, safety, speed, and other criteria. All teams will use Roof Tech's RT-MINI II mounts along with the K2 Systems railed mounting system. Stop by Roof Tech's booth to view their 100% waterproof flexible flashing residential mounts. Learn more here.
OMCO Solar | Booth 1831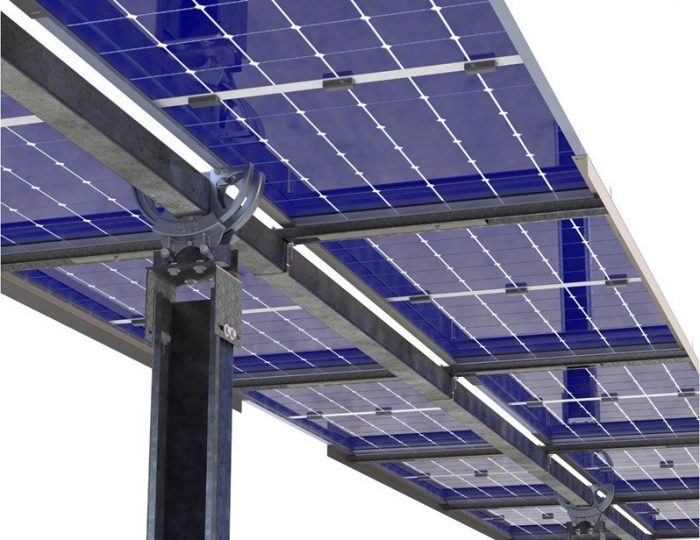 New Year, New Designs
At Intersolar this January, OMCO Solar will be showcasing its OMCO Origin™ Bifacial Tracker. The open back side design delivers high energy yield, with uniform irradiance ensuring excellent long-term production. The foldable, pre-assembled module frame ensures quick, easy installation. Combining design innovation with factory-direct production capabilities, this versatile, 2-in-landscape tracker delivers performance and economic value for our customers. In addition to its tracker products, OMCO will be showcasing its fixed-tilt racking solutions – both CHOICE™ direct-bolt and Field Fast™ slide and clamp module install rack. Learn more here.
AceClamp | Booth 1840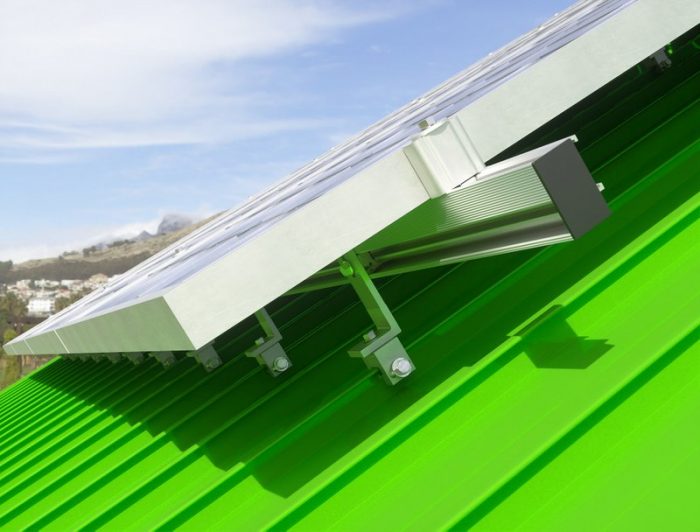 New adaptive solar racking system withstands up to Cat 5 winds
AceClamp® is a manufacturer of precision-engineered snow retention and solar mounting systems. It also manufacturers its own High-Velocity Hurricane Zone Racking System for the solar industry. Its most recent unique innovation is called Solar Snap™. It is an adaptive, easy-to-install racking system built to withstand harsh weather conditions and winds up to Cat 5. Designed to work with any of AceClamp's metal roof clamps, it's an ideal solution for SSMR, Island Style Cement Cover Board Roofing, and Single-Ply. Fully assembled components make for an easy-to-use, fast-installing product. The unique cross-platform design adapts to all roof types – meaning you'll have less inventory to maintain. Learn more here.
EcoFasten | Booth 1859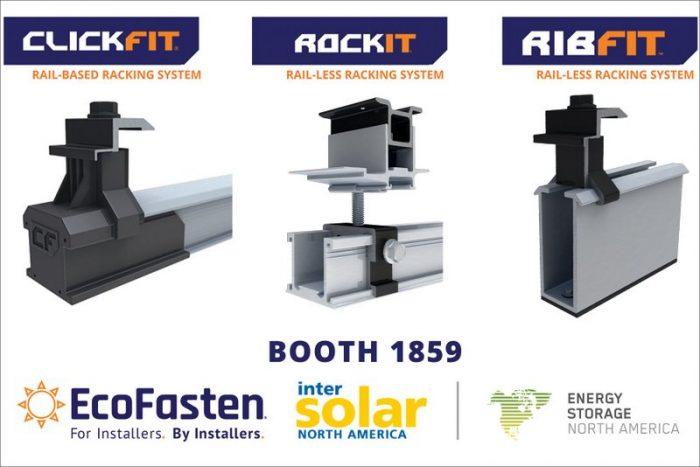 EcoFasten invites you to visit Intersolar booth #1859
EcoFasten offers a robust product portfolio of rail-less and rail-based solar racking and mounting systems and watertight roof attachments. Its products are tailored to meet the needs of all installers. EcoFasten focuses on creating products that install quickly and efficiently while providing fast delivery and outstanding customer service.
EcoFasten offers rail-based & rail-less racking solutions for various roof types, including composition shingle, tile, and metal. Each of its patented systems conforms to UL 2703. Designed for installers by installers, EcoFasten's complete systems are faster & easier to install than other mounting systems on the market.
EcoFasten also offers industry-leading watertight solutions for every type of roof. Its wide variety of solar roof mounts, flashings, and interchangeable compression brackets give installers maximum versatility for quick, easy solar installs.
Learn more here.
Stäubli Renewable Energy | Booth 1951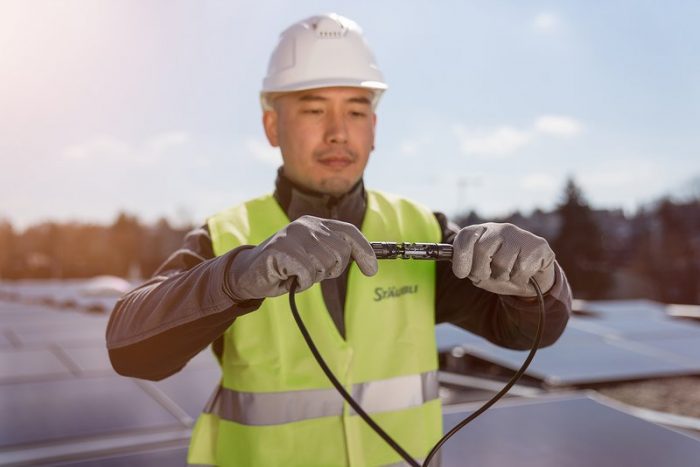 Small Components. Big Impact.
Stop by Booth #1951 and see why Stäubli continues to lead the solar industry with product innovations, product safety and reliability, as well as its services for eBoS applications (electrical Balance of System).
Stäubli Renewable Energy has consistently evolved from component manufacturer and supplier to solution provider. Based on the findings of research and field inspections, the company has increased its knowledge in the industry about the importance of PV connector components through training and education as well as consulting in support of its partners. Paying attention to the smallest detail and being committed to quality pays off.
Stäubli Renewable Energy provides tailored services throughout all project phases along the eBoS applications and is investing in product enhancements, resources and expertise. Ask about your next or existing project. Learn more here.
SnapNRack | Booth 1954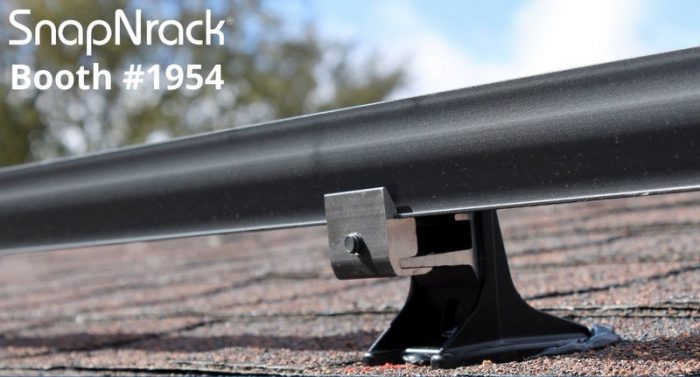 First Debut of SnapNrack SpeedSeal DeckFoot & DeckTrack
The SnapNrack team will be ready to share with its three core roof attachment technologies. Umbrella Seal Technology is its leading flashing technology for Ultra Rail & RL Universal that uses a patented fully formed raised cone to prevent any water intrusion. SpeedSeal Technology is its newest generation of roof attachments that incorporates flashing reliability into a single roof attachment, utilizing a patent pending Lag Driven Sealant design. Direct to Deck SpeedSeal Technology is its latest innovation that applies SpeedSeal Technology to roof attachments that mount directly to the roof deck with DeckFoot for Ultra Rail & DeckTrack for RL Universal. Learn more here.
CAB Solar | Booth 2124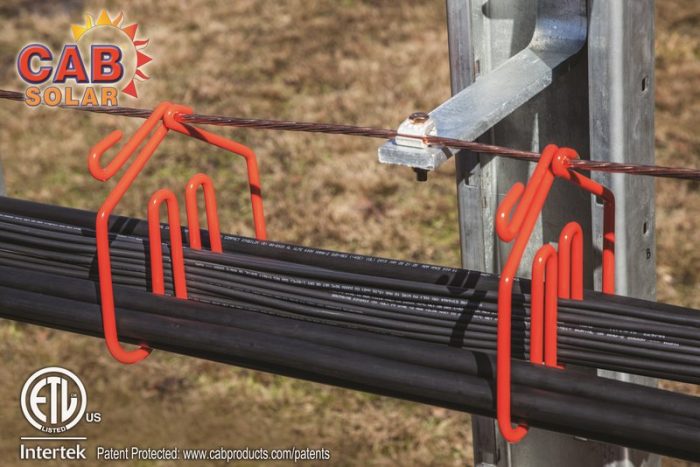 CAB® Solar Cable Management: Innovative, Intelligent Solutions
CAB® Solar's patented Cable Management System provides strong, durable support for cables in tracker, ballasted and fixed tilt projects. CAB® multi-carrier hangers are available in a wide range of styles to efficiently separate large bundles of cables.
CAB® hangers are quick and easy to install, no special tools needed. They are Intertek Safety Listed, and the CAB® Integrated Grounding option can provide the EGC and GEC, which dramatically lowers material and labor costs.
New in 2022 are CAB® Solar Multi-Carrier Torque Tube Hangers which are ideal for use with bifacial panels.
CAB® Solar Hangers are manufactured from high tensile spring steel, and are insulated with a heavy coating of high dielectric grade, UV stabilized, flame retardant plastisol.
CAB® Solar Products are proudly manufactured in the USA by the Cambria County Association for the Blind and Handicapped, a non-profit which provides services and employment for over 350 persons with disabilities. Learn more here.
Eagleview | Booth 2231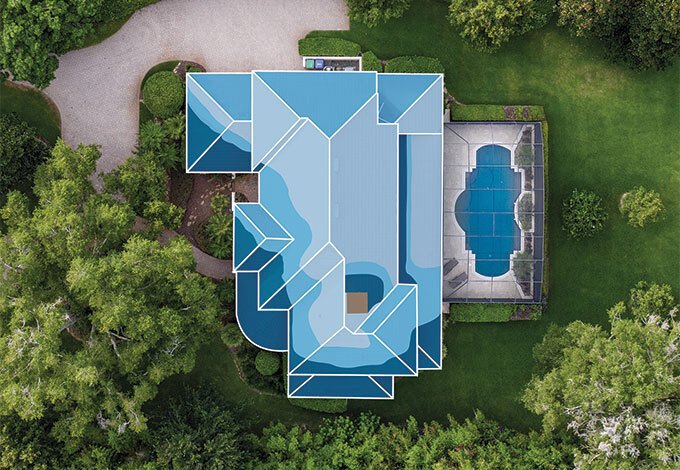 Complement or Eliminate Exterior Site Surveys with EagleView Solar Data Delivered Remotely
EagleView is a leader in aerial imagery, machine learning-derived data analytics, and software solutions, helping customers in different industries use property insights for smarter planning, building and living. They derive precise property measurements, 3D models, and solar access values from their imagery, captured using their own fleet of planes and proprietary imaging technology.
EagleView's residential solar solutions deliver all the roof data that contractors need to plan a solar project – complementing or eliminating the need for an exterior site visit. Deliverables include .DXF files, helping engineers start with an accurate CAD rendering of the home to produce installation-ready designs the first time and reduce or eliminate change orders.
Connect with them at Intersolar to learn how they can help you automate manual processes and reduce cycle times with imagery, data and workflow solutions. Learn more here.
Have you checked out our YouTube page?

We have a ton video interviews and additional content on our YouTube page. Recently we debuted Power Forward! -- a collaboration with BayWa r.e. to discuss higher level industry topics as well as best practices / trends for running a solar business today.

Our longer running side project is The Pitch -- in which we have awkward discussions with solar manufacturers and suppliers about their new technology and ideas so that you don't have to. We discuss everything from residential rail-less deck attaching and home solar financing to large-scale energy storage value stacking and utility-driven new home solar + storage microgrids.
Tags:
EcoFasten