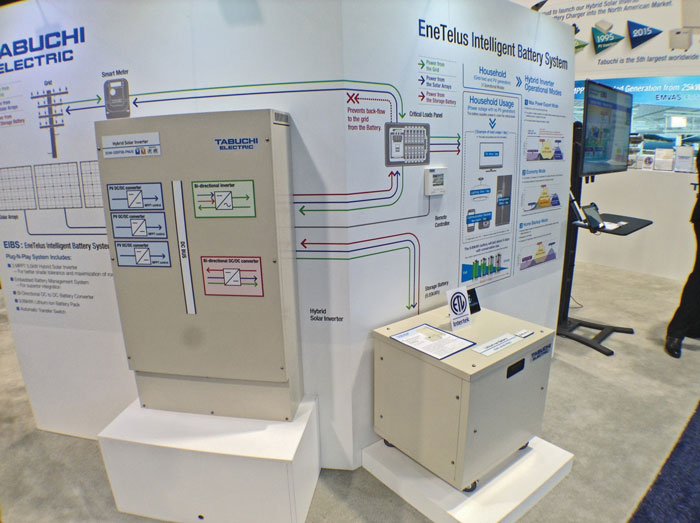 Solar+storage is still on the fringes of the market and looking for a champion. Oshawa Power and Utilities Corporation in Ontario, Canada, is now one of these champions. The utility is one of the first in North America to lead the installation of grid-friendly residential solar-plus-storage systems, and will be installing the solar+storage system from Tabuchi Electric.
Under the program, Tabuchi is installing solar+storage systems in homes across Oshawa Power's service territory to generate solar energy and store it onsite for use at any time. Oshawa Power's customers participating in this pilot will be able to generate and use all of the clean solar energy produced at their home with the help of solar panels and a sophisticated storage system.
Despite the fact that a wide spread deployment of such a technology could be disruptive to its business model, Oshawa Power is leading the charge.
WATCH: The storage+inverter system of Tabuchi explained #SPI 
"Because, we are in the 21st century and there are technologies now available for us to serve the customer's needs better," says Atul Mahajan, CEO of Oshawa Power. "We are excited to bring these advanced energy solutions that provide increased reliability with storage back up while generating energy efficiently and sustainably on-site through solar power, right where our customers need it. Integrating solar and storage with the grid in select homes across Oshawa will allow us to study the technology closely and most importantly develop innovative business models on our path to creating the utility of the future."
The project is funded by Japan's New Energy and Industrial Technology Development Organization (NEDO) and is designed to deliver compelling energy management benefits to Oshawa Power and its residential customers. This initiative also supports Ontario's clean energy efficiency policies already considered to be leading in North America.
"Our partnership is a testament to how utilities and solar-plus-storage technology companies can successfully bridge the gap," said Harumi McClure, Tabuchi Electric Managing Director and General Manager. "We designed our grid-friendly system to help utilities like Oshawa Power capture the benefits of solar power while also improving customer reliability during power outages, especially during extreme weather. We are committed to helping Oshawa and Ontario continue to lead the way in bringing solar and storage to its residents."