Unirac Inc., North America's leading provider of infrastructure for solar power systems, today announced the newest generation of its premier product for commercial installations, the ISYS Ground Mount racking system. Available now for order, ISYS Ground Mount (IGM) 2.0 is stronger, lighter and installs more quickly than its predecessor. Engineered to accommodate virtually every foundation option, IGM 2.0 easily adapts to any project site by allowing customers to select the most cost-effective foundation system for their specific project site.
This improved version of IGM is constructed of roll formed C-channel beams rather than the roll formed and toggle-locked I-beams used for the earlier version of IGM. This clever design cuts down on material use while maintaining the same structural integrity for which Unirac is justly renowned. Manufacturing time is slashed by as much as 50 percent through the use of C-channel beams, drastically reducing project ramp-up time. The new beams can also be stacked interlocked, saving valuable space and allowing more beams to be transported on fewer trucks. On a typical 1 MW project, the shipping weight of the new IGM rails can be reduced by as much as 14 percent over the earlier design.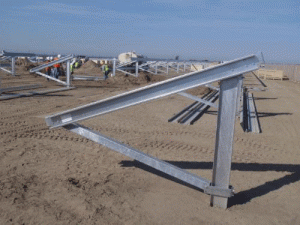 The Unirac ISYS Ground Mount 2.0 allows for the pre-assembly of module columns prior to installation, or parallel installation of foundations and racking simultaneously. Contractors can build the subassembly or grade land while assembling all modules to Unirac's rails in controlled environments. These options offer a shorter project turnaround time and reduce field labor, saving customers money and allowing for faster return on investment.