First Illinois school district to go solar hosts ribbon cutting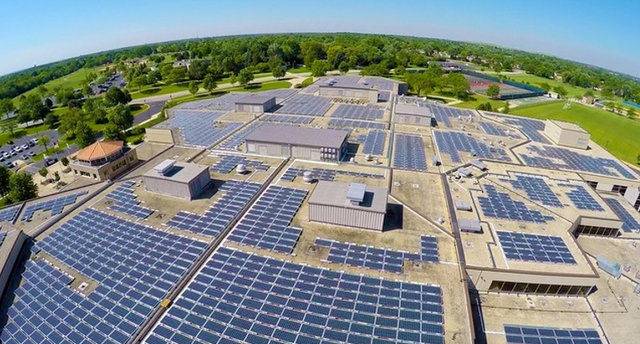 Lake Park High School District 108 hosted a ribbon cutting event on June 15 to celebrate completion of two solar photovoltaic (PV) systems, making it one of the first public school districts in Illinois to adopt solar power on a large scale. The declining installed cost of solar has made this cost effective for the District and will result in an estimated net savings of $5.1 million over 25 years. Both Lake Park West and Lake Park East high schools now have roof-mounted solar panels expected to generate 1.86 megawatts of clean energy. The solar array will provide 2,215,247 kilowatt hours of power to the grid. The project was completed and solar system energized in March of this year.
Implemented in two phases, energy conservation measures at the high schools included new energy efficient vertical classroom units, lighting upgrades and a cooling tower replacement. The Phase One project was completed in August of 2016.
To further reduce energy costs, the District pursued the use of solar power and is now distinguished as one of the largest public school solar installations with net metering in Illinois. Solar renewable energy credits (SRECs) will become an income source for the District as they sell excess solar credits to utility companies that need them to meet certain energy use requirements. Expected revenue from excess solar renewable energy credits is projected to exceed $5.1 million over 25 years.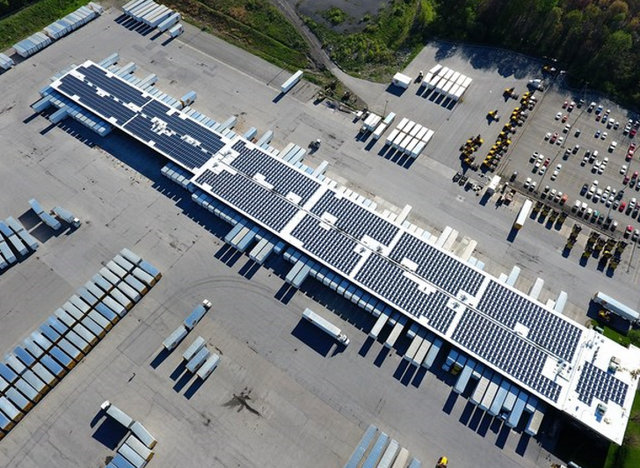 Western, Pa.'s Estes Express Lines completes 688-kW rooftop project
Estes Express Lines and Dynamic Energy, a turnkey solar project developer, are pleased to announce the completion of a 688 kW solar project on the roof of Estes' terminal in West Middlesex, PA. The system is expected to produce 777,400 kilowatt hours of power each year, which will offset 56% of the West Middlesex terminal's annual consumption.
This project was supported by a state grant from the Pennsylvania Energy Development Authority (PEDA). PEDA is an independent public financing authority with a mission to finance clean, advanced energy projects in Pennsylvania. Estes previously partnered with Dynamic Energy to complete 2 solar installations totaling 583 kW at their terminals in Elkton, MD, and Baltimore, MD.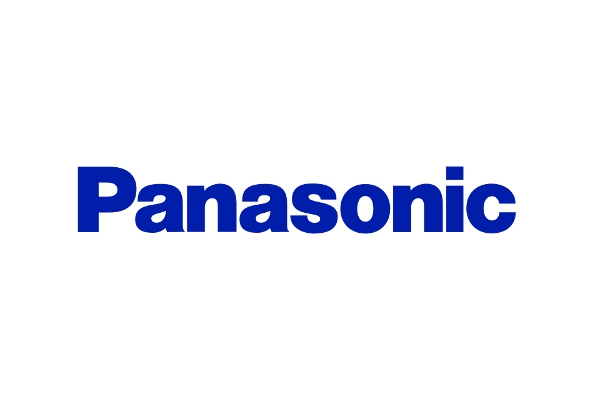 Denver 'smart city' development named ESNA Innovation Awards finalist
A Panasonic-led solar-plus-storage microgrid at Peña Station NEXT, a 382-acre smart city development in Denver, has been named an Energy Storage North America (ESNA) 2017 Innovation Awards finalist. This industry accolade follows on the heels of the microgrid earning an Environmental Leader 2017 Top Project of the Year award earlier this month.
Project partners include Panasonic Enterprise Solutions Company, Xcel Energy, Denver International Airport, LC Fulenwider, Inc., and Younicos. Partners share microgrid assets and benefits in a multi-stakeholder "portfolio" model that helps the utility modernize and manage its electricity grid with innovative technologies, aids grid integration of solar PV, strengthens resilience (including through backup power) for customers and critical loads, and supports the sustainability goals of diverse organizations.
The Holistic Home: We peer into the future of home energy generation, usage
Where many microgrids are utilized by a single entity (e.g., military, corporate, or college campuses), the portfolio microgrid at Peña includes a set of assets that are shared between stakeholders:
• 1.6 MWdc carport solar photovoltaic (PV) system
• 259 kWdc rooftop solar PV array atop Panasonic's facility
• Anchor electricity load at Panasonic's Technology and Business Solutions Center
• 1 MW / 2MWh lithium-ion battery energy storage system (BESS)
• Switching/control systems to operate the BESS and microgrid functionality
As an example of the portfolio model for sharing microgrid assets, Denver International Airport owns the parking lot and carport structure at Peña; Xcel Energy owns and operates the solar PV system atop the structure under a long-term lease; and Panasonic performs the operations and maintenance on the system.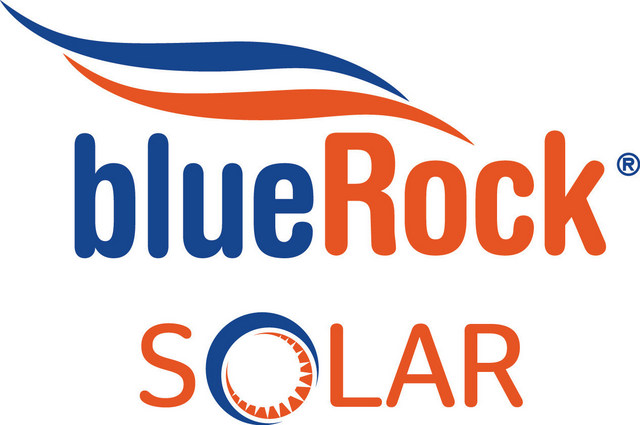 BlueRock Solar paves way for largest community solar project in New York
BlueRock Solar announced plans for a community solar project just outside Buffalo, N.Y. in Grand Island after the town board voted unanimously to approve the project. It will be completed in partnership with Active Solar Development. BlueRock Solar expects to break ground later this summer and complete the installation within 2-3 months.
The 18-acre solar array will be the largest New York State community solar installation project in the state and will power up to 400 homes and businesses. At least 60 percent of the power generation will be allocated for residential customers with a guaranteed savings as compared to the incumbent utility. The project will consist of approximately 12,000 solar panels installed off I-190 between Bedell Road and Industrial Drive.
This will be BlueRock Solar's second community solar project and one of only a few in the state. Earlier this year, the company successfully completed installation and interconnection of a community solar project in Millport, NY, in a partnership with Ithaca, NY-based Renovus Solar.
'Triple Zero Commitment' project aided by SunPower PV system
The University of California, Merced's precedent-setting Triple Zero Commitment aims for zero net energy use, the creation of zero net landfill waste and climate neutrality on campus by 2020, a goal that coincides with the university's expansion project to nearly double the campus's physical capacity by that same year.
The university is working with SunPower Corp. to install a 5-MW solar power system featuring a carport-and-rooftop installation, complemented by a 500-kilowatt energy storage solution from Stem. The system will be UC Merced's second featuring SunPower solar technology. A 1-megawatt ground-mounted tracker system has been in operation and exceeding performance expectations since 2009, and the two systems combined are expected to supply more than 50 percent of the campus's energy needs. UC Merced will own the renewable energy credits (RECs) associated with the new solar energy system, which is estimated to generate clean electricity equal to removing approximately 30,000 cars from the road every year for 25 years. The 5-megawatt photovoltaic system and 500-kilowatt battery storage system will be financed by a power purchase agreement (PPA).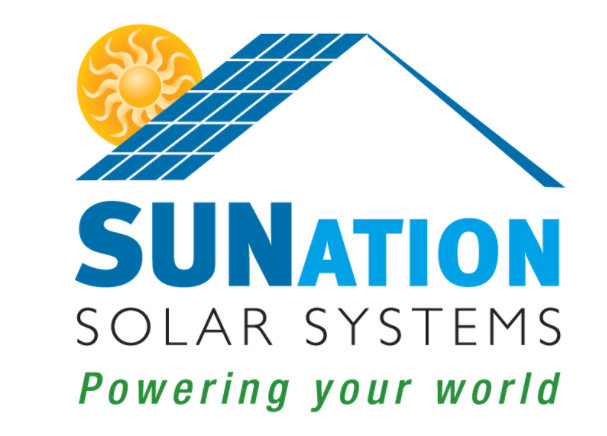 SUNation installs 2,500th PV system on 14th anniversary
Ronkonkoma-based solar design and installation company, SUNation Solar Systems, is celebrating its 14th anniversary as a company this month, which coincides with their 2,500th solar photovoltaic (PV) system installation on Long Island. SUNation's installation team completed the milestone installation today at the home of Holbrook resident, Chris Cirneanu. The 8,829 watt SunPower system is expected to produce 9,949 kilowatt hours (kWh) annually, offsetting over 100% of the homeowner's annual electricity expense.
SUNation Co-Founder and CEO Scott Maskin says, "We are proud to be celebrating 14 years of providing our friends and neighbors with a better way to create electricity. In that time, we've grown a work family of over 100 people and played a major role in building a local solar industry on Long Island."
Since its inception in 2003, SUNation has installed 27,535,971 watts and over 94,000 modules for Long Island customers. SUNation Solar Systems' customers have produced an accumulated lifetime total of 103,528,268 kWh and saved over $20.7 million dollars over the last 14 years.