SolarWorld, the largest U.S. solar manufacturer, has undertaken three on-campus projects to showcase and tap the high-performance solar technology that it manufactures at its U.S. headquarters in Hillsboro, Ore., beginning with raw polysilicon chunks and ending with finished solar panels.
This month, SolarWorld initiated a project to install nearly 1 megawatt of high-performance solar panels atop a 210,000-square-foot secondary manufacturing facility that the company built in 2009. Last fall, SolarWorld completed a 30-kilowatt solar-covered carport using its proprietary canopy support structure above the site's visitor parking lot as well as a solar demonstration park featuring four model rooftops exhibiting a variety of installation technologies.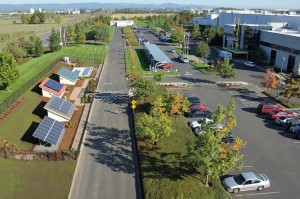 "Our Hillsboro plant has grown to encompass all phases of the solar product life cycle: manufacturing, installation and power generation," said Gordon Brinser, president of SolarWorld Industries America Inc., based in Hillsboro. "The feat is the ultimate demonstration of the proximity advantages of high-standard domestic operations."
When the company completes its 1-MW rooftop installation in early 2012, it is expected to generate 1,200 megawatt hours of renewable solar electricity a year, enough to power 200 typical American households.
SolarWorld sells panels manufactured in Hillsboro into an ever-growing customer bases in the United States, Canada and Latin America. The new projects give customers a venue to observe SolarWorld products at work using a variety of mounting technologies. The demonstration park will serve as a hands-on classroom to train customers in best practices for mounting and wiring SolarWorld panels. It features three 150-square-foot, pitched roofs, each topped with a different SolarWorld product. It also includes a flat roof demonstrating ballasted and non-ballasted installations and a free-field system featuring SolarWorld's Sunfix ground-mount racking product.
Near the demonstration park, the solar carport, featuring 130 SolarWorld solar panels, provides weather protection for 14 cars. Canopies are multi-benefit installations familiar in the California market, but less often seen in other regions; a 1.56-megawatt canopy project featuring SolarWorld solar panels over much of the expansive visitor parking lot of the Cincinnati Zoo & Botanical Garden, for instance, went into service last spring. The SolarWorld headquarters canopy also features an electric vehicle charging station.
"These projects demonstrate the versatility and installation of SolarWorld products," said Kevin Kilkelly, president of SolarWorld Americas, the company's commercial unit. "Prospective customers will see firsthand that whether you're a homeowner with a tiled roof or a commercial customer with an industrial rooftop, open-air parking lot or vacant land, our panels can be efficiently and effectively mounted using a variety of applications for every market."