At Solar Power Northeast last week in Boston, we grabbed 15 mins of SEIA CEO Abigail Ross Hopper's time to chat about where SEIA and the solar industry go now that the trade case drama has ended and the 30 percent tariff is in place. Below is a truncated version of our chat, but be sure to listen to the entire episode (and subscribe!) using the links below.
Was SEIA surprised by the trade case outcome?
"I was a litigator for a long time, and when you get ready to try a case, you get completely convinced of your own position and it can be hard to see outside of that. I felt like, at least for me personally, there was a brief moment in time that I was entirely convinced there would be no finding of injury, no tariff, and this would all go away. I became disabused of that idea pretty quickly [laughs], and so in the realm of the possible, we have a president who likes tariffs, who ran on an aggressive trade policy. So, we knew there would be something coming. And our job was to articulate why it was a terrible idea, but also to mitigate the impact and to put some boundaries around it. There were pieces of it that did provide some hope. The 5 percent step down was significant. The exclusion for cells at 2.5 GW.
"One of the most interesting parts of the whole process was the galvanizing effect it had on our industry. In the face of a really significant threat, it brought together people in the solar industry and lots and lots of people outside the solar industry."
Here, I drone on about how the broad coalition SEIA brought together to fight against tariffs reminded me of the plan hatched by Adrian Veidt in The Watchmen (creating a larger threat that brought together parties that previously were at odds). The point being:
Will these new relationships, which came about only through this fight against tariffs, lead to a longer term win for the solar industry?
"I don't know if I would go quite so far as to say it was beneficial, but I do think there are unintended consequences that will benefit us. One of them is, our industry did galvanize and speak with one very loud voice. There was no question who the solar industry was and what our position was. I knew we had done a good job when I was sitting in the White House and someone echoed back to me how many jobs would be lost. And it was my number that my research department had put out. So when the administration officials told me it would be 88,000 jobs, I thought OK, we are doing something right.
"And I think as an industry, for us to play on that big stage and to have the Sean Hannitys of the world involved, and to be on Fox and Friends, and to have the Heritage Foundation involved … it gave us a sense of what was possible. I feel strongly, we are 1 to 1.5 percent of energy generation now, and we're going to be 30-40 percent, and we're going to have to play on that big stage, and this was an opportunity to do that."
Do you now think the broader solar message is going to resonate more? You galvanized for a different reason, but maybe those outside of solar picked up some nuggets of information or understood the value a little bit more than they did prior?
"I think so. There were some myths that were circulating around the trade case. One of them was that solar was too expensive and was being grown by policy like RPS or mandatory procurement by utilities, but research tells us that's just not true. Two-thirds of solar last year was bought because it was the lowest price. We compete head to head with natural gas and with wind, and we win based on price. That was not something that had penetrated government officials or the general public. So that is a message that will continue to resonate. People were constantly surprised that most homeowners aren't choosing solar because they want to go green, but are choosing solar because they want to save money.
Seeing how well this large-scale, well-funded push worked at spreading the message of the solar industry, is there any chance of launching as big of a push, but for different issues? What are the broader next steps?
"I'll say two things. One is that I think it would be natural for the industry and association to step back, and take a deep breath, but that is the opposite of what we're going to do. Now is the time to step up. That's the general theme.
"More specifically, we've looked at where the tariff is going to be the most impactful across the states, and we're putting together a package of ways that these states could mitigate the #Trumptariff. So, if you're in North Carolina, here are four things the governor or legislature or commission could do to help solar continue to grow in North Carolina. What policies need to be in place to continue to grow solar?
Outside of the trade case, what are some other issues – like the Eversource demand charge in Massachusetts – that SEIA is focused on?
"Obviously we are cognizant of the [Eversource] demand charge and think it's a terrible precedent to set, and we are working with people in Massachusetts to change that. But we are focused on a couple things. One is consumer protection. If you look at areas in which we are vulnerable, we're vulnerable to claims that we're bad actors. So we have an aggressive consumer protection effort in place and are working with attorney generals across the country on that.
"Diversity is another place in which I personally have a lot of interest. I keynoted an event this morning, with a couple hundred people there, and to say a handful would be generous, of people of color, and a couple women in the room. This industry is just a very homogenous industry and we need to change that. And we need to make sure that solar is accessible to all members of the community — the actual product as well as the workforce.
"I think solar + storage, what policies need to be put in place, to allow that to continue to proliferate. And another, I know this is super wonky, but wholesale markets. Secretary Perry had this proposal to subsidize coal and nuclear energy, and its veil of resiliency and reliability. That was rejected, but the issue is going to get kicked to the regional transmission operators and we need to be in those conversations. Not only so others don't get incented because then we're not going to win on price, but also so that we create pricing mechanisms and structures in the market place so solar can get compensated for what we bring to the grid.
"The energy world is so dramatically different than it was 10 years ago. There is consensus that things are changing, so part of our job is to make sure they change in a rational, structured way rather than go off a cliff [laughs.]. So things like market design, while it's not particularly exciting, if you explain that we just want to make sure solar gets paid for what it brings to the grid, people get that."
Listen to more in-depth conversations on Solar Builder's YouTube channel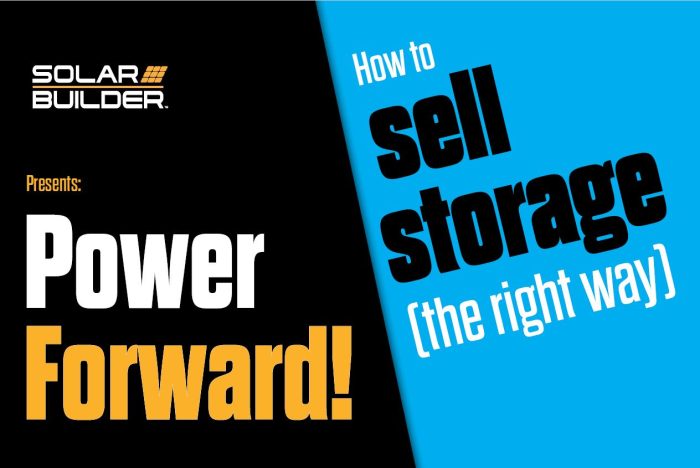 Our most popular series include:

Power Forward! | A collaboration with BayWa r.e. to discuss higher level industry topics.
The Buzz | Where we give our 2 cents per kWh on the residential solar market.
The Pitch | Discussions with solar manufacturers about their new technology and ideas.
Tags:
podcast
,
SEIA
,
Solar Builder Buzz
,
trade case