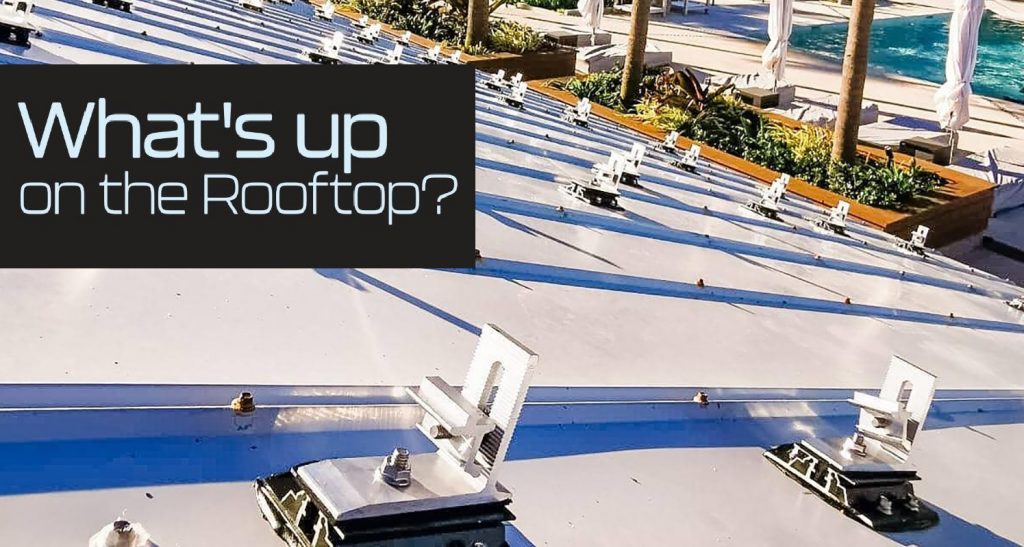 The most finely tuned components of rooftop solar PV systems are the structural systems and attachments. Industry-standard products have found ways to improve. Niche brands have broadened their lineup to become more versatile. Whatever your installation preference, the market is meeting your needs and generally making life easier. This Buyer's Guide is a snapshot of the rooftop mounting and racking products offered by the leading brands in the residential and commercial and industrial (C&I) space. Click on each product listed to expand for more information.
Roof Tech
Headquartered in Southern California, Roof Tech US has national sales teams in place to provide superior service to installers and solar panel distributors throughout North America. Roof Tech has been a pioneer of waterproof flexible flashing since 1994. Its legacy is linked directly to Yanegiken Technology and Research Institute, its parent company in Japan, founded in 1968 to conduct research and develop new roofing technologies. Roof Tech's self-flashing solar mounts such as the RT-APEX and the RT-MINI are known for their efficiency and fast installations.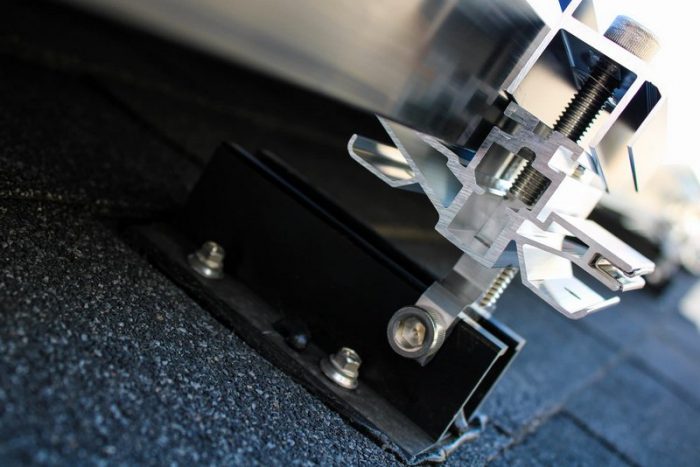 Number of pieces: Three to eleven based on configuration.
Tools needed: Six
Certifications: UL 2703,441, ICC ESR 3575, TAS 100, ASTM 2140,1970, HVHZ Certified
Installation: The RT-APEX fastens to rafters or direct to the roof deck (7/16 OSB minimum) or a combination of both. Chalk lines are needed to plot the location of the bases. When fastened to a rafter, it uses five mm diameter mounting screws, eliminating the need for a pilot hole and caulking. The RT-APEX features slide-in mounting and one-step leveling to adjust and level the panels. The universal clamping feature helps to fit module thicknesses ranging from 30 to 46mm. This advanced rail-less racking system adjusts to fit over forty different PV module manufacturers' solar panels. Roof Tech's solar mounts are self-sealing with engineered integrated AlphaSeal, creating a waterproof mounting system.
Advantages: The rail-less RT-APEX is faster to install without the use of rails. It also provides less weight on your residential roof to uphold the structure's integrity. Without the use of rails, there is more room for flexibility, and design helps improve the ascetics of the roof. Rail-less, deck-attached installs take half the time of traditional rafter-mounted rails with metal flashing than with the RT-APEX with flexible flashing. Design your build with the RT-APEX span calculator for free by registering here.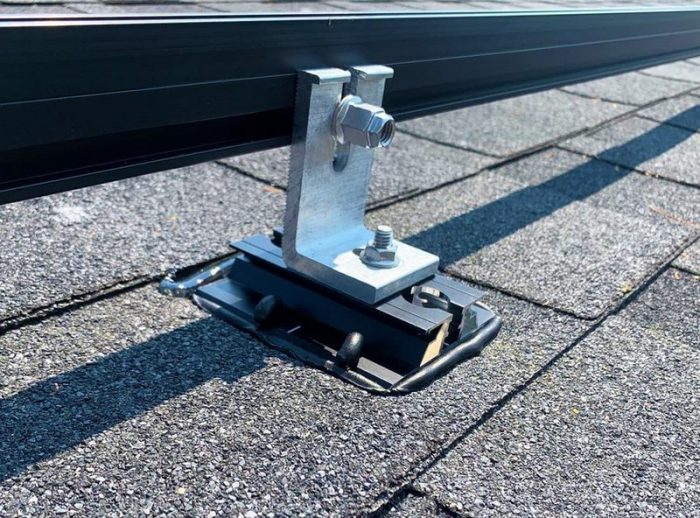 Number of pieces: Two
Tools needed: Five
Certifications: UL 2703,441, ICC ESR 3575, TAS 100, ASTM 2140,1970, HVHZ Certified
Installation: The RT-MINI II has more options for installing rafters and handling thicker insulation on low-slope roofs. It comes with an option of two 90 mm screws to offset rafter mounting, allowing for more attachment options on any style of roof and pitch. Design your build with the newly featured RT-MINI II span calculator.
Advantages: The RT-MINI II is a universal attachment for railed systems designed to be agnostic to any roof type and roof pitch engineered to withstand wind speeds up to 180 mph and ground snow up to 90 psf. The main difference between RT-MINI II and conventional flashing is the faster installation time because RT-MINI II is fastened with wood screws, eliminating the need for pilot holes and caulking. As a result, there is no damage to the seal on asphalt shingles, so the roof warranty remains intact.
Distributor's list | Website | Email | Webinar
---
DynoRaxx
DynoRaxx has been selling professional solar racking equipment since 2009. It is the only solar racking manufacturer that uses fiberglass as the racking material for its flat-roof ballasted solution, and the main advantage is it's a tool-less system that reduces labor installation times.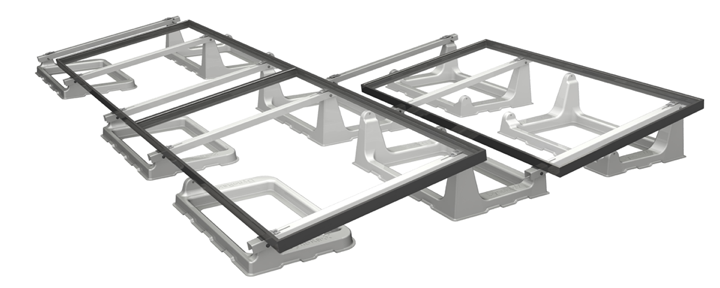 Number of pieces: 3
Tools needed: none, 100% tool-less
Certifications: UL 467, UL 2703
Installation: The DynoRaxx Evolution FR is easy to transport, stage, and install. Installation does not require any tools to assemble resulting into major labor savings.

Advantages: Since the racking only consists of three major parts and are compatible with every framed commercial solar module on the market without any special ordering or lead times. You receive the right product for the job every time.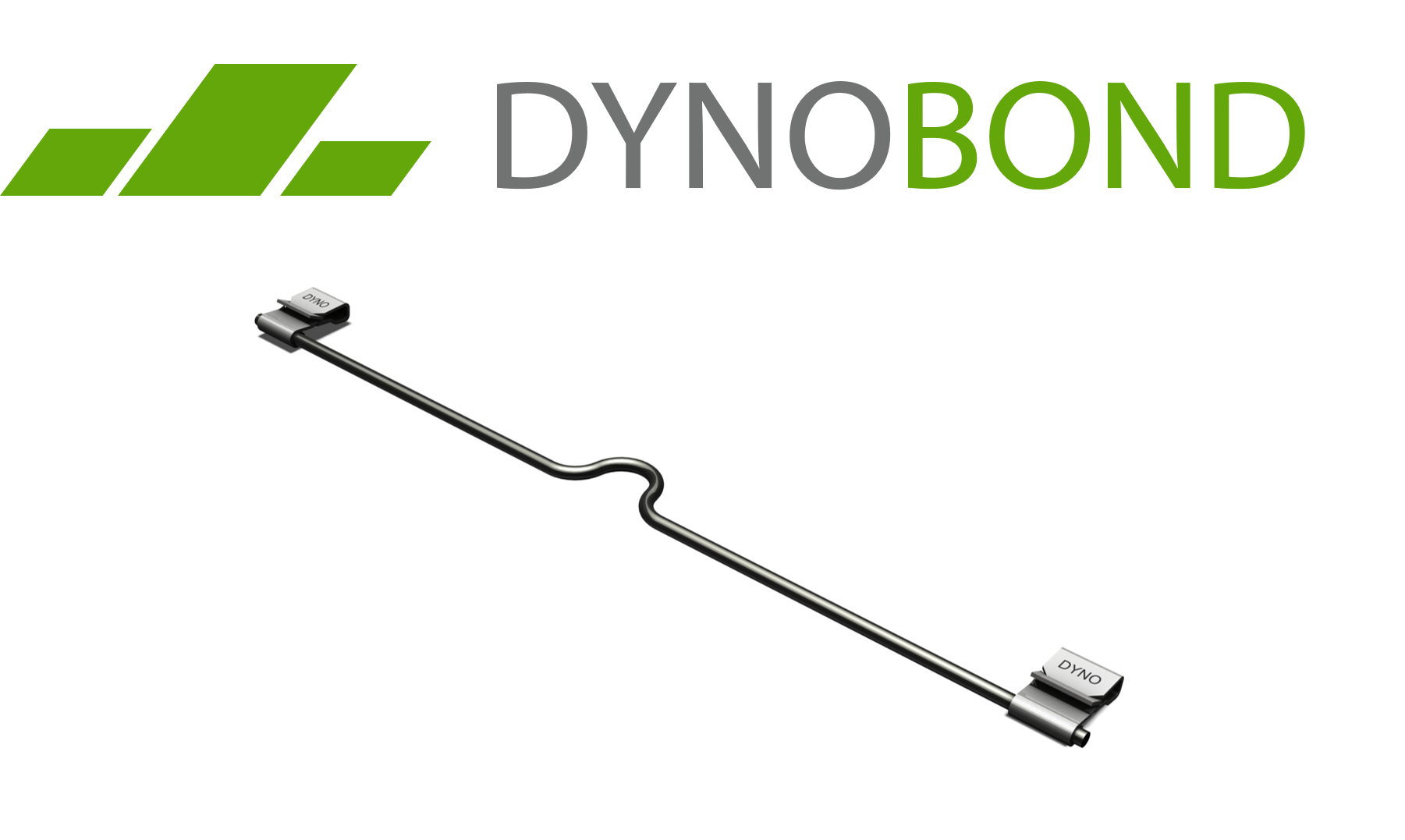 Number of pieces: 1, various lengths available (8", 12", 38", 50", 76", 96")
Tools needed: None
Certifications: UL 467 & UL 2703
Installation: The DynoBond is used to ground solar modules within the array. It's a tin platted copper wiring with factory crimped stainless steel connectors that ground the modules.
Advantages: The DynoBond can be used to ground solar modules in applications for residential, commercial, industrial, and utility scaled projects. The product is used by DynoRaxx for the ballasted solution and also many racking competitors are using it for their grounding needs as well.
---
QuickBOLT
QuickBOLT is a family-owned and operated business that works hard to solve your problems. They believe solar mounting can be easier and more affordable for everyone. QuickBOLT supplies one of the widest ranges of innovative solar mounts for residential and commercial roofs in the US market. They are most known for their patented Microflashing and BoltSeal powered mounting solutions, and have been working with installers for nearly a decade to make solar installation easier than ever before.
Distributors list: Wesco, CED Greentech, CES, Codale Electric Supply, Cooper Electric, Beacon Solar Products, Griprac, Independent Electric Supply, Onesource, Ontility, Tamarack Solar Products, The Solar Raq, Boral Roofing, Chiko Solar, Platt Electric Supply, Krannich Solar, Soligent and more… 
---
IronRidge
IronRidge, an Esdec company, designs and manufactures structural hardware for residential and commercial solar systems. For nearly a quarter of a century, IronRidge has worked closely with solar professionals to build strong, streamlined, and cost-effective products. IronRidge is NSF Certified to ISO 9001, maintaining the highest of quality management standards.
Website | Email | Distributors
---
SunModo
SunModo, meaning "the way of the sun," is a private U.S. company headquartered in Vancouver, Wash., that is focused on innovative racking and mounting solutions for professional installers in the fast-growing solar industry. SunModo's solar racking solutions are at work in 15 countries, and from Hawaii to Connecticut, and their commitment to innovation can be seen across their product line, which includes 20-plus patents, from residential rooftops to large-scale ground-mounts.
---
Magerack
Magerack designs, manufactures and sells innovative solar mounting systems for roof-top solar installation. Magerack Solar Mounting System and MageMount Rail-less Mounting System are turn-key solar mounting solutions that are reliable, easy to install and cost-effective. In addition, Magerack also provides a variety of innovative roof attachments for solar installation on residential and commercial and industrial metal roofs.
---
OMG Roofing Products
For 40 years, OMG Roofing Products has been a leading supplier of fasteners and other products used exclusively in commercial roofing applications, and to secure commercial roofs to the deck. OMG works with all the major roof system manufacturers, and its field sales representatives are on commercial roofs every day.
---
EcoFasten
EcoFasten, an Esdec company, offers installer-friendly, cost-effective solar PV roof mounts and racking systems for the U.S. solar industry. The company has been in business since 2007 and its broad portfolio of patented watertight solutions are available in configurations for every roof type.
Website | Email | Distributors
---
Point Load Power
Point Load Power is a cleantech company leading the advancement of rooftop solar tracking for commercial and industrial (C&I) buildings while making it highly profitable for every partner and stakeholder involved.
Number of pieces: 12
Tools needed: Socket Wrench, Wire Crimper
Certifications: CSA for UL 3703
How does it install: PV Booster is mechanically attached to flat C&I rooftops. The three major subsystems install fast by torquing our tripod (support system) down to the mechanical attachment (included), bolting on the drive mechanism (actuator), and installing the h-frame (panel support). Panels are then mounted on the h-frame. The system is wired up in strings of 30 or less to our tracker distribution boxes (control hardware) mounted on the rooftops. The 30 degree tilted vertical axis tracker significantly improves energy production and requires about 1' between panels to allow for a full range of tracking motion to achieve that goal. A small, wall-mounted control computer is installed in the mechanical/electrical room near the inverters to ensure functionality if the site loses internet connectivity.
Advantages: PV Booster brings tracking to flat C&I rooftops to dramatically increase system efficiency with a smaller footprint which significantly reduces the LCOE of your projects. PV Booster allows building owners to use less equipment to produce more energy from every panel. Our systems produce 30-40% more energy out of every monofacial panel. PV Booster is the best mounting solution for bifacial modules as well, producing as much as 70% more energy out of bifacial panel. Produce more with less using PV Booster, rooftop tracker.
---
Sollega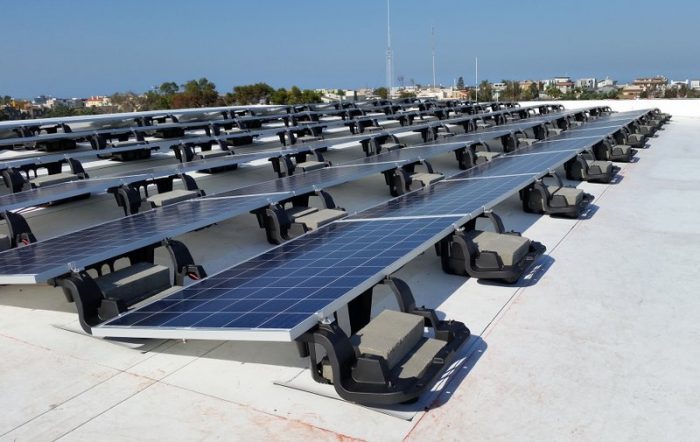 Components included: FR510-6 Ballasted Racking system with wire management clips and bonding clips (FR-SBJ).
Tools needed: ½" socket wrench
Certifications: UL2703, UL3741 Certified with SMA, CPS, Solectria, Solis (Ginlong) and GoodWe Commercial Inverters
Installation: Sollega, leading hybrid ballasted flat roof/ground mount racking provider has joined forces to certify the Sollega FastRack 510-6 with SMA Sunny Tripower CORE1 inverters, CPS, Solectria, Solis, Ginlong and GoodWe inverters as the first system to market that complies with Underwriters Laboratory (UL) 3741 Photovoltaic Hazard Control Systems (PVHCS) and National Electric Code (NEC) 690.12 rapid shutdown of PV Systems on buildings without module-level power electronics (MLPE) or switches. Inverter must be installed within 1' of the PV array boundary and all stringing for that inverter must be within the PV array boundary. Our wire clips provide the required "airgap" and meet UL3741.
Advantages: Eliminate the upfront cost to procure and install MLPE's and reduce the DC connections to 1/3 the count when installing MLPE's. Long term O&M savings. Safer installation with reduced component failure.
---
S-5!
Since 1992, S-5! has been an authority on metal roof attachment solutions. S-5!'s zero-penetration clamps attach ancillaries to standing seam metal roofs (SSMR), while maintaining roof warranties. All S-5! products are warranted for the life of the roof (and solar). Manufactured in their ISO 9001-15 certified U.S. factory, S-5!'s products have been used on more than 2.5 million roofs worldwide, including 3.5 GW of PV.
---
SnapNrack
Since 2007, SnapNrack's solar mounting products have been designed to reduce installation costs, improve installation quality and safety. SnapNrack roof and ground mount systems feature a single tool installation, pre-assembled snap-in hardware, integrated wire management, integrated grounding/bonding and Class A Fire Rating in accordance with UL2703/UL1703 standards.
Listen to more in-depth conversations on Solar Builder's YouTube channel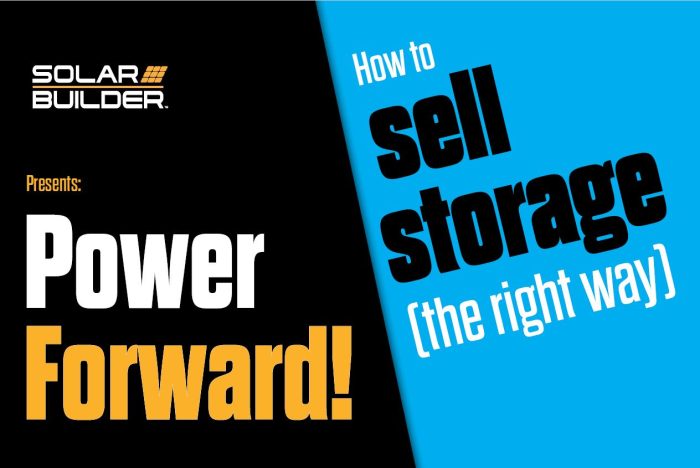 Our most popular series include:

Power Forward! | A collaboration with BayWa r.e. to discuss higher level industry topics.
The Buzz | Where we give our 2 cents per kWh on the residential solar market.
The Pitch | Discussions with solar manufacturers about their new technology and ideas.
Tags:
DynoRaxx
,
EcoFasten
,
IronRidge
,
Magerack
,
OMG Roofing
,
Point Load Power
,
QuickBolt
,
Roof Tech
,
S-5!
,
SnapNrack
,
Solar Builder Buyer's Guide
,
Sollega
,
SunModo