While prices dropped 18.3 percent in 2016, IBISWorld expects the price of Solar Panel Installation to decrease at slower rate of 4.4 percent in 2017.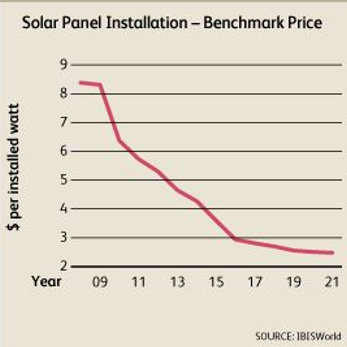 "Despite surging demand, advancements in solar technology and installation and falling PV panel prices will continue to fuel price declines for installation services," says IBISWorld business research analyst, Sean Windle.
IBISWorld expects the first scheduled reduction in the business energy investment tax credit (ITC) at the end of 2019 to cause a flurry of solar panel installations during the next three years as buyers take advantage of the current 30.0% credit. Despite an uptick in demand, the overall falling price of PV panels will allow suppliers to offer lower rates for installation services. Nonetheless, tighter restrictions on Chinese solar panel imports will slow the pace of decline in solar panel prices and, consequently, installation prices.
"While prices are forecast to fall further during the next three years, price volatility will remain high. As a result, buyers will have more difficulty accurately budgeting their future spending on installation services. IBISWorld does recommend that, if possible, buyers take advantage of the current 30.0% tax credit before it is reduced at the end of 2019," says Windle.
RELATED: Why high-efficiency modules are the best value for installers, homeowners