Looking ahead in an ever-evolving new industry like solar can be difficult, as "the next big thing" will come along and then be supplanted by something else the following year. But consider this a good bet: High-efficiency (HE) modules are going to be the expectation, not the exception. The value added to the installer's business (offering a better performing product), the homeowner (maximizing the output of their investment over the long-term) and lending partners (backing more bankable systems) just makes too much sense for all involved.
Both Panasonic and LG estimate 15 percent of the market is HE right now. And as loans become more available, both companies believe the market will shift much more, hitting 20 to 25 percent by 2020.
"Right now the market for residential solar is still growing, but the growth rate has decreased compared to previous years," says Joseph Park, senior marketing manager at LG Electronics. "You see multiple states allow utilities to adjust net metering rates, or even eliminate it altogether, which may be lowering the market demand in their respective states. On the other hand, you see a lot of states with either untapped or emerging markets that have huge potential. That's where you see the optimism in residential solar and how the market is moving."
RELATED: Residential Rooftop Report: Q1 2017 Solar Storylines 
What is high efficiency?
Efficiency for solar is defined as the amount of power over a given area and then how that correlates into energy output. Basically, of 1,000 watts per sq meter (standard radiation), how much of that is converted into electricity? Panasonic sports a cell efficiency of 22.09 (module efficiency of 19.7 percent), which means of the 1,000 watts per sq meter, that module is generating 220.9 watts of electricity. LG sets its HE standard at a 60-cell module with greater than 300 W of output
Remember that the efficiency number listed for the cells and the modules is different than the rated output. A high output number could correlate more to the panel's overall size and cell count, so be sure you understand the actual efficiency rating.
But what's the price?
Obviously HE modules mean a higher initial cost, but a PV system should never just be considered for its up-front cheapness. Plus, HE modules are more affordable now than ever. A few years ago, a 300-W module was around $2 per watt and now it is under $1 per watt, according to Park.
"You can see this huge price drop in a small amount of time," Park says. "In addition, modules are trending toward higher wattages and efficiencies as a whole. As a result, customers who once saw solar as too expensive can now afford to put a system on their homes."
Mukesh Sethi, group manager and head of the solar products group at Panasonic Eco Solutions, breaks down the math like this: Even if the module is 25 percent more expensive, the total system will likely be around 10 to 15 percent higher.
"You get all the additional savings of the generation during the year, and then in 25 years, it's going to way surpass that 10 to 15 percent," Sethi says. Panasonic's test estimates show around a 100,000-kWh gap between its HE modules and generic Chinese modules over that 25-year span.
"High efficiency solar cell technology allows panels to degrade slower than standard panels will per year," says John Bereckis, VP at Boviet Solar. "This means that by the 25th year, high-efficiency panels will still produce a higher output percentage of power while standard panels will produce a lower percentage of power."
Or consider this scenario: A customer sees that HE is more expensive and says they'd rather pay 20 to 30 percent less to get a 10-kW system. But, to achieve that 10-kW size, they need 35 to 40 low-efficiency modules, whereas they'd only need 30 Panasonic HIT modules. Will the roof even accommodate those 40 modules? Will some need to be placed east or north facing, just to hit 10 kW?
"There are a lot of factors that may limit the rooftop area you can design your system on, whether its chimneys and other obstructions on the roof, nearby trees that may cause shading or even local codes that may require your solar system to be a certain amount of length away from the edge of the roof," Park says. "Having more efficient panels will alleviate design constraints most installers may have."
Plus, needing fewer modules means fewer strings to install and maintain, less wiring and other BOS costs, time and labor savings.
Inside high efficiency
What's so special about high-efficiency modules anyway? What tech upgrades make this possible? The main thing to know is there is no magic elixir — true high efficiency comes from adding up a variety of small improvements.
The structure itself can play a role by capturing more sunlight at different angles — like during early morning or late evening. "We have a pyramid structure — not a straight or rough surface — which helps to absorb more sunlight and minimizes the reflection," Sethi says of Panasonic's HIT modules.
Bifacial cells are becoming more prevalent. This helps to absorb any long wave light that passes through the cells. A backsheet can reflect those rays back into the solar cell.
Similarly, PERC technology (Passivated Emitter Rear Contact) solar cells are designed with an additional layer at the bottom called the dielectric passivation layer. Boviet is big into PERC, and Bereckis explains the efficiency gains like this:
1)  The extra dielectric passivation layer reduces electron recombination,
2)  It increases the solar cell's ability to capture light, and
3)  It reflects wavelengths above 1,180 nm out of the solar cell, that would normally create heat.
"Heat reduces the solar cell's conversion efficiency," Bereckis says. "The dielectric passivation layer helps the solar cell to work more efficiently by maintaining cooler temperatures."
Panasonic is big into heterojunction technology, which uses monocrystalline silicone but also layers of amorphous silicone. "That layer minimizes the loss of electrons which occurs in conventional polycrystalline and even in mono," Sethi says. "That amorphous silicon layer neutralizes the charge and also helps to minimize losses due to impurities. It also improves the temperature coefficient."
While it's simple to say, the amorphous silicon treatments in manufacturing are not easy. It is a long process, and it's the secret sauce for Panasonic's HIT modules.
Some HE modules are simply constructed in a different way. LG's NeON 2 incorporates CELLO technology, which boasts 12 thin cylindrical wire busbars that help minimize electrical loss and offer greater reliability. "Having 12 thinner busbars across the solar cell area minimizes the area of the solar cell that is covered by conventional thick rectangular busbars," Park says. "You get more solar cell coming in contact with the sunlight for maximum generation."
More busbars also distributes the energy across more metal contacts, resulting in less thermal stress per metal contact and reduced electrical loss.
"You have a certain amount of energy, and you need to get this energy you generated onto the busbars to transport it to the junction box and into the home. Having 12 busbars helps ease the flow of energy, reducing the electrical resistance and ultimately minimizing electrical loss."
Whichever direction you gravitate, the bottom line is system quality and efficiency will be driving your business and the industry forward as the transition from leases to loans continues. The economics and the value are just too hard to ignore.
This is a feature from our Jan/Feb Innovations Issue. Make sure you are a subscriber, receiving the print or digital version. It's free.
Listen to more in-depth conversations on Solar Builder's YouTube channel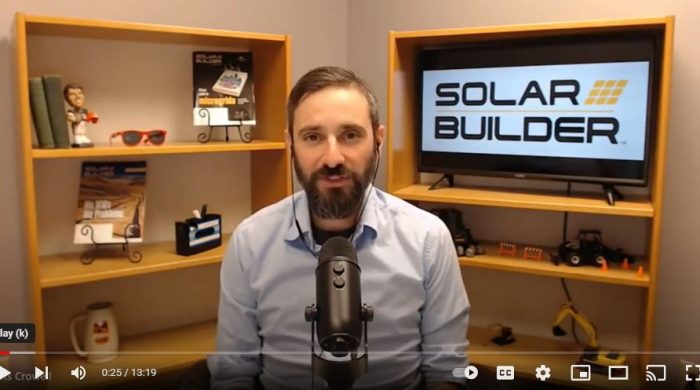 Our most popular series include:

Power Forward! | A collaboration with BayWa r.e. to discuss higher level industry topics.

The Pitch | Discussions with solar manufacturers about their new technology and ideas.
Tags:
high-efficiency
,
Jannuary February 2017 Print Issue