The 2018 Gold Project of the Year is a monument to solar energy as a true local product. The developers are located in state. Over 80 percent of the construction and installation labor was in state. Even the foundations, racking and modules were manufactured in state. But I suppose that's not too surprising for a mature solar-focused state like *checks notes* Ohio.
Wait, what the …
The Remake by the Lake
Cuyahoga County Landfill | Brooklyn, Ohio | 4 MW
Yes, you read that correctly: Solar Builder's 2018 Gold Project of the Year is located in Brooklyn, Ohio, a state not known for prioritizing solar development. The cost of energy is still low in Ohio, and the powers that be aren't too motivated to pursue a different energy mix either. The SREC market in the state, for example, is currently trading at $5.
The mindset is starting to change, at least in Northeast Ohio. Just last month the City of Cleveland declared a commitment to powering itself with 100 percent renewable energy by 2050. Cuyahoga County took its first step toward this new energy future in 2015 by creating a department of sustainability. Finally having this department meant an ambitious developer now had a place to bring solar project proposals.
Cut to Youngstown, Ohio-based developer Enerlogics Solar, which was turning its attention away from offshore wind and toward solar, specifically turning brownfield sites into renewable energy. Enerlogics started discussions with various entities including the Cuyahoga Land Bank to develop urban solar projects, which led them to where our story starts: Attorneys Michael Wise and Chad Arfons at McDonald Hopkins, working with Enerlogics, meeting with director of sustainability Mike Foley.
[button link="https://staging1.solarbuildermag.com/subscribe/" bg_color="#ebeb2c" text="dark"]Subscribe to Solar Builder! It is free and full of in-depth articles like this. [/button]
"They said 'we have a client interested in landfill solar projects, and there's a couple sites we're looking at.' We were also working on the LEEDCo offshore wind project at the time, and one day we thought 'what if we bundled these together?'" Foley says.
With this being one of the new department's first major projects, Foley "didn't want to get criticized for buying overly expensive power" when he first took this proposal to council review. The project outcome was easy to pitch: It is expected to save the county $3 million over 25 years, offsetting about 7 or 8 percent of the load for 14 county buildings. But getting there would involve an almost unprecedented level of regulatory and financial complexity.
Let's start with the end structure: The City of Brooklyn owns the landfill and is leasing it to IGS Solar, a 20-year deal. Cleveland Public Power (CPP) is buying the power produced by the solar array on the site and is then reselling it to the county. The county is then providing that power to those 14 buildings. A three-party agreement is complex and nontraditional on its own, but getting there was rife with unique problems.
Problem 1: Service territories
First order of business for the county was changing energy providers from the large investor-owned utility to CPP in order to structure a long-term PPA. Unfortunately, the selected site was not actually in CPP territory. To make it work, the utility agreed to build a power line extension from a nearby substation and bring the landfill into its territory.
Problem 2: PPA regulations
The story of this PPA alone is enough for a novel, but here's our best summary: The utility and city agreed that a third-party owned PPA was the best route to go. As Foley says it: "Having that third-party investor-owner helps reduce the costs of the total project for us." However, Ohio restricts counties to signing 10-year power agreements, making the standard 20- or 25-year PPA impossible. This gets back to the state not prioritizing renewable energy development. After some lengthy negotiating, the PPA was structured as a 10-year deal with an option for another 10 years and a chance to purchase it outright after year six. Getting this all approved was way more difficult than it sounds.
Problem 3: Surprise tax code change
IGS Solar was brought into the deal in summer of 2017 to own the asset and finish the development. A subsidiary of IGS Energy, one of the largest retail energy providers in the country, IGS Solar is familiar with entering at any phase of development but does like to enter into the fray when there are some negotiable points of the contract still in place but not finalized. The most enticing part of the deal to IGS was the county budgeted funds to put forward as a prepayment for the electricity at the time of commissioning.
"We were excited because it was Ohio, first and foremost," says Patrick Smith, VP of IGS Solar, which is located in Dublin, Ohio. "Our parent company serves a lot of customers here but hadn't had any real meaningful solar development in the state, so this was an opportunity to make a big impact statewide, and the complexity was interesting for us."
Cut to November 2017 when Trump finalized the tax code revisions. One of the revisions was a small thing regarding — you guessed it — the tax structure for energy sold through a prepayment. Effective Jan. 1, 2018, this key part of the deal would be gone, and Smith indicated to us that removing the prepayment would have put this project in jeopardy.
"The project was high risk if it went into the next calendar year," Smith says. "We spent a lot of time as a team between all of the parties — we had about six weeks to finalize it from when the ruling came out to make the deadline."
The stakeholders hustled over the next six weeks, with several public officials working voluntarily during their winter vacation to get this deal finalized and signed on Dec. 30, 2018, just beating the deadline.
"This project was made possible because of a public-private partnership with so many parties, during a really tough time to be working," Smith says. "With good communication and getting everyone to the table, these deals can be put together so everyone wins."
By the time we get to the construction of the actual project itself, everything seems tame, especially for Conti Solar, which has more than 130 MW of landfill solar experience (about 20 percent of its installed capacity).
"From a size and technical perspective, this project fell right in our sweet spot," says Chris Ichter, business development manager for Conti Solar. "We always try to use local labor and equipment where possible, and there was a really big push from the county to do just that. The only regional issue we encountered was the weather in the beginning and by working diligently we were able to make the most out of the dry days. We had to be careful to not disturb the landfill cap and only use equipment with tracks unless otherwise approved by the EPA."
At that point Ichter pauses and notes, "The construction of the project went extremely smooth. This wasn't about challenges Conti faced, this was about the challenges of penciling a project in Ohio."
Muni model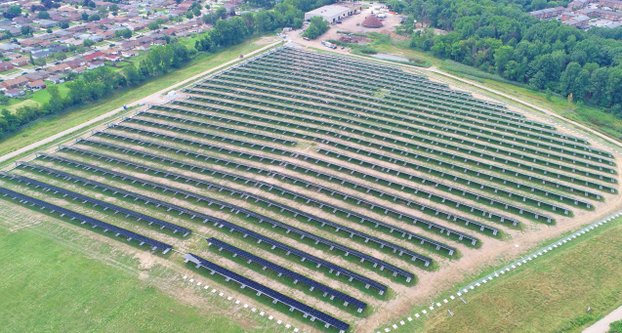 Editor's Note: Solar Builder is based in Ohio, so I'd be lying if I said I wasn't pulling for this one to get the most votes from our readers. I also hoped that when it did win, the story here would be about the oncoming wave of solar developments in the state. Like Cleveland Browns offseason excitement, my dreams were squashed immediately. The tale you've just read of the Brooklyn landfill feels anomalous — a project of perseverance and good timing and not a harbinger of similar deals to come.
Or, is it? Let's look at the details again.
Remember that a key in the initial development was finding a suitable site that could serve the county's buildings. When that perfect site was found, it wasn't connected to any customer load and was not within the service territory of the utility that needed to deliver it. This could have killed the deal, but it didn't. Instead the county switched to CPP, which was willing to get its hands dirty (or clean, in this case) and find a solution to build a connection and bring the array into its service territory.
"We think there is a good future for these kind of projects when there's a partnership with the end-users, the municipality and solar developer," Smith says. "Cases where the utility participates in a project is critical. We give a lot of credit to CPP for getting involved. For any other munis that want to get involved, this is a great model."
Smith noted that municipal utilities are the key because large investor-owned utilities "don't have the structure in place in Ohio to allow for virtual PPAs to be set up."
"Munis are increasingly educated and motivated to make use of land that's otherwise been unused, and we see them increasingly educated and motivated to do more renewables within their footprint," he says. "Municipalities that also have control of the grid and are not served by investor-owned utilities are the ones that are near term best suited for these types of projects because they can help craft the rules or structure in which the power is delivered."
The prepayment was another crucial part of the deal that is now no longer viable, but Foley is unconcerned about that hurting future deals: "I don't think you need the prepayment. When we started this off, we were thinking pre-purchase was important because we needed to find a developer who would really want to do this because there are way more projects in the world to make money on and electricity is so cheap here in Ohio. We did pre-purchase to guarantee that it would get funded. But I think that the financing models and investment core out there is more mature now. Others should be fine."
Another key early in the development process was Enerlogics securing site control with the City of Brooklyn and running a competitive RFP process for the EPC activity.
"Utilizing a competitive process for the EPC early in the development helped reduce project risk and ensured price certainty around the PPA structure,' says Scott Ameduri, president of Enerlogics. "Additionally, early selection of our EPC partner Conti allowed the development team to work proactively to manage risk and optimize the system design to meet the needs of all stakeholders. As an example, early EPC selection provided certainty on system sizing and cost and allowed the county to consider the inclusion of Ohio content under a higher PPA rate."
This deal is customized to the parties involved, but Enerlogics remains "bullish on solar, particularly in Ohio and Pennsylvania.
"We continue to find ways to drive greater economic value for our clients, to include solar and solar+storage, as well as other behind the meter operational activities such as demand response and energy efficiency," Ameduri says.
IGS is looking at other projects in that market where they can leverage an existing structure to make more projects work for other off-takers using the same approach. Smith sees other landfill projects working economically in Ohio, "they just need longer terms — 20- and 25-year."
That state regulation is still a barrier, but Foley and his department have been busy since their inception taking notes of barriers like the short-term PPA regulation and drafting bills to try and affect change. The past doesn't have to be prologue here, and having this one project in place, one that made it through against stacked odds, will help the case for other deals once it starts producing.
The Brooklyn blueprint
We can't overlook the poetic undertone of this project: Cleveland, a city forever haunted by the ghosts of a polluted river catching fire in the '70s, reused unusable, polluted land for the purposes of providing renewable energy to its city buildings. Not only that, but the city made sure that at least 80 percent of the workforce came from Ohio, plus the racking and foundations (RBI Solar) and the modules (First Solar) were all supplied within state borders. Not even a California project can always match that level of local involvement.
"We need to ramp this up as much as possible, so we're using this as an example," Foley says. "This took us a long time, but we have good PPA documents and energy service contracts, and we are making them available if other places in the county are interested in using the example."
The last thing Smith said during our interview was "This is the most exciting project I've ever been a part of," and as unabashed Ohioans, we echo that sentiment.
[button link="https://staging1.solarbuildermag.com/2018-solar-builder-projects-of-the-year/" bg_color="#abf50c" text="dark"]Click here to see the 2018 Solar Builder Projects of the Year[/button]
Listen to more in-depth conversations on Solar Builder's YouTube channel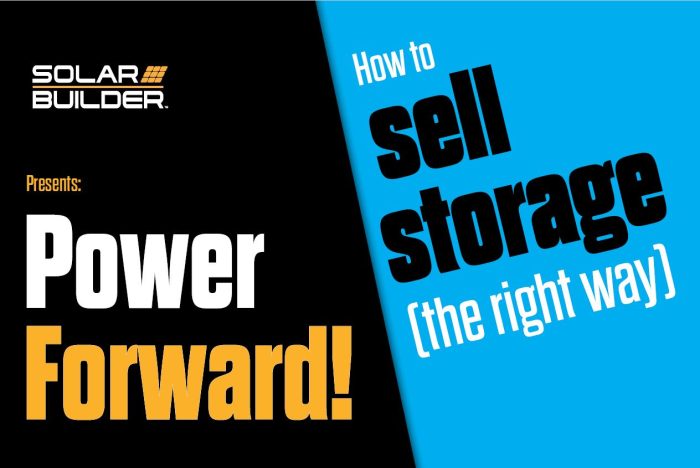 Our most popular series include:

Power Forward! | A collaboration with BayWa r.e. to discuss higher level industry topics.
The Buzz | Where we give our 2 cents per kWh on the residential solar market.
The Pitch | Discussions with solar manufacturers about their new technology and ideas.
Tags:
Conti Solar
,
Enerlogics
,
municipal
,
Project of the Year