The 3rd Annual Midwest Solar Expo is returning to the Twin Cities. Just as it did last year, the show will bring together hundreds of industry business leaders, investors, developers, manufacturers, distributors, EPCs, utilities, financiers, public officials and more to gain insights on the latest industry trends and market opportunities on May 17-19, 2016, at the DoubleTree by Hilton St. Paul Downtown.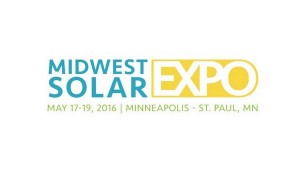 The 2016 event features plenary and breakout sessions, networking receptions, NABCEP training workshops and an exhibition hall. This year's conference is also co-located with the inaugural Midwest Energy Storage Symposium—focused on building robust energy storage markets across the Midwest. Keynote speakers include Dan Utech, Special Assistant to President Obama for Energy and Climate Change; Dan Shugar, CEO of NEXTracker and Andrea Lauer, Mayor of Royalton, MN.
RELATED: Tips for planning your next retail PV project 
"More than ever, the Midwest Solar Expo conference will serve both industry veterans and newcomers to better understand the market dynamics and developments affecting their businesses," said Jake Rozmaryn, Conference Director for the 2016 Midwest Solar Expo and CEO of Eco Branding. "This event is catered to companies that are looking to enter or expand in these emerging solar markets."
The 2016 Midwest Solar Expo will cover the latest market insights and trends across a wide-range of topics in solar — covering everything from project development, community solar, finance, technology and policy to innovations in energy storage, software and energy IoT.
"After incredible growth over the past few years, Minnesota has solidified itself as one of the country's most critical markets to watch. We are thrilled to present our most comprehensive conference to date, providing insightful discussion and unprecedented networking opportunities," said Rozmaryn.
Registration for the upcoming Midwest Solar Expo is open, so head to the conference website to register.