It is Monday, and the solar industry is nursing a hangover after a weekend spent celebrating the extension of the Investment Tax Credits (ITC). Funny how quickly the mood changed regarding this possibility. Only a month ago we started asking readers for their wild predictions for 2016, and not many of them were optimistic. But suddenly SEIA started talking about the possibilities, and then it was in the omnibus spending bill and then it was done.
If you just emerged from a monastery or from the ice cave in which you reside, here are the details on the extension. Basically, for commercial solar projects, the ITC would be extended through 2021 with a gradual phase down. Projects that start construction by Dec. 31, 2019, would continue to receive a 30 percent credit. Projects that commence in 2020 would qualify for a 26 percent credit. Those that start in 2021 would qualify for a 22 percent credit. After 2021, the ITC for commercial solar projects would remain at 10 percent in perpetuity. For residential solar projects, the credit would also be extended through 2021 but would expire entirely after that year. The percentage phase down for years 2020 and 2021 would follow the same schedule as commercial solar projects. Under current law, the credit for residential projects expires after 2016.
RELATED: How big is the ITC extension? How about 54% install increase through 2020 
There you have it. We throw it to the industry itself for reactions:
Malcolm Woolf, SVP of Policy and Government Affairs, Advanced Energy Economy: "What the growing advanced energy market needs more than anything is certainty. While this package lacks support for combined heat and power, fuel cells, and other important advanced energy technologies, it represents a major step forward for the solar, wind and energy efficiency industries. Investors and project developers now have the market signal they need for investment, business growth, and jobs in the coming years."
Kelcy Pegler Jr., President of NRG Home Solar: "Today, American consumers have spoken and the government acted: America will continue to be a leader in the global clean energy economy"
Tom Werner, SunPower president and CEO: "With Congressional approval on a five-year extension of the Solar Investment Tax Credit (ITC), we have a fresh runway that will only accelerate the global energy transformation to clean, sustainable sources such as solar. The ITC extension provides a sense of certainty that allows for new investments that might not have been possible in its absence. Every day, we see increasing numbers of homeowners, public agencies and businesses taking advantage of the benefits of solar power. Beyond our industry, this is good for families and for the bottom line of every sector, and will help achieve environmental and economic goals well into the future. We thank our elected representatives for supporting the continued growth of solar power in the U.S. – for the health and prosperity of our communities, our country, and the planet."
Ahmad R. Chatila, president and CEO of SunEdison: "The passage of tax credits for wind, solar and energy storage is a great step forward for America. The PATH Act of 2015 is the foundation of a predictable renewable energy policy which will create jobs, provide Americans with cost-effective electricity, and keep us on a path to clean and sustainable energy. We applaud Congress for this bipartisan deal which benefits not only the people of America, but also thousands of small and medium size businesses across the country."
Terry O'Sullivan, General President of the Laborers' International Union of North America: "This critical component of a practical, realistic, all-of-the-above energy strategy will give both sectors the certainty they need to plan future projects, and put LIUNA members to work. LIUNA is proud to represent safe, skilled, responsible construction and maintenance workers in every sector of the energy industry, from oil and gas, to solar and wind, to nuclear and hydropower."
John Billingsley, Chairman and CEO at Tri Global Energy: "This is a game changer for our company and will finally allow us to plan with certainty our growth and expansion over the next several years. Tri Global Energy plans aggressive expansion of both our wind and solar divisions into diversified geographical areas across the U.S. The proposed legislation is following on the heels of the global climate agreement in Paris, where 195 countries committed to tackle climate change and galvanize greater investment in clean energy. Consistent, long-term policies supporting wind and solar energy are critical to the growth of a lower-carbon economy. This week, analysts from Goldman Sachs Group Inc. reported that new wind and solar panels worldwide will provide more energy over the next five years than U.S. shale-oil production has over the past five years, with wind and solar on track to exceed 100 gigawatts in new installations for the first time. Goldman analysts also stated that solar and wind energy are saving a gigaton of carbon dioxide emissions annually.
David Field, president and chief executive officer for OneRoof Energy: "The impact the solar industry plays in increasing investment, enabling job growth, and expanding consumer choices at the local, state, and national level is unprecedented. It is extremely gratifying to know Congress recognizes the importance of the ITC in driving growth of the residential solar market."
Julia Hamm, President and CEO of the Solar Electric Power Association (SEPA): "Our market research shows wide consumer interest in solar energy options, ranging from rooftop to community solar to utility-scale generation. The extension of the federal investment tax credit will allow for broader participation and deployment of these solar applications across the country, especially in regions where local markets are less mature. A robust solar sector can also accelerate the deployment of other distributed energy technologies — such as storage, demand response and energy efficiency — which will provide even more opportunities for creating value for both individual consumers and the grid as a whole."
and finally…
Rhone Resch, president and CEO of the Solar Energy Industries Association (SEIA): "This historic vote brings the solar industry to the forefront of the conversation about American energy. The ITC extension makes America and its solar industry the world's preeminent producer of clean and affordable energy. We commend members of Congress in both parties for taking this bold step and we look forward to delivering on the promise that this policy now offers all Americans. Thanks to the ITC, solar energy will add 220,000 new jobs by 2020, and with this extension, the solar industry can achieve its pledge of employing 50,000 veterans. Clean solar energy will cut emissions by 100 million metric tons and replace dozens of dirty power plants. Importantly, in the follow up to the Paris accord, this establishes the United States as a model for the reduction of greenhouse gases. A five-year extension of the ITC will lead to more than $133 billion in new, private sector investment in the U.S. economy by 2020. And much of this growth will come from small businesses, which make up more than 85 percent of America's 8,000 solar companies. Solar power in this nation will more than triple by 2020, hitting 100 gigawatts. That's enough to power 20 million homes and represents 3.5 percent of U.S. electricity generation. The solar industry now has a seat at the table with the nation's other major electricity producers. Solar is the planet's most abundant source of energy and offers all Americans clean electricity that can be built at scale and will make our nation proud and prosperous as a world leader in a new energy paradigm."
Listen to more in-depth conversations on Solar Builder's YouTube channel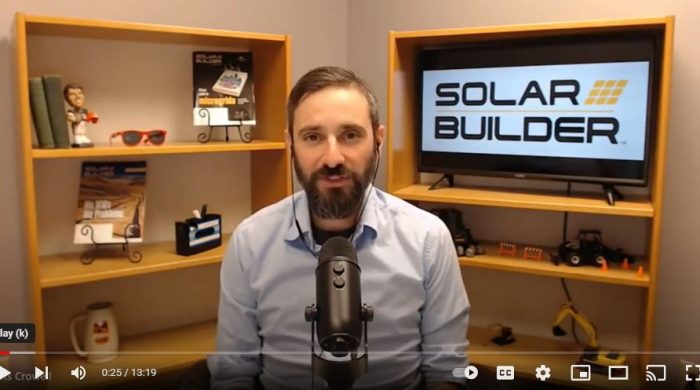 Our most popular series include:

Power Forward! | A collaboration with BayWa r.e. to discuss higher level industry topics.

The Pitch | Discussions with solar manufacturers about their new technology and ideas.
Tags:
Advanced Energy Economy
,
Investment Tax Credit
,
ITC
,
NRG Home Solar
,
OneRoof Energy
,
SEIA
,
SEPA
,
SunEdison
,
SunPower
,
Tri Global Energy