Greenwich Public Schools has flipped the switch on its first solar PV system at Greenwich High School (GHS), one of the largest high schools in Connecticut. The renewable energy system will not only supply clean energy for GHS but will provide excellent opportunities for students and the community to learn about the benefits of alternative energy sources.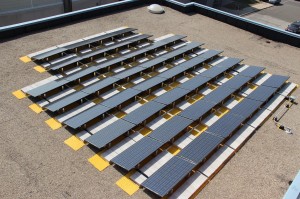 The Town of Greenwich became eligible for the free solar panel installation when it became a Clean Energy Community in January 2010. The Clean Energy Communities Program is sponsored by the CT Clean Energy Finance and Investment Authority (CEFIA) (formerly CT Clean Energy Fund). The project was designed and installed by Mercury Solar Systems with funding provided through a grant by the CEFIA.
"I am pleased that our commitment to becoming a Clean Energy Community has resulted in this green opportunity for Greenwich Public Schools," stated First Selectman Peter Tesei. "It took us a while to complete all of the steps required for the Clean Energy Program and it is gratifying to see our efforts paying off." The Board of Selectmen, at the request of the Conservation Commission, passed a resolution in March 2008 committing the Town to clean energy thus providing the impetus for the Town to become a Clean Energy Community by 2010.
"As a Greenwich resident and parent of two children attending Greenwich High School, I am thrilled to see the district become an ambassador for solar energy," commented Frank Alfano, CEO of Mercury Solar Systems. "The new grant program in Connecticut offers districts like Greenwich an opportunity to become more sustainable and we expect this will drive the adoption of solar energy throughout the State."
The 7.7-kW solar system was installed on the science building at Greenwich High School in November 2011. It is expected to produce 8,800 kWh of energy which is equivalent to recycling over 150,000 cans of soda and planting 500 trees.
"We are excited about the possibilities this system offers, from energy savings to providing a learning tool for our students," said Superintendent of Schools, Roger Lulow. "The District understands the importance of being green and we hope Greenwich can serve as a role model for other Connecticut schools."