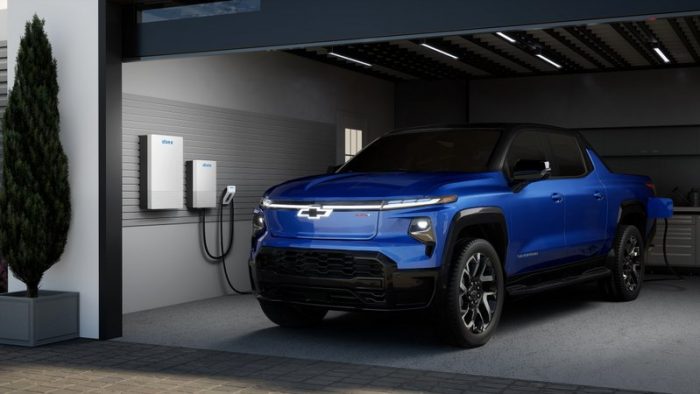 When Ford unveiled the Lightning F150 in May of 2021, it revealed something fundamentally different: it was not just an EV, it was a battery on wheels.
As someone who has sat through power outages with the equivalent of four Powerwalls-worth of batteries parked in my driveway, useless, Ford did what seems obvious now: it considered all the ways a battery on wheels could be used. The list of possibilities was long:
providing home backup during an outage,
doing time-of-use arbitrage and peak shaving,
acting as a generator at a camp site or work site,
saving a wedding during a blackout,
providing power during emergencies, and
charging a Tesla stranded on the side of the road.
Not to be outdone in headline-grabbing use cases, a Rivian powered a vasectomy with its 120V outlet.
To make all of this possible, the vehicle's battery needed to be bidirectional — that is, able not only to receive energy but also to distribute energy to more than just the powertrain. That requires a bidirectional EV charger.
"That changes how we think about vehicles," said Matthew Sachs, COO of Peak Power, at a panel discussion at RE+. "It's not just about transportation; it's a multi-use asset that can create value by providing multiple different services throughout the day. As a transportation asset, vehicles are highly underutilized: 95% of the time vehicles sit parked. So, what if you can get paid to get access to your battery when it's not in use?"
V to what? Defining bidirectional charging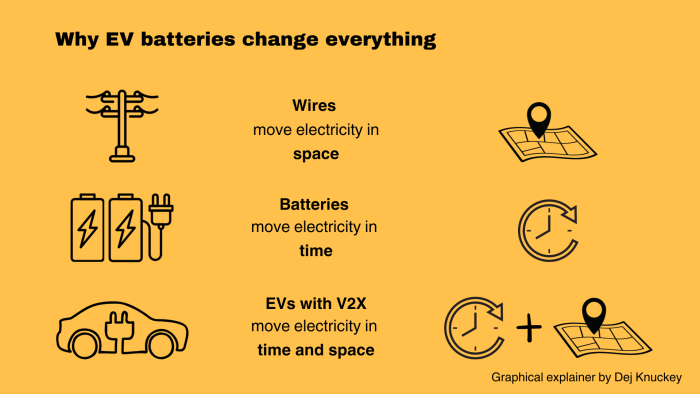 Unlike rooftop solar, which only does two things (powers your house or feeds into the grid), EVs are more complex. "We call it multi-objective optimization, when you've got objectives of using the EV for transportation, but also trying to get some use of it for powering a home or powering the grid," said James Mater, director of strategy, smart energy at QualityLogic.
Regular EV charging feeds dc into a vehicle's battery where it is stored until needed by the drivetrain. If it's feeding from an ac source, the conversion to dc can take place at the charger or in the vehicle. Level 1 charging from a 110 V outlet and Level 2 charging from a 208-240 V outlet are the most common types of home charging. Some public charging is also Level 2, but increasingly it is Level 3, also known as Direct Current Fast Charging (DCFC), which feeds up to 350 kWdc into the vehicle's battery, though not all vehicles can take advantage of the full 350 kW.
Bidirectional chargers add the capability of taking energy from the battery and using it as a power source. It can feed out as ac or dc, depending on the setup.
The acronyms in bidirectional charging are collectively known as V2X, "a generic term for whenever you're exporting power to anything," Mater said, but there are important distinctions. Here's a rundown:
V2L: Vehicle to load. This is the simplest version of V2X. It enables a load to be run directly off the EV's battery. This is increasingly built into cars that don't offer true bidirectional charging, and it's handy for everything from blending margaritas when car camping to running a fridge during a blackout. It's way more powerful than a car's USB port that can charge a cell phone, with some equaling a decent-sized generator.

V2L may be an adapter that plugs into the car's charging port or a regular 110V outlet. For example, some Kia and Hyundai models come with a 3.6 kW-rated system with both a 15-amp, 120-volt V2L adapter and a 16-amp, 120-volt ac outlet beneath the rear seats.
V2H or V2B: Vehicle to home or vehicle to building. This includes bidirectional charging that can provide the same services as a home or building battery, but on wheels. V2B can be used for backup during an outage via a transfer switch that may be in a separate home integration unit or within a bidirectional EV charger to island the system. V2B can also provide other ancillary services such as peak shaving and demand response to lower the building owner's electric bill or provide grid stability.

Only a few EVs offer this currently, but car makers have heard loud and clear that EV buyers see it as a game changer: why wouldn't you want a car that does double duty?
V2G: Vehicle to Grid. This is the most expansive version of V2X. It can enable the creation of virtual power plants by ganging together the capabilities of a number of vehicles across a system, or it can simply take energy from the battery to send back into the grid.

V2G is actually technically simpler than V2H because it doesn't need to be islanded, however, it requires ways of compensating vehicle owners for use of their battery.

"I think of V2G as bi-directional power flows that are specific to grid support," Mater said. "For those of you who have been involved with interconnection standards and exporting power back to utilities, you know that there are a lot of detailed requirements that have to be met in order to do that."
Most older and many current EVs can't be used bidirectionally. Beyond the battery system that might not be designed for it, bidirectional use may invalidate the car battery's warranty. And this is why during the next power outage, I'll remain in the dark with my 2019 Kia Niro EV sitting useless in the driveway.
IEEE 1547 and ISO 15118-20: A marriage of inconvenience
Interoperability is key to scaling vehicle-to-grid but requires standards, said Mater. "How do we do it in a standardized way so all the vehicle manufacturers and all the charging station manufacturers can play and interoperate so we have a smooth system?"
Standards fall into a few categories, Sarah Woogen, USA head of operations and analytics at The Mobility House, said. "There are still many impediments that we want to make sure are addressed." Key among those are technology standards: "This is everything from hardware standards to communication standards to physical standards," she said.
The adoption of bidirectional charging is slowed somewhat by the fact the technology falls into a newly created Venn diagram overlap of "two giant industries," Mater notes: automotive and electric utilities.  
"We've got the vehicle manufacturers who have never had to interoperate with anybody else on a communications basis. Now you want to do V2G. That's a whole new world for them. They don't know what [IEEE] 1547 is," said Mater, who helped train automakers about utility standards. "Then we've got the utility industry and, of course, everybody knows what IEEE 1547 is, because that governs how you interconnect DERs."
"EVs treated as distributed energy resources are treated just like a solar rooftop system or a battery system. There are requirements," Mater said. "There are some nuances, and it depends whether you put the inverter to do the ac-dc conversion on the vehicle or in the charging station."
Also key is how EV chargers communicate with vehicles, Woogen said. "Recently ISO 15118-20 was released. It's a bi-directional communication between the chargers and the vehicles. It's not fully adopted yet; it's not fully defined as the standard."
DC-DC conversion plays a part in many V2X approaches because car batteries vary in voltage, with most using 400 V or 800 V systems. There's no sense that the industry will move toward a consistent voltage, so chargers and converters are generally being designed to work with all voltages.
Plug types are slowly moving toward standardization, with ever-more automotive companies jumping on the North American Charging Standard (NACS) bandwagon, "or as you guys probably know it, the Tesla plug," Woogen said. "This is just another example of where we still need some alignment in industry in North America and in the U.S. to really be able to put out vehicle-to-grid offerings that are commercial."
The move to consolidate around NACS will likely mean commercial and public chargers will convert from the Combined Charging System (CCS) commonly used today and the less-common CHAdeMO chargers used by Nissan Leaf and some other cars imported from Asia, with new installs likely to use NACS. Owners of older EVs will be able to use adapters to access those chargers.
Bidirectional charging offerings for solar installers
At RE+ in Vegas, companies were keen to speak with Solar Builder Magazine about their bidirectional charging offerings, but many of the key players have yet to put products on the market — not surprising given the uncertain standards and the seemingly sudden change of heart about plug types.
It's a rapidly evolving market, and what follows is a sampling of the various ways companies are going about adding bidirectional EV charging to their offerings.
Inverter companies
Companies supplying inverters are perhaps the most logical suppliers of bidirectional charging because most are already dealing with input from dc-producing solar modules and bidirectional connections with dc batteries. It is natural for installers to think about EV chargers as one more accessory for a solar installation. A home system with battery backup already needs to take islanding into account, so layering in bidirectional charging from a vehicle – the ultimate portable battery – is less of a challenge if automatic grid transfer switches are already planned.
For example, SolarEdge plans to offer a bidirectional EV charger that will be dc coupled, says Chris Thompson, VP of product for North America. "It allows us to be very efficient because PV is dc, the vehicle battery is dc. We can go PV to EV with no ac conversions, and it's 98% efficient."
It still uses a dc-to-dc converter though, "because your PV voltage isn't necessarily the same as your EV voltage," he said. It will be backwards compatible with existing SolarEdge systems and the charger will connect to the SolarEdge inverter's dc bus, which is where its communication network is connected. The product will be launched in 2024.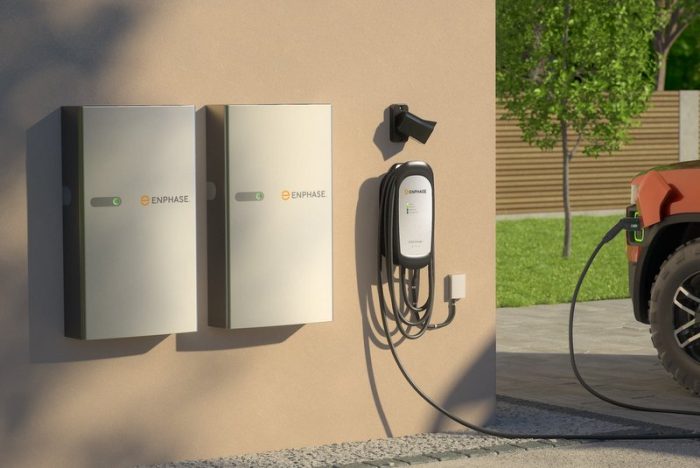 Enphase has also announced its coming bidirectional charger and, like its battery, it will be ac coupled, which will lead to some efficiency losses. The charger will be built on the Enphase IQ8 platform and be compatible with the rest of the IQ8 product line and Ensemble energy management system. The product will be launched in 2024.
Other manufacturers such as Delta have bidirectional inverters that are or will be built into V2H systems by major car manufacturers.
Car-centric options
Because standards are still being created, we are seeing partnerships such as Ford and Sunrun and GM Energy and SunPower trying to meet homeowner demand with home integration systems that work exclusively with their vehicles. While it's great to be able to offer V2H, the challenge is that it locks the current and future owners into certain brands of EVs that work with those systems. It remains to be seen whether those systems will be able to be used with other brands of vehicles in the future.
Ford's relationship with Sunrun still revolves around the F150 Lightning, and homeowners wanting V2H capability need to opt for the extended-range batteries. The system needs both the 80 Amp Ford Station Pro charger, which charges at 19.2 kW from a single-phase 240 V supply, and the 9.6 kW discharge power Home Integration system with a Delta bidirectional inverter, microgrid interconnection device and optional home battery pack.
Independent installers can access the equipment but Ford strongly pushes Sunrun as the installer.
GM Energy upped the automotive ante when it announced its Ultium Home range, which will be compatible with all of its future GMC, Cadillac and Chevrolet EVs. It includes a 12.6 kW 80 Amp ac charger, a 9.6 kW discharge power home "enablement kit" with an inverter, home hub and dark start battery, along with an energy management app and branded 5 kW/10.6 kWh and 7 kW/17.7 kWh stationary energy storage units.
SunPower is GM Energy's exclusive solar provider and a preferred EV charger installer.
Other approaches
A handful of companies are thinking about integrating all aspects of electrification, and Schneider Electric is tackling bidirectional charging as it brings its fully integrated home energy management solution to market. Schneider's approach wraps in everything from smart light switches to smart panels, and the company sees bidirectional EV charging as a critical piece of the puzzle. Schneider brass stresses that having a fully integrated system offers advantages from system design through commissioning. Its bidirectional charger will be launched in 2025.
Smart panel providers as well as electrical suppliers building integrated offerings see bidirectional charging on the horizon and are in various states of wrapping it in. Smart panel provider Span says it's in the product roadmap, but it is awaiting more certainty in the standards. Home automation firm Savant said it is well-positioned to integrate bidirectional charging into its offerings but has more work to do to ensure compatibility with all the different solutions in the market.
There are many pure-play EV charger companies, but few have bidirectional chargers yet. One of the leaders is Wallbox with its Quasar 2 11.5 kW 48 Amp bidirectional dc charger. It is collaborating to demonstrate it with Kia's EV9 vehicle. Another is Fermata Energy, which cut its teeth on the Nissan Leaf and is a leader in bidirectional EV charging for fleets, which focuses on using batteries for revenue generation. Fermata's handy dandy V2G calculator estimates the revenue an EV or a fleet of EVs can generate.
Time for "Time of Light"
Finally, there's an innovative approach that is also perhaps the simplest: Enteligent offers what it calls Hybrid Bidirectional Fast EV charging using a dc-dc charger going direct from a solar canopy to the car. Driven by a desire to match charging times with when solar peaks, Sean Burke, CEO of Enteligent, argues that its charge-while-the-sun-shines approach provides efficiencies.
"The concept is that to make EV charging really clean; it's about daytime charging or what we call Time of Light charging."
In residential use cases, when the homeowner may want to tap into the battery at peak times and during blackouts, the bidirectional charging aspect of its product enables that flexibility, while many commercial locations may only want to offer charging when the solar is working, lowering the cost of installation if the property owner decides not to tie the system into the grid.
---
Dej Knuckey is a contributor to Solar Builder. She is a journalist, author and freelance writer who has covered energy for publications in Australia and the U.S.
Listen to more in-depth conversations on Solar Builder's YouTube channel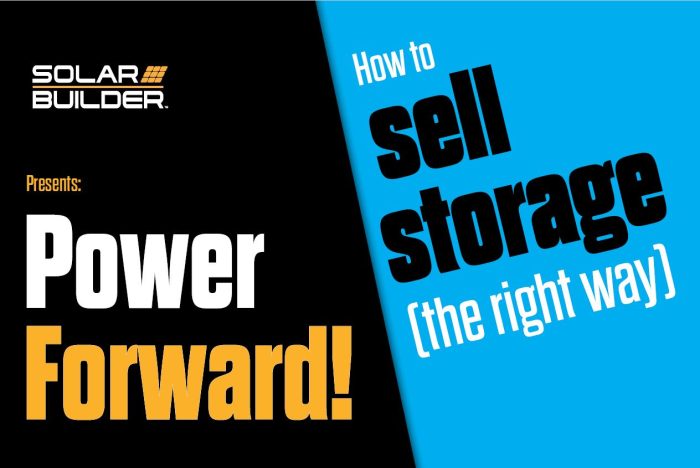 Our most popular series include:

Power Forward! | A collaboration with BayWa r.e. to discuss higher level industry topics.
The Buzz | Where we give our 2 cents per kWh on the residential solar market.
The Pitch | Discussions with solar manufacturers about their new technology and ideas.
Tags:
Enphase Energy
,
EV charging
,
Savant Power
,
SolarEdge
,
Span
,
SunPower
,
Sunrun