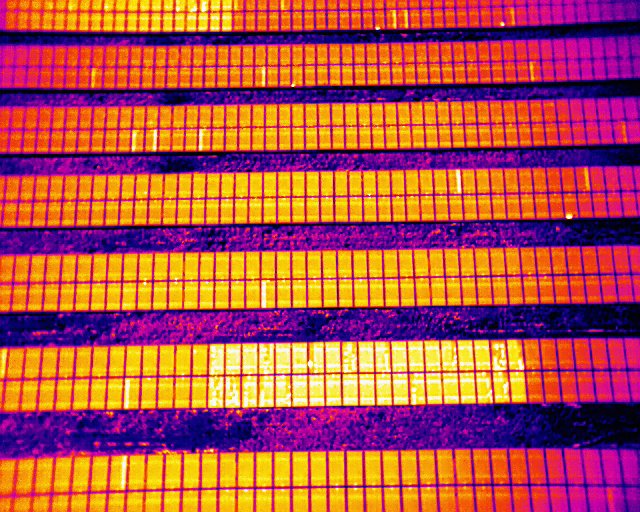 Raptor Maps, an expert in aerial thermography software and analytics, released its annual report on factors affecting production in PV systems. The company leveraged a subset of its data repository of PV system "digital twins" to query 7,880 MW across 25 countries and 6 continents to help PV system owners and operators benchmark and improve their portfolios.
The results are available for download here.
Aerial thermography is the practice of assessing and monitoring photovoltaic (PV) system conditions using data captured via an aircraft equipped with a thermal camera. The technique is increasingly required by asset owners and financiers for performance verification and risk mitigation.
The study encompassed 31 million modules and 79 module manufacturers across more than 800 PV systems and showed that on average, 1.6% of power production is affected (compared with 1.7% from the previous year). Classifications included in the study include equipment (e.g., inverter, combiner, tracker), environmental (e.g., shadowing, soiling), and module-level findings (e.g., cracking, delamination, and activated bypass diodes).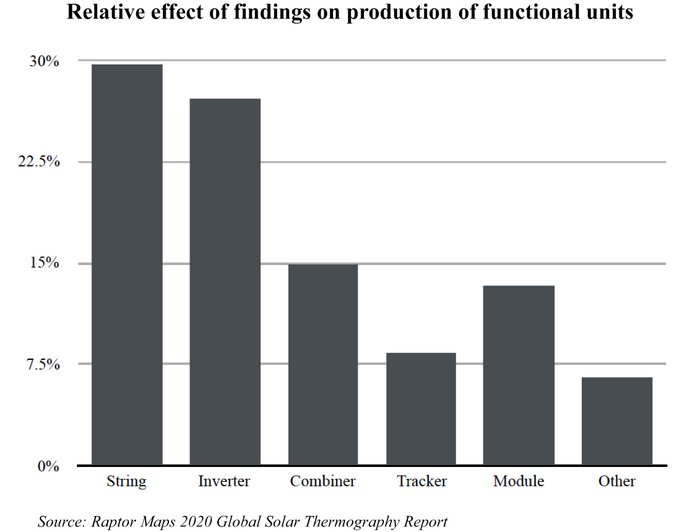 This report draws upon the verified PV systems inspected in 2019, encompassing 31,295,692
modules across 826 PV systems, wit\h a total nominal capacity of 7,882,069 kWDC. Sites ranged from 10
kW to 350,000 kW across 25 countries and 6 continents. 700,494 modules contained findings (2.2% of
total analyzed), with an affected power of 126,845 kWDC (1.6% of analyzed).
The cumulative affected power from identified anomalies by Raptor Maps in 2019 could offset
145,000 metric tons of carbon dioxide emissions annually and results in a Net Present Value (NPV) worth
$200 million of potential revenue loss.
"The rapid growth in solar PV had required the industry to adopt automation and software to de-risk portfolios, increase production, and reduce costs at scale," explains Nikhil Vadhavkar, Raptor Maps' CEO. "Our goal is to ensure that existing solar assets are meeting or exceeding expected returns, while providing critical feedback for new portfolios under development."
About: Raptor Maps makes it simple and affordable for solar companies to adopt aerial thermography as a tool to increase performance, reduce costs, and standardize & compare solar PV assets across a portfolio. Founded by MIT engineers, with investment from Y Combinator, Blue Bear Capital, and Congruent Ventures, our artificial intelligence (AI) software helps teams fuse remote sensing data with site-specific information to generate accurate, high-value system analytics and reports.
Tags:
analytics
,
Raptor Maps
,
thermal imaging