Motech Americas, a solar company with a 20-year heritage of manufacturing quality solar panels has announced the completion of a large solar PV project by Pacific Power Renewables that is now providing all the energy needs for the Aerospace Museum of California in McClellan, Calif., just north of Sacramento. The museum is also playing a significant role in educating visitors and children with a new kiosk that explains solar energy in a fun, easy-to-understand format.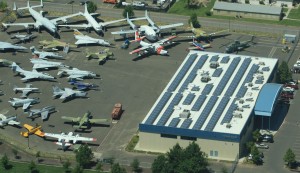 The 177.7-kW installation consists of 756, roof-mounted Motech 235-watt modules with an annual production of 265,430 kWh — enough to completely power the museum. Recent testing by the solar installer, Pacific Power Renewables revealed that this solar installation was producing electricity at 111 percent of expected kWh.
According to Roxanne Yonn Executive Director of the Museum: "Going solar was a strategic move for the Aerospace Museum of California. We save on energy costs and we can use this as an educational tool for our students. The STEM principles of science, technology, engineering and math are all demonstrated through the use of solar. In partnering with Pacific Power Renewables, we created an exhibit that demonstrates how solar works inspiring the scientists of tomorrow."
On the roof are the latest in solar technology panels powering the museum building. Inside is a remarkable collection of planes, with many more parked outside in easy walking distance. It's a large building, totally powered by clean solar energy, capable of holding special events ranging from a Board meeting of 10 all the way to receptions for 1,200 guests.
They have a strong and growing program based on hands-on, practical experiences related to math, science, technology and engineering for students from elementary to community college. The Aerospace Learning Center has hosted thousands of students over the years — along with special events attended by visiting astronauts. Their Aerospace Learning Center Programs get students excited about aviation — and include the opportunity to pilot an aircraft using a non-motion flight simulator.
"I am happy to have been a part of helping the Aerospace museum achieve a green initiative and at the same time reduce their electricity expense," said David Dwelle, president of Pacific Power Renewables. "An additional win came from the love of aviation that runs deep throughout our family's lineage. The final win was the relationship with Flyers Energy who provided the tax equity financing."