An award-winning, fully-automated smart home in rural New York state was recently transformed into a solar-plus-energy-storage net-zero estate by SimpliPhi Power and Lotus Energy. After three months in operation, the home's energy generation and storage system is exceeding production estimates by as much as 23 percent.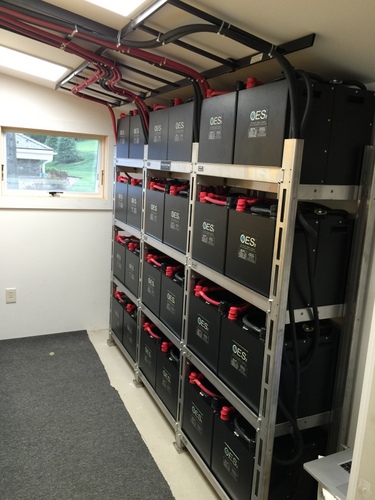 The smart home's clean energy system combines a 72 kW dual-axis tracker solar PV farm with a 163 kWh bank of SimpliPhi's proven lithium ferrous phosphate (LFP) batteries so that the home feeds excess power back to the grid and rarely relies on the grid or back-up generator. The energy dense storage system can quickly charge and discharge with 98 percent efficiency. Plus, it is very compact as it does not require extra space for ventilation or expensive heat mitigation equipment often necessary with other solutions. SimpliPhi batteries can achieve these metrics because they combine LFP chemistry with proprietary architecture and power electronics.
RELATED: How energy storage helps solar's long-term value problem 
"I wanted an energy storage solution in a compact location. That's why I went with SimpliPhi's lithium-ion technology. Flooded cell batteries or other lithium-ion batteries would have required significantly more space and new construction to attain the same energy output," said Bob Schluter, owner of the N.Y. smart home.
"I discovered another benefit to the SimpliPhi batteries after I added a second batch three months later," Schluter said. "I had worried that the first batch might not charge at the same rate or depth that they started with. Instead, the first batch is charging just as fully as the newer batch. The whole energy storage system is robust and performing flawlessly. That gives us energy security, saves money on fossil fuel and lets us make money back on the system by pumping energy back to the grid."
In upstate New York, where winter power outages have been known to last for days or even weeks, Lotus Energy developed a smart system that operates primarily off solar and storage. The system can switch seamlessly between solar, the batteries, the grid and the backup generator, if needed, to ensure zero interruption of power to the home.
RELATED: SimpliPhi Power Batteries Earn High Marks in Marine Corps Storage Tests 
"We are specialists at sustainably powering off-grid and remote locations, while at the same time delivering on the aesthetics desired by our homeowner customers," Jeevan Goff, president of Lotus Energy. "To this end, we designed our solar-plus-storage system to be highly efficient while using minimal space. The solar was installed out of sight over 650 feet from the home, and the battery banks were powerful and compact enough to fit safely and securely in the house's existing electrical room. Only SimpliPhi could meet all of this project's stringent requirements for size, safety, scalability and durability."
The 48 SimpliPhi Power OES 3.4kW LFP batteries are arranged in six banks of eight batteries each. They are cabled in parallel to ensure equal flow of current to all the batteries. That also makes them easily scalable as the home's energy needs evolve.
"SimpliPhi Power's lithium ferrous phosphate storage solutions are ideal for businesses and residences like this smart home in New York state, where safety, space and longevity are top considerations," said Catherine Von Burg, CEO of SimpliPhi Power. "Because we do not use the highly toxic cobalt that's included in other lithium ion batteries, we can offer any homeowner compact, scalable energy storage systems that generate zero heat and none of the fire risk associated with most lithium ion batteries containing cobalt. Integrators like Lotus Energy who excel at smart renewable power systems rely on our technology to tackle everything from the simplest to the most complex installations."