Electrical balance of system (eBOS) components can make or break a solar project — either in upfront expenses and install efficiency or by preventing longer-term O&M issues. To better inform your procurement plans, we reached out to eBOS product providers to learn more about their various systems for both rooftop and larger scale ground-mount solar projects. We asked what each product is made of, how it installs and a key differentiator to consider. As you'll see, wire and cable management products continue to evolve. They are getting stronger and finding more ways to meet both code and the needs of specific racking systems, modules and MLPE.
---
It includes mounting, racking and wire management
---
Ground-Mount Cable, Wire Management
CAB Solar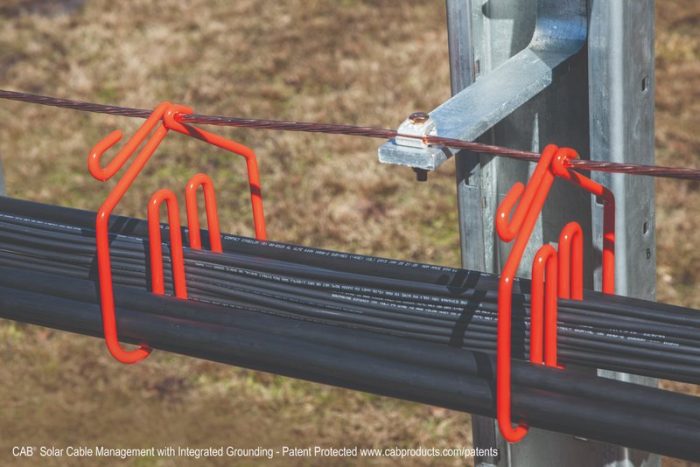 Cable Management | CAB Solar Cable Management is exceptionally quick and easy to install, resulting in lower overall costs for both project labor and material. The CAB Integrated Grounding option can further reduce costs as it can provide both the EGC and GEC. The patented CAB design includes a custom engineered messenger wire, clamps and mid pier brackets, and now includes #2 and #3 Equivalent Options. The system meets NEC and IEEE standards, and is ETL Safety listed by Intertek.
CAB ground-mount cable support is offered in a wide range of hanger sizes and styles to safely separate large bundles of cables. All CAB Solar Hangers are manufactured from high tensile strength spring steel with a thick protective coating of high dielectric grade PVC which has a breakdown strength is 400 volts per mil (.025mm). The coating is flame retardant, chemical resistant and UV stabilized for long service life.

Torque Tube Hangers | CAB Solar has now introduced Multi-Carrier Torque Tube Hangers for under-panel cable management. These offer a tight, snap-on fit over most torque tubes or fixed tilt structures. The low profile is especially beneficial for reduced shadowing with bifacial panels. The innovative spiral design holds large bundles of cable safely and securely, while simplifying upgrades, maintenance and troubleshooting.
CAB Solar Products are manufactured in the United States by the Cambria County Association for the Blind and Handicapped. This non-profit provides numerous services as well as employment opportunities for over 350 persons with disabilities in Cambria County, Pennsylvania. Purchase of CAB Products helps support this mission.
Contact: CAB website
Snake Tray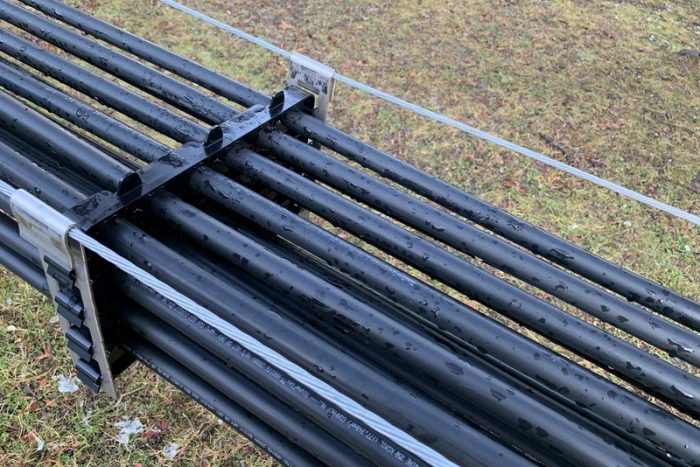 Solar Snake Max XL
Material: Manufactured from Lexan 940, Solar Snake Max XL has a 40-plus year lifespan and can withstand extreme wind and hot/cold temperatures. This patented, trenchless cable management system holds a quantity of 36 cables from 350 to 1250 kcmil (the first cable manager in the industry with that capability).
Install: Install this trenchless system using messenger wire or hard rails mounting to any style vertical piling or poles. This safer and less labor-intensive solution can install as fast as 22,000 ft in a day with snapped together components – all above ground – for easy installation. Snap together components require fewer tools. No field fabrication is required, and it easily adapts to a wide variety of elevations and terrains. Made in the United States to be quickly delivered to the jobsite. Over 1.2 GW successfully installed worldwide.
Key feature: The open-air design maintains NEC 310.15 code compliant cable separation and keeps cables cooler for up to 6 percent more harvesting of power for huge cost savings. This trenchless solution requires no derating of cables with quick and safe installations.
More info: Snake Tray website
Heyco
Heavy Duty Lockit P Clamp
Material: The Heyco Heavy Duty Lockit P Clamp is insert-molded beginning with either a zinc plated steel or 304 stainless steel mounting platform. The mounting platform is then insert-molded to a Nylon 6/6 cable clamp. The steel mounting platform provides reliable, long-lasting hold in harsh environments while the Nylon 6/6 cable clamp provides exceptional cable retention (and some axial retention) while reducing concerns of cable abrasion that many all-steel products raise.
Install: While many existing solutions require the clamp to be installed at the same time as the cable, the Heyco Heavy Duty Lockit P Clamp design allows for pre-assembly. Clamps can either be preassembled to the cable prior to installation, or clamps can be pre-installed to the fixture/racking prior to cable assembly – they are independent of one another. This is ideal in applications or environments where it is challenging or time-consuming to install both the clamp and the cable simultaneously because of space constraints, environment, weather, etc.
Key feature: Besides allowing for pre-assembly, the Heyco Heavy Duty Lockit P Clamp is releasable. Unlike many solutions that are one-time-use only, the Heyco Heavy Duty Lockit P Clamp allows for cables to be serviced/replaced without having to replace the clamp or any hardware.
Contact: Heyco | renewables@heyco.com
Affordable Wire Management (AWM)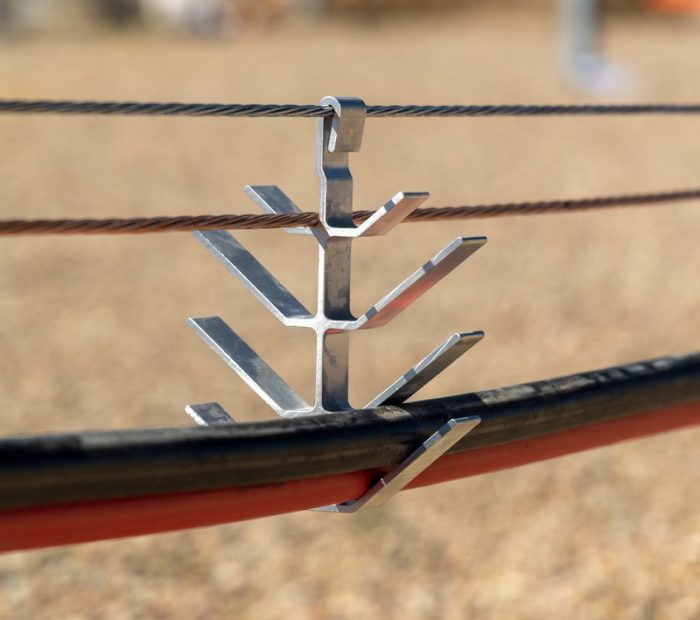 Messenger Cable Hanger System
Material: Every component of the AWM messenger cable hanger system is made of durable alloys and is free of polymeric material, with a life expectancy exceeding 35 years. The products can withstand all weather conditions: temperatures from -40°C to +150°C, extreme ice and snow loads, and worst-case corrosive environments. All messenger cable hangers have a working load of at least 100 lbs, with each saddle rated for 25 lbs.
Install: The messenger cable hangers are fully installed with a simple crimp; there is no need for a secondary installation step after power cables are installed, saving valuable labor hours. A single socket size can install all hardware in the system. On average, the AWM system can be installed with two people at a rate of a 3 MW array per day. Break install speed records with their groundbreaking hex rod. Typically, the hangers are spaced at 4 ft intervals in the United States and 1 m intervals in Canada.
Key feature: AWM offers cable hanger systems for support of DC cabling up to 1000 mcm without the need to bundle the cables, and the system requires fewer hangers than others because of its higher strength. AWM also offers module level hangers in a variety of flavors, including bifacial-friendly hangers, which are fixed to module clamps and can be installed prior to module installation.
Contact: AWM website | sales@affordablewm.com
HellermannTyton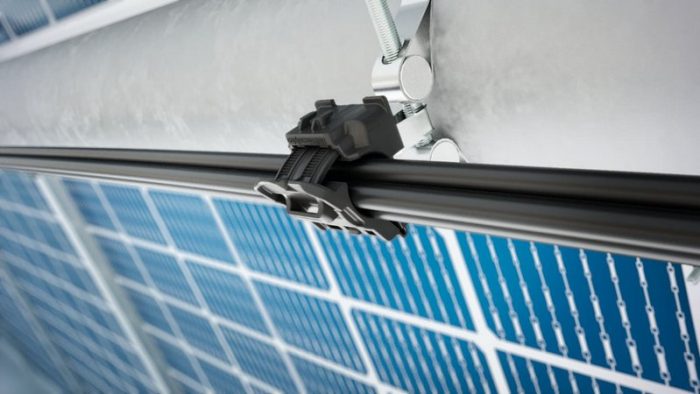 RC NEXT
Material: Designed with the safety of wires in mind. HellermannTyton's RC NEXT is manufactured of heat and UV stabilized engineered polymers that won't damage PV cables and will provide decades of service life in the field. The RC NEXT's stainless-steel metal hanger secures the wire management device to the Nextracker MIB bracket, allowing safe routing of home runs just off the torque tube but also close enough to avoid direct contact with metal.
Install: With a tool-free, one-handed installation, the installer simply hooks RC NEXT over the Nextracker MIB bracket bolt. After the RC NEXT is installed, installer lifts the home run bundle and ratchets the RC NEXT in place. HellermannTyton's patented Ratchet Clamp base comes in three sizes, providing an engineer with the right-sized part for the application. With RC NEXT, wire management on entire rows of modules can be done in minutes.
Key feature: Coming in Q2 2022, simply "check the box" by ordering the RC NEXT on every Nextracker single axis tracker platform project.
Contact: HellermannTyton website
Panduit Solar Wire Hangers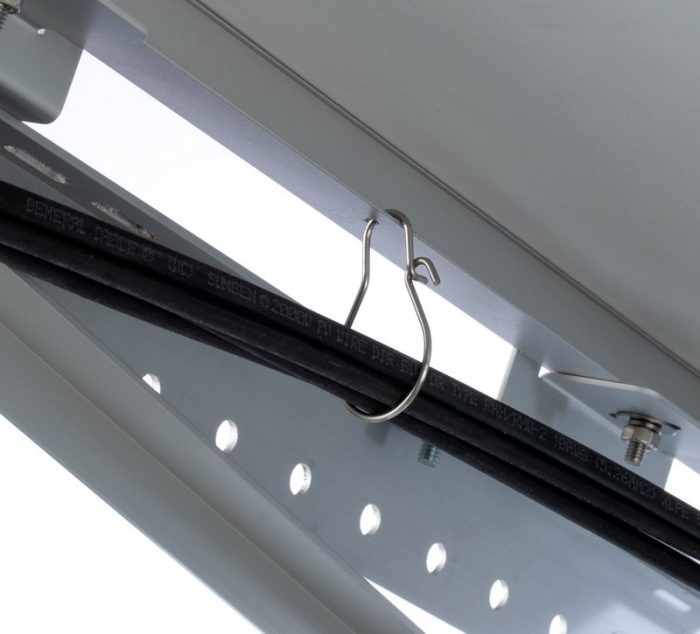 Solar Wire Hangers
Material: The Panduit Solar Wire Hangers are made of stainless steel for long life and durability in varying climates and environments.
Install: No tools needed, simply hook the Panduit Solar Wire Hanger through a pre-drilled hole in the frame, lay in wires and then close the wire hanger. Typically, 1 to 2 installed per solar module. With a 1-in. saddle diameter, these hangers are sized to easily accommodate eight 8-gage PV wires.
Key feature: Many cable management solutions allow for just a single use application. For reworking any wiring, it would be typical to remove and replace the cable management device. Panduits solar wire hangers that can be re-used numerous times.
Contact: Panduit website
Stäubli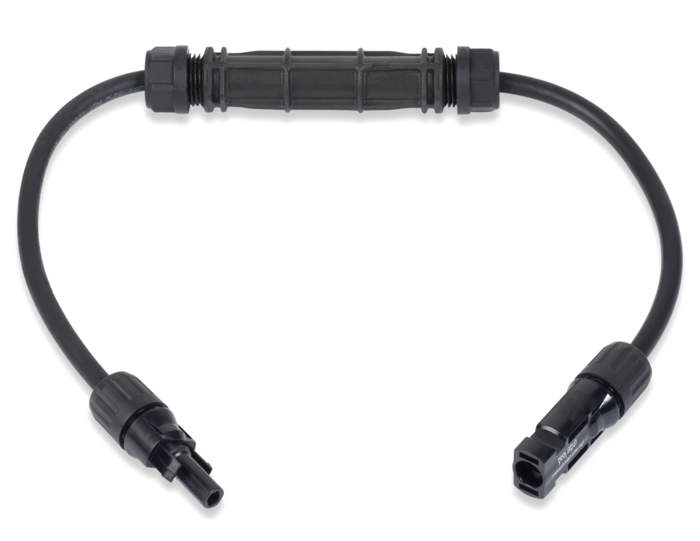 1000V and 1500V In-line-Fuse
Material: The in-line-fuse PV-K/ILF with a crimping connection guarantees a long-lasting, stable connection in comparison to conventional clip-in clamps, featuring minimal energy loss and low heat generation, a robust housing and safety class IP68. The cable cross section is 10 AWG/6 mm² and is cTÜVus certified. PV-K/ILF is for applications up to 30A. Custom amperage and cable lengths are available upon request.
Install: The installation is just few seconds. Click in the MC4 connectors on both ends of the in-line-fuse PV-K/ILF and it is ready to go. When installing more than two strings in parallel, install one per string to protect modules and inverters from costly over current damage.
Key feature: Staubli's in-line-fuse PV-K/ILF is UL listed. MC4 connectors come standard with the in-line-fuse PV-K/ILF, and installers can readily find matching MC4 connectors to avoid mating connectors from different brands together. O&M teams can have a handful of Staubli's in-line fuses on site for quick and easy replacement.
Contact: ecs-ecart.com/mc4inlinefuses.html
Voltage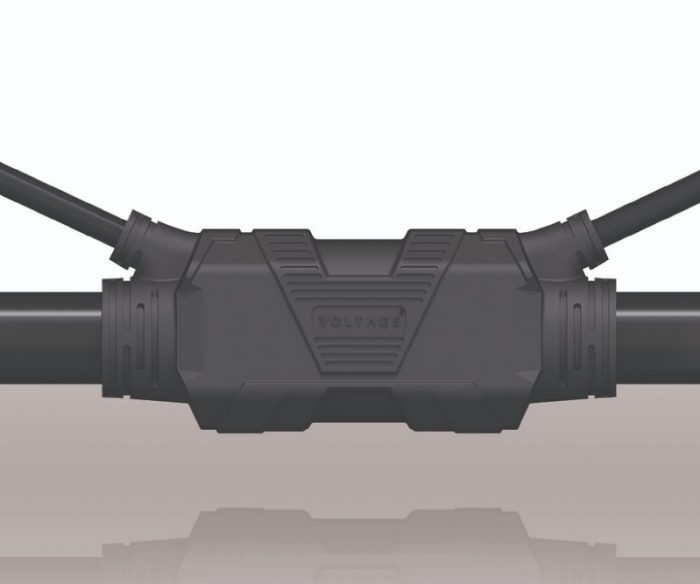 Voltage LYNX – trunk bus system
Material: The aluminum conductor can be sized up to 1000 mcm. The connecting joint is 35kV-rated with anti-oxidation and anti-corrosion joint compound. The molding material is weather resistant and outdoor rated per the UL746C standard. The flame retardant molding material is UL94 flammability classified as V-1 approved and its operating temperature is up to 90°C. The design lifetime is a minimum 25 years. All cables are PV rated and designed to be exposed to sunlight for the lifetime of the product and is certified to UL 9703.
Install: The fully customized Voltage Lynx trunk bus system utilizes a Reel PnP installation process. The pre-assembled reels are matched to specific rows on the project drawings. It is installed in a plug-and-play method and can be installed by a crew as small as three people (optimal crew numbers vary based on project needs). The Voltage LYNX consolidates string harnesses, minimizing the amount of wire needing to reach the disconnect box. It can handle up to 6 strings per overmold coming into the main trunk that runs to the load break disconnect box. The Voltage LYNX maximum trunk size can handle up to 845A on a 1000 MCM cable.
Key features: The Voltage LYNX reduces the amount of copper in an installation, thus lowering the overall budget. The LYNX's customized design eliminates the traditional PV wire runs extending all the way to the combiner box, which isn't needed anymore. Voltage utilizes 3D Modeling to ensure the quality of the wire design, simulating all gaps and slacks precisely. This technology improves pre-construction training, increases the overall accuracy of the estimate and manufacturing while decreasing resubmissions.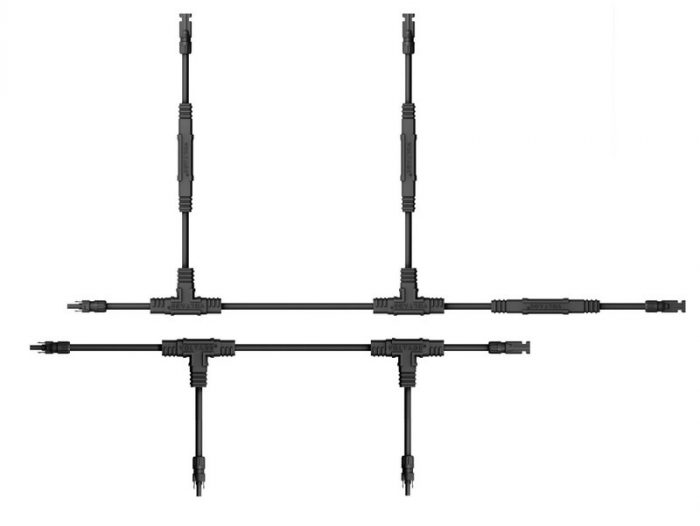 Voltage String Harness System
Material: The preassembled Voltage String Harness System contains components and wires that are made of stranded copper or aluminum housed in cross-linked polyethylene. The overmolds for inline fuses, and the various junctions are IP68 rated and UL listed. All major connectors are available per specific design requirements for module connectors, whips and jumpers. The design lifetime of the Voltage String Harness System is a minimum 25 years.
Install: The Voltage String Harness system employs the Reel PNP installation process for preassembled reels. Each custom designed reel is matched to its specific tracker/structure, and the crew installs the harness system utilizing a plug-and-play method. No onsite crimping or cutting is needed. This Reel PnP process averages 50 to 66 percent less installation time. A minimal crew of three can install the preassembled reels (optimal crew numbers vary based on project needs).
Key feature: Voltage uses leading edge technologies to provide new answers to old questions. Precision engineering, 3D renderings and custom manufacturing of the preassembled harness reels create fiscal advantages. From preconstruction through installation, Voltage is a complete solutions provider.
Contact: Voltage website | sales@voltage-llc.com
Wiley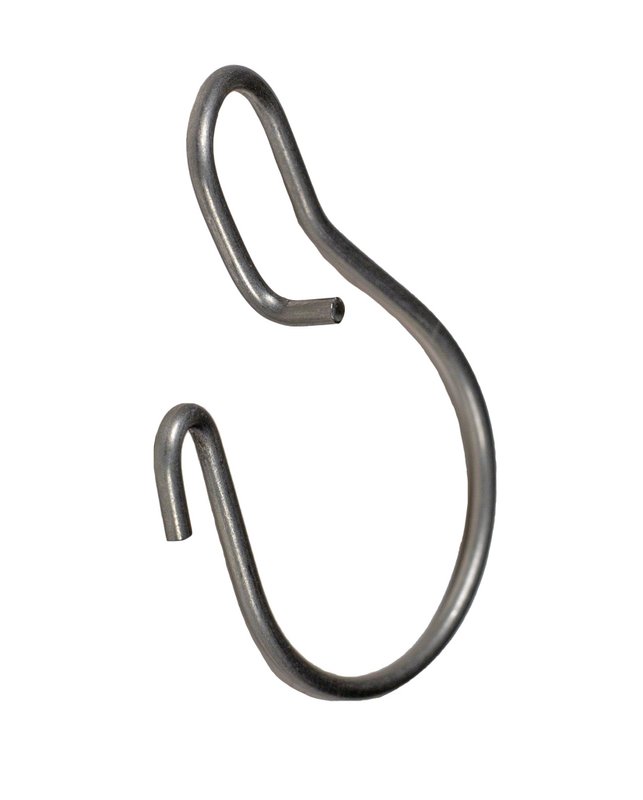 WCH1
Material: The WILEY Cable Hanger (WCH1) is designed specifically to support cables via mounting or wire management holes. It is made of rounded 304-stainless steel which is a reliable solution for all environments. The 1-in. round bundle compartment securely holds runs of up to 8 wires up to 8 mm in diameter. The WCH models are compatible with all common module frame geometries including First Solar Series 6.
Install: The WCH1 is installed through a solar PV module's cable or mounting holes. Bends in the design help to keep it in place while the wire bundle is gathered. Once the wires are laid in, it is hooked closed – an action that could be done with one hand. 1 to 2 units per module are sufficient to keep the wires tucked up high.
Key feature: The WCH1 also comes in a larger, 2-in. size (WCH2) which holds runs up to 20 wires up to 8 mm in diameter or can be configured to specific systems. Both feature the round bundle compartment, which prevents significant shifting from tracker movement or wind.
Contact: Wiley (Hubbell) website
---
Rooftop clips, conduit mounts
Heyco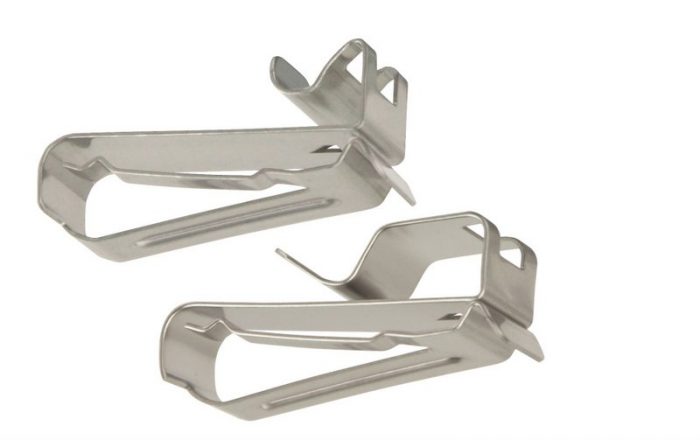 HEYClip Stainless Steel SunRunner 4-2 and 4-2U Cable Clips
Material: Heyco's HEYClip Stainless Steel SunRunner 4-2 and 4-2U Cable Clips are constructed from 410 Stainless Steel, offering years of protection and reliability – so much so they're included in Heyco's 20 Year Warranty.
Install: These clips install with fingertip pressure onto popular racking systems like Unirac, IronRidge, Everest/K2 and other similar profiles. The clips allow installers to neatly manage cables along the rail/racking system instead of along the backside of the solar panels, which is especially helpful when microinverters are present. Heyco typically recommends 1 clip per every 3 feet but other variables come into play like number of cables, weight and shape of the cables, etc.
Key feature: All of Heyco's stainless steel clips are rolled/tumbled, which means edges are dull, which reduces abrasion. The SunRunner 4-2 and SunRunner 4-2U cable clips were designed specifically for Enphase's Q Cable but can be used with round PV cables as well.
Contact: Heyco | renewables@heyco.com
EcoFasten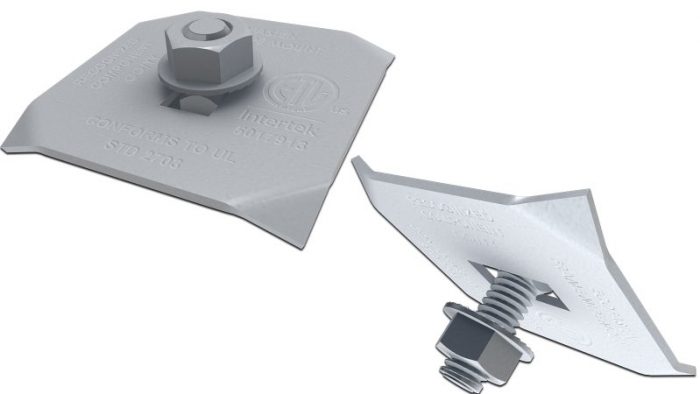 Frame MLPE Mount
Material: Stainless Steel
Install: The Frame MLPE Mount attaches, mounts and fully bonds module level power electronics (MLPE) to the module frame using a single-bolt clip.
Key feature: This accessory can be used with any racking system to attach the MLPE to the module frame.
Contact: info@ecofastensolar.com
QuickBOLT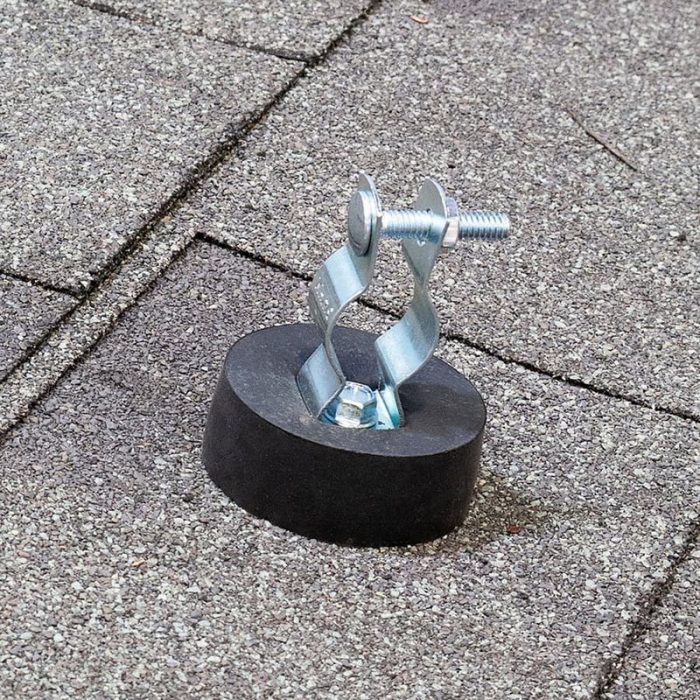 Conduit Mount
Material: This mount features a 7/8-in. high EPDM Cylinder and Install Screw. Installers can use this in combination with their own shoulder clips for supporting conduit on the rooftop, no sealant required. Mount on Asphalt Shingle, TPO or EPDM roofs. Machine screws and shoulder clips are not included.
Install: The Conduit Mount can be attached anywhere on the roof deck to run conduit. Install in five seconds or less by simply inserting the mounting screw into your shoulder clip and the EPDM block, then drive until the block is compressed.
Key feature: By using the EPDM block to lift the conduit off the roof, this mount meets 2020 NFPA Code 310.15(B)(2) for raceways or cables exposed to direct sunlight on or above rooftops. This code requires conduit to be lifted 7/8 in. off the roof to combat heat rise from the rooftop, or a temperature adder is required to determine the applicable ambient temperature.
Contact: QuickBOLT website
S-5!
CanDuit clamp
Key features: The CanDuit clamp is one piece in combination with any S-5! clamp or bracket that secures and supports chases and raceways, cable trays, gas piping, condensate lines and other round-shaped objects to metal roofs, in combination with any S-5! clamp or bracket, including the GripperFix utility mounting system. It is available in 14 sizes with outer pipe diameters ranging from .79″ (20 mm) to 4.6" (117 mm). Adjustability within each clamp enables minor size adjustment to secure most conduit and other piping.
Material: Made from electro-zinc coated steel, the CanDuit clamp features two halves that clamp around the pipe or conduit with an EPDM liner pad that protects against abrasion and a threaded M8 stud that allows for attachment to S-5! products.
Install:
Choose the correct size CanDuit clamp for your conduit application.
Determine the location to place the conduit clamp.
Attach the appropriate S-5! clamp or bracket to the roof.
Thread the conduit clamp into the S-5! attachment.
Loosen and remove the two Phillips screws from the CanDuit clamp and remove the upper half.
Insert the conduit into the clamp, then replace the upper half and tighten the two Phillips screws.
SnapNrack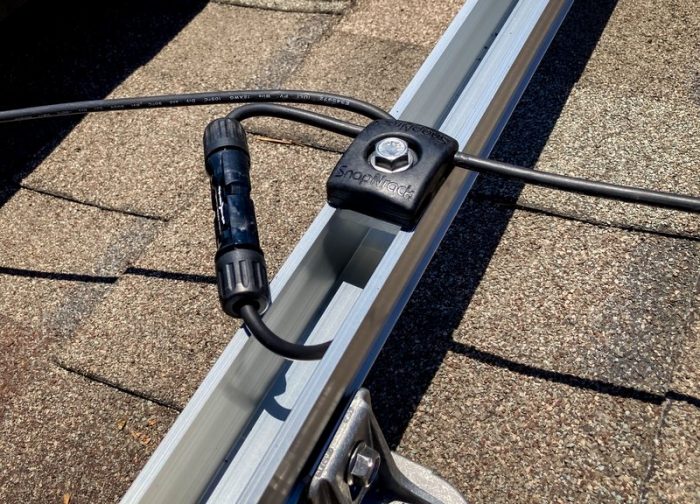 Universal Wire Clamp
Material: All components to the Universal Wire Clamp are made of materials that have been selected for their ability to handle high UV exposure and extreme rooftop temperatures common under solar arrays in order to last the life of the system. It is backed by the SnapNrack 25-year Manufacturer's Limited Product Warranty.
Install: A 1/2-in. socket is all you need to install the SnapNrack Universal Wire Clamp. The Universal Wire Clamp attaches to the rail channel by snapping in a channel nut and securing a single bolt with a 1/2-in. socket. The Wire Clamp installs with the same tool as the rest of SnapNrack's Ultra Rail System.
Key feature: The Universal Wire Clamp has the capability of securing four PV wires or two Enphase Q cables, allowing a tight transition of wires from rail to rail and avoids wire hangers and cable clips.
Contact: SnapNrack website | contact@snapnrack.com
Wiley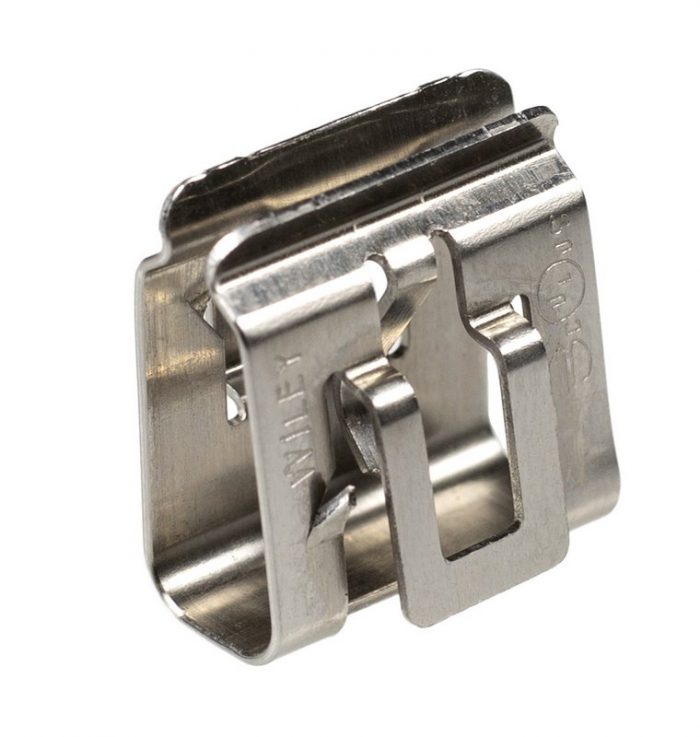 ACC-FF180
Material: The ACC-FF180 is a wire management clip made of 304 stainless steel, which is a reliable solution for all environments. It is manufactured with coined edges designed to help protect cable insulation from damage. It accommodates 1 to 2 PV cables up ranging from 5 mm to 8 mm in diameter.
Install: The ACC-FF180 installs without any tooling. It slides securely onto PV module frames ranging in thickness from 1 to 3 mm and can be installed either straight on or at 180 degrees. Two clips per frame are sufficient to soundly hold wires in place. This style clip can add extra protection in high vibration or movement environments by securing wires with openings pointed in alternating directions.
Key feature: The compact size makes this clip a perfect solution for shorter flanged panels with widths down to 12 mm.
Contact: Wiley (Hubbell) website
Listen to more in-depth conversations on Solar Builder's YouTube channel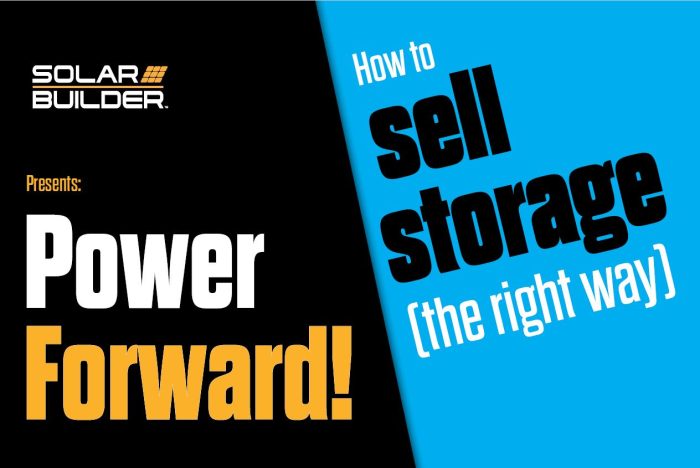 Our most popular series include:

Power Forward! | A collaboration with BayWa r.e. to discuss higher level industry topics.
The Buzz | Where we give our 2 cents per kWh on the residential solar market.
The Pitch | Discussions with solar manufacturers about their new technology and ideas.
Tags:
Affordable Wire Management
,
CAB Solar
,
EcoFasten
,
HellermannTyton
,
Heyco
,
Panduit
,
QuickBolt
,
Snake Tray
,
SnapNrack
,
Solar Builder Buyer's Guide
,
Staubli Electrical Connectors
,
Voltage
,
Wiley
,
wire management