We asked every inverter manufacturer to tell us about their latest and greatest products for our 2019 Solar Inverter Buyer's Guide. What came back was a range of innovations from the most powerful microinverter on the market to the latest utility-scale string technology. At this point, solar inverter spec sheets all seem fairly comparable. The real differentiators come in monitoring and service options, storage capabilities and grid functionality.
Future proofing
The move to incorporate storage is being driven more and more by a combo of improved battery economics and utility rate changes. The symbiotic pairing with solar is just too hard to ignore.
"Residential PV installations are including batteries more and more often, especially in places like Hawaii where exporting PV power is often not allowed and in California where time-of-use rates shift the value of electricity more into the evening," says Paul Dailey, director of product management for OutBack Power. "Additionally, existing PV customers in areas with frequent power outages are asking for retrofit backup systems."
"Utility companies around the country are killing net metering and thus grid-tie-only inverters," says Tom Brennan, engineering manager at Sol-Ark. "They want to charge three times what they will pay out for the solar power produced. The only solution is solar + storage to keep what is produced, consume it at night and use the grid as backup to solar. "
Today most off-grid systems are still installed using lead-acid batteries. They are proven and cost effective, but less efficient, and over the long-term lithium has economic advantages. A growing number of off-grid systems are installing LiFePO4 lithium batteries as an alternative to both wet and advanced (gel, AGM) lead-acid. Although this type of battery initially is more expensive than lead-acid, over the long run they can be more economical due to high cycle life and superior storage capabilities.
"Perhaps most importantly, lithium batteries can operate without being fully charged and can actually do better when they are not held at a very high state of charge for long periods, unlike lead-acid batteries," says Mark Cerasuolo, director of marketing at Morningstar, which just debuted a new off-grid-focused solar + storage inverter for the lithium battery age. "Therefore, residential off-grid customers never need to worry about running their generator to top off the batteries like they have in the past, further reducing the run time of their generators — and drastically lowering fuel and maintenance costs, as well as noise and emissions. System operators that use lithium batteries report fuel savings of 75 percent and more compared to running a generator for prime power."
EV and smart home upgrades
Less talked about, but possibly more relevant countrywide, is an inverter's flexibility to incorporate electric vehicle charging.
"This is particularly relevant to the PV market as we see a significant overlap between the EV and PV target market," says Lior Handelsman, co-founder, VP of marketing and product strategy with SolarEdge. "With many homes expected to have an EV in the coming years, it makes sense for anyone installing a PV system to install an EV charging inverter or at least an EV-ready inverter."
SolarEdge is taking another strategic step by transitioning its inverters into comprehensive smart energy managers.
"Consumers do not just want to place solar energy on their roof and then forget about it; they want to control how they use their energy," he says. "Since the inverter already manages solar production, energy storage, grid interaction and consumption, it is well positioned to evolve into the home's smart energy manager. By integrating smart energy verticals into the inverter hardware and firmware, such as our EV charging solar inverter, installers and homeowners alike receive more value."
You are buying service, support
More than ever, commercial inverter manufacturers are focusing on improving the user experience with installer friendly designs, improved user interfaces and more effective customer service.
"Installer friendly features like lifting handles and a spacious wiring box allow electricians to install the product safely and in a time-efficient manner," says Michael Nieman, senior applications engineer for Yaskawa Solectria Solar.
Integrated fused combiner and AC/DC disconnects also streamline the installation process.
String inverters keep scaling up
As the industry has matured, the drawbacks of central inverters — a larger footprint, expensive maintenance contracts, higher O&M expenses, large sections of arrays suffering from downtimes, etc. — have become more apparent. For these reasons, decentralized architecture with string inverters and module-level optimization has been gaining market share in the commercial PV sector in recent years.
But even if actual central inverters are less popular, deploying string inverters on a skid for a more centralized design architecture still makes sense for some sites.
"The design architecture of a site can make a big difference in EBOS cost," says Ed Heacox, GM at CPS America. "Sometimes a distributed approach is better, other times centralized makes better financial sense. Evaluate the different designs using your actual costs to determine which method is best for the project and site. Beyond the initial financial implications of these two architectures is the O&M aspect. For very large sites, a centralized design can streamline O&M by clustering the inverters in one or more groups."
More connectivity needs more security
The increased quantity of smaller inverters has made inverter communications even more integral to effective plant commissioning and control. This means simplicity, but also an increased focus on cyber security.
"We engineered our new XGI 1000 and XGI 1500 inverter lines with security baked in, not layered on," says Emily Hwang, applications engineering manager at Yaskawa Solectria Solar. "While on-site, users can view inverter information from their smart device via WPA2 encryption. The user interface is password protected and can limit the accessibility of control parameters to only qualified individuals. In addition, each inverter comes equipped with a firewall and uses SSL encryption to ensure that the connection between web server and browser remain secure."
The YSS team is also promoting the idea of hardware security, believing it is important to have inverter lines engineered and manufactured in the U.S.
OutBack is taking a standards-based approach to communications and data security, working with the SunSpec Alliance, IEEE and other standards bodies to ensure that our platforms are secure while remaining interoperable with the devices and parties they legitimately need to share data with.
[button link="https://staging1.solarbuildermag.com/subscribe/"]Don't miss our Solar + Storage issue in July — subscribe to Solar Builder magazine (print or digital) for FREE today[/button]
Approaches to Phase 3 vary
Rule 21 Phase 3 is all about allowing utilities and grid operators to leverage many of the grid supporting and communication requirements developed in previous phases. While the exact requirements and date for Rule 21 Phase 3 are still TBD, eight functions have been recommended by the Smart Inverter Working Group to be included in Rule 21 as mandatory or optional capabilities for all inverter-based DER systems.
"Installers should become familiar with the implementation schedule and ensure that they are specifying products that can meet the requirements. Otherwise, they may be denied interconnection," Dailey says.
Similar to Phase 1, testing and certification requirements will be needed before Phase 3 functions can have mandatory implementation requirements. Mandatory implementation requirements typically begin 12 months after approval of testing and certification requirements.
"Manufacturers will ship inverters with functions left in a default state. Installers should be prepared for the need to implement specific settings and/or functions on a site or project specific basis. The local utilities and grid operators may request modification to the settings that would require the installer to adjust during commissioning," Nieman notes.
For Rule 21 Phase 3, SolarEdge is providing an expanded feature set for smart inverters like data monitoring, remote connection/disconnection and max power controls.
"These will start to become the new industry standard," Handelsman says. All SolarEdge inverters sold in California will be certified for IEEE 2030.5, while already shipped SolarEdge inverters can be updated for compliance.
While this is a necessary step for onboarding an abundance of distributed PV onto our grid, at least one inverter manufacturer fundamentally disagrees with Phase 3 because of the economic implications for individual solar + storage systems.
"Utilities want to reprogram your inverter and use your batteries at any time to support power surges," Brennan says. "Not sure what they will pay you for it, if anything. And there is also the potential for cyber hacking of the system. Sol-Ark is just not a fan."
The U.S. veteran team of engineers at Sol-Ark may have considered security more than any other manufacturer in the building of its inverter hardware from the standpoint that it can survive solar flares or an EMP attack. What is Sol-Ark doing for cyber security? "We unplug the Wi-Fi connection," Brennan says. "That is the ultimate security."
Partnerships add value
Being the connective hub of a system puts inverter companies in position to come up with cool partnerships that streamline costs, improve performance and introduce new user-facing functionality. Here's some examples.
CPS is the first inverter company that also has a bankable, large scale PV module offering. CPS' sister company is Astronergy, a Bloomberg Tier 1 rated PV panel provider. CPS is able to bundle PV panels and inverters — orders, delivery, support, warranty — all from one $8 billion company.
Fronius is one of many inverter companies partnering with the SunSpec Alliance, which defined an open industry standard for communication between modules, inverters and string combiners to support module level rapid shutdown requirements. "We not only believe that industry standards have economic advantages for distributors and installers, but that they also ensure better safety," says Richard Baldinger, director of marketing with Fronius.
Morningstar's Energy Storage Partner program (ESP) is an ongoing collaboration with selected premium battery manufacturers with advanced technologies/chemistries. The ESP verifies, confirms and thoroughly documents recommended charge settings along with best practices, to provide system designers and installers with as close to a plug-and-play solution as possible when configuring energy storage systems to best use specific batteries.
SolarEdge recently announced that it was one of the first companies to collaborate with Google to integrate EV charging with the Google Assistant in order to make EV charging simpler for consumers. The integration allows consumers to tell the Google Assistant to start and stop EV charging. SolarEdge plans to add more functionality to its Google Assistant commands, including inquiring about charging status, checking average miles charged in the charging session and pre-schedule charging.
Yaskawa Solectria Solar has partnered with Alencon to provide a repowering solution for legacy 600 V PV arrays. Customers can replace legacy and underperforming 600 V inverters with the latest inverter and power electronic technology to return these systems to operation.
Sungrow has partnered with several third-party monitoring and controls companies (NorCal controls, Locus and AlsoEnergy are all well known, trusted brands in the industry) to produce off-the shelf solutions that can be used in combination with its products. This gives customers the ease of doing business and designing projects around its products.
Chris Crowell is the managing editor of Solar Builder.
Listen to more in-depth conversations on Solar Builder's YouTube channel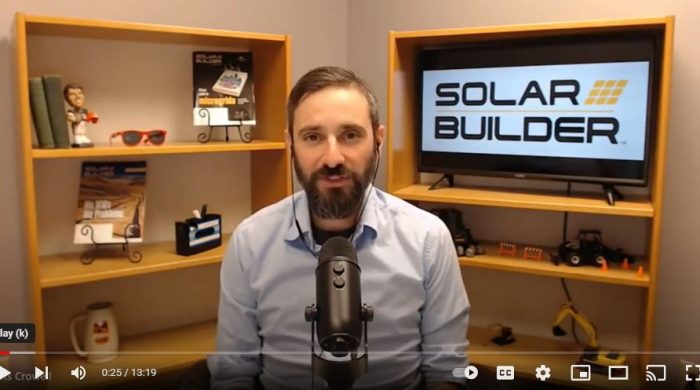 Our most popular series include:

Power Forward! | A collaboration with BayWa r.e. to discuss higher level industry topics.

The Pitch | Discussions with solar manufacturers about their new technology and ideas.
Tags:
CPS America
,
Fronius
,
Morningstar
,
Outback Power
,
Sol-Ark
,
SolarEdge
,
Sungrow
,
Yaskawa Solectria Solar