What is a low slope roof? As defined by National Roofing Contractors Association, the pitch of a low-slope roof is equal to or less than 3:12, seen in Fig. 1.
Before a low-slope rooftop system is designed, perform a structural evaluation of the roof deck, structural evaluation of the building, the age of the roofing materials and the type of roofing materials (to ensure that the correct steps are taken to uphold the integrity of the roof). Also consider roof drainage, dirt buildup, roof traffic and access and safety.
Design considerations
1. Water intrusion. In most low-slope roofing, this is achieved through flashing the attachment points. Different low-slope roof coverings will have different flashing requirements.
2. Wind resistance. Wind uplift could move or rip off and ruin the roof surface if the system is not engineered for the correct wind resistance. There are three zones for wind resistance analysis:
•    Field Zone (interior) — lowest wind loads.
•    Perimeter Zone (ends) — middle wind loads.
•    Corner Zones — highest wind loads.
3. Fire resistance. The PV system must be engineered with materials to match the fire classification of the roof. This fire rating for PV components is governed by UL testing and roof systems are classified for the level of fire resistance:
•    Class A (highest rated; 6-ft max. spread of flames).
•    Class B (8-ft max. spread of flames).
•    Class C (13-ft max. spread of flames).
As for the roof warranty, limited manufacturer warranties may be void if design/install/maintenance procedures are not followed. Flashing must match the roofing manufacturers install instructions. Rooftop PV cannot interfere with roof maintenance, so work with the roofing manufacturer and the roofing contractor.
The roof should already be in good condition before installing PV and should at minimum last as long as the PV system being installed. The removal and redesign of a PV system after only 10 to 15 years is a large expense.
Low-Slope PV Mounting Options
•  Adhered PV/PV laminate. Provides a lightweight, low profile that has aesthetic and wind load benefits. Used with adhered membranes with a minimum thickness of 72 mm. Can only be used with high temperature-resistant membranes and insulations because it can heat up very quickly.
• Ballasted systems. No roof penetrations are required, so panels and racking are held in place with weight. This is a quick retrofit solution. Can block drainage and compress insulation, which creates ponding water. Thermal expansion and contraction can cause damage and create difficulty with roof maintenance, inspection and repair.
• Mechanical attachments. These are penetrating supports that attach to a structural deck or beams and are flashed into roof covering. The flashing should follow the roof manufacturers' instructions (6 to 8 in. off roof surface). They provide a stronger attachment while being lighter than ballasted systems. They are mounted higher off the roof, which makes it easier to inspect and repair. Just have to be sure to use reliable waterproofing.
---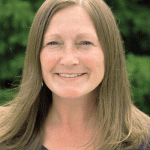 Jolene Ciosek is in marketing for EcoFasten Solar.