For many opportunistic entrepreneurs, the solar industry is an enticing place to start a business. There is a demand for sales teams and installers to help expand the reach of solar. However, too often, those individuals do not have solid business plans and burn out quickly, doing more harm than good for the industry.
The success story of how Josh Bessette, owner of J&B Solar and Electric in Cocoa, Fla., created and grew his solar integration company is different. As a second-generation solar contractor, Bessette grew up in the industry and understands the finer details of the business, and when he saw the opportunity to create and build a business, he took it.
"I guess you could say solar is in my blood," Bessette joked. "The family business was established in 1974 and primarily performed residential and small commercial work. At the time, there wasn't the opportunity to chase utilities or large-scale commercial projects in the Southeast; the demand just wasn't there."
After college, Bessette got his contractor's license and continued to work for his family's business until his father sold it. Soon after, he moved into a sales role for an organization that provides solar panels, racking and modules to residential, commercial and utility-scale contractors, as well as developers.
Seeing opportunity
During his time as a solar contractor, Bessette spent a lot of time studying the large utility-scale solar projects occurring in California, Arizona and Nevada. "It always intrigued me; I wanted to be a part of that side of the industry," he said. "So, when solar demand evolved in this part of the country, I knew it was my time to make a move."
In October 2013, Bessette started building J&B Solar and Electric. "Working with contractors, I saw there was a need for quality integrators," Bessette said. "I already knew a lot of the companies in the area and had the experience that would set us apart from other startups. I knew it would take a lot of hard work, but I knew with the right help, I could build a business that would stand out."
RELATED: How solar installers can build business through third-party programs
Getting established
Building a business in the solar industry takes financial resources, patience and the commitment to do it right.
"The solar industry moves quickly these days," Bessette explained. "There are a lot of product innovations that claim to install faster or better than the competition. And to be honest, a person really must spend time evaluating everything and not just take a salesperson's word for it. It's those types of decisions that cause so many young organizations to put themselves out of the business before they really even start."
J&B Solar and Electric spent time researching the equipment they needed to be successful and took on a lot of projects that were demanding with short timelines. "It's that mindset that I think helped us gain vital experience," Bessette added.
Since J&B Solar and Electric didn't focus on just one type of system, they were exposed to a lot of different solar solutions and environments. Through those experiences in the early years, they understood what equipment and products performed better than others.
"We saw others using installation methods that were slow and inefficient," Bessette commented. "There were also many other integrators that didn't invest in their installation equipment and completely relied on rental equipment for every project, which can cause project delays in a specialized field like ours."
Growth investment
After getting a few years under their belts, J&B Solar Electric made the investment that would take them from just another startup in the solar industry to a top solar installation subcontractor.
"To be considered for the large-scale utility projects that we wanted to work on, we needed to own the equipment," Bessette explained. "We researched what equipment was available for pile driving, and determined that the Vermeer PD10 pile driver was the right choice for us. It's efficient, highly productive and flexible — all the qualities you want in a machine. Vermeer also has a responsive dealer network, no matter where we are working, which can sometimes be some pretty isolated areas."
J&B Solar and Electric purchased its first Vermeer PD10 pile driver in January of 2016, and since have added four more to its fleet. Bessette credits that fleet expansion to customers recognizing how efficient and quickly J&B Solar and Electric's crews work.
"Even when working with a variety of soil types or racking systems, there are attachments for the PD10, like different guides for pile sizes as well as an extraction system, that helps us finish projects faster than other pile-driving methods used in the industry," he added. "If we need something for the PD10, it's a phone call away. Vermeer has been a great partner for our small, but growing business."
Scaling up
Running multiple crews now, J&B Solar and Electric still primarily works in the Southeast but has also been asked to work on solar projects throughout the country, including New Mexico, Texas and Montana.
"Long-term success in the solar business means being able to quickly go where the work is," Bessette commented. "Originally, North Carolina was where the action was, but now we're doing a lot of work in Georgia, South Carolina and Florida. The people developing these solar farms want to get the work done right away so they can take advantage of federal and state tax incentives. To do that, we need to be responsive and ready to get to work when they are ready."
The design of the Vermeer PD10 pile driver is a major benefit when J&B Solar and Electric must travel long distances for a project. "So much of the other pile-driving equipment we looked at required each machine to be trailered separately," Bessette explained. "We can fit multiple PD10 units on a single trailer, which helps reduce our expenses and gets us started on projects faster than our competition."
Future growth
Currently, J&B Solar and Electric has crews working in Florida, North Carolina, Georgia, Alabama and Mississippi assembling solar farms up to 25 MW in size. Their crews are responsible for surveying sites, unloading trucks, checking inventory, driving piles, installing racking systems and mounting modules. J&B Solar and Electric has also recently expanded its services into performing electrical work.
Bessette said the reason for the company's recent expansion is to be a better resource for their customers. "The more we can do on a project, the easier it is for our customers," he said. "We've established a great track record on the mechanical side of the business and adding electrical work is the natural next step."
J&B Solar and Electric established its solid track record on decades of experience and establishing processes that make its crews fast and efficient on projects so they can deliver on time.
Kayla Breja is a marketing specialist – utility, for Vermeer Corp.
Listen to more in-depth conversations on Solar Builder's YouTube channel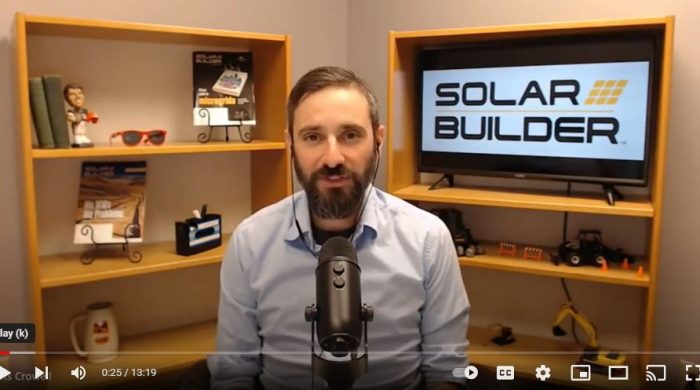 Our most popular series include:

Power Forward! | A collaboration with BayWa r.e. to discuss higher level industry topics.

The Pitch | Discussions with solar manufacturers about their new technology and ideas.
Tags:
2018 March April Print Issue
,
J and B Solar and Electric
,
Vermeer