There's nothing worse than a sleek solar power system with wires sticking out all over the place. A cable management solution for microinverter installations takes care of that problem.
By Mike Levesque
With the growing strength of the renewable energy movement, the principles of economic theory continue to influence the development of the solar energy landscape. The acceptance of solar energy as a legitimate power source has led to more companies offering exciting new products spurred by regular advancements in technology.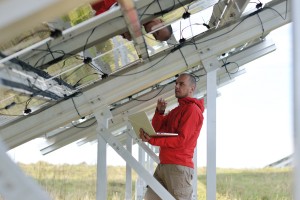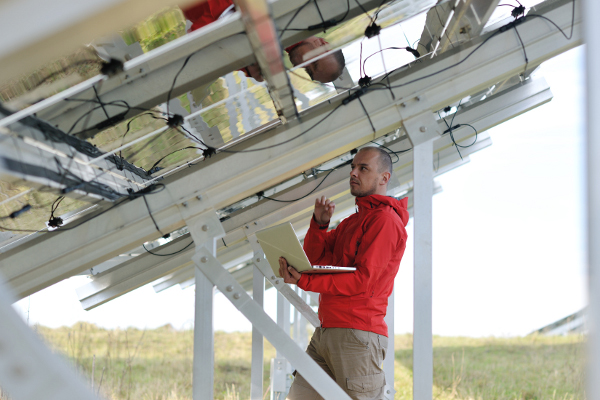 Solar power is delivered through the solar panels as DC current and must be converted to AC in order to be connected to the grid. AC microinverters provide several advantages over centralized inverters including:
Reliability: The architecture of some microinverters carry a projected life to exceed 33 years.
Harvesting Gains: Should one panel fail or become shaded from the sun, the other panels in the array can continue to generate power, enabling significant harvest gains.
Scalability: Systems can be easily increased relative to panel count.
Space Utilization: Use of multiple inverters eliminates the need to avoid shaded areas thus allowing for complete use of available space.
Safety: Microinverters group the DC power output of modules into smaller strings. A single panel or pair has a significantly lower voltage (approximately 60 V) than that of a DC string system (600 to 1,000 V).
The Helios Spine Cable is a molded "plug-and-play" cable harness that is pre-configured for the required number of drops and orientation (landscape or portrait) for each installation based on the PV system of choice. It can be customized for individual installations and requires only a few data points in order to prepare the manufacturing specifications:
panel orientation (landscape or portrait);
total number of panels in installation;
number of panels within each array; and
connector system.
A conventional electrical wiring approach per microinverter would utilize a National Electrical Manufacturers Association (NEMA) approved junction box with glands and require the cutting of four cable lengths, six wire strips and the associated cable handling and termination work within the junction box.
In contrast, the Helios Spine Cable approach requires no wire preparation, contact application or termination work. Because the unit has been pre-configured, lower cost installation labor can be utilized (an electrician is required, however, to wire the arrays into the junction box and connect the system to the power grid). Additionally the Helios Spine Cable can be configured for both two- and three-wire systems.
Helios Spine Cable offers additional advantages over traditional on-site fabrication of the required wire harnesses. These include:
Reduced Installation Time: Since the Helios Spine Cable is pre-configured to each installation with all connectors pre-terminated, there is no need to manage wire lengths, strip wire ends, install junction boxes or cap the ends.
Tamper Proof: Unlike mechanical junction boxes, the molds used in assembling the Helios Spine Cable and associated connectors provide not only a high degree of reliable protection from the elements, but they also make the terminations immune from tampering.
Flexibility: The Helios Spine Cable's construction is highly flexible which supports easy routing during install.
Reliability: All terminations are done under controlled conditions and tested for reliability, eliminating the possibility of mis-wirings.
Configurable: The Helios Spine Cable can be manufactured for multiple array configurations as well as two- or three-wire systems.
Fully Tested: No time wasted looking for potentially faulty terminations within the system.
Other wiring options exist in the market that offer alternate approaches to improving installation time. One pre-configured option provides a predetermined number of drops. This fixed spacing approach often requires cutting, capping the free end of the string and the inevitable scrapping of some drops from each bulk package. The Helios Spine Cable is configured for each specific installation eliminating the need for field preparation or modification.
Another option utilizes multi-conductor cables as opposed to individual jacketed wires. While this approach reduces the time and material associated with wire preparation and connectorization as compared to a discrete wire approach, it does not compare to the Helios Spine Cable for "plug-and-play" convenience.
As the solar marketplace develops, exciting new technologies like Helios Spine Cable represents an example of the recent technological advances in the development of solar power as a viable energy source.
Mike Levesque is director of new business development for C&M Corp. Helios Spine Cable is a C&M Corp. trademark. For more information, visit
www.cmcorporation.com
.