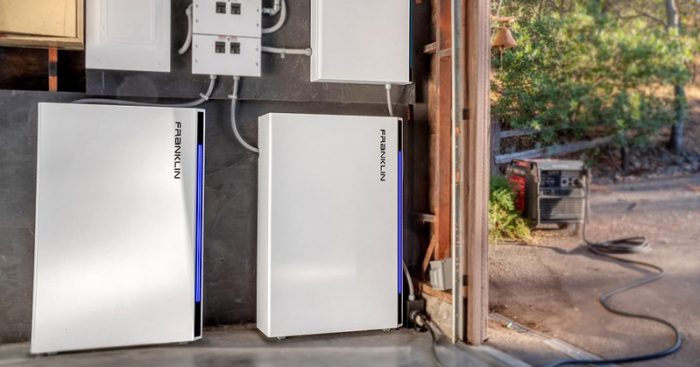 The home energy storage (ESS) marketplace is crowded, including brands familiar to solar installers (SolarEdge, Enphase, Canadian Solar) and to homeowners (Panasonic, Duracell, Generac, Briggs & Stratton), as well as roughly 1 zillion more.
When a completely new name like FranklinWH made its initial U.S. rollout at Intersolar 2022, touting a true "whole home solution," I was curious how it would fare. One year later, and FranklinWH has arguably made more strides than any other home ESS company.
FranklinWH headlines
FranklinWH kicked off 2023 by officially naming Vincent Ambrose as chief commercial officer. Ambrose, who notably led the North American sales and operations at Canadian Solar prior to joining FranklinWH, is now tasked with the firm's commercial and operational development in the North American market. He had been working in a consultant capacity since summer of 2022.
FranklinWH received the Materials and Methods (M&M) Certification from the City and County of Honolulu's Department of Planning and Permitting (DPP) in January. ESS installers on the island of Oahu can now reference the FranklinWH Home Power M&M Certification to fast-track the standard residential permitting process, shortening permitting delays by almost six months. Since this announcement, US-GM and cofounder Gary Lam says "one of the top 5 players" on the island is now exclusively installing FranklinWH.
FranklinWH was also just listed by LUMA in Puerto Rico, which qualifies them for sale in Puerto Rico.
Sunnova added FranklinWH to its energy storage vendor portfolio in February. This partnership means Sunnova dealers can pitch the FranklinWH ESS to existing solar customers, as well as to developers of new homes as a whole-home solution.
"Getting listed on Sunnova's AVL is a 7-month process of technical due diligence," Ambrose says. "Same as Sunlight Financial or some of the other financing entities. They are all important because our installer base needs a plethora of financing solutions for them to be able to excel in the marketplace."
FranklinWH solutions are also AVL-listed with multiple financial institutions including Mosaic, Sungage Financial and GoodLeap.
Product overview
FranklinWH's steady ascent is definitely due to the merits of its flagship system, Franklin Home Power (FHP), which is more robust than a typical ESS.
FHP is a whole-home energy management solution that integrates solar, battery, grid, and generator power sources and manages them to optimize the safety, reliability and efficiency of a home's energy needs.
"When I got the chance to peel back the onion on the FranklinWH product, I was impressed," Ambrose told us in a chat at Intersolar 2023. "Gary Lam, who I've known for number of years, played a key role designing it. He brought a customer-centric perspective as to what the U.S. market needed in a product as opposed a bunch of engineers in another country trying to build something. It is a customer-driven spec instead of an engineering driven spec."
Engineers would gush over these specs too: FHP consists of the aPower, a 13.6 kWh lithium iron phosphate (LFP) battery, and the aGate, a cloud-based smart energy control system. The aGate is FranklinWH's loads control product – another segment that is gaining importance in the market and quickly crowding with the likes of Lumin, SPAN and Savant.
"Having a battery is fantastic, but if you're just throwing electrons at a problem, that's not optimal," Ambrose explains. "If you think of it through the lens of home energy management – how do I use this to its optimal capacity or capabilities, you see why the aGate is so important. When grid power goes down, it is preprogrammed to start taking circuits offline to keep those critical loads going that you really need that a homeowner is not going to think of."
We've covered the system's nuances several times since its launch. Lam says they are on version 3 currently, which is mostly the same except for "micro level optimizations" based on installer feedback that will save an extra 5 to 10 mins at install. They also added a protection circuit, making the installation virtually error proof.
FranklinWH recently launched aPbox, a junction for households with more complex solar installations. It solves problems such as oversized PV systems and wiring restrictions.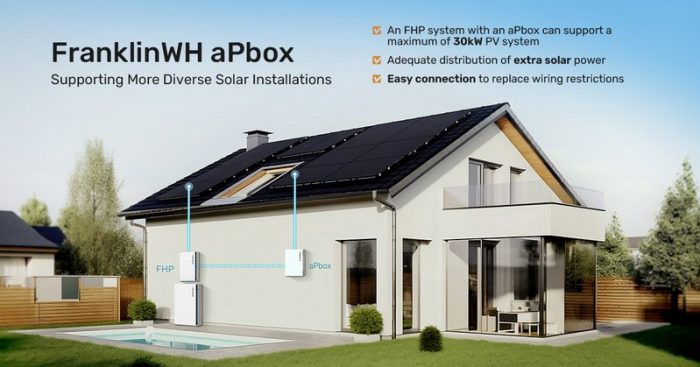 Normally, FranklinWH recommends the power ratio between the PV system and the aPower batteries comes in at 1:1 or less.
"For example, if you have or install a 10 kW PV system, we recommend installing two aPower batteries, as the continuous charge power per aPower battery is 5 kW," Lam notes. "Some homeowners don't want to install that many batteries, which means the power of their PV systems may be more than the power of the battery. They can install an aPbox to distribute the extra power directly to the load side through the aGate or send the power to the grid if permitted."
An FHP system with an aPbox can support a maximum of 30 kW PV system.
In other situations, the installation of the FHP may require changing the power lines of the house in order to connect the PV system and aGate, which may lead to a large additional investment. In this circumstance, an aPbox can act as a transfer station to provide a connection between the PV system and aGate without changing the power lines of the house.
FranklinWH is priced competitively, can be commissioned in as quick as five minutes and offers a 12-year warranty vs. an industry average of 10 years.
Future outlook?
ESS installers are often in a tough spot, trying to match customer expectations to the realities of the available technology.
"There's a lot of customer misperception," Ambrose says of the home energy storage market, which still requires a lot of customer education, an area he admits FranklinWH could improve upon just like everyone else.
"In most of the time of use (TOU) situations, 99% of the time you're beating the duck curve and storing solar to offset those higher rates. That 1 percent of the time when the grid goes down, you've got your battery there to just keep you in a comfortable spot in the house. If you frame it up in that context, and you set the right expectations, then you're good to go."
FranklinWH is now big in Hawaii (mentioned earlier) and in great position to solve California's net billing market uncertainty.
"How much will attachments go up in California? We'll figure it out in time. My sense is the industry always overreacts," Ambrose says. "We've seen this since 2006 when the first drop in the California solar initiative happened. You thought it was the end of the world, which was a fallacy. NEM 3.0 is scary at some level, but the strong will survive, and the really good ones are going figure out the attachment rate and start selling storage."
Right now, Texas might be its biggest market, thanks to the aGate's ability to integrate a generator.
FranklinWH also reports a stable battery cell supply chain. According to an April webinar with Philip Shen of Roth Capital Advisors, the company could supply 30-40k units and "could double this capacity in the next six months."
FranklinWH is available in distribution via BayWa r.e., Greentech Renewables, Inxeption Energy, Fortune Energy, The Power Store, Van Meter, Inter-Island Solar Supply, R&R Solar Supply, and SolWel.
Listen to more in-depth conversations on Solar Builder's YouTube channel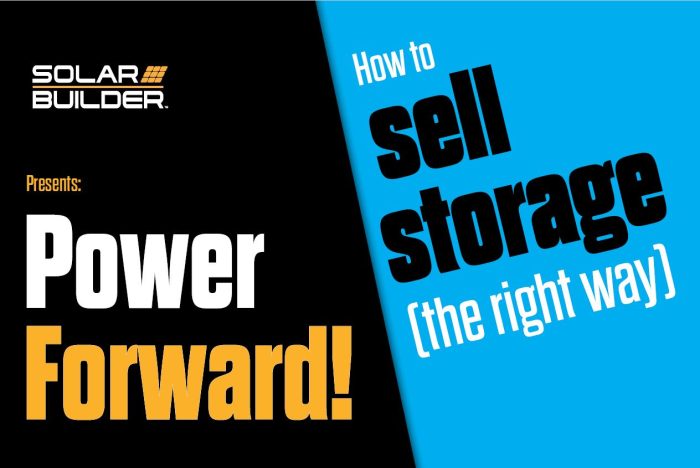 Our most popular series include:

Power Forward! | A collaboration with BayWa r.e. to discuss higher level industry topics.
The Buzz | Where we give our 2 cents per kWh on the residential solar market.
The Pitch | Discussions with solar manufacturers about their new technology and ideas.
Tags:
Franklin Whole Home