Crown Battery Manufacturing
99% recyclable and 100% U.S.-Made: renewable energy batteries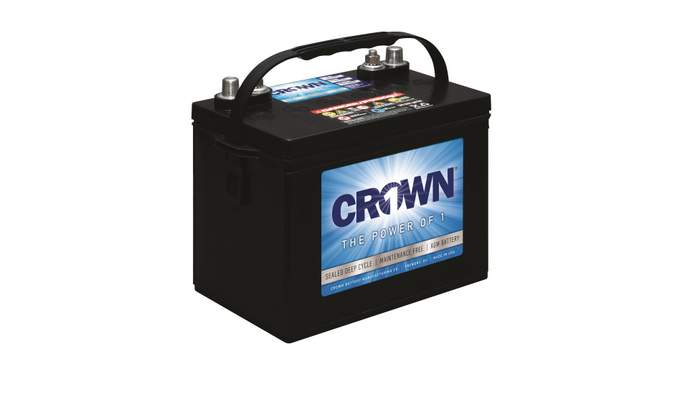 Product spotlight: CROWN1 Maintenance-Free AGM batteries
Key Specs
100% U.S.-designed, engineered and robotically manufactured to ISO 9001:2015 standards
100% Domestic supply chain and tech support enhance reliability
3. 6-, 8-, and 12-volt models feature 33-390 Ah (20-hour rating) capacities and virtually unlimited configuration options
CROWN1 batteries are optimized for plug-and-play renewable energy and the widest array of configuration options. Robotic assembly, the industry's heaviest plates, and more active materials enhance deep-cycle performance and lifespan. According to the US EPA, CROWN1 batteries are 99% recyclable, more than any other battery chemistry. Crown batteries are engineered and manufactured in the USA — and proven in 10,000+ installations on six continents, including a DOE pilot project.
What's unique: The industry's heaviest, thickest plates hold more active material — for more chemical reactions (cycles) and longer discharge times. Reliability-enhancing automation includes computerized oxide mixing, gravity casting, pasting, curing, wrapping, heat-sealing, and formation. Inline COS intercell welding allows for 3,960 more adjustments than manual welding; this improves lifespan, reliability, and performance. Proprietary gravity casting floats impurities to the top for removal to help prevent the leading cause of battery failure: internal short-circuiting from plate corrosion.
What's new: R&D includes 3D modeling, 3D printing, and 5,000+ tests. 250+ quality checks per battery include ISO-certified QC and aerospace vision systems that ensure the greatest quality, durability, performance, power, and lifespan.
Warranty: Varies; batteries are engineered and robotically assembled for longevity
Full offering: Batteries (AGM and flooded lead-acid) and battery storage enclosures
---
Enphase
Enphase combines proven reliability and quality with outstanding customer experience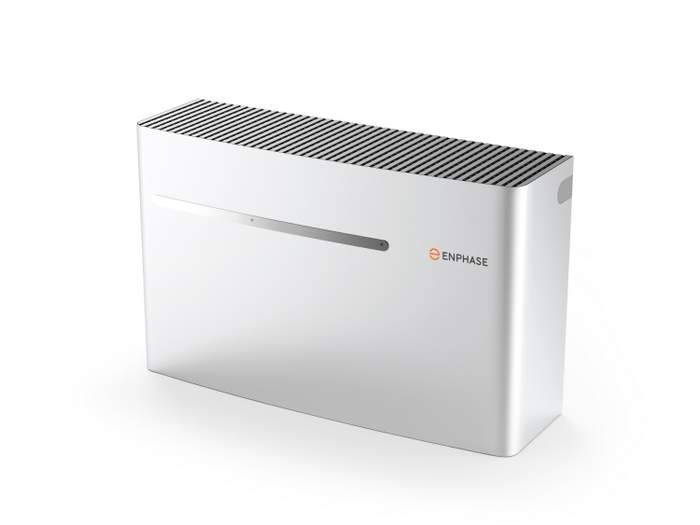 Product Spotlight: The Enphase Encharge
Key Specs
Designed to be modular for easy upgrades over time without requiring additional external inverters.
Lithium Iron Phosphate (LFP) battery chemistry
Ensemble technology keeps the energy from solar and storage flowing when the grid goes down.
Enphase Encharge energy storage is an integrated, always-on solar+storage solution. The Enphase Encharge 3 and Encharge 10 storage systems (usable capacity of 3.4 kWh and 10.1 kWh, respectively) are expandable so customers can go big or start small and grow over time. The Enpower smart switch connects the home to grid power, the Encharge storage system, and PV. It provides microgrid interconnection device (MID) functionality by automatically detecting and seamlessly transitioning the system from grid power to backup power in the event of a grid failure. Enphase storage systems use Lithium Iron Phosphate (LFP) battery chemistry,
What's unique: For maximum reliability, Enphase Encharge storage systems offer fail-safe inverter redundancy. Encharge 3 includes four grid-forming microinverters, and Encharge 10 includes 12 grid-forming microinverters, which keep backup power safely running even in the event of a microinverter failure. Encharge storage systems feature a cooling system with no moving parts.
What's new: The Enphase Enlighten mobile app not only allows homeowners to see their solar energy generation, energy storage, and energy usage from a single app. The app also allows homeowners to actively manage their backup energy or leave it on auto-pilot using Storm Guard. Installers get the peace of mind that support for new rates and regulations, as well as product upgrades, are delivered directly to customers' systems via homeowner internet.
Warranty: 10-year limited warranty on Enphase Encharge storage systems
Full offering: Hybrid solar PV inverters, full Energy Storage System, Energy management
---
Generac Power Systems
Simple solar-plus-storage options to power homes, and help consumers save money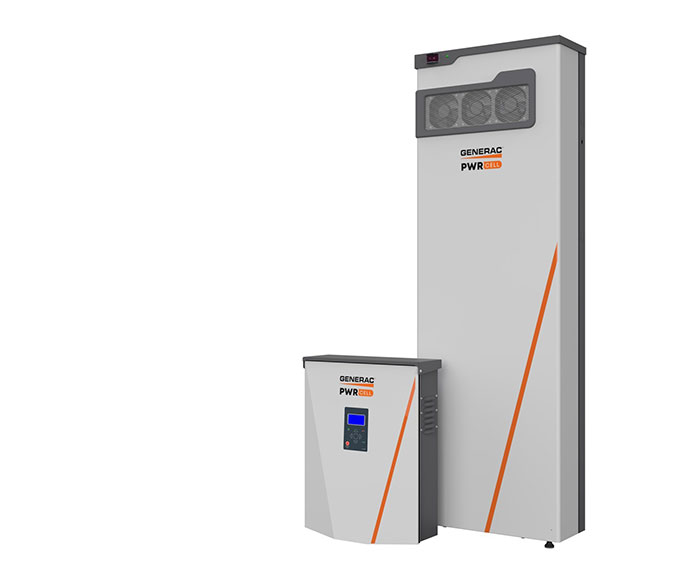 Product Spotlight: PWRcell
Key Specs
Modular battery storage system with 8.6kWh batteries that can expand up to 34.2kWh
Single inverter for grid-tied solar with battery integration.
PWRview energy monitoring app included for easy monitoring.
The PWRcell system is the first system to have all non-PV panel components developed and sold from a single company. Generac PWRcell features an innovative modular storage system, which includes 8.6 kWh batteries, a battery storage cabinet and an inverter. The system is fully customizable and can expand up to 34.2kWh
What's unique:  Because it is made by Generac, each component is specifically engineered to seamlessly install and work together, unlike most solar storage products, which are assembled piecemeal from various manufacturers' components. PWRcell generates enough power to start heavy loads, such as well and sump pumps, dryers, and refrigerators, making it the most scalable, robust energy storage system available.
What's new: Generac has made several partnership announcements to further its commitment in the solar industry. A partnership with Solar Energy International allows for Generac employees and installers to attend SEI technical training sessions at a discounted rate to ensure they receive the best training in the industry. A partnership with Sunnova makes them the exclusive Lease and Power Purchase Agreement (PPA) provider for the PWRcell system.
Warranty: 10-year limited warranty.
Full offering: Hybrid solar PV inverters, battery inverter/chargers, modular smart battery platform, Full Energy Storage System, Automatic Transfer Switch, Energy management
---
Humless
Customizable universal energy management to suit any sized-project or situation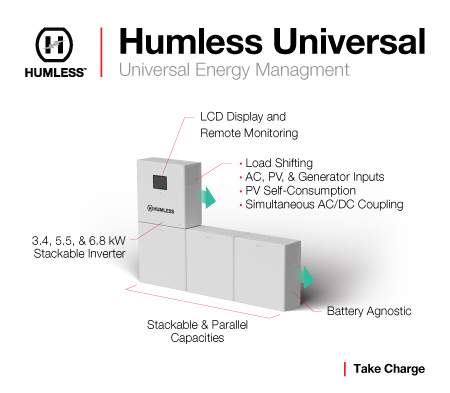 Product Spotlight: Humless Universal 10/4
Key Specs
10 kWhs of lithium (LiFePO4) battery storage (4,000+ Cycles)
3.4 kW (4 kVa) premium inverter
Automatically retrofits to any existing solar power system
The Universal 10/4 has 10 kWh of lithium battery storage (LiFePO4), a 4 kVA (3.8 kW) inverter, charge controller, battery management system and LCD screen or remote system monitoring. This system has enough power to take a cabin completely off-grid or power a residential home. Stack the Universal 10/4 system up to 2 times for more power and battery storage for up to 8 kVa and 20 kWh of battery. The maximum solar PV (photovoltaic) input is 4000 W. Humless Home Systems work perfectly on and/or off the grid.
What's unique: The Humless energy storage system is plug-and-play with any existing solar array, recognizing the type of inverter the array is using and pairs with the system automatically. Retrofitting an existing array is as easy as running the AC and/or DC lines into the Humless Home System.
What's new: Single application energy storage systems are a thing of the past. You can now load shift, export to the grid, and have a system that works when the power goes out. Humless power backup for the home provides peace of mind.
Warranty: 5 year warranty on Humless components; 10 year warranty on all lithium batteries (4,000 or 10,000 cycle life)
Full offering: Hybrid solar PV inverters, Battery inverter/chargers, lithium-ion and lithium-iron phosphate batteries, Full Energy Storage System, Electric panels, Energy management
---
LG Electronics
Game-changing energy storage systems with smart management functions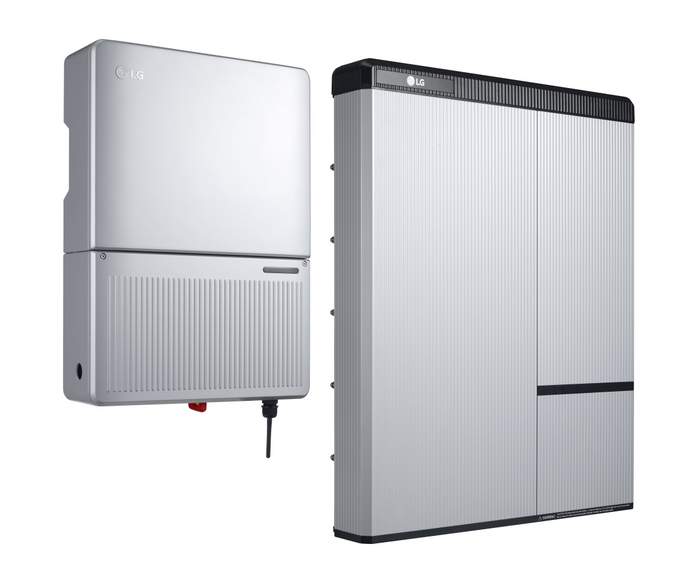 Product Spotlight: LG Energy Storage System (ESS)
Key Specs
9.8 kWh or 19.8 kWh battery storage
AC-Coupled 5kW or DC-Coupled 7.6 kW for new or existing solar installs
All in one warranty by LG Electronics
The LG ESS is an effective way for PV system customers to maximize their solar generation and provide home back up capabilities. The 9.8 kWh or 19.8kWh will be enough for many homes to keep the light on during a blackout. The DC-Coupled option will allow solar PV to turn on during an off-grid situation. EnerVu allows scheduling and control of the Energy storage to use excess PV energy later during the day. LG's ESS can be used for both energy shifting of PV power or emergency use back-up.
What's unique: LGE Energy Solution is a complete Solar + ESS from one brand — the industry's most bankable manufacturer
What's new: 
• SPAN + LG ESS: Real-time Controllable whole home back up and energy management
• NEC 2017 compliance with Tigo products
• LG Gen3 Resu matched. (2020 4Q release)
• Combined LG ACe and LG ESS : Premium Off-Grid Backup solution (2020 4Q release)
• Grid services offered through partnership with Sunverge
Warranty: All products will be warrantied through LG Electronics; 10 years for each product;
Battery has 60% energy capacity retention after 10 years, or 22.4 MWh total energy throughput
Full offering: Hybrid solar PV inverters, battery inverter/chargers, batteries – NMC (Nickel Manganese Cobalt) Li-ion 9.8 kWh, Full Energy Storage System, Electric panel via SPAN, Energy management (via EnerVu)
---
POMCube Inc.
Highly integrated, more versatile and affordable
Product Spotlight: iCAN NetZero Plus
Key Specs
Universal PCS Hybrid Inverter: 7.5/10/11/12.5 kW
Battery system (LiFePO4): 20kWh
Max. Power of PV: 2 * 8.5kWp
iCAN NetZero Plus is a powerful all-in-one energy storage system. The capacity is meeting homeowners' need in emergencies like wildfires and storms and ensuring energy supply with solar panels in continuous shutoffs. With its pluggable battery structure, installation is much easier than before. Also, it allows custom battery module replacement with the lowest cost in the future. Most of all, iCAN NetZero is more cost efficient compared to its competitors (MSRP $12800).
What's unique:
1. Pluggable battery modular design for better installation and maintenance. Compared to other one-piece systems, iCAN NetZero is more efficient in saving time and labor costs. The full installation can be done within 30 minutes by two installers.
2. High-voltage and transformerless spilt phase architecture make iCAN NetZero Plus more efficient.
3. Highest integration: built-in solar charger, battery, PCS, transfer switch + AC shutoff switches.
4. Before developing iCAN NetZero Plus, its predecessor iCAN NetZero has been powering hundreds of offgrid homes for years in Baja California. It has stood out the harsh environment there: salt, moist, dust and burning temperature.
What's new: 
1. Higher battery capacity (20kWh) in one unit.
2. More affordable than most competitors in $/kWh price, even neglecting the value of built-in parts (value $3000+) which value over.
Warranty: 10 years
Full offering: Hybrid solar PV inverters, battery inverter/chargers, batteries [LiFePO4], Full Energy Storage System, Energy management
Sales contact: molly@pomcube.com
---
Sensata Technologies, Inc.
Under the Magnum Energy brand, Sensata provides inverter/chargers for off-grid and AC-coupled battery backup
Product Spotlight: MS-PAE Series Inverter/Chargers
Key Specs
4 kW – 4.4kW output, depending on model
24 or 48 VDC input, depending on model
120/240 VAC output voltage
The MS-PAE Series inverter/charger is a pure sine wave inverter designed for off-grid and battery backup applications. 120/240 VAC split phase output voltage eliminates the need to stack two units for 240 VAC output. Up to four MS-PAE inverter/chargers can be paralleled for 17.6kW output. The MS-PAE Series comes in 24 and 48 volt models. All models have two 30 amp transfer relays.
What's unique: The MS-PAE Series inverter/charger is an excellent choice for AC-coupled battery backup systems, with the ability to work with the battery brand and profile of your choice. The MS-PAE is designed with a large AC access cover, terminal screw block, and 360° DC connection terminals with covers to make installation easy.
What's new: Battery backup is becoming more prevalent and the MS-PAE is a prime inverter/charger choice to add battery backup to existing solar installations.
Warranty: Three years, five years when installed on an MMP or MP system
Full offering: Hybrid solar PV inverters, Battery inverter/chargers
---
Schneider Electric
Ultimate backup power and off-grid performance for solar & storage applications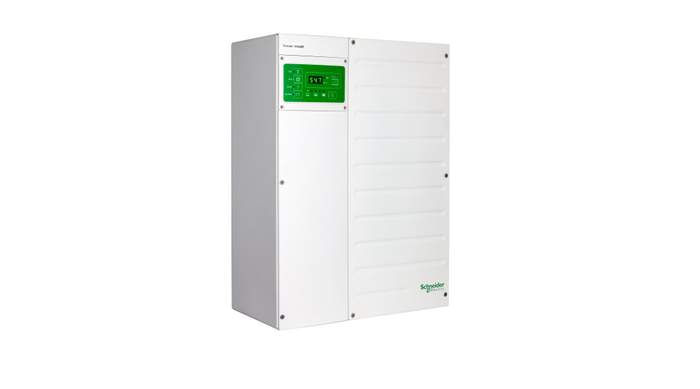 Product Spotlight: Conext XW Pro storage inverter
Key Specs
High overload power rating (1.75x)
Control from anywhere with the apps and analytics of the Insight Ecosystem
Integrates with Conext MPPT Charge Controllers as well as grid-tied PV inverters for DC-Coupled or AC-Coupled systems
Conext XW Pro is the evolution of Schneider Electric's two decades of experience in highly reliable solar and storage off-grid and backup power systems, with the scalability and flexibility to meet your system requirements. With tje Insight mobile app & web, you can monitor and manage all your installations on a single platform, supporting customers from anywhere at any time. The XW Pro storage inverter is easy to design and install, and compatible with multiple battery technologies, including BMS communication with select li-ion batteries. It is certified to Rule 21, HECO Rule 14H, UL 1741 SA, and PREPA.
What's unique: The XW Pro offers high surge power, integrated transfer switch, and optional backup generator integration. If you're looking for AC-Coupled systems, the XW series inverters are compatible with third-party inverters and microinverters, which can be used for new installations or retrofitting existing PV systems with storage.
What's new: Stay on top of customers' systems with the energy management system, Conext Gateway, and Insight mobile app & web. Schneider offer a powerful yet simple energy management platform for residential and commercial users, available through its local, cloud, and mobile interfaces. Installers can troubleshoot and support customers from anywhere.
Warranty: Up to 10 years
Full offering: Hybrid solar PV inverters, battery inverter/chargers, electric panels, energy management
---
Sol-Ark
Affordable Hybrid Storage through efficiency, power, & install flexibility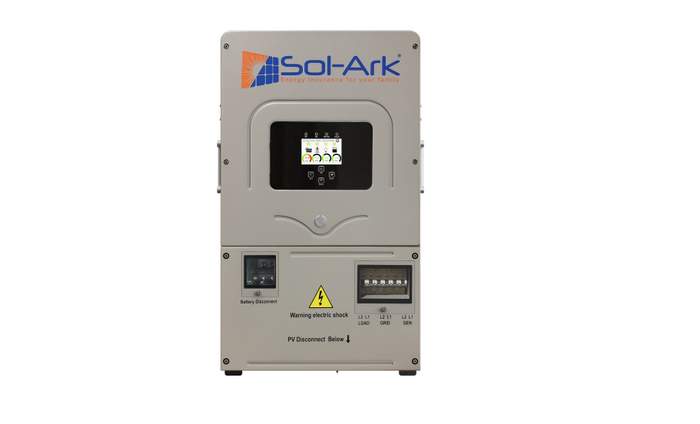 Product Spotlight: Sol-Ark 12K
Key Specs
9.6-KW AC & 13KW DC Coupling
4ms UPS Transfer times
Generator support
Super easy to install saves time and money. Fantastic Technical support. So powerful that a few customers are pulling out multiple Powerwall2's and replacing with 1 Sol-Ark. Sol-Ark has gone mainstream with loan providers from Sungage, Loanpal, Mosaic, Enium, and Sunlight.
What's unique: This stackable 12K inverter does both split phase and true 3 phase. Sol-Ark has partnered with many battery companies like SimpliPhi, Fortress, Blue Ion, and Discover to advance inverter and battery control through extensive communications. Most of the time the inverter controls the battery. Now the battery can communicate to control the Sol-Ark inverter to extend the capabilities or life of the battery. They have finished behind the meter Virtual Power Plants for Utilities so they can pay the customer for renting their battery.
What's new: Sol-Ark won a semi-finalist $50K award from the DOE's American Made Solar Prize. The company is also working with NREL on Solar + Wind hybrids without the need for external charge controllers and load dumps. They completed IEEE 2030.5 utility communications for the Sol-Ark 12K. And we will be introducing an IP65 case for Sol-Ark 12K in the fall.
Warranty: 10 years
---
SolarEdge
DC Optimized PV and Smart Energy Solutions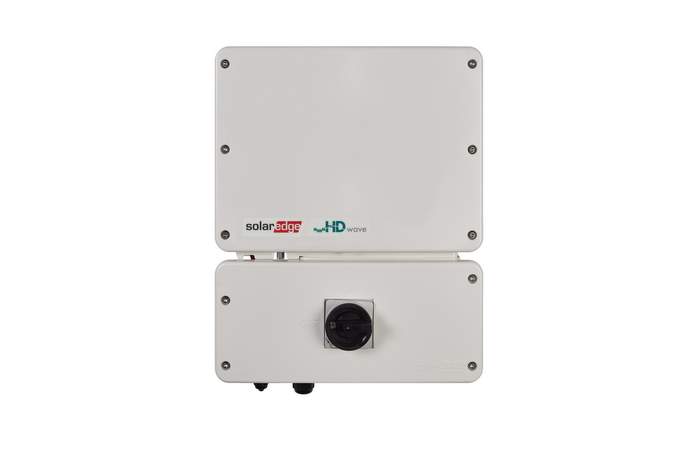 Product Spotlight: Energy Hub Inverter with Prism Technology
Key Specs
Up to 200% DC oversizing to power the entire home, up to 200A, during grid outages
Weighted efficiency of 99%, combined efficiency of 90.8% when DC-coupled.
Built-in metering provides insight into actual energy consumption
SolarEdge's new Energy Hub Inverter with Prism Technology combines the performance of HD-Wave technology and the functionality of StorEdge to achieve higher levels of flexibility in home backup while simplifying installation. The company's new Prism Technology operating system supports integration with SolarEdge's Smart EV Charger and future smart energy devices for home energy optimization. When DC-coupled with batteries and the new SolarEdge backup interface, the solution can power the entire home, up to 200A, during grid outages. The solution eliminates the requirement for a main panel upgrade or generation panel, even when connected to multiple inverters, batteries, or generators.
What's unique: With built-in multi-functionality, the Energy Hub Inverter is a single, holistic solution that manages PV, storage and backup, EV charging, and future smart energy applications. Energy Hub also enables battery and inverter power stacking (and comes generator compatible) for increased production.
Warranty: 12 years (extendable to 25 years)
---
sonnen
Pioneering safe, clean, decentralized and networked home energy systems
Product Spotlight: ecoLinx 30
Key Specs
Usable Capacity (100% DOD): 30 kWh
Dimensions W"/H"/D": 52/61/19
Compatible with leading home automation systems
The ecolinx 30 integrates with residential solar, home automation systems and controllable breakers to provide a seamless and comprehensive solution for managing clean energy in the smart home. It can connect to leading home automation platforms including Adapt Energy, Savant and Control4 and trusted energy management brands such as Lumin, Crestron, Schneider, ecoBee, Nest and Curb. When connected to controllable breakers or a second breaker box, ecolinx 30 distributes power to critical devices in an outage. The larger-capacity solution provides homeowners with greater resiliency and can adapt to the customer's unique space constraints and energy needs.
What's unique: ecoLinx 30 leverages a lithium-ion phosphate battery for the safe, longest-lasting technology with a 15-year / 15,000-cycle warranty. The ecoLinx 30 joins the existing portfolio of sonnen energy automation products in offering weather forecasting, configurable backup power, smart demand control and load management to provide sophisticated overall management of energy usage in the home and greater cost savings. The sonnen ecoLinx 30 also provides homeowners with access to cash back through participation in utility demand response programs.
What's new: The increased capacity of the sonnen ecoLinx 30 can power homes for longer periods of time, granting access to a greater amount of on-site, clean energy available day and night. ecoLinx 30 can extend how long the home is powered with clean energy during peak periods, cloudy days, and beyond and can also offer increased resiliency during power outages along with the numerous additional benefits of using an intelligent battery to manage energy usage. And with a new, shorter and wider form factor, ecoLinx 30 provides greater flexibility and versatility for placing energy storage in and around the home.
Warranty: 15,000 charge cycles/15 years