The market is overflowing with energy storage systems and batteries vying to be the peanut butter to distributed solar's jelly, plus an emerging area of smart electric panels and load management tools. Our Energy Storage System Buyer's Guide serves as a snapshot of the staple systems from leading brands and intriguing entries from new combatants. We start with the residential systems and move into a few C&I and microgrid controller options. For more info on the batteries that can pair with these systems, check out our Battery Showcase.
Panasonic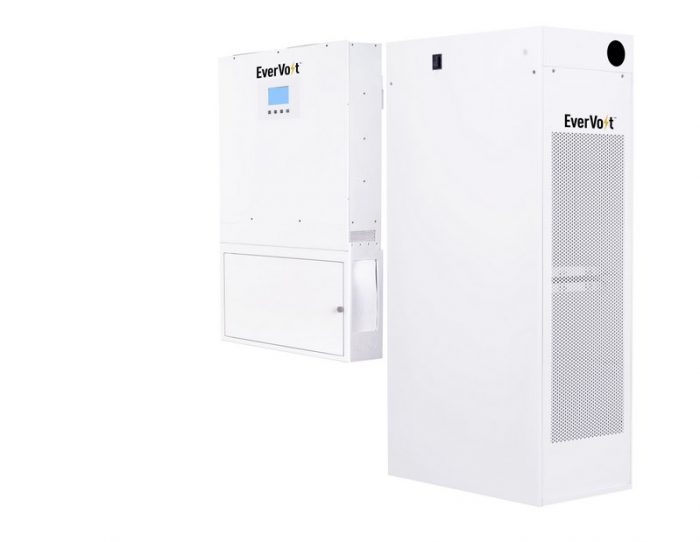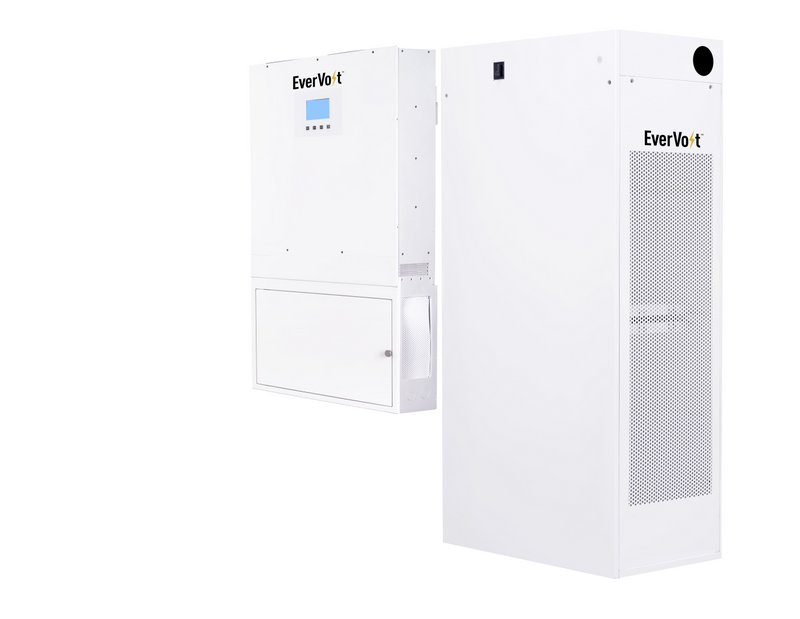 Product Name: EverVolt Energy Storage System
This is a Full Energy Storage System For off-grid and grid-tied homes
Key feature: It is available in AC- and DC-coupled versions, both of which can be sized from 11 kWh to 102 kWh to provide continuous back-up power.
Panasonic's EverVolt Home Battery Storage System is a residential energy storage solution that can be installed with a new or existing PV system. Equipped with pre-programmed time-of-use settings, advanced software and a user-friendly app for homeowners, EverVolt can be customized between multiple operating modes and provides visibility into system status. There are only three main components of the EverVolt home battery: the inverter, the battery enclosure with the battery modules and the communication device – the SmartHub. EverVolt only requires a one-person installation and is field serviceable. It is backed by a 10-year warranty provided by a company with a century-old record of staying power and dependability. Panasonic provides homeowners and installers with the peace of mind that comes with its legacy of reliability.
Key specs
Capacity: 11 kWh to 102 kWh
Battery Voltage: 46.2V
Energy: 11.4 kWh useable Standard, 17.1 kWh usable Plus
Peak Power: 5.5kW off-grid, 7.0kW grid-tied
Dimensions: 29" x 47" x 18"
Preferred battery brands: Panasonic
Warranty: When installed by a Panasonic Authorized, Premium or Elite installer and registered through the Panasonic website, homeowners will have the following EverVolt warranty options:
The Panasonic TripleGuard Warranty covers EverVolt panels for performance, product, parts and labor for 25 years.
The Panasonic AllGuard Warranty covers labor to replace and repair all major components in an EverVolt system. Applicable to Panasonic AC modules, this warranty covers solar modules combined with microinverters sold by Panasonic, approved racking for 25 years and the monitoring hardware for five years.
The battery storage product is backed by a 10-year product and performance warranty.
More from Solar Builder: On-demand Webinar presentation covering system specs and answering design questions.
Sales contact: Panasonic.com
---
GoodWe Power Supply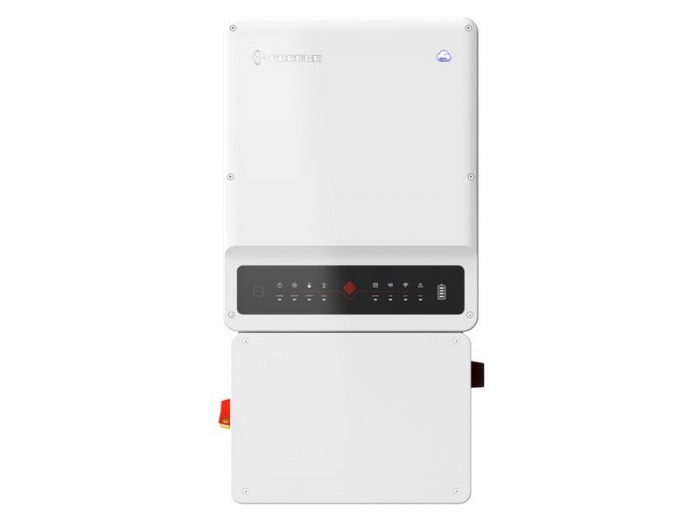 Product Name: A-ES Series
This is a Hybrid solar PV inverter For grid-tied homes
Key feature: The 50A Max continuous back up current is the largest in the industry, and it also features 10ms UPS level switch time from grid mode to backup mode.
Overview: The GoodWe A-ES is a single-phase hybrid inverter compatible with high voltage (80-495V) batteries with a power capacity ranging from 5 kW to 9.6 kW. With up to 4 MPPTs, the A-ES inverter seamlessly adapts to complex residential rooftops. Equipped with rapid battery charge functionality and perfectly capable of powering large loads in back-up mode (up to 9.6kW) and full house back up. Integrated RSD functions certified with Tigo and APSmart RSD receivers. A separable wirebox design make it easy for field replacement.
Key specs
4 MPPT Channels: 80-550 Vdc.
Battery Voltage: 80-405 Vdc.
50A Battery Charge/Discharge.
Backup power switch time: 10ms (UPS level)
Preferred battery brands: BYD, LG, GoodWe
Warranty: 10 years
Sales: sales@goodwe.com | en.goodwe.com
---
Generac Power Systems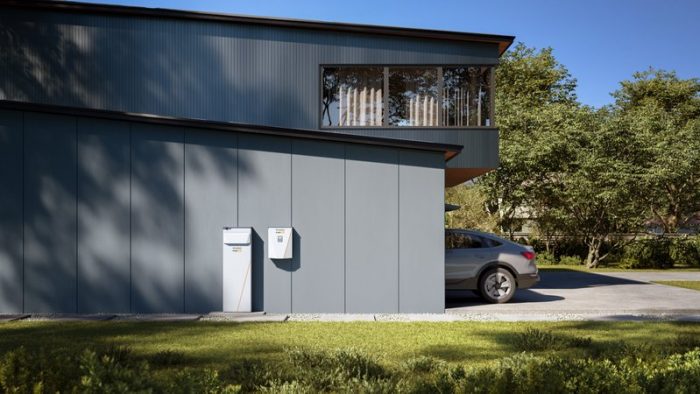 Product Name: Generac PWRcell Solar + Battery Storage System
This is a Full Energy Storage System For grid-tied homes
Key feature: Native Load Management. PWRcell includes factory options for automated load management, which allows installers to cover more loads with less battery to offer higher-performance systems at better prices.
Overview: Generac PWRcell solar + battery storage system is a fully-integrated home energy solution with category-leading power and capacity for whole home backup. With up to 18 kWh of capacity and 9 kW of output, PWRcell is powerful enough to keep the lights and air conditioning on for hours, even during a power outage. Generac's PWRcell system is fully integrated for a slick user experience and a clean, straight-forward installation. Built around the PWRcell hybrid multi-mode inverter, integrators may include the modular PWRcell battery, DC-coupled PWRzone solar, and native load management options for extended backup power performance.
Key specs
9 kW Max Continuous Backup Power (Single Battery, M6)
11 kW Max Continuous Backup Power (Dual-battery, or solar + battery)
50A, RMS 2-sec motor starting current
18kWh storage per battery, 36kWh per inverter
93% system efficiency, backup scenario
Warranty: 10-year PWRcell Inverter/Battery, 25-year PV Link/SnapRS
More from Solar Builder: The Pitch: Installing Generac's PWRCell to provide whole-home power with existing electrical
Sales: www.generac.com/ceinstaller
---
Sol-Ark
Product Name: Limitless 15K-48V (and Limitless 9K-48V)
This is a: Hybrid solar PV inverter and battery inverter/charger For Off-grid and grid-tied homes
Key feature: Sol-Ark's round trip battery losses are nearly half those of other transformerless designs and also allows your choice in batteries.
Overview: Sol-Ark has the most powerful residential hybrid inverter on the market. Eliminate customer overload calls with 15 kWac power (30 kWpk). A 200A whole home UPS transfer switch eliminates truck rolls to add/subtract missing backup circuits. The Limitless inverter covers every home application: small 9 kW, large 15 kW, massive home/small commercial 15 kW x 9 stacked = for up to 135 kW. It also supports portable and standby if needed. The 9K/15K comes with 2/3 MPPTs of 20A (500V), for a total of 4/6 strings. Outdoor and Indoor rated. Utility comms OpenADR2.0. Closed Loop communications and UL9540 with many battery providers of your choice.
Key specs
Continuous Power: 9KW or 15KWac model
5ms 200A simultaneous transfer switch
120/240/208V 2&3 Phase
DC and/or AC Couple 19KWpv
Preferred battery brands: ALL. Communications with: Blue Planet, Discover, Dyness, Joule Case, Fortress, KiloVault, NuEnergy, Orion BMS, Polarium, Powersync, Simpliphi, Storz, VillaGrid.
Warranty: 10 years
Sales: sales@sol-ark.com / www.Sol-Ark.com
---
Electriq Power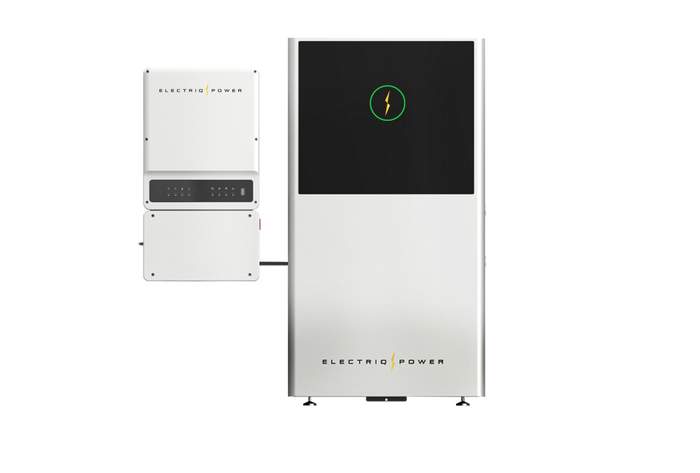 Product Name: PowerPod 2
This is a Full Energy Storage system For grid-tied homes
Key feature: Electriq's signature smart home energy software empowers users to efficiently manage their electricity usage. Homeowners can take control of their energy consumption and maximize savings by choosing from four different operating modes: Backup, Time of Use, Self-Supply, and Zero Export. They can choose from among the modes using intuitive apps.
Overview: The PowerPod 2 is a rechargeable home battery and home energy management solution that stores energy from solar or the grid. With a built-in inverter, the PowerPod can be retrofitted into an existing solar system, be part of a brand new installation, or can operate as a stand-alone system. The modular design makes it easy to install and maintain, and it is available in AC and DC-coupled configurations with LFP-based batteries in three capacities: 10, 15, and 20 kWh. The PowerPod includes three components: the batteries, the inverter, and the PowerHub, which provides energy management, metering and monitoring functions for the PowerPod. Installation includes at least one battery and inverter, and standard electrical hardware. The wall-mounted PowerPod is rated for indoor and outdoor installation, and can operate within a wide range of temperatures from -4°F to 131°F.
Key specs
10, 15, 20 kWh capacities
7.6 kW continuous output to grid
UL 9540 certified
97.2% PV CEC efficiency
OpenADR 2.0b-compliant
Warranty: 10 years
info@electriqpower.com, https://electriqpower.com/
---
Span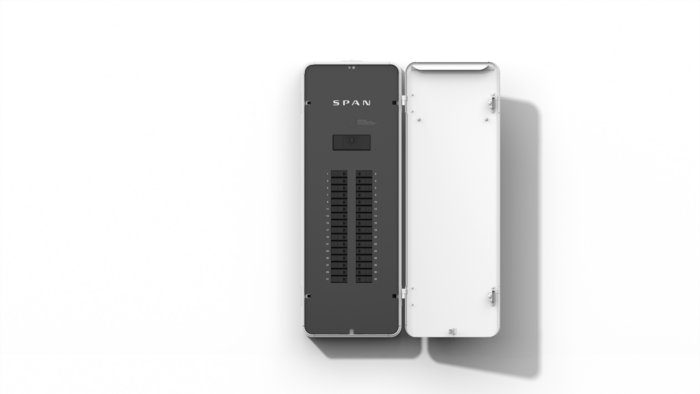 Product Name: Smart Panel
This is an electric panel for Off-grid and grid-tied homes
Key feature: Span delivers intuitive energy insights and control at circuit-level for the home, solar, batteries, and EVs. When paired with storage, this includes estimated backup time, allowing homeowners to make informed decisions about their essential loads in real-time.
Overview: The Span Panel replaces the traditional electrical panel to enable real-time management of home energy via an intuitive mobile app. Span is purpose-built for clean energy upgrades like solar, batteries, and EV charging (retrofit or new build). The new second generation Span Panel is 46% lighter, 35% smaller, and supports 90A breakers on all 32 circuits. Span works indoors and outdoors, on-grid and off-grid, and in homes of any size. Span has been installed in 12 states across the US and is now offered through a national network of 100+ Certified Installers.
Key specs
100A – 200A main breaker
120/240 VAC split phase
32 controllable circuits per panel
± 0.5% accuracy energy metering
39.3 x 14.3 x 6.0 inches; flush-mountable
Battery brand(s) you work with: Tesla Powerwall, SolarEdge Energy Hub, and more to come
Warranty: 10 years
More from Solar Builder: Details on the new Span Panel – now smaller, cheaper and more powerful
Sales: span.io
---
Schneider Electric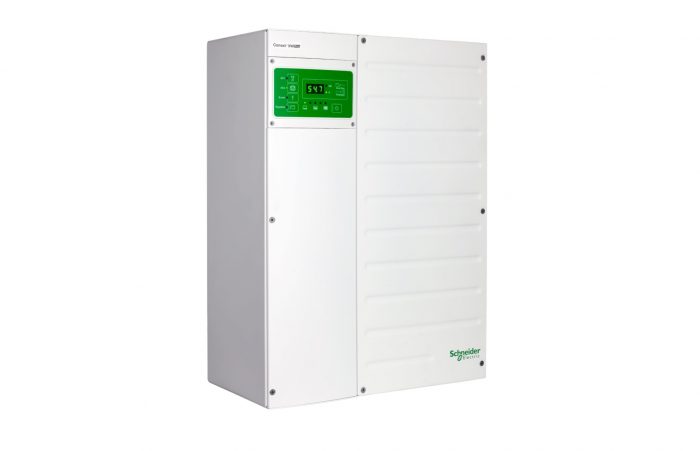 Product Name: XW Pro Hybrid Inverter
This is a hybrid solar PV inverter For Off-grid and grid-tied homes
Key feature: The XW Pro integrates with Conext MPPT Charge Controllers as well as grid-tied PV inverters for DC-coupled or AC-coupled systems. It also provides flexible battery capacity and optional generator integration for longer grid outages or off-grid systems.
Overview: The Schneider Electric XW Pro connects solar and battery storage with the grid and an optional generator for backup power and energy security. Built on Schneider Electric's two decades of experience in solar & storage, the XW Pro offers a high overload rating (2x power). The XW Pro also provides the flexibility to match desired energy capacity with power output requirements. With the ability to select the battery size per inverter, installers can tailor the system design to the needs of their clients. It is compatible with battery types such as flooded (default), gel, AGM, lithium-ion, etc.
Key specs
6800 W output power (continuous) at 25°C
12000 W overload 60 sec
140 A maximum output charge current
48 VDC nominal battery voltage
Batteries paired with: Blue Planet Energy, Discover Battery, Fortress Power, Pylontech, SimpliPhi Power to name a few.
Warranty: Up to 10 years
Sales: SEsolar.com
---
Sonnen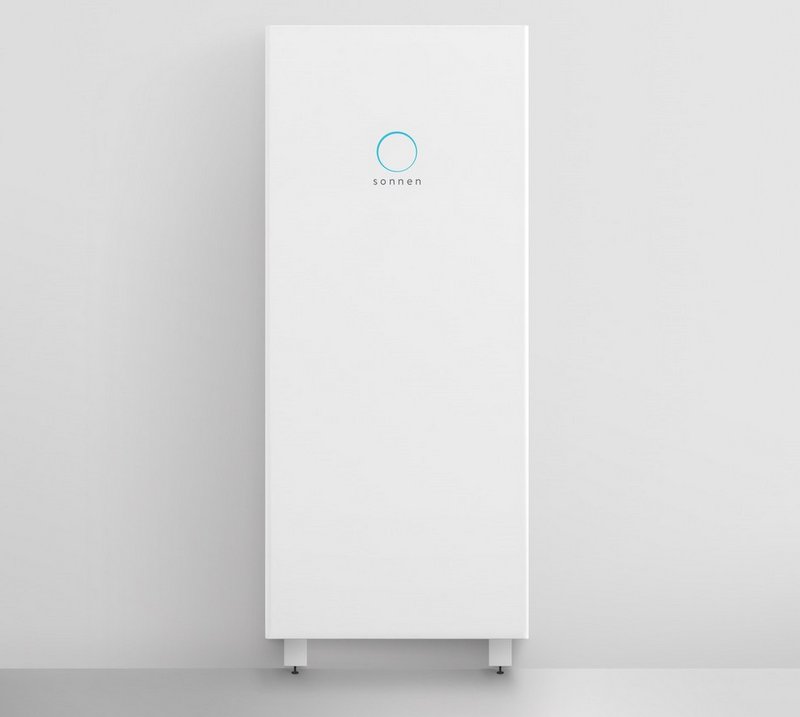 Product Name: sonnenCore
This is a Full Energy Storage System For grid-tied homes
Key feature: sonnenCore's all-in-one 10 kWh design, including a lighter and more efficient physical enclosure, makes installation easier and faster than ever. This simplified product design means the sonnenCore offers a reduced product installation time, a competitive price, along with the high-quality, safety and performance that is sonnen.
Overview: With the increasing demand for energy security and the continuing growth of solar installations across the country, sonnenCore was launched in 2020 as a smart and affordable battery solution that works for every home. sonnenCore provides all the benefits of legacy sonnen products – innovation, high-quality, safety, and longevity – in an easy to install compact form and at a cost-competitive price. It's the first sonnen system to be powered by the innovative sonnenInverter and sonnenModule with custom BMS, certified to UL Standards for safety and performance. Key applications include time-of-use load shifting, solar self-consumption, emergency backup power and an automatic transfer switch included (0.4 sec.).
Key specs
Continuous max output: (AC) 4.8 kW
Usable capacity: 10 kWh
AC specifications: Up to 6 kW solar inverter
Total system weight: approximately 348 lbs.
System Dimensions (in) W/H/D: 27/73/11
Battery brand: sonnenModule
Warranty: 10,000 cycles or 10 years
Sales: sonnenusa.com/
---
POMCube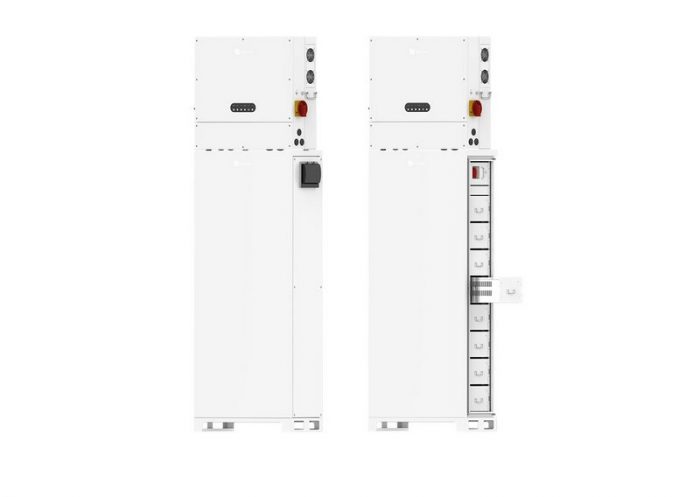 Product Name: iCAN NetZero Plus
This is a Full Energy Storage System For Off-grid and grid-tied homes and microgrids
Key feature: Transformer-less design with 87.5A surging current for 10 seconds. NetZero+ can power regular AC without soft starter while maintaining the highest conversion efficiency. The built-in 17kWdc MPPT Charging Controller will ensure the battery gets fully charged before sundown while supporting 52A@240Vac continuous demand during daylight hours.
Overview: iCAN NetZero Plus is among the most integrated and robust ESS on residential market. The system has an Intertek verified 96.77% conversion efficiency and a Peak Output Power: 21 kVA @10s. Enough to drive 5-ton Air Conditioner without soft starter. The full installation can be done within one hour by two experienced installers. Many tasks can be performed by a single person. It supports both DC and AC coupling — up to 17 kWdc and 12 kWac PV panels to compensate production loss during the winter season. The inverte'sr 120/240VAC outputs can be paralleled to meet demand up to 50kW -powerful enough to run a 200A service panel on grid or off grid. Universal PCS NEMA 4X (IP65) + Battery system NEMA 3S (IP54)
List 5 key specs (just the spec sheet numbers for power, output, CEC efficiency, whatever numbers you want to highlight. No sentences / paragraphs, please.)
Universal PCS Hybrid Inverter: 7.5/10/11/12.5 kW
CEC Weight Efficiency: 96.2% / 96.4% / 96.4% / 96.5%
Max. Power of PV: 2 * 8.5kWp
Rated Voltage: 120/240 Vac Split Phase
Peak Output Power: 21 kVA @10s; 35 kVA @20ms
Battery: Built-in from POMCube
Warranty: 10 years
Sales molly.hu@pomcube.com / www.pomcube.com
---
Blue Planet Energy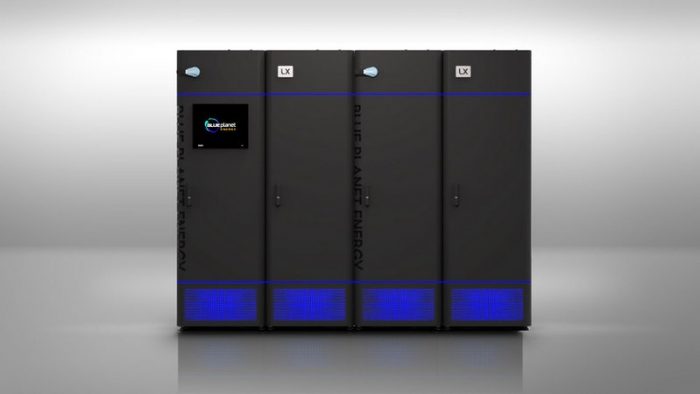 Product Name: Blue Ion LX
This is an Integrated Energy Storage System For C&I / Microgrids
The Blue Ion LX from Blue Planet Energy is a premium, grid-optional energy storage solution that integrates a wide range of renewable and traditional energy sources to power businesses, critical infrastructure and global resilience projects. When paired with solar PV, a Blue Ion LX microgrid can operate independent of, or in conjunction with, the utility grid. Built in the USA, the Blue Ion LX solution integrates energy storage, system intelligence and site controls in a ruggedized enclosure. The solution includes a pre-tested and pre-configured battery inverter. Blue Planet Energy supports the Blue Ion LX with a suite of services, including project design and sales support; installation and commissioning support; and O&M and financing services.
Key feature Blue Planet Energy offers zero-money-down financing for new solar-plus-storage microgrids integrating the Blue Ion LX. With a first-of-its-kind financing model, business owners pay only for electricity usage generated by a new solar array and a fixed rate for the added benefits and services delivered by the Blue Ion LX system.
Key specs
non-toxic lithium ferrous phosphate battery chemistry
15-year performance warranty (8,000 cycles/100% DoD)
UL9540a listed
125kW/128kWh system size, expandable in 32kWh increments
Cloud, Local Area Network and/or Blue Ion LX touchscreen data access
Battery brand: Blue Ion HI
Warranty: 15-year performance warranty
More from Solar Builder: Exclusive look at Blue Ion LXHV, a high-voltage commercial microgrid solution from Blue Planet Energy
Sales: sales@blueplanetenergy.com
---
SimpliPhi Power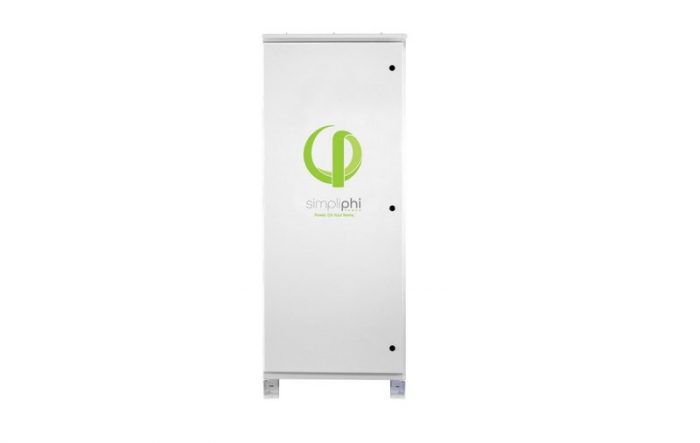 Product Name: AccESS PHI & AccESS AmpliPHI
This is a Full Energy Storage System For residential, C&I and microgrids.
SimpliPhi Power's AccESS with PHI and AmpliPHI batteries paired with industry leading inverters are fully integrated and pre-programmed energy storage and management solutions in a variety of kWh capacities, all UL 9540 listed with additional storage capacity possibilities using approved BOSS.6 and BOSS.12. NEMA 3R rated, systems can be installed both indoors and outdoors, for existing solar adding storage and new installations.
Key feature: Pre-assemble and pre-programmed streamlines installation time for installers and with UL listing accelerates permitting and AHJ approval.
Key Specs
Capacities: 15.2kWh, 19kWh, 22.8kWh
AC or DC Coupled
6.8 or 9 kW AC Output
CEC Efficiency: 96.5%
Parallel Stacking Capability
Sol-Ark with Integrated MPPT
Battery brand(s) you work with: SimpliPhi
Warranty: 10 years
Sales: sales@simpliphipower.com / www.simpliphipower.com
---
Yotta Energy
Product Name: SolarLeaf and Yotta Dual-Power Inverter
This is a Full Energy Storage System and Microinverte For C&I
The Yotta Dual-Power Inverter (Yotta DPI) is a cutting edge microinverter design capable of accommodating up to four high-capacity PV modules, each up to 440W+ as well as integrating directly with Yotta's SolarLeaf energy storage technology. The Yotta DPI is able to deploy with all leading 60- and 72-cell solar modules. Each solar panel is able to independently convert solar generation to electricity, so no panel is impacted by shading or output loss by a neighboring solar module. This UL1741(SA) compliant inverter is a true utility-interactive microinverter with Reactive Power Control (RPC) technology and which exceeds NEC 2014/2017/2020 Rapid Shutdown compliance requirements. It offers superior performance, superior safety, and grid interactivity all while offering a seamless installation process. The Yotta Dual-Power Inverter is the safest and simplest way to deploy solar PV on commercial buildings.
Key feature: The Yotta DPI is completely low-voltage and offers Reactive Power Control (RPC) technology, which meets CA Rule 21. Yotta's RPC technology gives clients the control they desire for solar installations. Whether its single phase 208V, 240V or three phase 208, the Yotta DPI delivers the versatility for commercial solar deployments.
Key specs
Maximum continuous output power – 1,200W at 240V; 1,100W at 208V
Operating Voltage Range – 16V-55V
MPPT Voltage Range – 24V-48V
Peak Efficiency – 96.5%
Operating temperature range – -40℉ to 149℉ / -40℃ to 65℃
Preferred battery brand: Yotta SolarLeaf
Warranty: 10 years standard, extendable to 25 years
Sales: sales@yottaenergy.com | www.yottaenergy.com;
---
Apparent
Product Name: Apparent Intelligent Grid Gateway (igGW)
This is a Microgrid controller For sites ranging from small integrated sites to large multi-building and EV facilities.
Key feature: The igGW is an integrated machine learning communications and control manager that dynamically balances real, reactive, and apparent power in all quadrants for a customer site (microgrid) and between the customer site and a utility (integrated DER services). The igGW monitors power flow and power quality at the point of common coupling (PCC).
Overview: The Intelligent Grid Gateway provides simple installation but complex services. The device consists of local hardware hosting Apparent's enterprise software, the intelligent grid operating system or igOS. The igGW aggregates solar generators (PV), energy storage devices (ESS), controllable loads and associated power management network equipment with uniquely low cost of deployment and ease of aggregation. All support equipment are integrated into a single high reliability and low power consumption control platform. Hardware and software aggregation provide reduced power consumption, enhanced reliability and reduced cost of control and security support systems. All PV generators, ES assets and managed loads can be controlled as an aggregated energy source/sink at the PCC, eliminating the need to manage individual assets. The igGW accepts master command(s) from a controlling entity via the WAN interface, interprets the commands and determines a plan of action based on current local demand, PV, ES and PCC conditions to enforce policy at the PCC. The gateway then controls individual assets or asset groupings to bring conditions at the PCC into conformance with the new operating command.
Key Specs
Wide range of aggregation: 8,000+ individual inverters/devices and ESS from 3KWh to 1MWh+
Whole facility power factor correction
IEEE 2030.5 compliant (pending) with NEMA 4 rated enclosure for wet conditions
Non-export controls, bi-directional minimum import and production curtailment (sub 3 seconds)
Built in firewall, encrypted communications, layered access control
Preferred battery brands: Any battery brands are capable of deployment with the Apparent igGW.
Warranty: Limited warranty for 25 years.
Sales: www.apparent.com
Listen to more in-depth conversations on Solar Builder's YouTube channel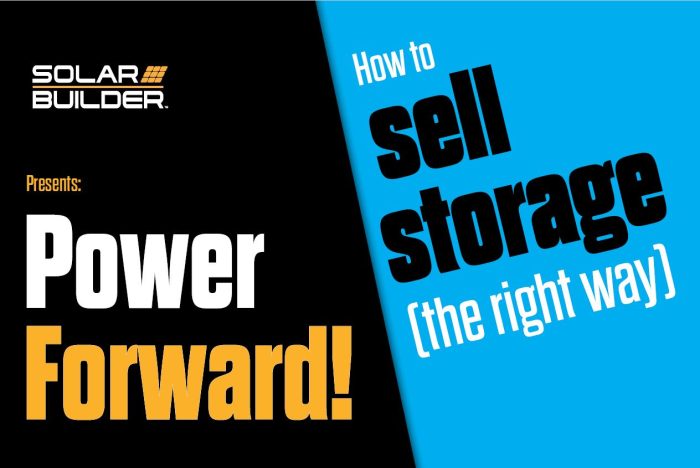 Our most popular series include:

Power Forward! | A collaboration with BayWa r.e. to discuss higher level industry topics.
The Buzz | Where we give our 2 cents per kWh on the residential solar market.
The Pitch | Discussions with solar manufacturers about their new technology and ideas.
Tags:
Apparent Inc.
,
Blue Planet Energy
,
Electriq power
,
Generac
,
Goodwe
,
microgrids
,
Panasonic
,
Schneider Electric
,
SimpliPhi Power
,
Sol-Ark
,
Solar Builder Buyer's Guide
,
Sonnen
,
Span
,
Yotta Energy